Sailing North to Istanbul
Category: Mediterranean
Created: Wednesday, 17 March 2010 17:05
Written by Roger Boxall
Hits: 2305
Marmaris To Istanbul
Marmaris to Istanbul
Finally on March 16 we got away from the marina off to our
first anchorage, Bozuk Buku on Kara Burun (Cape Kara) just 12 miles from
Rhodes. The deep very well protected bay is deserted save for a couple of small
fishing boats and a goat farmer. It is rugged terrain, mountainous, rocky,
suitable only for goats!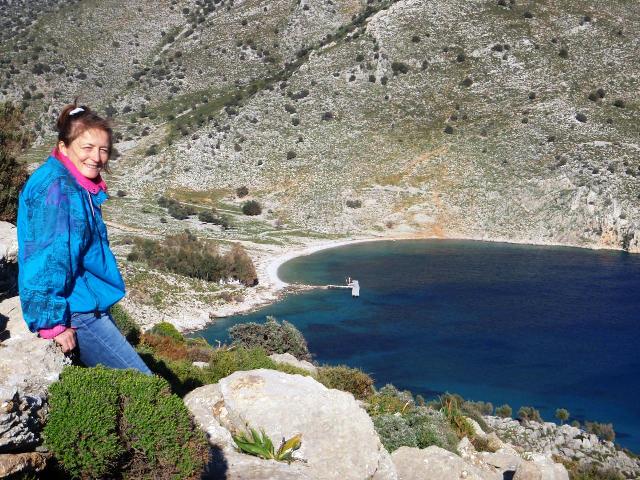 Still Roger goes for his swim at 13 degrees Celsius..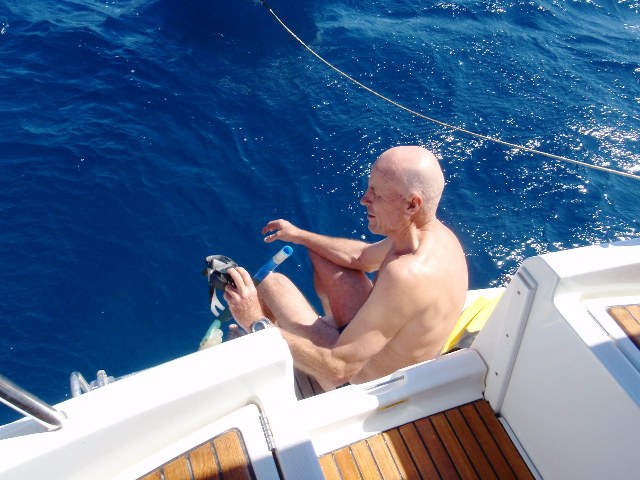 A cold north "kabatic" wind came roaring down off the

mountains. The fishing boats, that in time we become so familiar with in

Turkey, are timber, 15 to 20ft, sometimes with a tiny cabin, hand tiller

steering, double ended (stern same as bow)  
virtually all powered by a noisy single cylinder slow revving air cooled

diesel making a choff, choff noise. In most countries the operator would have

to wear ear muff! The fishermen may trawl, use nets or just bottom fish.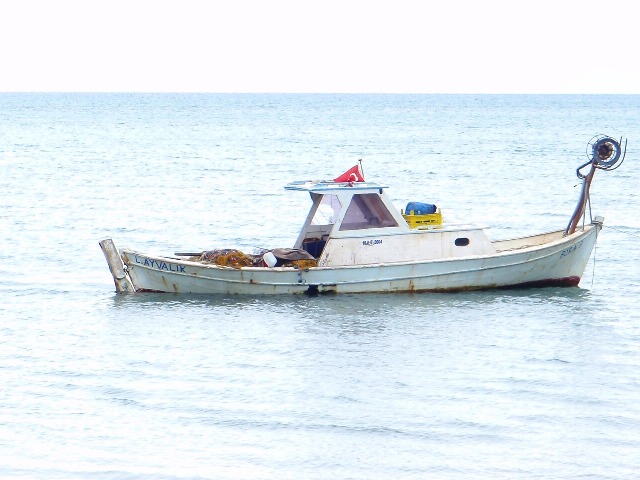 It is time for restock and important things like booze are
much cheaper in Greece. Plus you can get pork there. So, next day we take a
sortie over to Rhodes and, for the first time, risk it, didn't check out of
Turkey and didn't check into Greece. We anchored, refueled  bought out the supermarket and sailed back to
Buzuk Buku, no one any the wiser. From there, on a beautiful warm clear spring
day we sailed to Bozburun where we planned to go to a restaurant, to celebrate equinox,
just started up by a guy we knew from Marmaris. A lovely little village with a
nice walkway all along the sea front with tiny cafe bars spilling out onto the
walkway but, unfortunately, Thomas's restaurant had not yet opened so we had a
champions breakfast and Sasha baked a wonderful whole fish dinner. What a great
and childish sense of humour you find in Turkey! In our stroll of the back
streets of Bozburun, we walk into the hardware shop, as always there are things
to look for from our lengthy list of "maintenance things to buy". There, a
young shop assistant tries to help out, and with our lack of Turkish and his
much better English, we still cannot find the item we need. When we were just
about to leave, he invites me to stand on the big floor scale. So I weight 74
kg. Next, he gets Sasha to stand on the scale. And to Sasha's astounded look,
she weights 74 kg as well. She steps down, turns to me and shop assistant in
disbelief, when shop assistant invites her to weight herself again. She does it
again – with the same result. And again! Finally, she dawns that there is a
trick to the whole thing. Hardware shop assistant is all smiles! He cheated  Sasha's weight by stepping on the scales
behind her.....
Our next stop, 40 miles east, on the tip of Datca Peninsular
was the truly memorable ancient city, now deserted except for a small basic
hotel and requisite fishermen, of Knidos. From Ednbal, deep in the protected
bay, we could easily see ruins of the city that flourished centuries BC. It
took full advantage of its prime position on the then East Mediterranean Sea
trading routes. Next day we packed a picnic lunch with a couple of beers and
GnT to spend the day exploring some of the remarkably in tact ruins. The site
is 20 or so acres of remains of a past civilisation, accommodation, temples,
amphitheatres, much party standing with incredible foundations. Parts of
lookouts, where we had lunch, can still be climbed on the 400m high mountain. I
am not a great one for ruins but this was a full city and we were walking
streets, sitting in the amphitheatres and seeing life as it was 2,500 years
ago!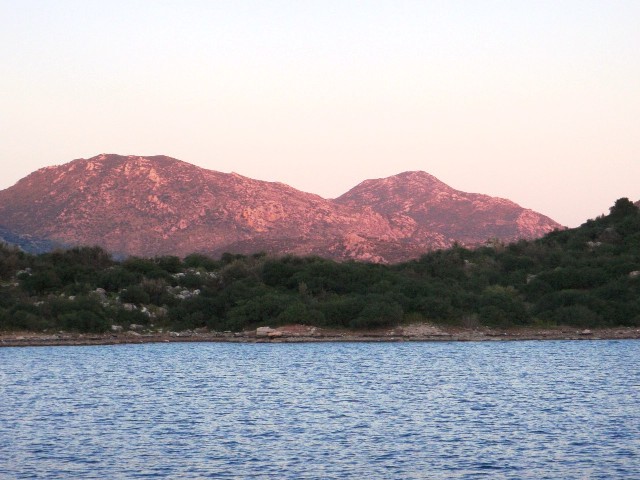 Back to "civilisation" well a city anyway, Bodrum
on the next peninsular directly North. With light Southerly wind on a warm day
we sailed most of the way and anchored right in front of the huge walls of St
Peters castle housing the only Underwater Archaeology museum in the world,
apparently, and one of our must sees. Our guide book mentioned this bay as
being very noisy, loud music from the many beach side bars and discos, we found
it very quiet at this time of year. After tying the dingy up at the fishing
boat jetty next day we walked the main city area and visited the
"original" mausoleum, the massive tomb of Mausolus, one of the
ancient wonders of the world. Story goes that Artemisia II sister-wife (bit of
incest!) built the burial monument, 50m high, 20 long, for Mausolus, ruler of
Halicarnassus, in about 350 BC.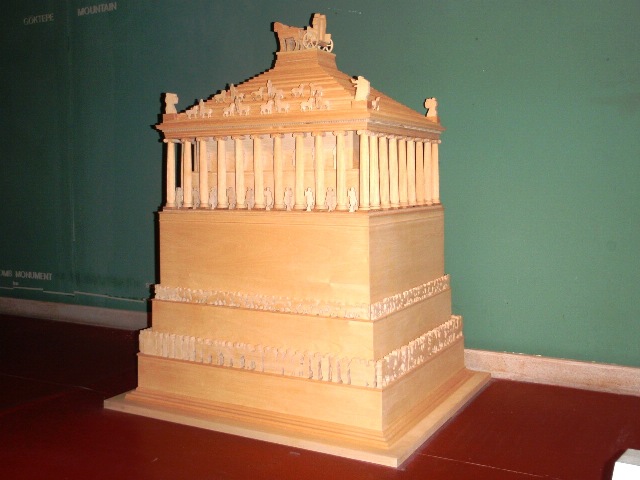 The structure was still in place in the 12th
century but was largely destroyed by earthquake in the 15th.  Still, from the base and foundations along
with drawings and diagrams in the museum, one can get an appreciation of the
enormity of the whole thing. Next the Underwater Archeological museum in St
Peters castle. The castle itself is magnificent and very well preserved, the
underwater archeological part was somewhat disappointing. Never the less we
spent half a day exploring the castle and museum, well at least those parts you
didn't have to pay extra to see! Like many Turkish cities there is still cottage
industry. We went to one of the numerous cobblers to have the sole of Sasha's
walking boot reattached. Two guys in a tiny front room of a street side house
were busily making leather shoes and sandals, looked like they had been doing
it for a thousand years or more, in fact the sandal design looked like it was
taken from some Egyptian mummy!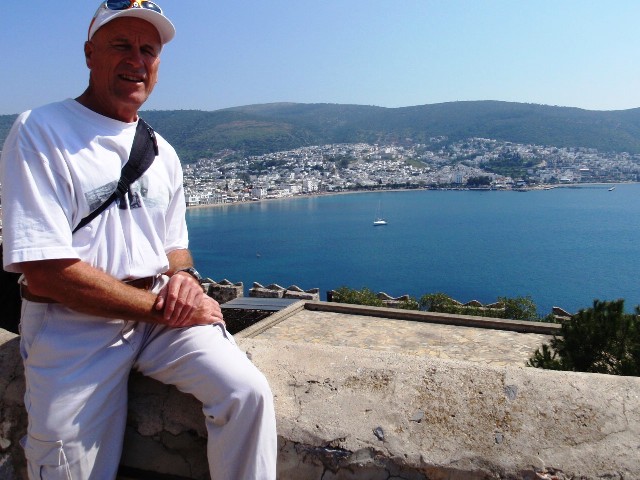 From Bodrum we sailed West along the peninsular and then
turned North for the 50 mile run up to the Greek
Island of Samos.
again we did not check in but this time at least we stayed on board since it
was just for an overnight stay. From Samos, 40
miles further North to a tiny, deep well protected bay, Nerkis Limani. Our main
concern was a Southerly gale forecast for the next day, 31 March. Nerkis Limani
is a deserted bay except for a building, itself deserted, at the Southern end
and a nearby derelict jetty. All we saw were two fishermen in a traditional
tiny Turkish choof choof. Ashore for a walk we were immediately reminded that
it was spring, wonderful wildflowers everywhere.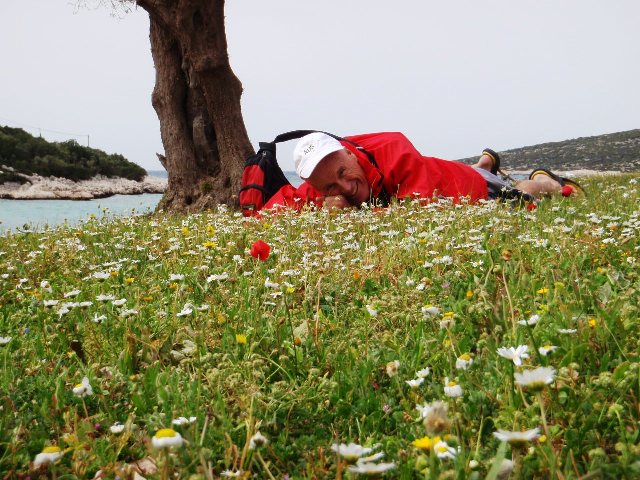 On April 1 we headed out into
a lumpy sea and sailed around past Çesme, North of Toprak Adasi before heading
South East to Sifne Koyu. Luckily we had a South Westerly breeze that enabled
us to sail virtually all the way. Next morning, with a Southerly wind, we
headed North for Bademli Limani, a deep shallow bay set in behind two small
islands, one of which has holiday houses. Bademli village is about 1km up the
road from the anchorage. We enjoyed the walk through olive groves to stock up a
little on fresh fruit and veg, but couldn't resist buying locally made olive
oil. On shore the local fishermen were sorting thier catch and packing it in
shallow wooden crate with crushed ice ready for market. We bought a kilo of
fresh "hamsi" and prepared half of it for dinner. Having seen detail on hot
springs along the shore we relocated the next day to seek them out. Oh what a
disappointment, they were mostly shallow pools of warm semi putrid water. One
was inside a dilapidated concrete structure with the reinforced concrete roof
caving in. I had a very short dip but Sasha thought better of it, I don't blame
her!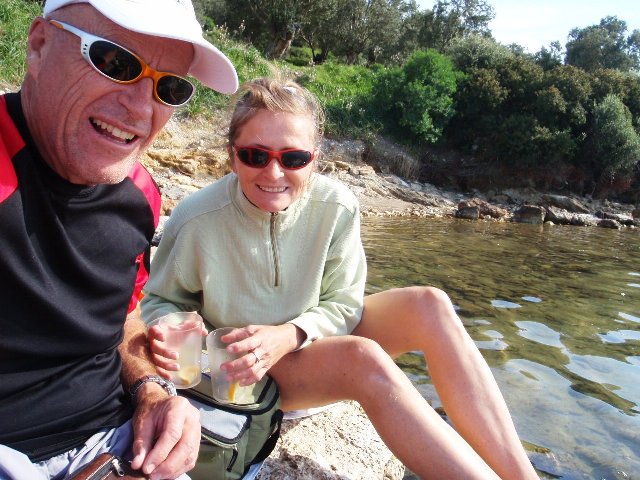 We continued North with a light East wind that at one stage
died out completely, to Alibey Adasi and the area generally known as Ayvalik.
Alibey Adasi is joined to the mainland by a causeway to create Ayvalik Limani
(the lake), about 2 miles by 5 miles of lovely coves and inlets. Having heard
of mussels here (from French friends Anna and Alain in Marmaris) we immediately
went in search for fresh mussels (midye in Turkish). We found the mouth
watering local specialty "midye dolma", a mussel shell with hinge still in
place filled with the cooked mussel and spicy rice (as described by Alain) but
no fresh mussels for Sasha's specialty, chili mussels.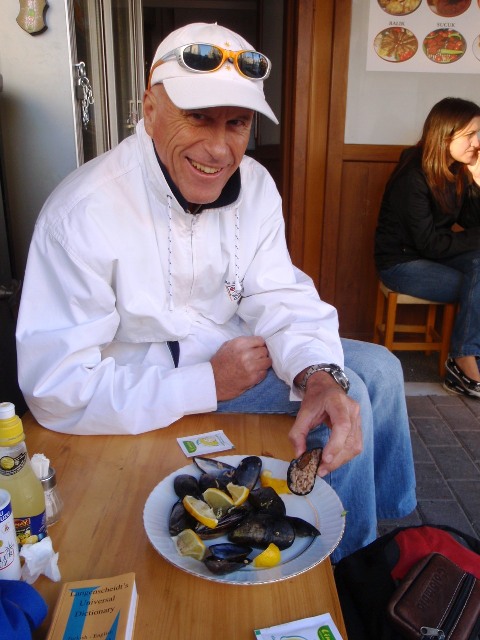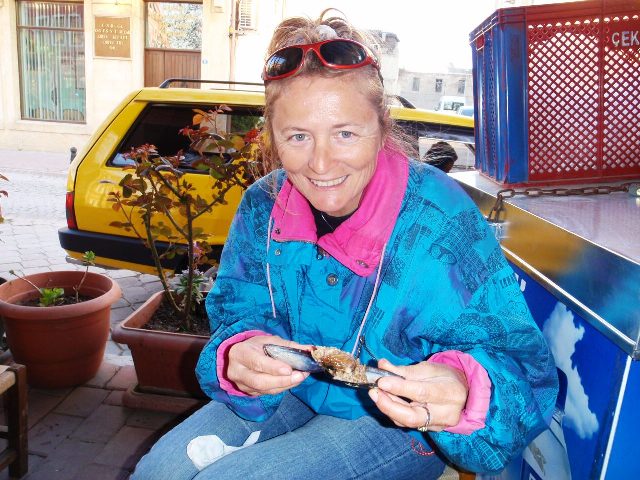 One thing we had not
seen before was sea urchins. Fishermen dive for them then, with heavy gloves,
cut them in half to pour out the teaspoon amount of orange-ish contents into a
jar. The jars looked about 100ml which took quite a number of sea urchins to fill.
The walk around the old village and along the foreshore promenade was
delightful. Ednbal was anchored, alone, in common with everywhere we went
because the "season" had not started, in front of the promenade fill
of waterside restaurants which made quite a sight for us in the evening. In the
mooning we motored over calm water to Ayvalik town on the other side of the
lake. In the old village of cobblestone roads we saw horse drawn carts and even
a blacksmith fashioning horse apparel, horse shoes, bridle parts etc as well as
hand tools like sickles and seethes.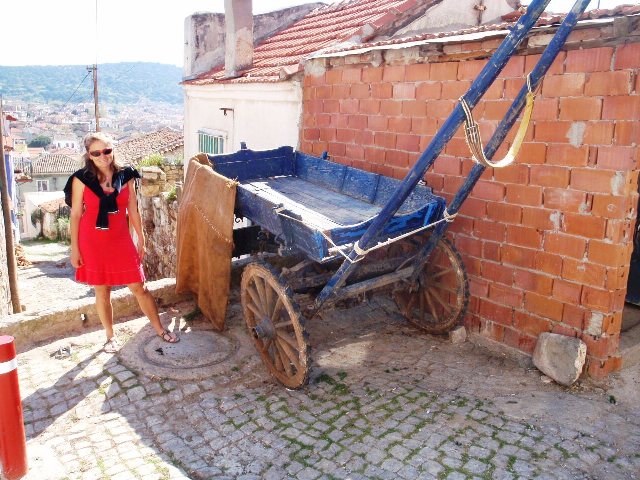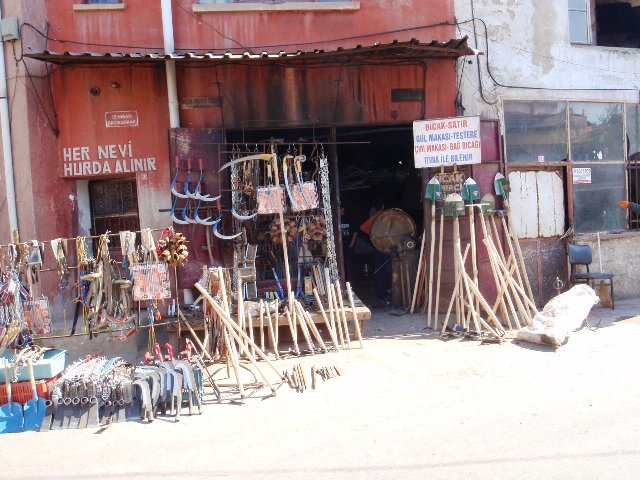 Of course in amongst modern trucks and
motorbikes. Roadside stalls sold all the fresh fruit, veg, breads, meats and
fish that you would ever need. With a Northerly gale forecast we relocated to Camlik
Koyu, a bay almost a lake within the lake, that afforded good protection and,
according to our guide book, had a mussel farm. In the morning we donned hiking
gear and set off for Korkut headland and up to the peak, about 200m.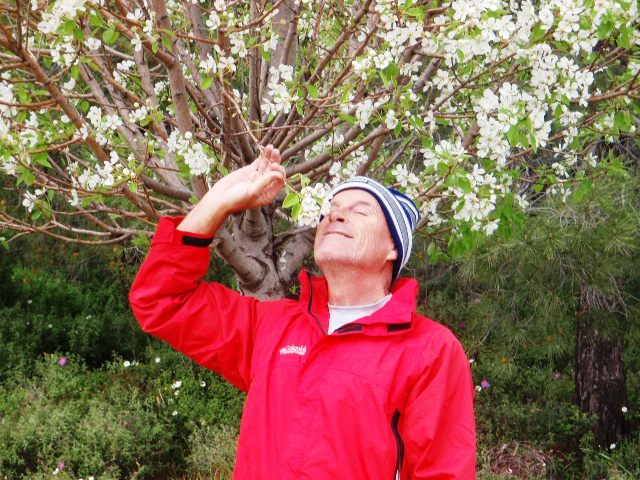 The
Northerly wind was a "little cool" but the brisk hill walking seemed
to overcome that. At the peak was a beautiful restaurant with 4 separate
outdoor bars, the place, deserted now, must really get going in the summer
season! Workmen were resurfacing one of the outdoor bar areas but other than
that we saw only 2 other people. After walking 15km or so, with just a stop or
two for picnic beer and picnic lunch, of course with GnTs, one can get a little
hungry. The mussel farm had obviously long gone as there was no sign at all, so
only one answer, pick your own mussels. One of the pylons of the jetty where we
had tied up the dingy had mussels on it so we helped our selves to a bag,
couple of kgs, of mussels. Back on Ednbal they were cleaned, scrubbed and
turned into a fantastic dinner of chili mussels by chef Sasha.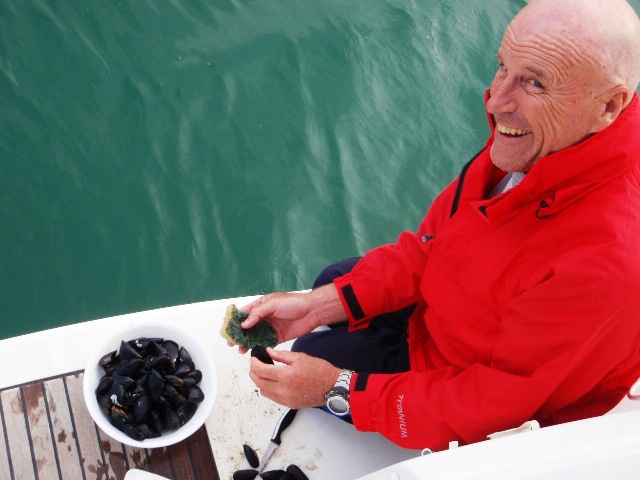 The Northerly gale didn't really eventuate so next day we
set off towards the famed Dardanelles, the waterway, along with the adjoining
Marmara Sea and Bosphorus separate Europe and Asia Minor. We managed to sail
most of the way West to Babakale but could go no further against the North wind
to our next scheduled stopover, Bozcaada Limani, so in early afternoon we
anchored and took a nap. A  few hours
later, early evening, the wind had veered towards East so we decided to night
sail the 30 miles up to Bozcaada which we made with just two tacks, arriving at
midnight and anchored right in the middle of the small marina very close to the
car ferry. In the morning we sailed for a couple of hours to the mouth of the
Dardanelles before heading NE straight into the wind and, almost constant, 3kn
current. There is only one way out for all the water from all the rivers that
flow into the Black Sea and that is through the Bosphorus, Marmara and
Dardanells into the Med. The guide come pilot book advises yachts to stick
close to the Eastern shore where the current is least and sometimes even a
"counter current" in the opposite direction set up by the uneven
shoreline. It also advises care as there has been reported silting on this side
so depths may be less water than shown on the chart. Following the little bays,
inlets and shallows of the shore we zig zag along keeping close to the 10m
depth contour. It is quite tiring keeping eyes on the chart, echo sounder while
almost continually adjusting course. By 4:30PM we are in our first Dardanelles
anchorage, Çanakkale, opposite the Gallipoli peninsular, the famous location of
the ill fated campaign, the first involvement 
ANZACs (Australia
and New Zealand Army Core).
 We plan to spend a couple of days in Çanakkale with two

places high on the agenda to visit; the ancient city ruins of Troy, a short bus
ride away, and ANZAC cove, the landing place of the ANZACs on 25 April 1915 a
ferry and bus ride away. First up Troy.
Being an ignorant Aussie, it doesn't mean a lot to me but Sasha insists it is
very important in the history of civilisation and the subject of one the first
books ever written, The Iliad, and, for my reading enjoyment, we have an
English translation copy on board!! With picnic lunch we spend the day in Troy, certainly an
interesting site with a full size mock up of the Trojan Horse and excavations
tracing the cities history back to its beginnings 5,000 years ago.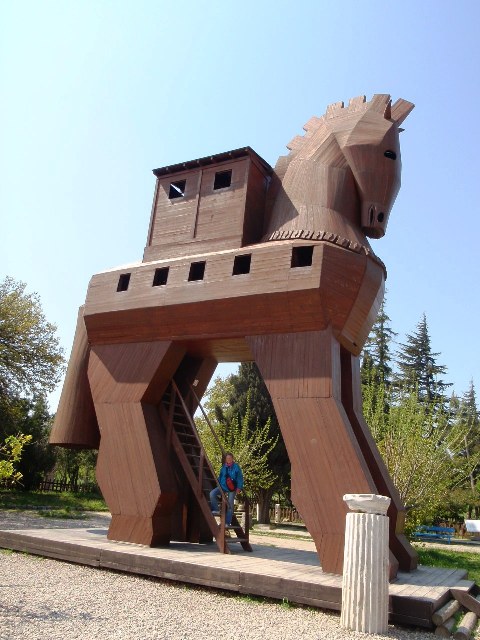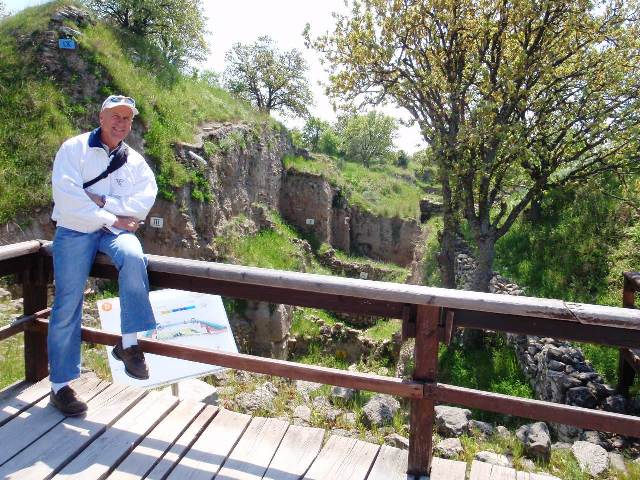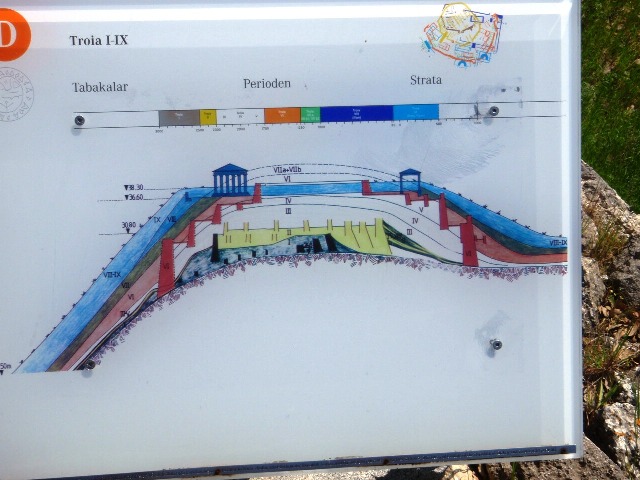 While hugely
historically significant, the site is nothing to compare with the clay warrior
site we saw in China, either from size, quality of exhibition or shear wow
factor. It was evening by the time we got back to Çanakkale so we decided to
eat out even though it was cold. First beers at one of the promenade bars, excellent
value at 3tl (less than $2) for 500ml glass and we have some fun with the
waiter sharing our very limited Turkish, marvelous what you can get over with
sign language! Next on to the city centre restaurants. We want something local
so go into a tiny, 4 table, corner joint where the owner beams the biggest
smile at us and insists we try one of his Midye Dolma's, no charge while also
showing us how you scoop out the contents with one half of the shell. Of course
it is beautiful so we stay for a course of these wonderful spicy rice mussels
together with a course of Midye Tava (mussels on a skewer, deep fried) two
small glasses of local white wine and Çay, all for the princely sum of 14tl!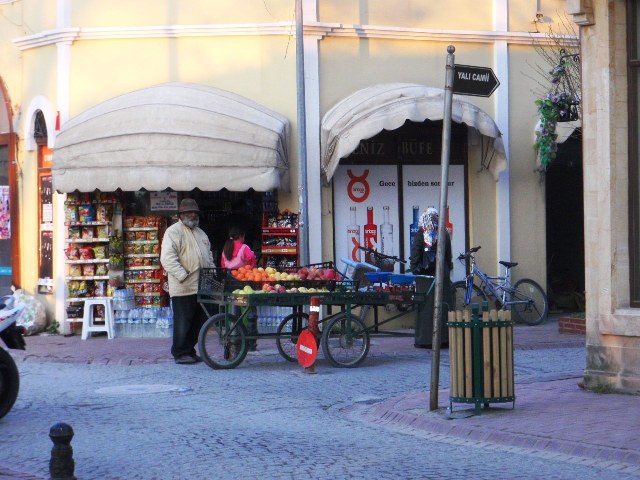 The Gallipoli peninsular as on the other side of the Dardanelles so we took the ferry and minibus to the first
stop, the war museum, from where we walked the rest. There was an incredible
number of tour buses, all filled, guess the tourist season was getting underway
with ANZAC memorial day less than 2 weeks away. We walked ANZAC cove, had a
picnic lunch and then went to have a look at one of the many cemeteries and
memorials, Lone Tree, one of the furthest points the ANZACs got, just 1.5km
from the beach. The walk, up a rough 4WD track from the beach gave us at least
some feel for the rugged terrain that the ANZACs tried to push over and the
Turks so successfully defended. Although we did not have ancestors who took
part it was still very sad to read some of the inscriptions, take in the
memorials and see letters written home on display in the museum. Fortunately it
was a lovely sunny day, warm by comparison with the previous at Troy, so we
enjoyed our 12km walk.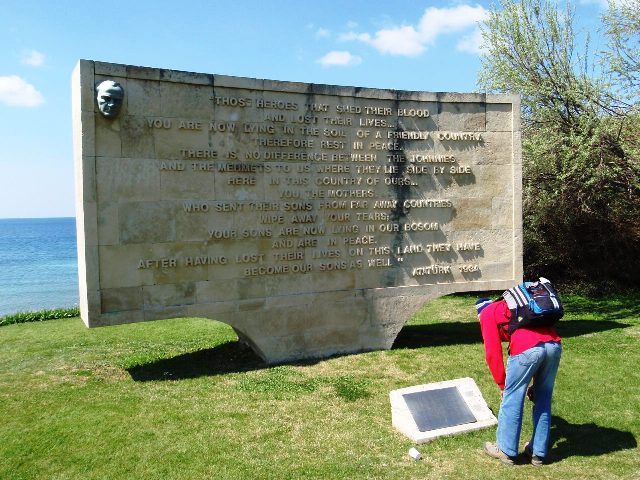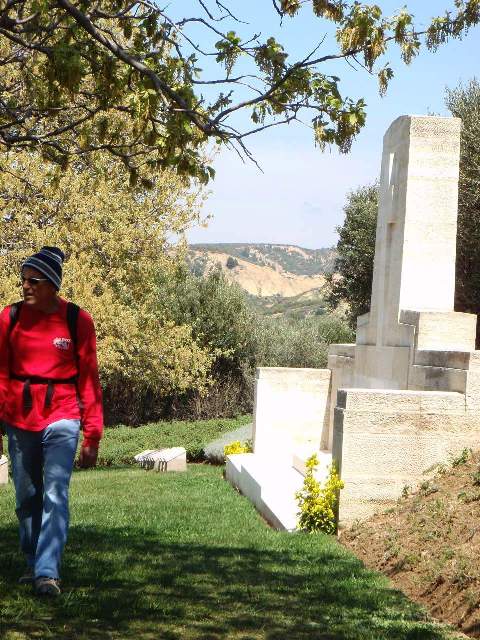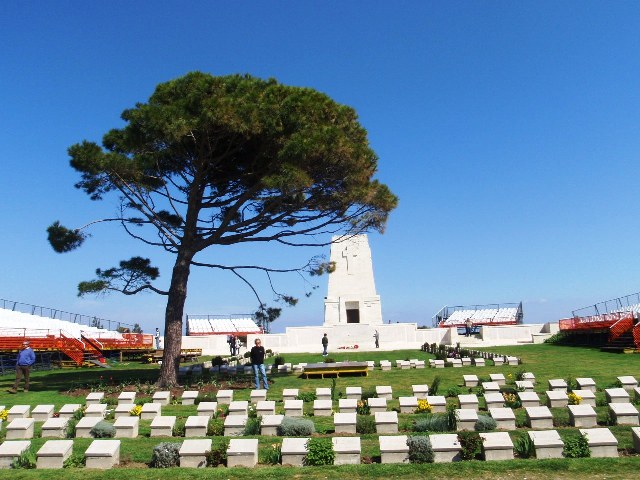 Back in Çanakkale we decided to buy more Midye Dolma to
take back to Ednbal for dinner. At one spot we asked for the price of 1kg,
50tl, we went back to last nights spot and got 1.5kg for 12tl which we took
home and enjoyed with a lovely bottle of South African Chenin Blanc.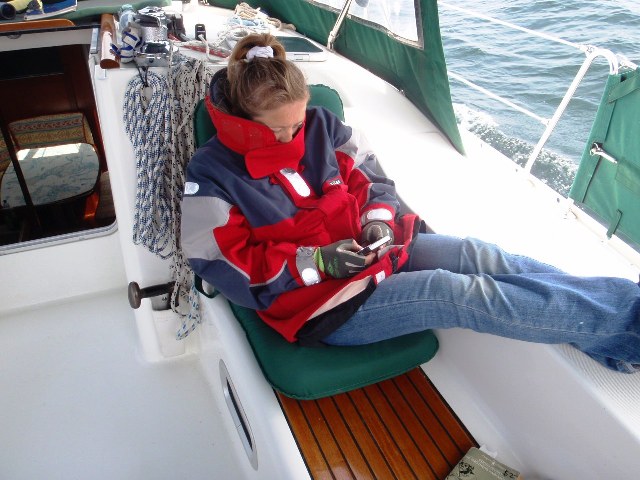 The weather wasn't getting much warmer, if anything, with
the North wind we'd had for the last few days, it was getting colder but we
decide, based on a forecast predicting the wind to swing East and drop to under
10kts, to head further up the Dardanelles. Bad
move, after an hour the wind was up to 20kts at 30 degrees and were motoring
into that while trying to dodge the 3kt current on a freezing cold day, so cold
that we had full foul weather gear on - crazy! We pulled into the first
reasonably protected anchorage we found, started the generator, closed up the
cabin and put the heater on to try and thaw out. The following day wasn't much
warmer but we set out again, motoring the first 5 miles that took us out of the
Dardanelles and into the Sea of Marmara where, with more room to tack and less
current, we could tack to our next anchorage Kemer on the Southern shore. It
turned out to be a lovely sail, each time we tacked the 10kt wind, though cold,
seemed to swing in our favour. Like many anchorages in this part of the world
the bottom drops off very quickly from the shore, we anchored in 10m only 50m
from shore. From Kemer another short sail, 25 miles to a small group of islands
in the sea of Marmara, specifically Avsar Adasi. We had been advised, by Anna
and Alain that it was a very well protected anchorage and that wine, made
locally, was very good. Sure enough we arrived after a somewhat slow sail,
beating all the way, to a huge, breakwater enclosed harbour with a few local
fishing boats and plenty of room to anchor. We were close enough to shore to
just row in. Still no other cruisers. Next day there was virtually no wind, the
sun was out, lovely day for a walk on the island. We made it to the slightly
larger village on the other side of the island by minibus and walked along the
beach. In common with so many other places, most of the houses and hotels were
empty while a number of the bars and restaurants were closed. Can only assume
the place must really get going in the summer holiday season. Spring was still
obvious, beautiful flowers to be seen everywhere. Very few trees, quite barren
looking which left us wondering where the grape vines were hidden. In one of
the small shops we found local wine and bought a mixed dozen, ranging in price
from 5 to 9 Lira. It wasn't until our bus ride back to the other side that we
actually saw vineyards. After arriving back to Ednbal we took and evening
stroll and wandered into the local winery where bottling was in progress inside
a shed. Bottles of wine, shrink wrapped by the half dozen, were being packed on
pallets. A young guy with long wellington boots on came out to see us and, with
no English, gave us a look around. It was the same wine we had bought but here
there a few more varieties. We liked the look of one oval shaped bottle
enclosed in a whicker basket, very traditional, had to have one.
For the next two days we were confined to harbour as the
wind blew 25 to 30 knots from NE, right where we wanted to go. The weather
forecast had the wind dropping so late afternoon of our third day we ventured
out, on our way 75 miles to Istanbul. After tacking a few miles into a wind
that was back up to 25 knots again we thought better of it and went back to the
lovely calm anchorage, try again in the morning. At about 9AM the wind was
dropping and forecast to back, North and around to West. Off we went again. After
14 miles the wind died completely so we ended up motoring the last 60 miles,
arriving to our anchorage at Karakoy, Istanbul, with a welcoming pod of
dolphins, just before midnight. We anchored right out the front of the marina
we would be in for the start of the EMYR (East Mediterranean Yacht Rally). Well
we made it still with a few days to spare for Istanbul sight seeing.
Off sight seeing, a few km walk to the ferry, here known as
sea bus, terminal at Karakoy to catch one of the half hourly sea buses straight
into the tourist centre of Istanbul.
Following the shore we walk a lovely promenade walk walkway that suddenly gives
way to a construction sight, maybe we can't go this way so we ask a guy walking
behind us. Turns out he has spent time in Oz, New Zealand and Canada to name a
few, so speaks English. He introduces himself as Mehmet and escorts us all the
way to the sea bus terminal while giving us his life story on the way. He
showed us where to get a ticket. 1.5 Lira each and which, of many, sea buses is
the one we should catch. We swapped phone numbers and parted. That was not the
last we heard of Mehmet, he phoned us that afternoon and each day to see what
help hew could be. Just one example of how incredibly friendly and helpful we
found the Turks to be. First day in Istanbul was a bit of a reconnaissance
mission come walk around although we visit the famous Blue Mosque. While not as
old as some other sights, only several centuries, it was for me the most
spectacular of all the sights. No description or photograph could possible give
a sense of size or grandeur, surpassing any man made structure I have seen,
including those in Rome.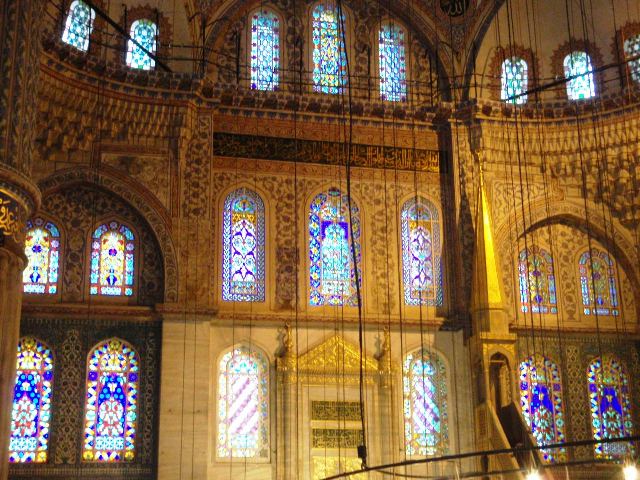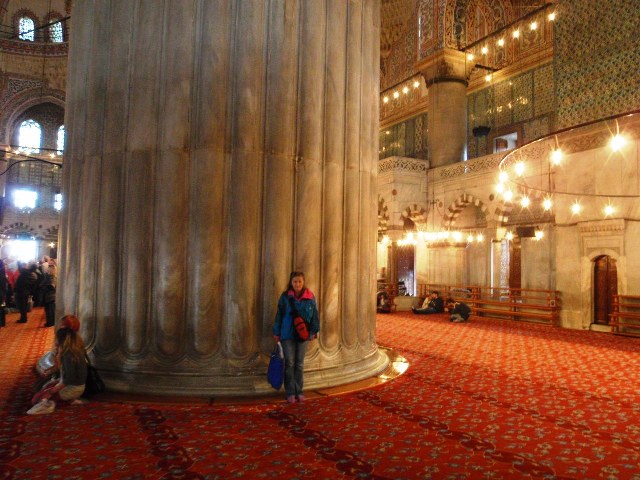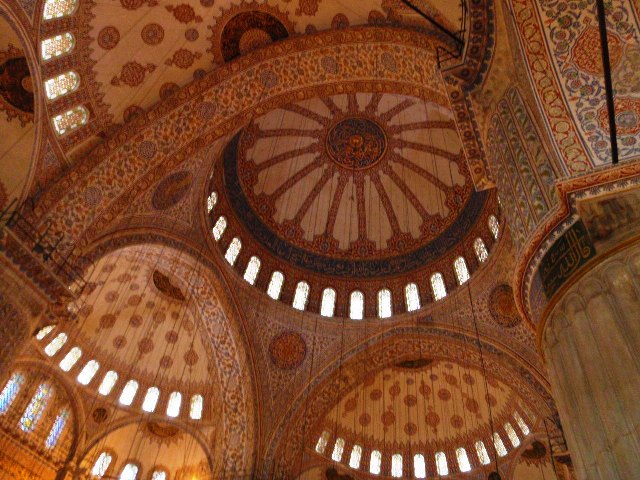 In the evening we caught up with Aussie friends,
Pattie and James for a couple of quiet beers. One of the "must dos"
is a trip up the Bosporus to the Black Sea. We had planned to sail, well motor,
Ednbal but against currents up to 4kns and dodging the ships we decided a sea
bus tour would be a better option. With the help of Mehmet we took the
Nostalgic Bosporus Tour sea bus that stops for passenger pick up and drop off
at 5 towns along the Bosporus, Europe on one side, Asia on the other, en-route
to Anadolukavagi at the Black Sea entry. As we disembarked at Anadlukavagi
there was a fishing trawler alongside the dock so we thought we may be able to
buy some fresh fish. Sheepishly we approached and prepared,  in our best Turkish, asked if they had any
fish. Before Sasha got a word out the guy said, in perfect English, "is
there anything I can help you with". He then went on to explain that they
were in port repairing nets etc because at this time of the year the pregnant
females were on their way up the Bosporus into the Black Sea and should not be
caught. Perhaps we could get some red perch from one of the small local fishing
boats. We did not find fish but walked up to the castle that used to protect
the Black Sea entry. For most of the 2km walk, particularly up the hill, there
were restaurants lining the winding path. For some it was too early in the
season and they were not open so we helped ourselves to an outside table and
had a beer from our picnic hamper. Up at the castle we found a spot behind a
wall, in the sun and out of the wind, for our GnTs and picnic lunch. What a
view and being spring flowers out everywhere, a gorgeous day.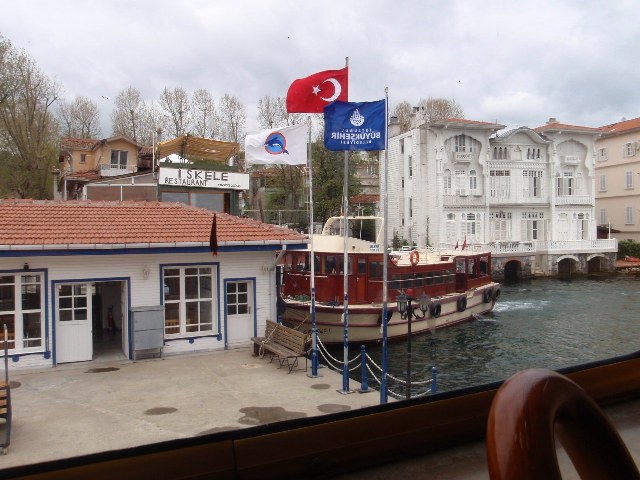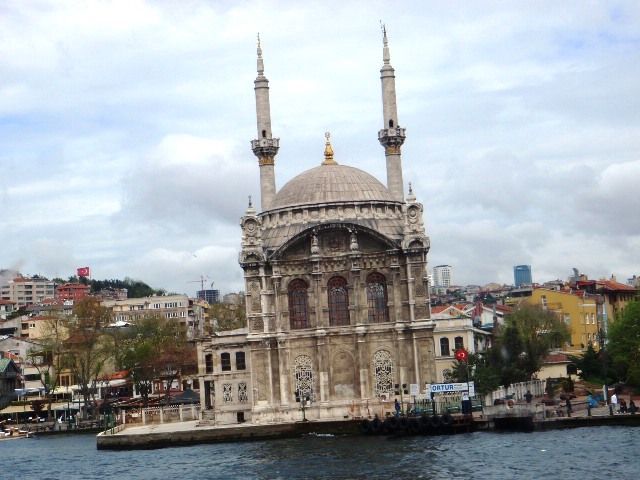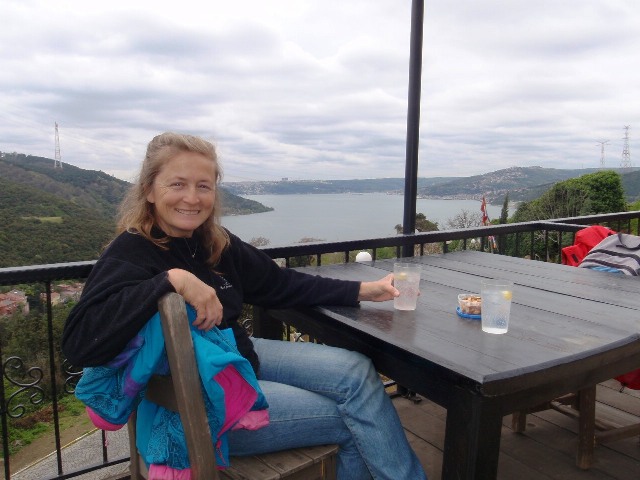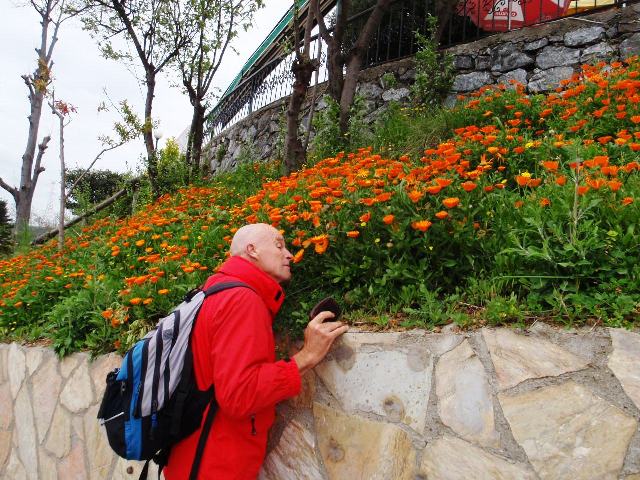 Strange experiences: the next we were in one of the many
Istanbul Vodaphone offices trying to sort out a problem with our internet
communication when in walked a guy, fairly big, maybe 60 or so. In the broadest
country Australian ascent he asked, from the door, in a very demanding loud
voice, one of the Vodaphone reps "do you speak English?" Immediately
we turned away, very embarrassed. The poor guy sort of nodded and followed,
equally as loud and demanding "why can't I recharge my phone here, I know
I have to dial 61" (Oz country code is 61). The poor rep looked at him
blankly and the Aussie just walked out. A few seconds later he came back in
"where's the blue Mosque?". There was no answer. "So you
dunno" and walked out again. We showed our embarrassment to the rep and he
said something like "all I know in English is 1 2 3" and laughed with
us. We spent the day taking in some more of the famous sights, the huge, packed
Archeology museum the fascinating perfectly preserved sarcophagi and mummies
taken from the royal necropolis at Sidon in Lebanon by the founder of the
museum almost 2 centuries ago.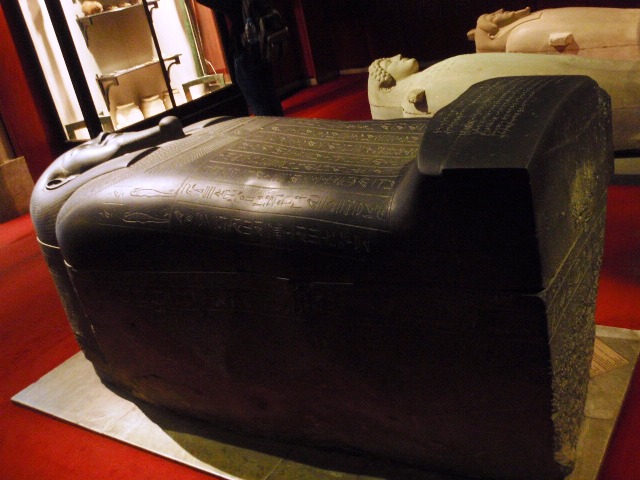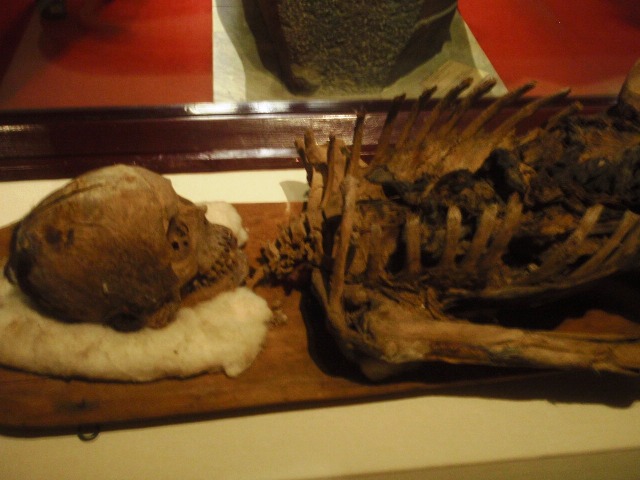 Sasha  was
particularly interested in the Greek gods and emperor Alexander sculptures and
Roman emperors of which there were hundreds.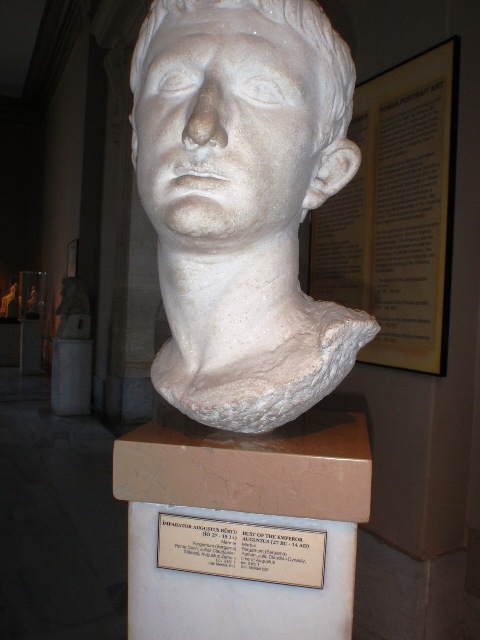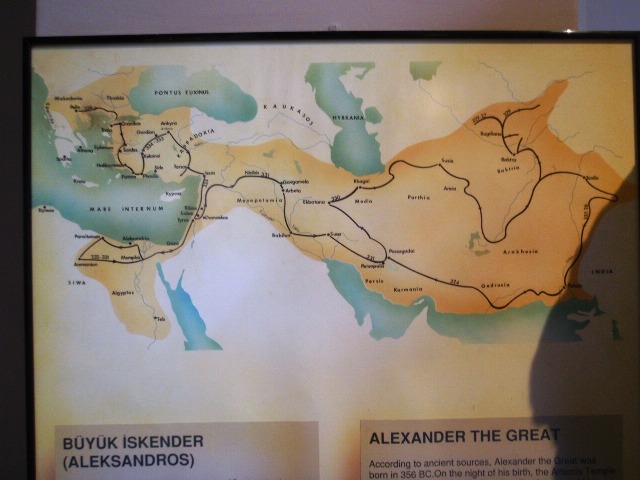 Next, after lunch of beer and "boreki"
(layered pastry filled with minced meat mixture),  the Aya Sofya, one of the worlds glorious
buildings. Built as part of Emperor Justinian's effort to restore the greatness
of the Roman Empire it was completed in AD 537. Supported by 40 massive ribs,
the dome was constructed of special hollow bricks made in Rhodes
from a unique light, porous clay; these rest on huge pillars concealed in the
interior walls, which creates an impression that the dome hovers unsupported.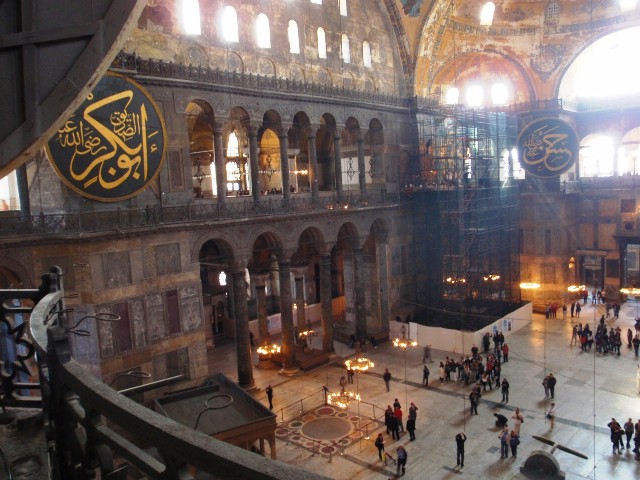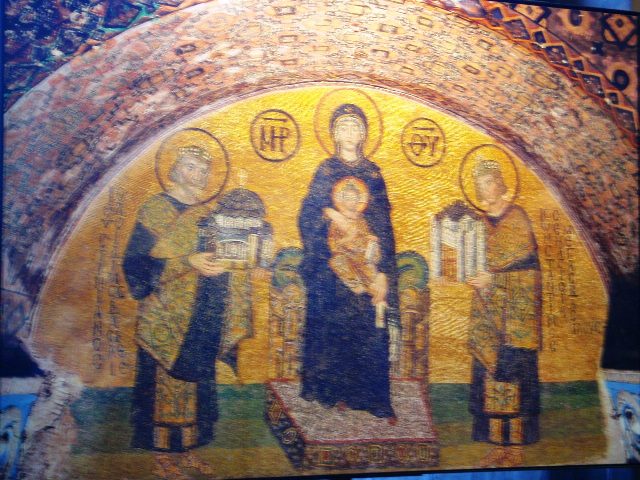 By
now we'd had a taste of the history and grandeur that Istanbul has to offer so we spent the next
day wandering the streets of the Galata district, over the Galata bridge a
little further East, still on the European side. We came across a local dance
troop accompanied by live Turkish music in the main square, another Ataturk
square of course, and watched them until so very western marching girls took
over.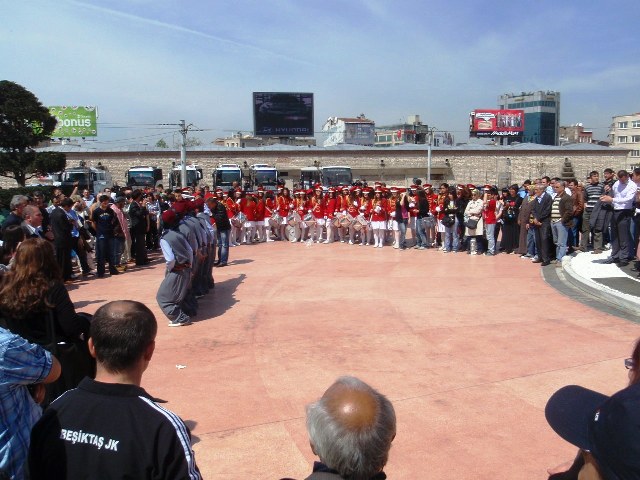 Through the back streets we found local bars and restaurants at
incredibly cheap prices. It was wonderful to experience real modern suburban,
well perhaps more inner city, Turkey. On the way back to the sea bus we crossed
the Galata bridge again to be amazed at the number of people fishing, literally
shoulder to shoulder, catching, mostly small, a few centimeters long,
fish.