Turkey inland and Georgia
Category: Mediterranean
Created: Sunday, 27 December 2009 17:04
Written by Roger Boxall
Hits: 2206
Georgia
Georgia Journal
Christmas 2009, we decide to do a little
excursion instead of staying in the Marmaris Yacht Marina. We had to renew our
Turkish visa, valid for 3 months, and the cheapest, easiest way to do it was to
leave the country and re entre which automatically gives another 3 months on
our multiple entry visa. Sasha investigated various options on the net,
Romania, Syria, Bulgaria but the costs, travel connections or visa issues
gradually counted them out. Then she hit on the idea of Georgia, the far North
Eastern border of Turkey. 600km overnight bus Marmaris to Ankara, 1000km
overnight train to Kars, hire car 80km to the border, cross to Georgia then
turn around and come back again. All for not much more than the exorbitant
ferry price for the 30km to the Greek island of Rhodes and an adventure into
the bargain. With bus and train organised as well as hotel booking in Kars it
all looked good. Of course there were options, maybe spend a night in Georgia,
maybe one at a snow skiing resort, Sarikamiş, 50km from Kars. As I had never
seen snow this also looked attractive.
So, with the basic plan in place we set
off, with two back packs and yachting foul weather jackets, on the Marina ferry
the Marmaris town at 16:30 on 23 December. Caught the bus at 21:30 and arrived
in Ankara at 8:30 Christmas eve to catch the metro train to the central train
station where we put the back packs in luggage storage ready for the evening,
16:30, train to Kars. Already it was bloody cold so we went into a small
restaurant in central Ankara for breakfast and defrost. Our main objective for
the day was to visit the famous Ankara Anatolian Museum that houses relics
unearthed from archaeological excavations largely in central South Turkey all
the way from stone age, Palaeolithic (3 million years ago to 8,000 BC) to
bronze and iron times, walking distance from the train station. With the help
of a fairly large scale Ankara map and numerous people on the streets we
finally found the museum. Quite incredible, definitely one of the most interesting
we have visited, not that I am a great museum fan! From the museum we stumbled
upon a small open air market specialising in nuts and dried fruit sold bulk,
out of big bags. Each shop had a hundred or more choices. We bought some travel
supplies from one who was most intrigued about us being from Australia.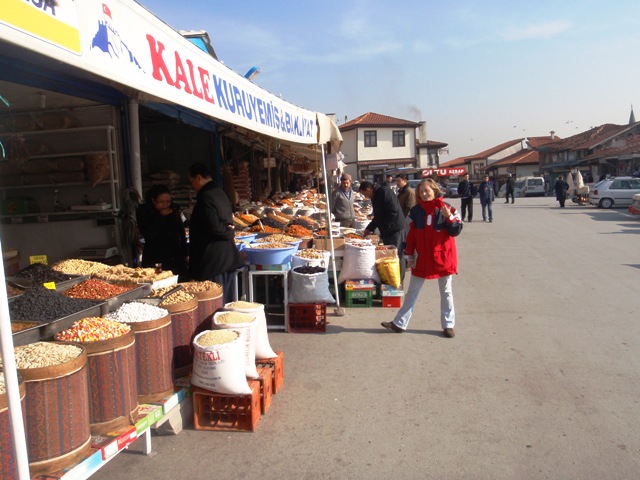 After a
huge Donna Kebab lunch the princely sum of $4 (for both of us!) we picked up a
few other essentials, beer, bread, cooked chook etc for our 26 hour sleeping
cabin train journey as we had heard that the train restaurant car may not be
all that special and headed back via the central Gençlik Park back to the train
station an hour before scheduled departure of the Doğu Express (1,000km, as the
crow flies, in 26 hours and it's called express!!). The big electronic
arrivals, departures board in the waiting "lounge" was announcing
16:40 departure, platform 2, so we walked to platform 2 at 16:30 and waited in
the cold. No train. It finally arrived after 6 and we were eventually under way
by 7, only a couple of hours late.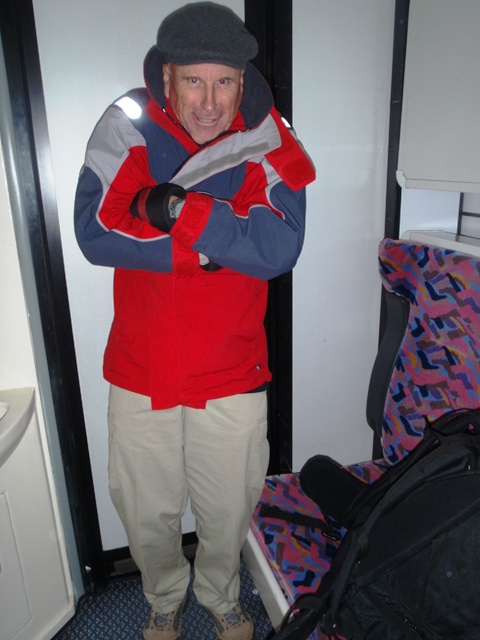 The two berth sleeper cabin was quite a
surprise, sink, hot water, temperature controlled air-conditioning, even a
fridge (but it didn't work too well) with fresh linen and towels delivered by a
conductor. With the A/C on max we thawed out and had a GnT, crackers, cheese,
tomato and sausage, life is good.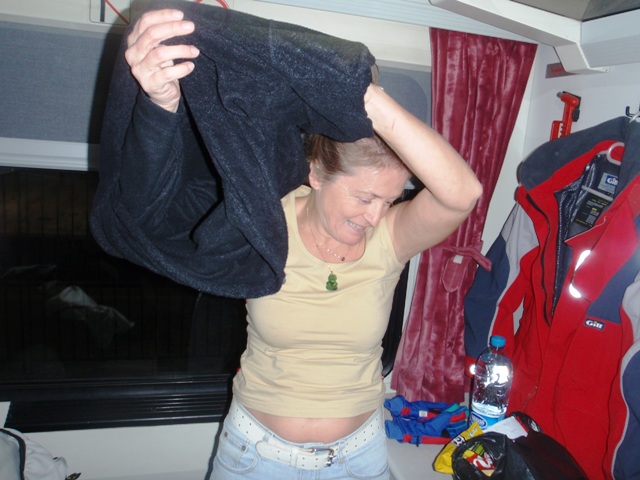 After chicken dinner we hit the cot,
Christmas eve. It must be noted that we were in a Muslim country so there was
no evidence of Christmas anywhere. As it became evident that our little cabin
fridge wasn't working too well we had coerced the restaurant crew to put our
Christmas lunch (cold chook) and bottle of champagne in kitchen fridge. By
midday Christmas we were in snow country. The forecast had been for snow fall
24 December, it certainly looked like fresh snow, according to the expert,
Sasha, first time for me. By late afternoon we were at almost 2,000 metres and
the landscape was white as far as you could see.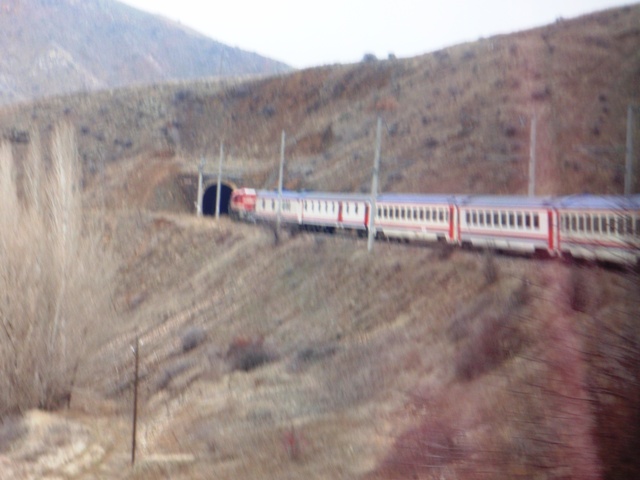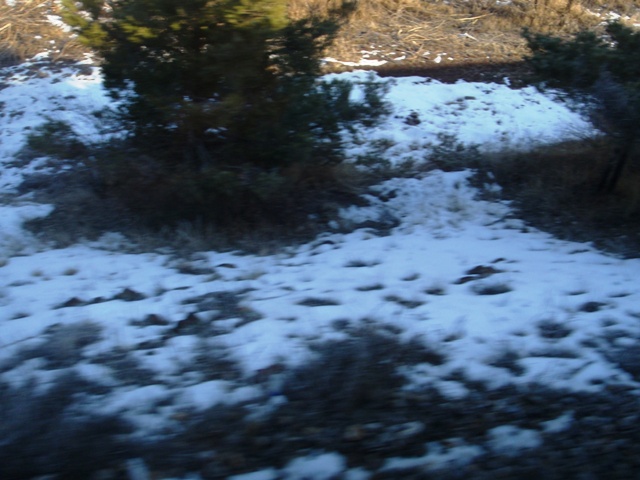 Finally we arrived in Kars,
after midnight, 5 hours late, now to find the hotel. Our wagon, the last of the
train, wasn't even at the platform, we had to jump down to the ground, a
combination of snow, ice and slushy black mud, welcome to Kars. Out the front were two taxis, both
already being loaded as we walked towards them. A passenger of one of them saw
us, he spoke English and invited us to join of the trip to town, one spare seat
so Sasha sat on my lap. This is the sort of hospitality we had come to enjoy in
Turkey.
 The
Güngören hotel manager welcomed us in, breakfast from 7, had a good night. Like
most things we had experienced in Turkey the breakfast was simple but fresh.
Turkish tea, hard boiled eggs, fresh bread, varieties of local cheese, fresh
butter (just like Mum used to make on the farm in Western Australia when I was
a kid), a huge tub of strawberry jam and another of local honey all laid out
for help yourself. Next trick was to hire a car. Sasha had sent emails to the
local tourist office to hire a car but had not received replies so we were no
too sure. The hotel manager directed us to the car hire joints a couple of
blocks away, we found one open at 9am. Yes we could get a car, now the
bargaining, almost everything in Turkey must be bargained, it started at 200 TL
(Turkish Lira) for 2 days, we settled on 160, but the car would not be
available until 12. Problem, Sasha had booked a hotel in the Georgian town of
Batumi, just over the border, but on the coast of the Black Sea, 300km away.
Here it gets dark at 4, to get to Batumi we have to go through mountains up to
2,600m so it is a slow windy road, at least 5 hours with no u turns! Back to
the hotel and look for other options. Not much on offer, no busses or other
transport so at 10 we went back to the hire car joints to find another one open
and car available now. By 11 we were on our way, out of the city and climbing
the first mountain road. No problem, no snow or ice on the road, seems we hit
the jackpot as far as weather is concerned, sunny up here for the next few
days. At the highest mountain pass, 2,640m we stopped, my first walk in snow,
first snowball, my trousers got wet.

The next 200 or so kms were windy mountain
roads, hairpin bends, a lot of the time with a sheer rock wall on one side and
a mountain drop on the other, no safety railing, never driven roads like this
before! Fortunately there was very little traffic; the scenery was just
spectacular, in amongst snow capped mountains with sheer mountain rock walls up
to 1,000m high.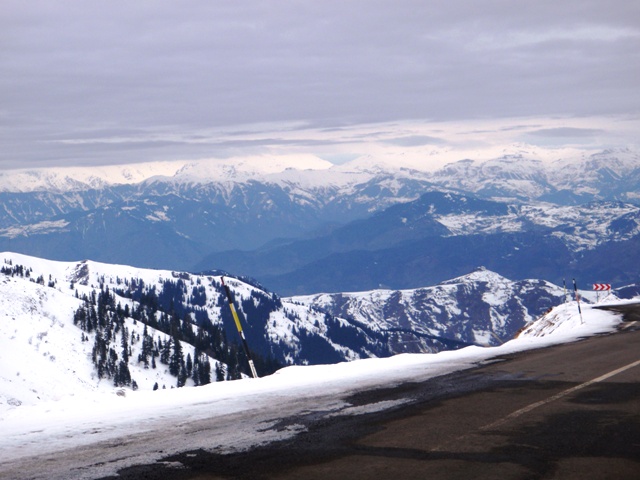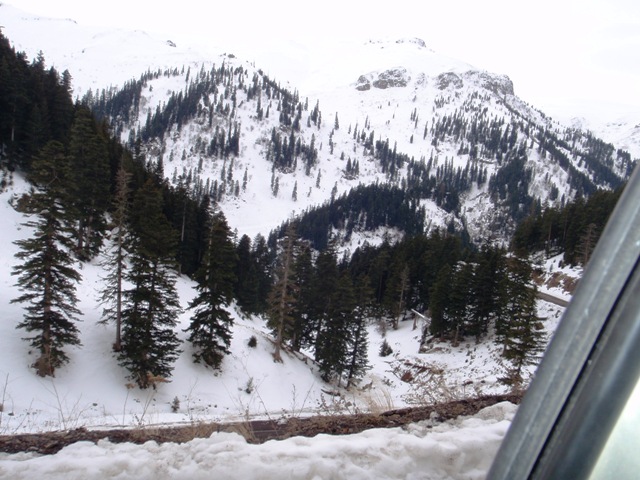 Then, with about 60km to go, as it was getting dark it started
to rain. Nothing better to stress the nerves as the traffic started to build up
in our approach to the Turkish city of Hopa and the Black Sea. By 17:30 we were
at the border in the town of Sarp. Now the fun stars. All OK for us to enter
Georgia but not our Turkish hire car. After considerable haggling we were
allowed to leave the car in a secure compound and continue by either taxi,
minibus or walk the 10kms to Batumi. We found a minibus that dropped us in the
middle of Sarp (a whole $1.5 for us both). With directions from locals we found
our hotel on an unpaved street with muddy puddles everywhere, not looking good.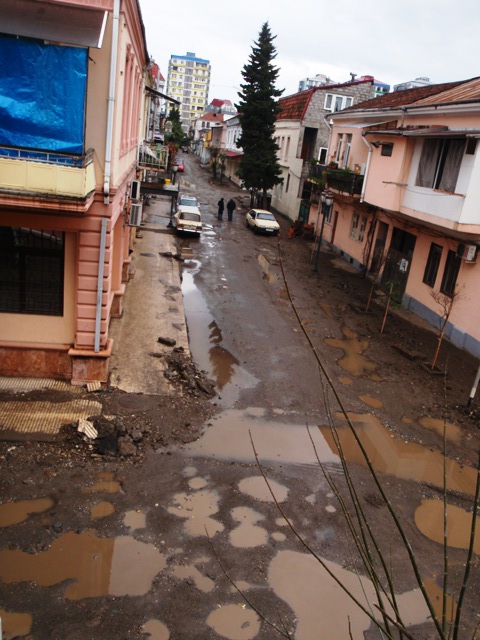 The small 10 room, recently renovated, Rcheuli Villa  hotel, apparently formally a summer house
visited by Russian nobility a century ago, was a different question. I must say
very impressive, especially at the modest price of $60.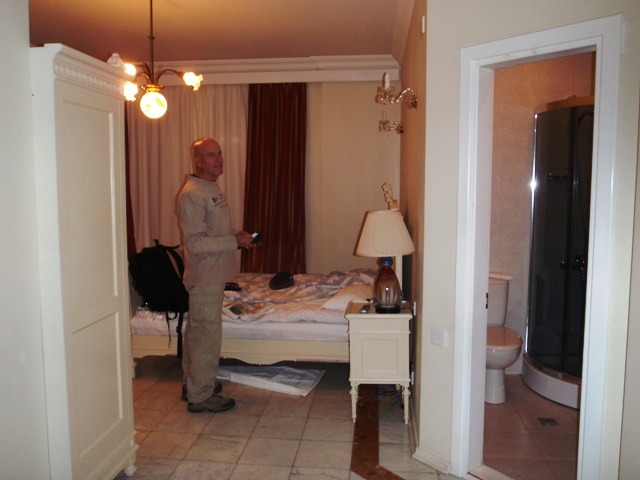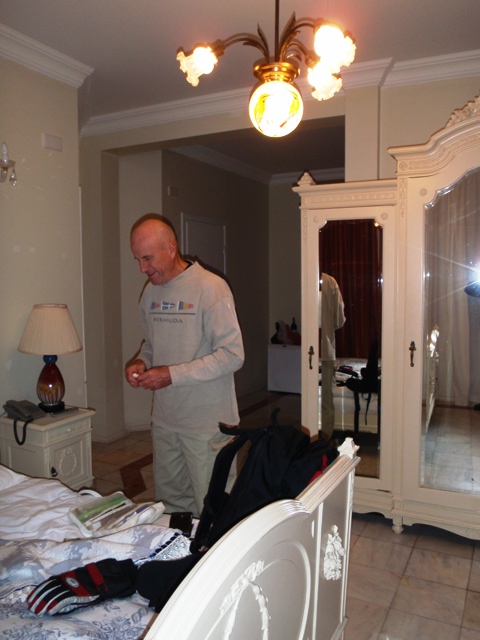 No hotel restaurant so
out for dinner, directions pointed to some blue lights at the end of the road
ands then pointed left, uh, uh. No
street lights, so we stumbled along to the end of
the road and turned left, suddenly civilisation. Sealed roads, street lights,
even decorations getting ready for new year. Past one restaurant, empty, not
for us, then a bar, at least a beer. Here a waitress spoke English so we asked
where to find local Georgian food. Ajarian House restaurant, a taxi ride, about
$3. Year right says I where can you get a taxi for $3. The waitress even called
the taxi for us, all we could say was Ajarian House and hope for the best. Ten
minutes and $2 later we arrived, it was full and very raucous in a huge room
upstairs but there was one table available downstairs, yes please. We asked for
authentic Georgian and too the waiters suggestions, what an gastronomical delight.
Ajarian khachapuri 4 lari (1 lari is 0.6 Aus$), very hot pizza bread with raw
egg and cheese in the middle - stir up to cook egg to your liking at the table.
Next "firm dishes sbigevi", 7 lari, slow cooked  beef, cabbage, ham, tomato, lightly spiced
with touch of sweetness, criss-cross melted cheese on top, sizzling hot, served
beautifully presented in a clay pot, with flat bread. And desert – a mouth
watering sweet pastry filled with nuts, similar to baklava.  Three dishes and a couple of beers (500ml
bottles 2 lari), we were full and well satisfied.
Early start 27 December, an even longer
drive today, provided we can get our hire car back, to the Toprak ski resort in
Sarikamiş, 50km from Kars. Just as we got to the dinning room for breakfast the
power went out. The dinning room was in the basement so no natural light,
breakfast by candlelight. As in Turkey food, all laid out smorgasbord style,
this time not all fresh but with meats as well, suits me. After a while we hear
an engine start, a portable generator, the lights come on. On the way, walking
to the bus we pick up supplies for the trip from one of the many small corner
shop type places including of course Georgian vodka and red wine. Apparently
this is the first place ever to have made wine. There people selling all sorts
at the mini bus depot, one lady came by with beautiful fresh hot flat bread, so
large that two pieces for 0.3 lari ended up lasting us two meals. At the
boarder we use up the last of our lari, a litre of beer for 2 and a kg of mandarins
for 1, as you can see you could live very cheap here! There was quite a line up
for Turkish immigration, well not exactly a lie up, more a group of people
battling to get to the immigration officers window. Despite a number of
"push ins" we managed to keep our cool and were through in half an
hour. Now to get the car. We were in the Georgia
to Turkey lane, it was in
the Turkey to Georgia lane.
As it turned out we were better off in Georgia without it, especially as we had
no detailed map! We managed to find a way through one of the buildings to get
to the car which we then had to drive, against the flow, back the way we had
driven in. All went well until the final check point, what would normally be
the first point to come to cross from Turkey to Georgia. Sasha had a hard time
convincing the officer that the car had in fact never been into Georgia. Once
he realised it was a Turkish hire car he finally let us through, by 10am we
were on our way for Sarikamiş.
The first 60km were the same as the inward
journey. Then were turned onto a road to Erzurum
that followed the river. As were not crossing the mountains the road was not so
windy but with the river on one side and sheer mountain rock on the other. In
places the road was eaten away by the river and down to one lane with part of
the bitumen road disappeared completely, hate to be travelling it at night!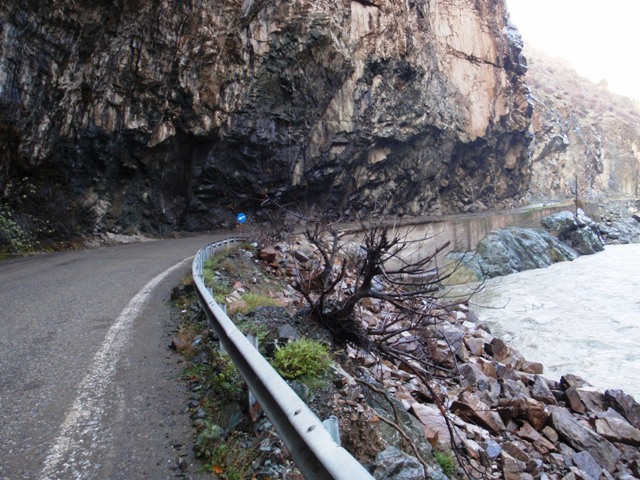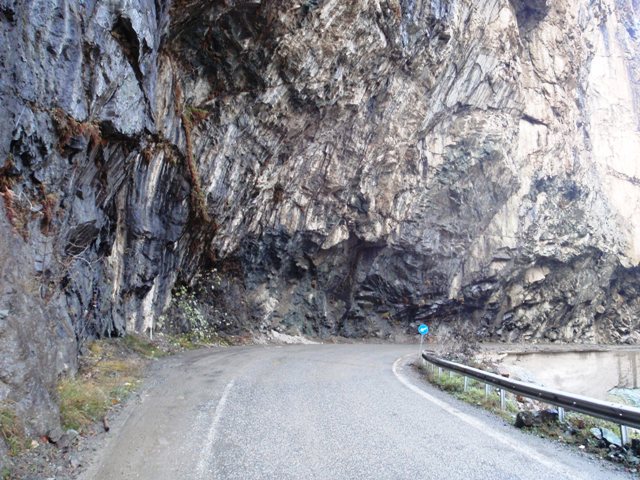 There were signs warning of rock falls, we soon found out why. In places there
were rock slides that had completely obliterated the road and spilled into the
river. A "new" road bypass section was made through the rock slide.
There must have been 8 or 10 such sections. In others where the slide was not
so big and the road part covered it was just down to one lane.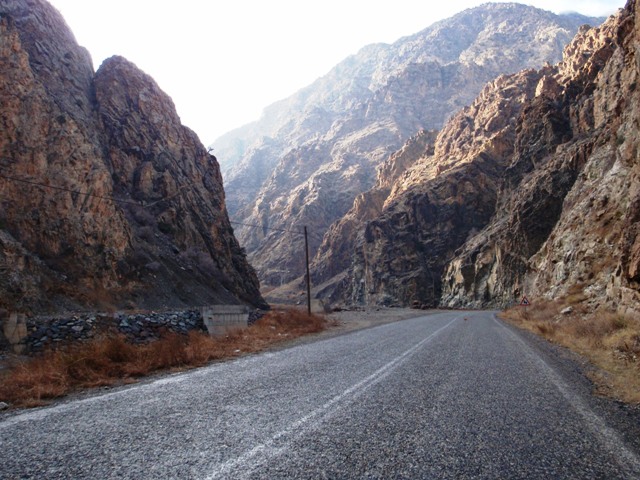 Again,
thankfully, very little traffic.

According to the map we had all sealed roads
except for one 34km section that was a mountain pass from the village of
Gaziler to the Kars - Sarikamiş main road. By the time we got to Gaziler the
sun was already dipping behind some of the mountains only an hour or so of good
light left. We set off on the good unsealed road and were at the snow line in a
couple of kms. Before long the road was completely snow covered, we reached the
peak, 2,450m then into fog. I was keen to turn around but Sasha reasoned we
were heading down again so should keep. Next a minibus and a car went past
going the opposite way, first cars we had seen for over an hour, so we knew we
could get through as this was the only road and as they say "hire cars can
go anywhere"! The road became muddy and sloshy where snow was melting and
we even saw a sheppard leading their sheep through snow. I must admit I was
very anxious there for a while but we made it to the main road in light, even
that, in places was covered by snow.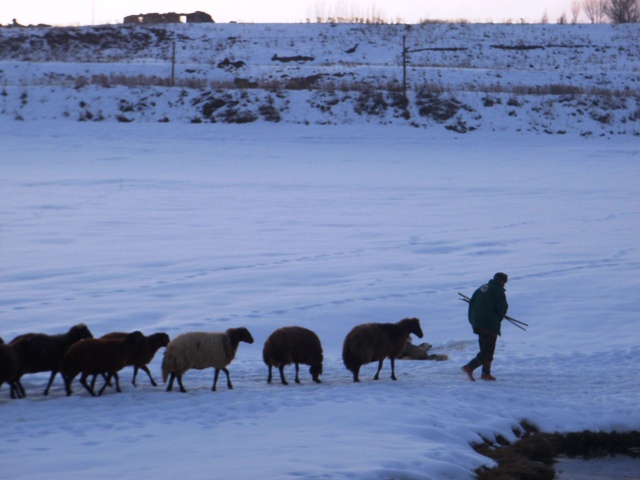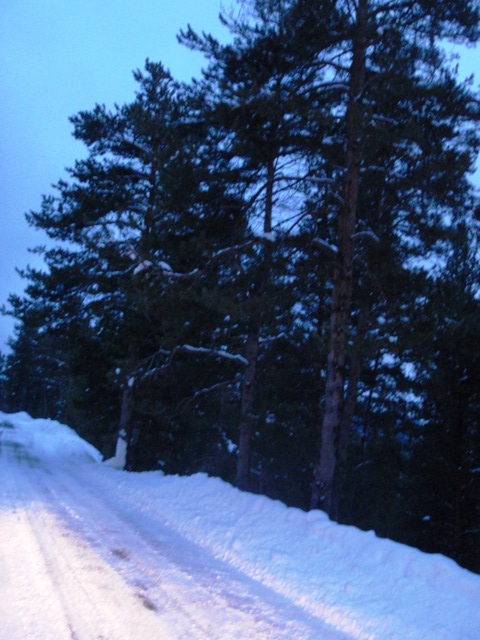 By the time we got to Sarikamiş it was
dark and on the road to the hotel the low fuel light came on, just for good measure.
At the Toprak hotel our internet reservation had not been recorded so back into
bargaining for a room. We eventually ended up with the manager, Nevzat, who
spoke English and came down to an acceptable price, all inclusive, meals and
facilities (heated pool, sauna, Turkish baths, gym, even ski lift passes) pity
we didn't have time to take advantage of it all, but we did our best. Slight
disaster as we retrieved our back packs from the car, one wasn't closed
properly and our lovely bottle of Georgian red disintegrated on contact with
the stonework road! However, we had a lovely snow view from our room, vodka and
OJ, perhaps I had one too many that evening while Sasha was napping still
trying to shake off the remnants of the cold she caught a few weeks ago.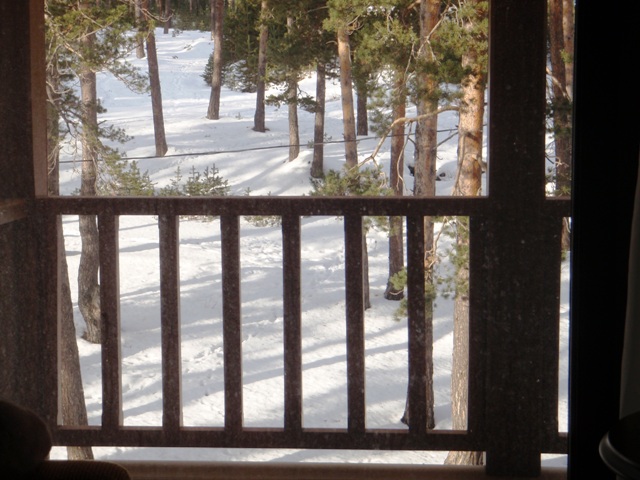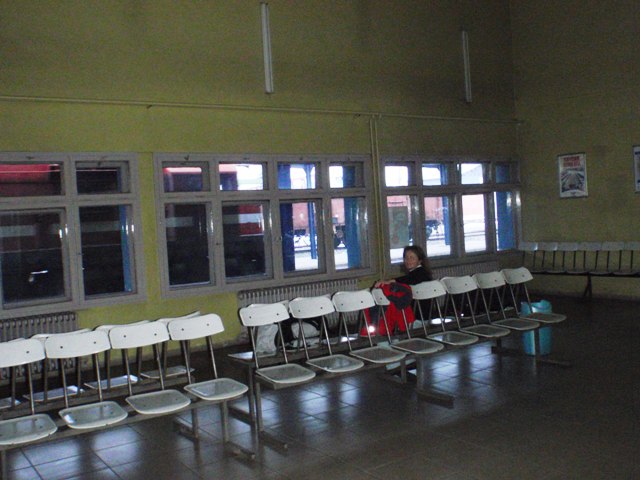 On the 29th we headed back to Kars to
return the car and catch the train to Ankara. Sounds easy but once in Kars it
still took us half an hour to find the car hire joint. After a lunch at a
traditional Turkish kebab Salon we picked up supplies for the train trip,
notably another kg of 2 year matured cheese from one of the many specialist
cheese shops for which Kars
is renound,  and walked to the train
station through snow ice and mud. The train left on time so it seemed we would
make it to our bus for Marmaris that was leaving 2 hours after the scheduled
train arrival in Ankara. Not to be, the train was 3 hours late into Ankara, we
arrived an hour after the last bus had left for Marmaris. We could try and find
a hotel for the night or catch the metro train to the bus station and see if
there were any other options. At the huge modern bus station there over 100
ticket offices for all the different bus companies stretching the length of the
station, yes it was truly enormous, modern and spotless. The guy at
"information" directed us to the appropriate ones for the direction
we were travelling and we managed to get to Marmaris via another city, Denizli,
leaving midnight. What a bus, virtually new, service like a plane with drinks
and snacks trolley, even wifi. The second, minibus, from Denizli to Marmaris
was not quite as opulent and with driver spending considerable time with his
mobile phone to his ear while letting go of the wheel completely to change
gears it was a bit of a worry. Still we eventually made it bck safe and sound.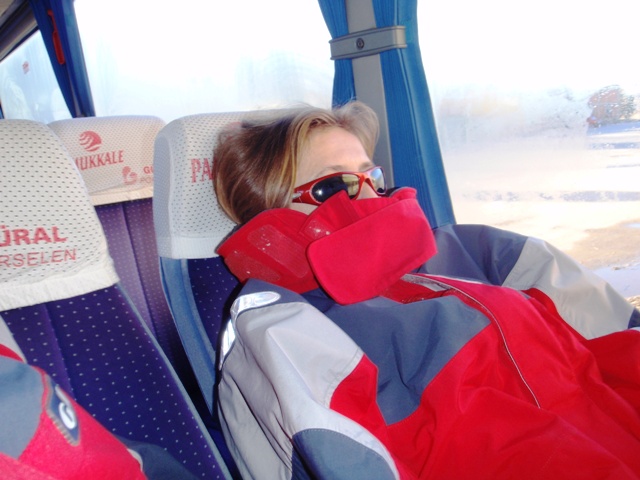 For us the standouts of the trip were the
snow, spectacular scenery, the likes of which we have never seen before,
cleanliness of the modern train and bus stations, no graffiti anywhere,
helpfulness and friendliness of the people. Downside really was only the train
schedule, 3 hours longer than scheduled in both directions as against the
busses arriving ahead of time.