Sicily, Southern Coast
Category: Mediterranean
Created: Thursday, 17 September 2009 17:00
Written by Roger Boxall
Hits: 1976
Sicily
Sicily
The small
fishing village on Levanzo has a significant Moorish influence; it looked
something like you would imagine a small Arabic village.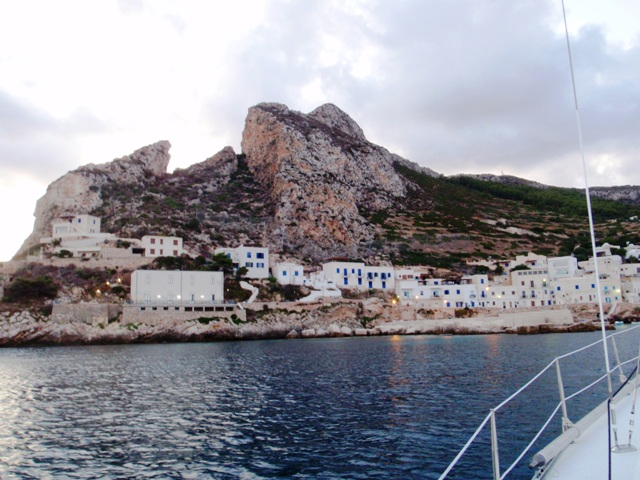 On shore we opted for
a "big Friday night out". After beer and Sicilian Pizza at one of the
water front cafes and beautiful Italian home made ice cream desert, we were
ready for bed, hoping that the ferry traffic, big hydrofoils that create an
awful wake when they sink back into the water on slow down, would stop for the
night so we might have a long calm anchorage sleep.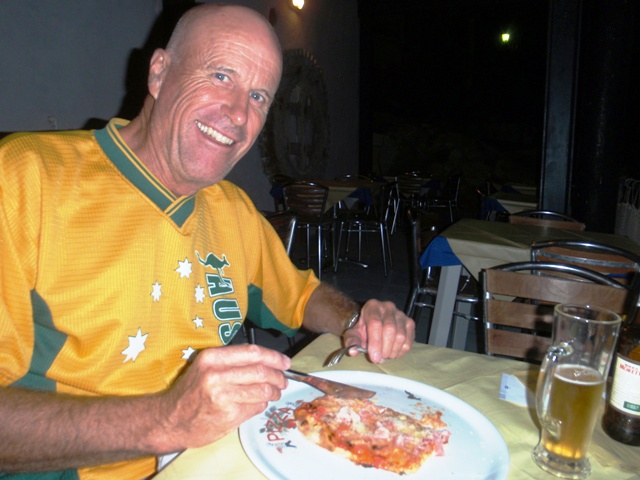 Next day after a sticky
arancini breakfast bought at a lovely local bakery, excursion is planned. In
the fifties a cave was discovered that has art, drawings etched in stone and
paintings dating back some thousands of years, amongst the oldest in the world.
According to our guide book you need to go and visit No 11 .......... St to get
directions to the Grotto de Genovese. So we did, to find it was a couple of
hours walk or you could go by taxi; we decided to walk. However we had nothing
with us so we bought 2lt water, some grapes, and away we went.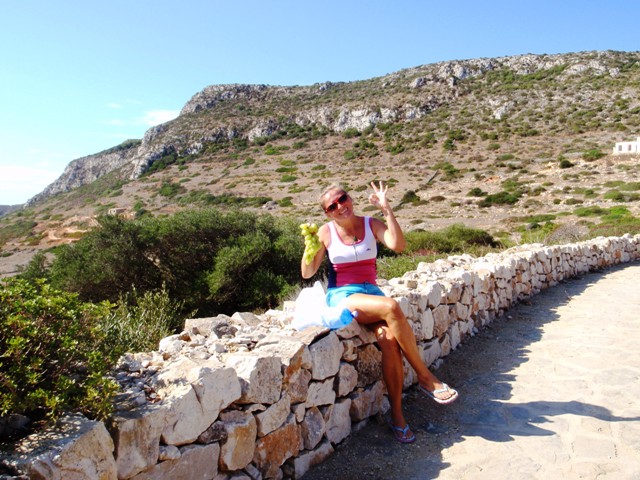 Up the hill a
couple of hundred metres high and into the island country side to see things we
never thought still existed. Stone wall fences and tiny stone pens for sheep
that were fed on cactus, yes cactus.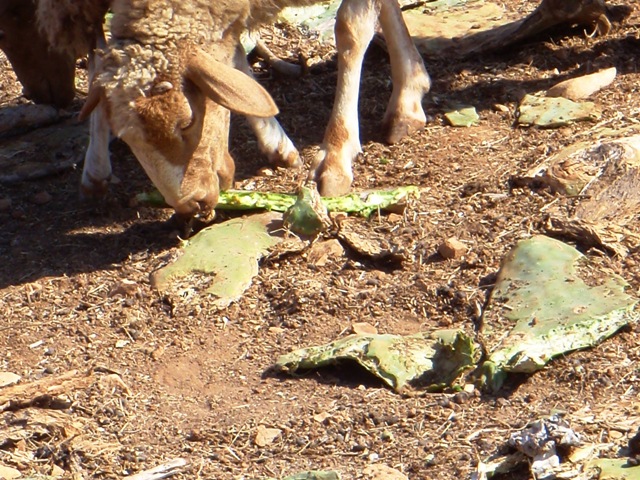 Huge flat fat (20cm or so by 1 or 2cm)
leaves that we also saw growing in other parts. A farmer riding a horse with
wooden crates slung over its rump to carry whatever, accompanied by his dog.
Almost like stepping back in time. Then the decent down the 700 metre path to
the Grotto itself. Now, 11 in the morning, it was all locked up, we had to wait
for the first tour party that came shortly after.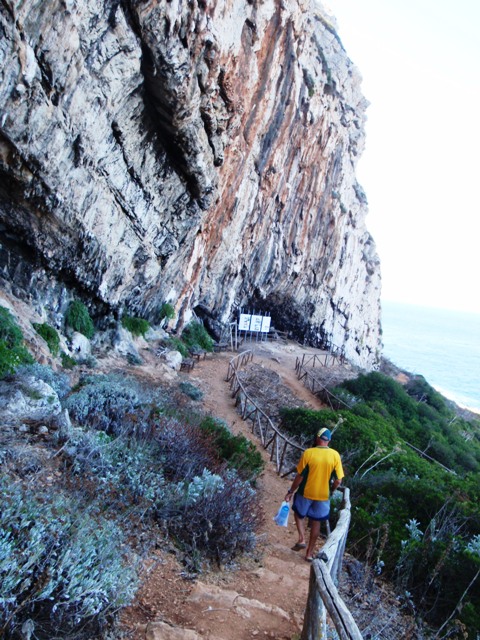 After looking at the site I
said to Sasha "just like Aboriginal drawings in Australia, what's the big deal?".
But seriously the likeness of drawings of animals in particular was amazing.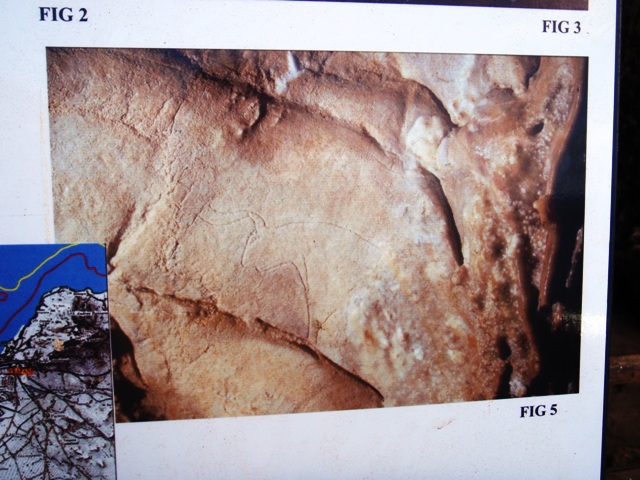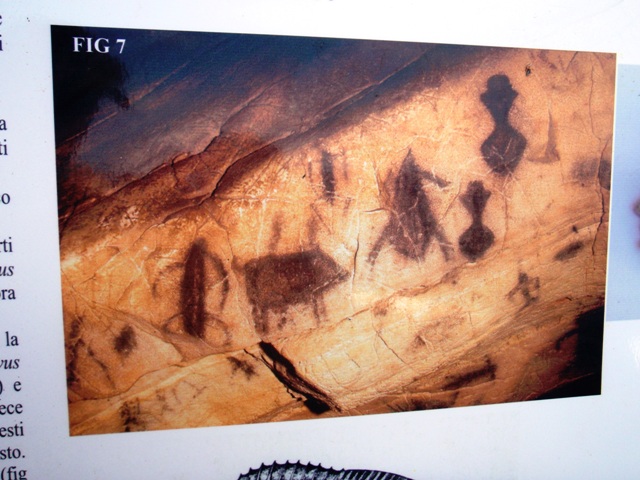 Now for the return trip to the village we decide to take the path on the
Western side of the island. No problem, up the 700m track to the road and turn
right onto a walk path, until it seems the path disappears and we are walking
along sheep tracks, not lost, the ocean is just over there. We head in the
right general direction until we reach the edge of the cliffs to find the path
is "down there" not far from the water line, but how to get down. Ah
well time for a u turn and follow the cliffs, there has to be a way down
somewhere. Thankfully we had water as the sun was now in full force. Picking
our way through scrub and grass in the sun was not what we had expected.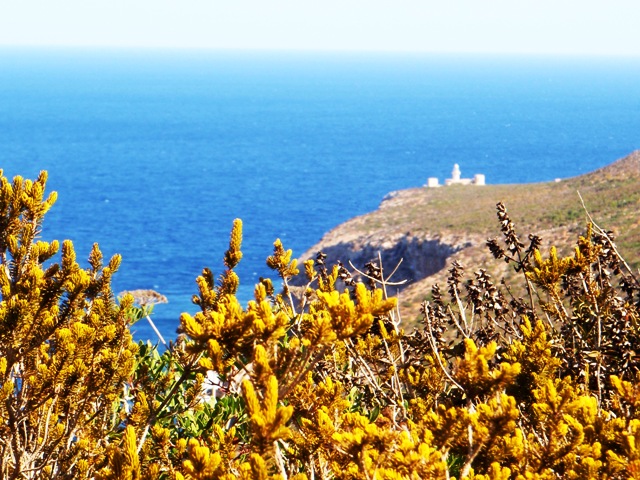 Eventually
we found the track that wound down some less steep cliffs to the track below
and made our way back to the village, Ednbal and a nice cold beer!
The following
morning we sailed over to the coast and the port city of Trapani, where, with
the assistance of a very friendly tanker captain we completed the formalities
of entering Italy. The must see attraction of the area is the mountain top town
of Erica. A bus and cable car ride from the city.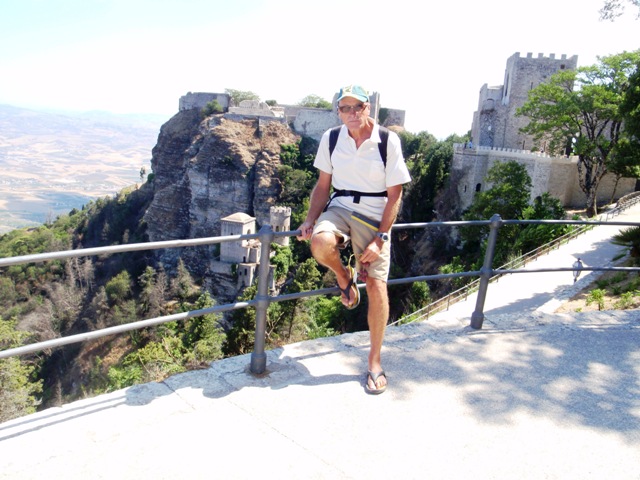 We didn't know the cost of
the cable only that the one up Mt Etna, on the East of Sicily, was €45, so were
pleasantly surprised to find it was just €5.5 return. With packed picnic lunch,
including requisite beer and GnTs we bailed out of the cable car 2,000m up at
Erica. The fortified town, dating back almost 3,000 years, is one of the most
well preserved as successive conquerors have realised its physical strategic prominence
and rather than destroy, built on.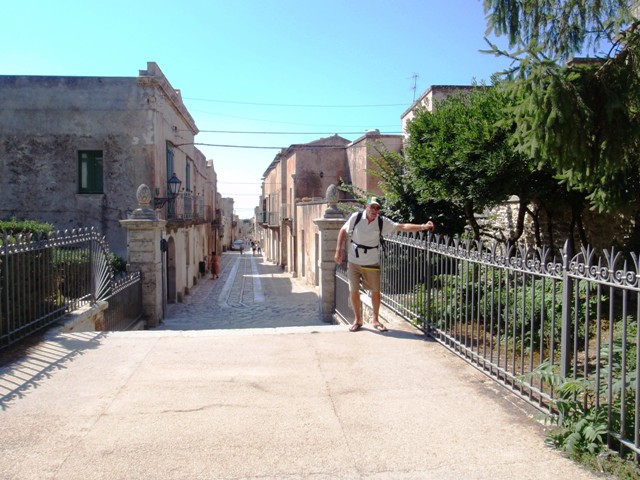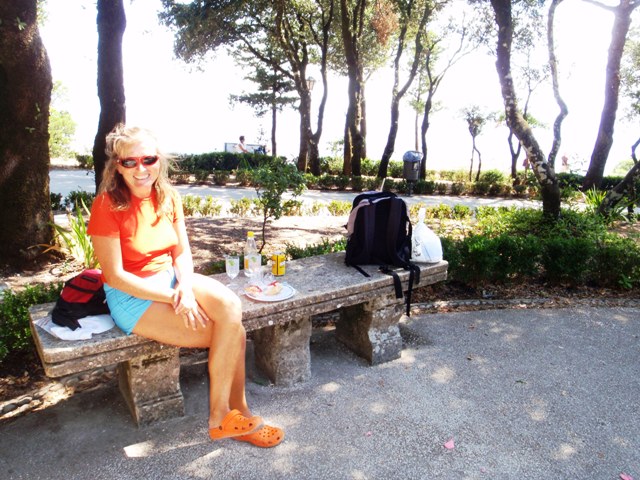 Tiny walk only streets, save the odd motor
scooter, with just a few wide enough for one small car.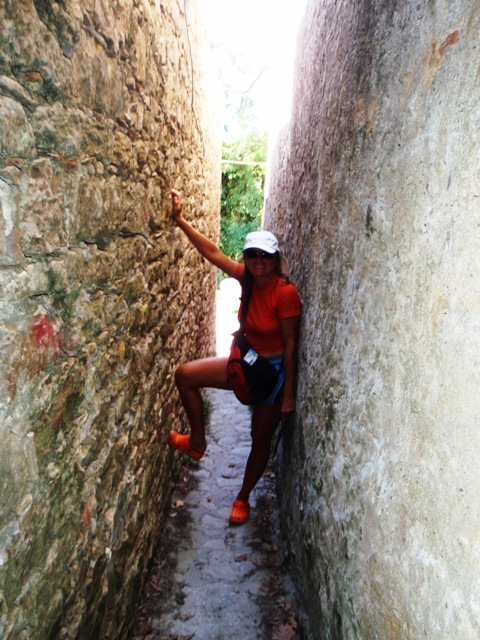 Stone roads and
walkways, stone buildings, huge churches with impressive bell towers (several
of them) and fortified castles.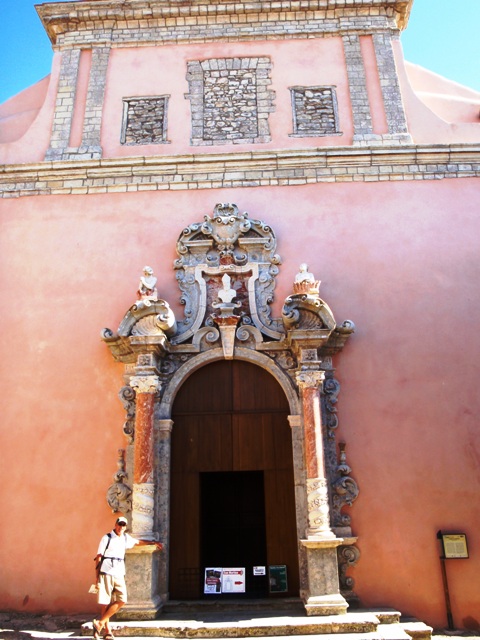 A Sicilian, not Italian, forging a living
giving rides in a fancy dressed horse and cart while playing a piano accordion
and imitating an opera singer!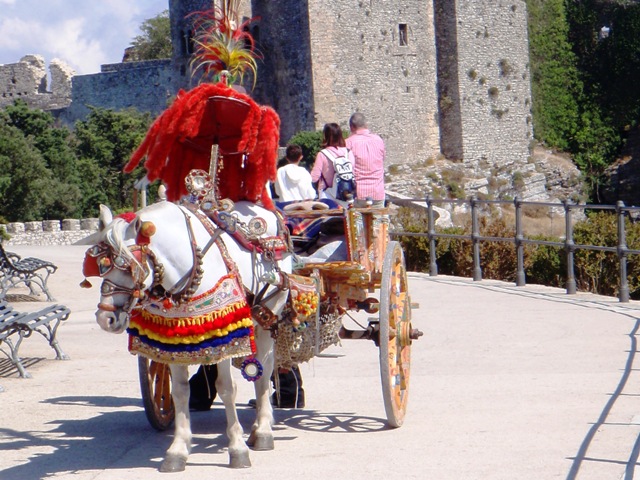 Amazing panoramic 360 degree views of the
surrounding countryside, right down to the sea. We had our lunch refreshments
under trees in one of two quite large parks, with views over the town and the countryside.
Simply stunning.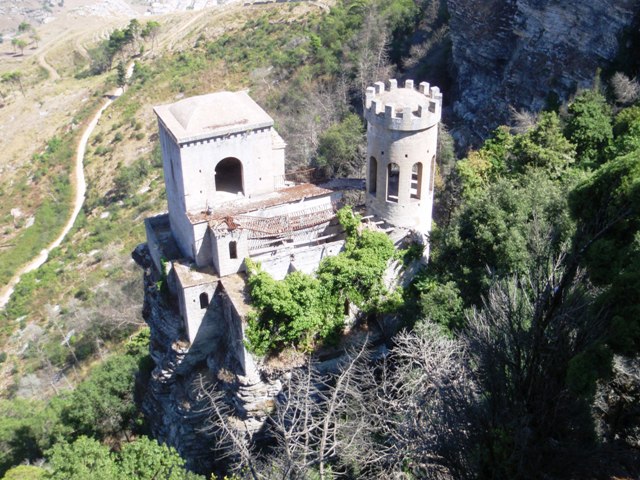 After an overnight
stay at Mazara del Vallo we continued on to Selinunte for a lunch stop and to
visit some huge Greek ruins from a couple of hundred years BC.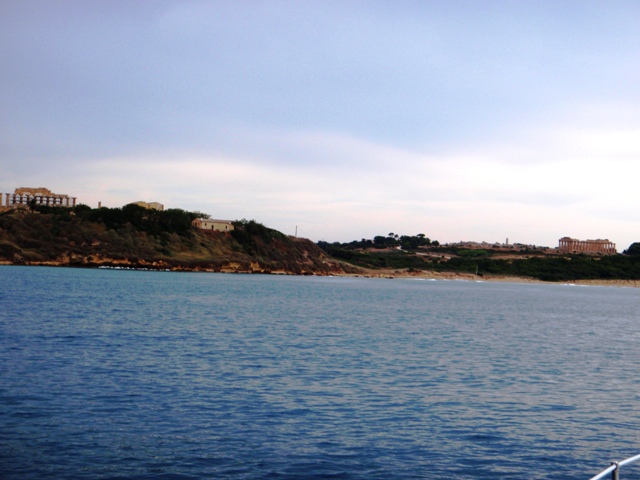 It was fairly
shallow near the shore with no protection at all so we anchored a few hundred
metres off and rowed ashore, judging time between the small waves to avoid
swamping the dingy.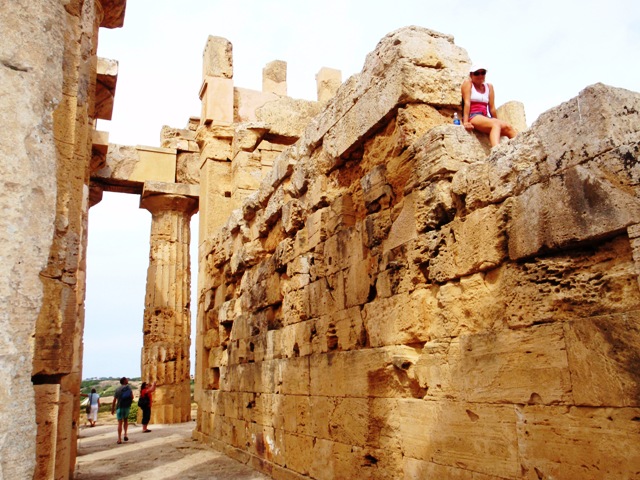 With the dingy up on the beach it was off on the mile or
two walk to the ruins, one small problem I had left my shoes on the boat. Oh
bugger! Too slack to row back out I went bare foot, some  way on roads, some on paths some, especially
around the ruins, on stony dirt. The main temple still has major structural
foundations and columns in place, of similar size to the Parthenon in Athens,
quite remarkable considering various invasions and earth quakes that seem to
abound in this volcanic island.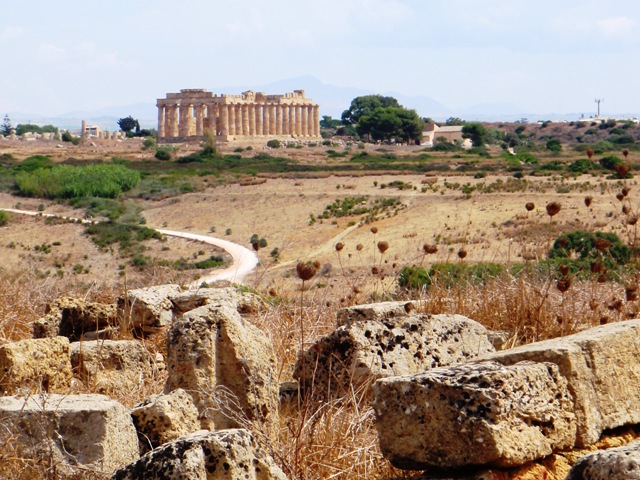 For our next stop we continued on to Sciacca
where the main attraction is natural hot springs, the water from which is said,
right back from Greek times, centuries BC; to have healing properties. In the
afternoon we walked the street of the old city, well small city, within the
original fortified city walls with only 3 entries or portas, originally made
for animal drawn vehicles, still one car wide.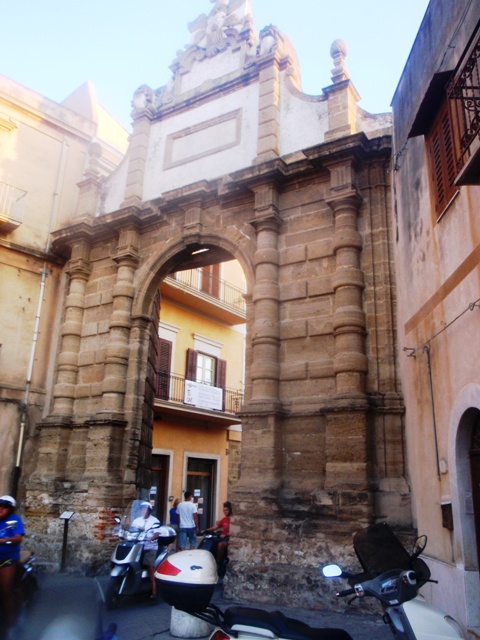 Next morning we caught the bus
up to San Calogero on Mount Kronio, about 1,000m and 7 km out of town. Near the
main bus station, hardly a station, parking for 6 buses, was a fish market
selling the days catch. We got talking, Sasha can reasonably understand
Italian, the fish monger could reasonably understand English. The Fish monger
was very friendly once he knew we were from Australia and sailing. Seems almost
everyone in Sicily has been to Oz or has relatives there somewhere. We bought a
kg of Scampi that the fish monger put in the fridge for us to collect on our
return journey.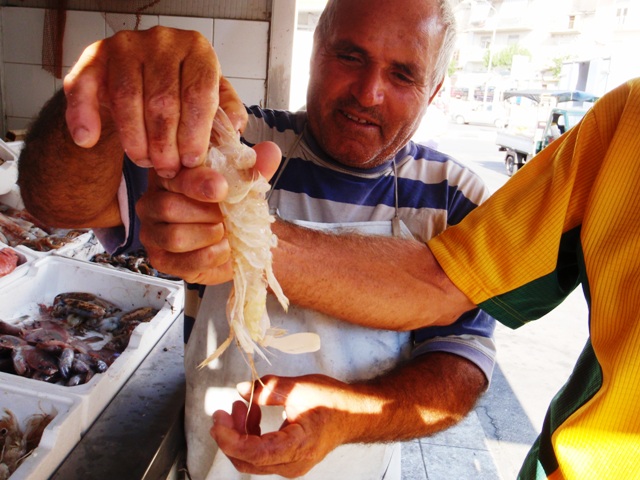 When we picked it up later in the day it was more like 2kg!
Strangely very few visitors were at San Calogero, just 4 others, who were on
the bus with us. The visit to the baths and old grotto was a very casual
affair. First the "tour" sign on the door was hand printed, we were
met at the door by an elderly Sicilian and tried to pay our entry fee(€2 each)
with a €50 note  we had used our change,
bar €2,  for the bus. He didn't have
change - major problem. Then the other visitors came along and one lady
insisted on paying the other €2 since they couldn't change the €50 either. Her
view "this is the Sicilian way".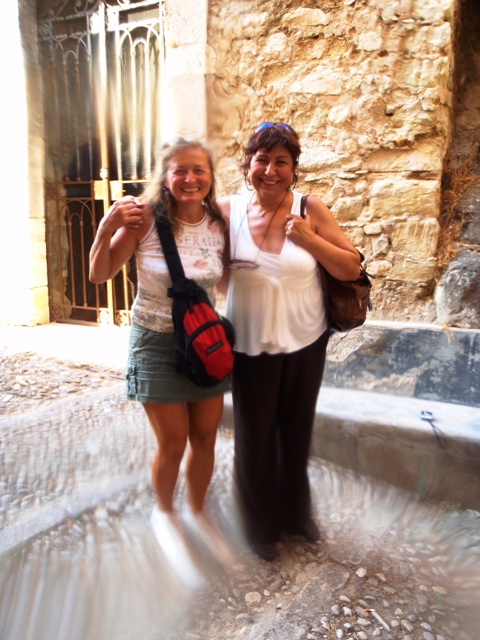 Inside the baths, that looked more
like a hotel, hospital from the 50s, we were allowed into the natural sauna rooms,
one 40C the other 42C, dug out of rock with the heat and sulphur smell coming
from deep down in the earth, for a couple of minutes just to get the feel. Next
to the original grotto, a small door into the rock chamber.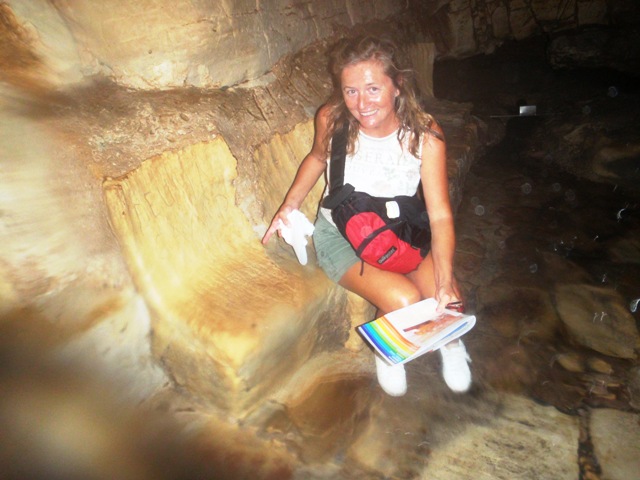 There it was, just
like the picture in the guide book, seats carved out of the stone within, each
with Greek writing etched on it. Apparently the writing signifies what ailments
are cured by sitting on that particular seat., everything from bronchial
condition to infertility.

Hard to imagine 
that people had been sitting on these seats hoping for the magical cure
provided by the steaming sulphur within, for almost 2,500 years. Sometimes you
get incredible value for your tourist dollar!!!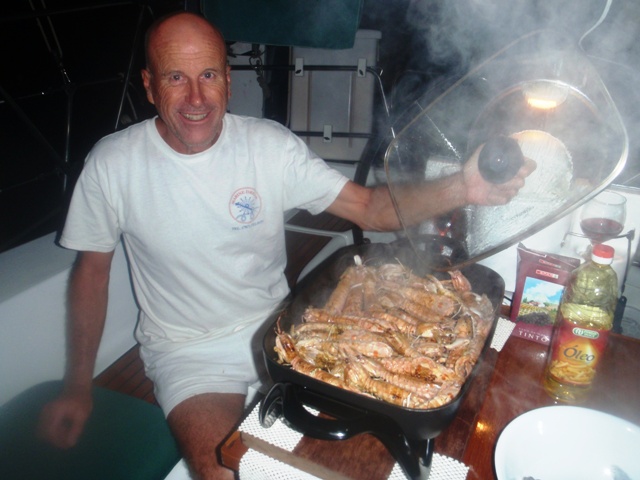 We skipped the
port of Gela, a mafia strong hold where, at times, the army is bought in to
restore order, and continued on to Porto Palo for an overnight stop. Round the
South East tip of Sicily to head North for Syracuse and on to Catania. Syracuse
is a huge natural harbour, an almost fully enclosed, 2 mile diameter bay. As
such it has been used as a port since the time of the ancients, hence a lot of
history in the old walled city sitting on an island, separated from the
mainland by a channel only metres wide.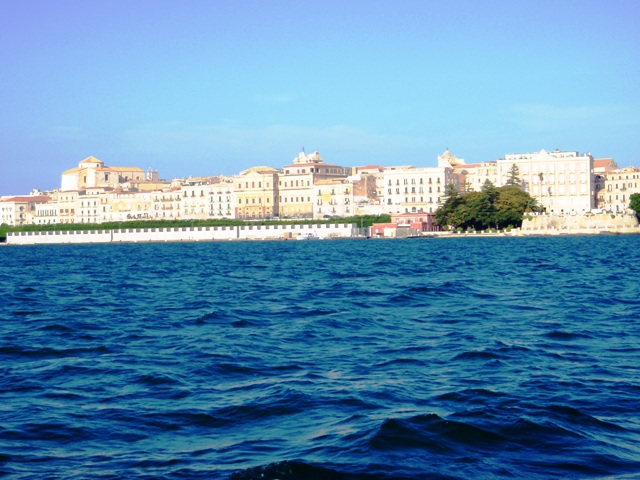 Most of the streets are stone, too
narrow for cars, many are simple walkways between buildings hundreds of years
old. And churches, huge buildings, there must be a dozen of them, the biggest
has steps that, alone, take up the best part of a city block!  To wander the streets was fascinating. Here
we met another Aussie couple Peter and Sandra, from Sydney sailing a Beneteau
50, Bondi Tram. They had started out from Singapore to come into the Med via
the Red Sea. Naturally a get together and a few quiet beverages were in order.
We later travelled with them by bus to the historical City of Noto about 50km
South.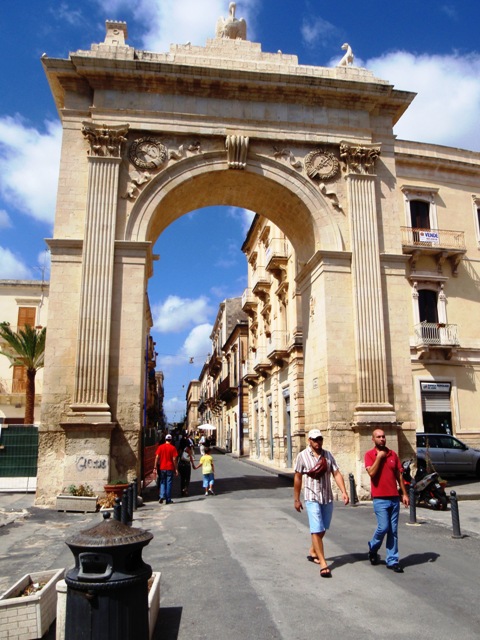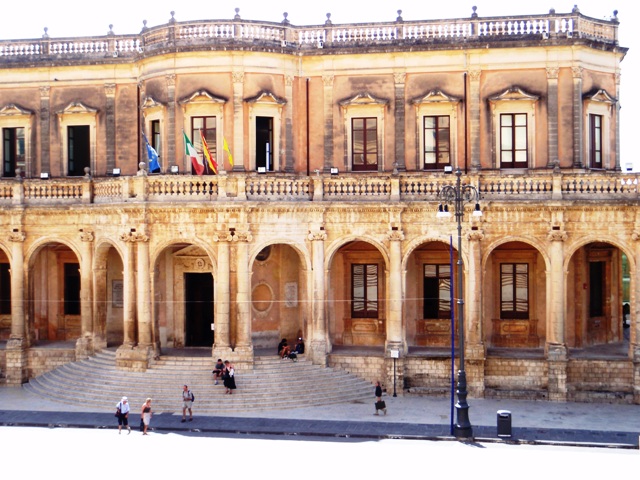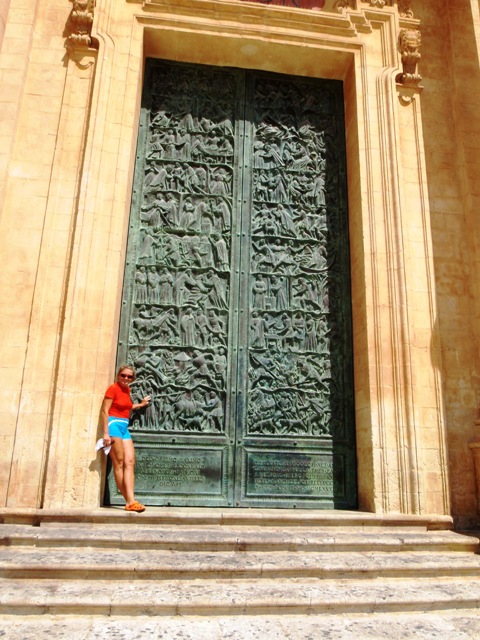 The Syracuse street market, fruit, veg, fish, meat, cheese etc was
something else. It seemed, each morning, that half the small population was
there for the huge selection of fresh food. We did not miss out either,
beautiful, locally caught, well harpooned from especially made vessels, sword
fish cutlets.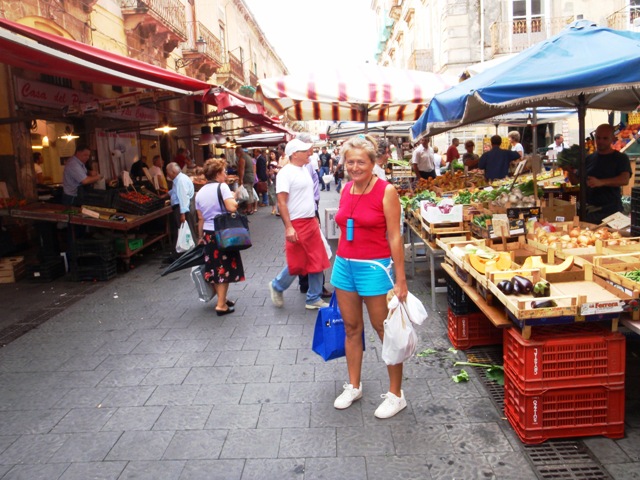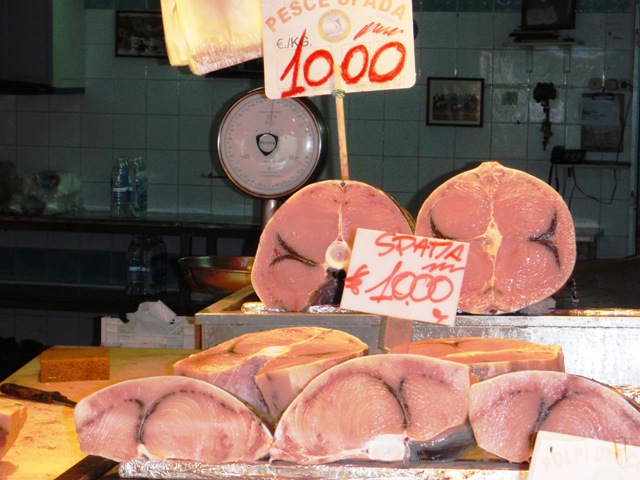 Three lovely days were spent in Syracuse before we sailed up to
Catania to stay in the N.I.C marina and catch up with Antanello my niece's
first husband, a native Sicilian. In Catania we decided to refuel ready for our
next leg, to Greece. Now that was an exercise!. First to find the fuelling dock
which was not at all where our guide indicated but tucked away behind the
wharfs in amongst the fishing boats. It was between the dock and the road to
service both vehicles and boats. After numerous directions we finally motored
down between moored fishing boats where I had barely the length of Ednbal to
swing her 90 degrees and come alongside. I nudged an old wooden fishing boat,
tied stern on, in front of me, the fishermen, sorting small fish from a net,
didn't even seem to notice. With much gesticulation we managed to get some
lines to a guy on shore and tie up in the filthy water with shallow water
alarms squealing, miraculously, without damage, except to Sasha's shattered
nerves. Fuel on, time to move out. Small problem the 30ft fishing boat in front
had let his bow line go and was now leaning against us, pinning us to the dock.
Much yelling and jumping up and down ensued, the fuel guy, the fishermen and
the skipper of another boat standing off waiting to get fuel. I couldn't
understand a word, but didn't need to! Eventually the fishermen coaxed the old
diesel into life and delicately moved off without putting any pressure on
Ednbal. At the N.I.C marina we were shown to our berth for our first try a real
Med mooring. Turned out to be quite simple as, with fenders on all sides, we
nudged bow in, between two other yachts. Getting on and off Ednbal was a bit
tricky, having to put one foot on the anchor and jump onto the jetty. A few
hours later Antanello, with his lovely pregnant girlfriend, Cristina, turned
up, drinks on Ednbal.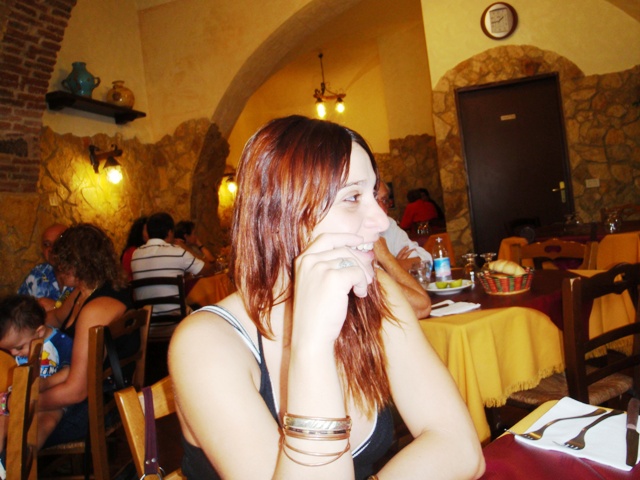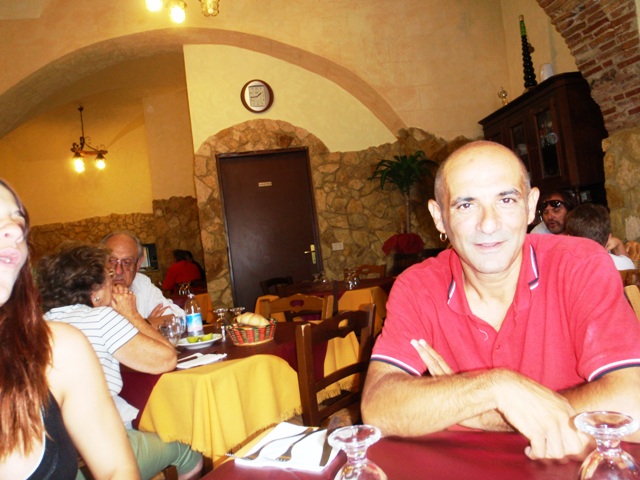 There were a
number of "things to do" in Catania. An opportunity to source a few
things that having someone with local knowledge, speaks the lingo and has
wheels, makes oh so much easier. Antanello and Cristina wanted to help as well
as show us around a little. Over the ensuing 2 days we spent far too much time
sourcing and restocking and too little sight seeing. Still things were done and
we had fun with Antanello and Cristina. On our last day we had a wonderful
Sicilian lunch at one of Antanello favourite spots, went back to Ednbal, said
our goodbyes and late afternoon set sail for Greece.
Things started
out fine with a lovely beam breeze but by night the wind backed, picked up and
almost before we knew it we were into a decent size thunderstorm, lighting all
around for 3 hours. It was very scary, especially after having been hit already,
in Panama. Thankfully most was cloud to cloud but there were also a couple of
very close ground strikes. By morning the wind had dropped and on came the
engine. Sasha had noticed some strange marks on the port side deck during the
night so I went to have a closer look. There were large, about 2cm diameter, splotches
over part of the port deck as well as a few at the bow and less on the
starboard forward deck.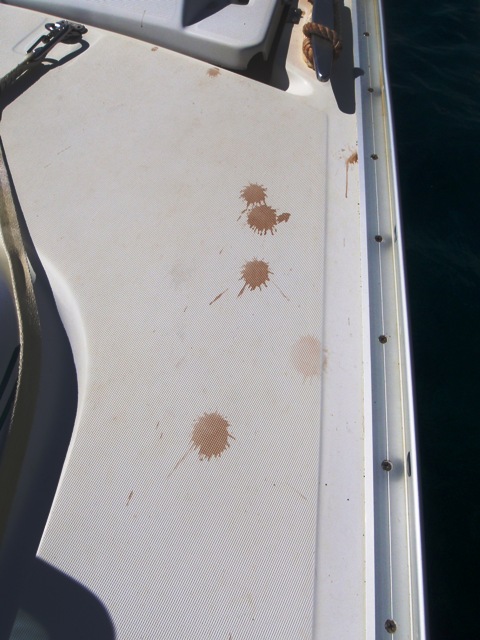 What ever it must have been fairly watery as where was
no texture to it. We just could not work it out and it took some elbow grease
with cleaning agents to get it off. The mystery deepened when later while anchors
we saw splash marks to the same colour on the hull, both port and starboard
side. To this day I still have no explanation. We had virtually no wind for the
next two days that took us to get to Navarino Bay, the entry Port of Pylos,
Peloponnisos, Greece.