Spain and Gibraltar
Category: Mediterranean
Created: Monday, 17 August 2009 16:59
Written by Roger Boxall
Hits: 3675
ain
Spain
Mazagon is a
relatively unusual port in that it has an extremely long, 6 mile, breakwater
that effectively forms the Northern bank of the Rio Tinto entrance. Less than a
mile from open sea is the Mazagon marina and just past it the anchorage where those
of us not so partial to marinas can anchor in reasonable peace. I say
reasonable since we are talking a fairly large port and the height of the
holiday season so there was an ongoing procession of ships, fishing boats and
pleasure craft of all shapes and sizes going in and out. Being a river entry
the water was not terribly inviting so little swimming for us but it did not
seem to deter the locals. Next morning off on our excursion 10 miles up the
river to La Rabida and the mock harbour at Muelle de les Carabelas (Caravel
Quay) to see Columbus first fleet - Nina, Pinta and the Santa Maria. Past all
the commercial docks we finally found our way to an old pier almost right out
the front of the Caravel Quay.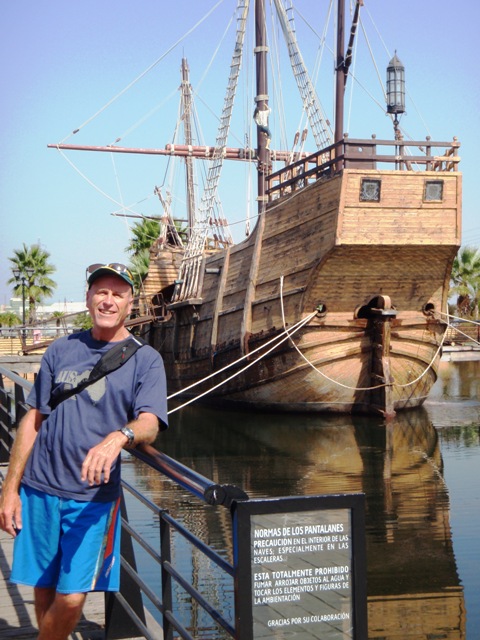 A bit tricky tying up the dingy to allow for the
3 metre tide. The whole exhibition, along with the 3 ships all tied up that
visitors could board and look over was quite incredible, amazing just how small
they were - 54, 56 and 92 feet with a respective crew of 28, 38 and 52!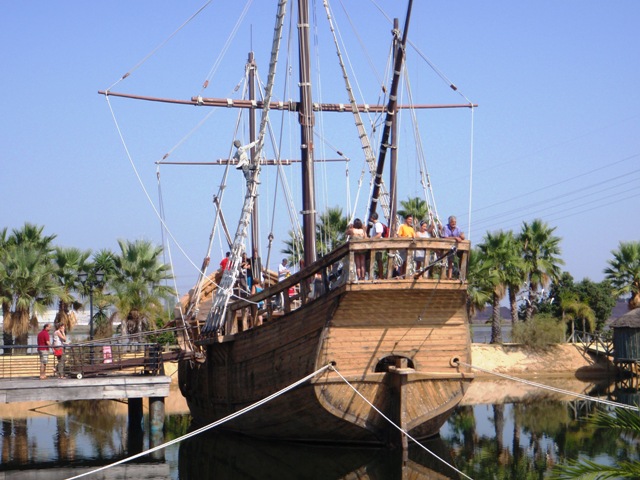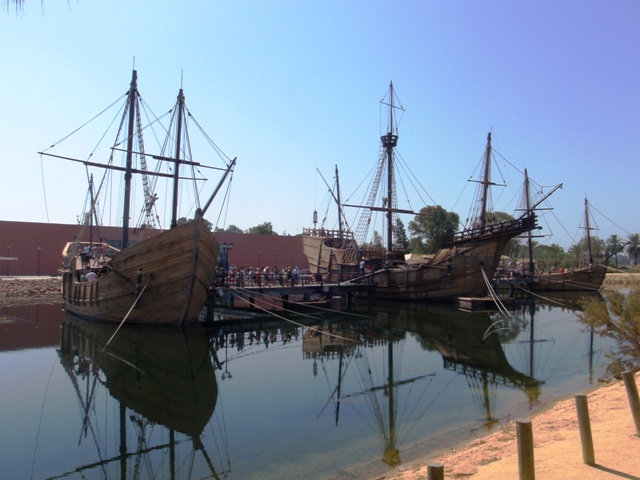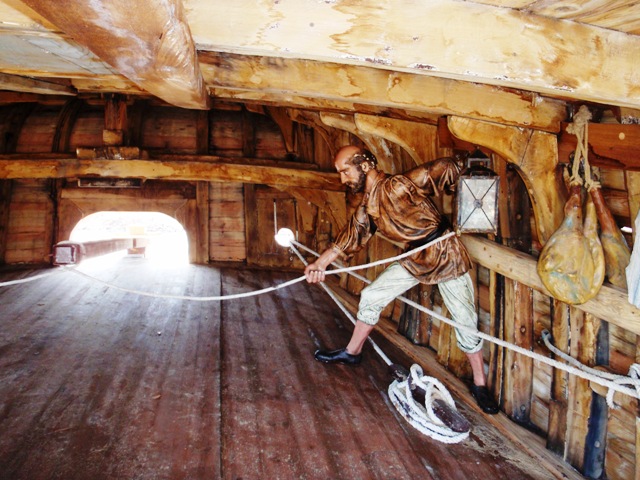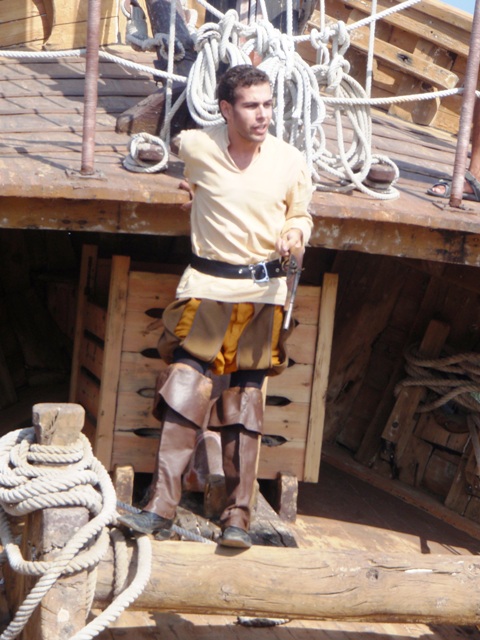 Back on
Ednbal in late afternoon, for sundowners we reflected on our greater
appreciation of what the sailors of old accomplished.
Another day sail
bought us to the major Spanish port of Cadiz and the thriving adjacent tourist
centre of Santa Maria (from whence the so named Columbus ship came from). Here
we had our first meal out in a long time, a big Friday night! In the centre of
Santa Maria we stumbler across a small, local looking, bar late afternoon. It
was empty but offering 2 for 1 happy hour so we went in for a beer and got talking
to the barmaid. When she found out we were on a boat and came from Oz she
became a wealth of information and help, suggesting we should not go the
restaurant we had planned but to another for real local, and cheaper, food.
Although it took a while to find it was the real thing so we had a wonderful
evening of Tapas and beer served by a wonderful barman. A very enjoyable night
out for the grand sum of about 12 Euros.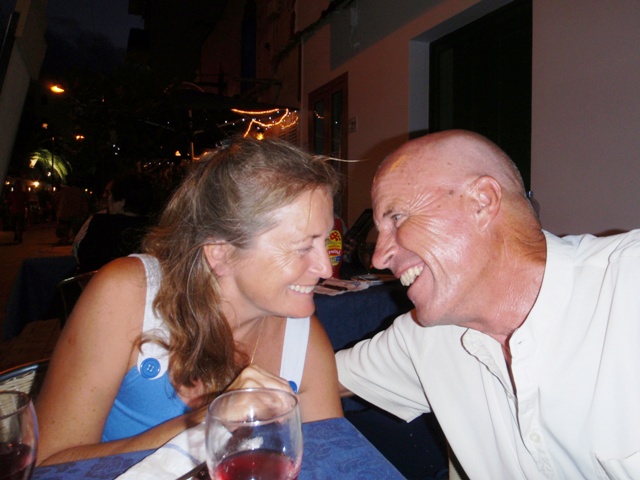 Another walk around the town to see
some of the old castle buildings and a minor restock pretty much took care of
Santa Maria so we started planning our next leg that would see us into the
Mediterranean with a stop off at Gibraltar.
The trip from
Cadiz Bay to Gibraltar is no walk in the park. Apart from the incredibly
intense shipping traffic there are huge tidal currents, in places more than 5
knots, as well as cabatic winds that can create extremely variable strengths
and directions. We read up on the pilot book data as well as some personal
accounts from cruisers who had done it recently. Like so many things in our
cruising life it is very much a matter of timing. From Cadiz to Gibraltar about
70 miles, a good daylight run at 5 to 6 knots, most likely with a combination
of sailing and motoring, with one or two contingency anchorages on the way in
case things don't work out. We need to be heading into the straights with an
ingoing tide to get its assistance. We leave before first light on a day with a
forecast Northerly wind and to catch the ingoing tide in the afternoon. It all
worked fairly well except the wind turned more east so as we turned into the
straights to head East for the last 20 miles to Gibraltar we had current of
almost 4 knots with us but the wind against, making for quite steep choppy
seas.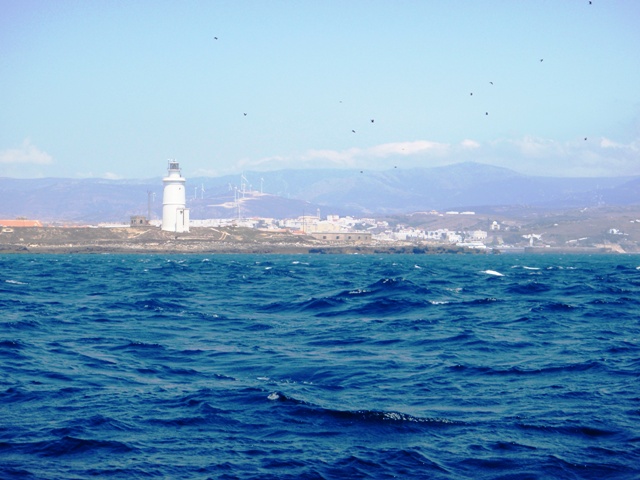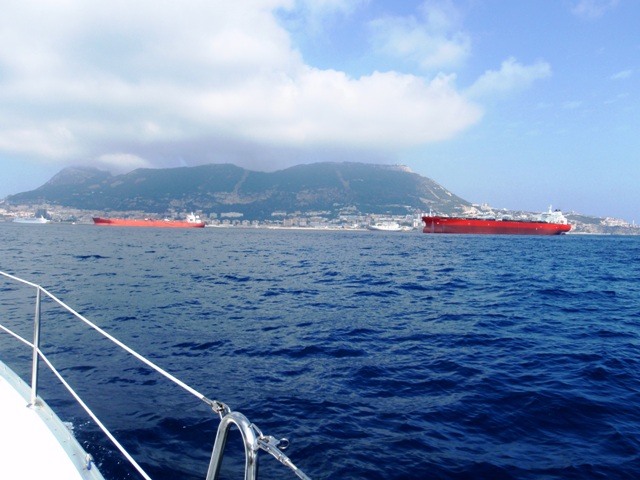 We dropped our anchor, amongst 20 or so other yachts, with still 2 hours
of light to spare, virtually in the shadow of "the rock", and what a
sight it was, albeit somewhat hazy.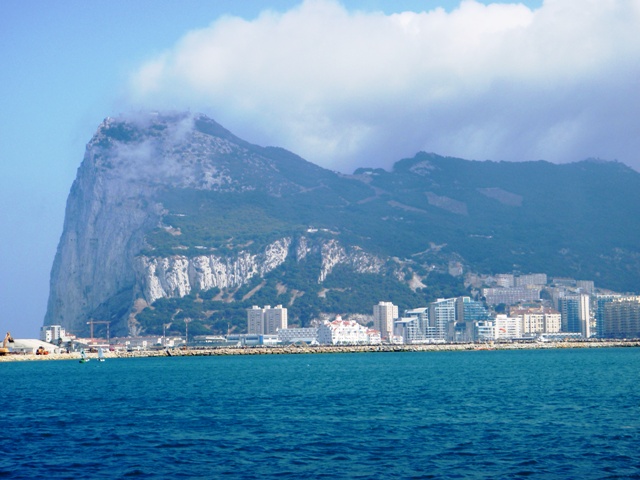 By now we were
getting sick of cities and starting to hang out for some island life, the
Baleares Islands being our next major stop, but never the less went ashore to
do the tourist thing. We had anchored on the Spanish side so went ashore in
Spain and walked across the border, along with hundreds of others, to the
English side. The rock of course is steeped in history and operators come up
with all sorts of ways to fleece the tourist. Everything is very, very
expensive, even entry into the park is 6 Euros per person. One day looking
around was quite enough for us! After a couple of nights in the anchorage we departed
for the Baleares about 350 miles to the North East, firstly up the Spanish
Mediterranean coast then out 100 miles to the first of the Islands Formentera.
The prevailing summer wind in this part of the Med, that is West of the
Baleares is East or North East so we decided that if we could get a time with
very little to no wind then we would motor most of the way, which we did
calling in at Mazarron for a half hour refuelling stop. We had also been told
that there were next to no fish to be caught in the Med. We had caught a couple
of small pan size Bonito but on this trip had out a much bigger bibbed lure.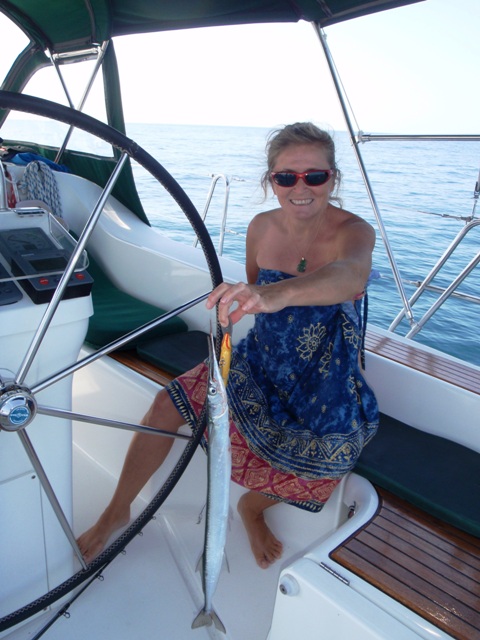 After trawling it all the daylight hours of the 3 day trip we were finally
rewarded, just 4 miles out from Formentera, with a big Tuna, over a metre long.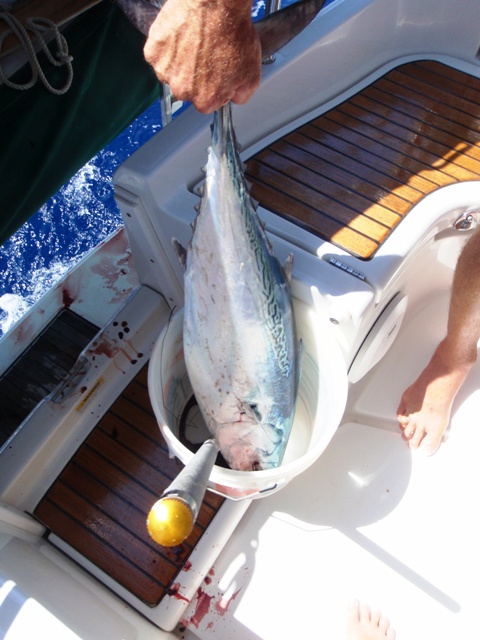 Boy, is there a lot of meat on such a fish, it really had the freezer working
overtime with all the fillets. Sashimi Tuna to accompany sundowners and bbq
Tuna frame for dinner.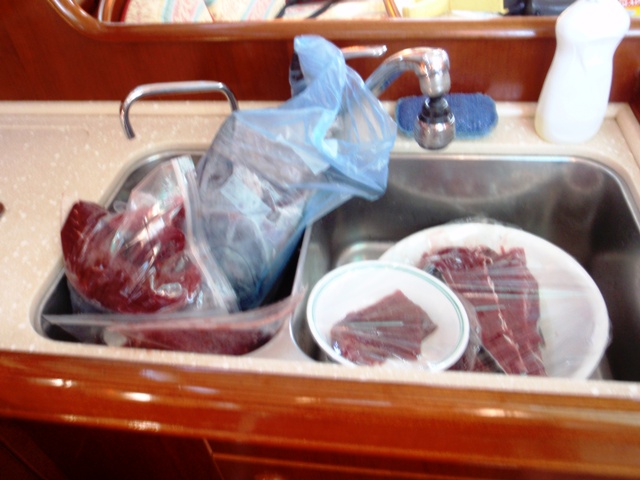 Finally in clear
blue water, what a pleasure to swim. Sasha's rib injury, from her Sines fall
was just about right although she was still swimming rather gingerly. The
anchorage, Cala Saona, had one tiny sand beach surrounded by rock cliffs, about
40 anchored vessels, a small hotel resort and a bar restaurant.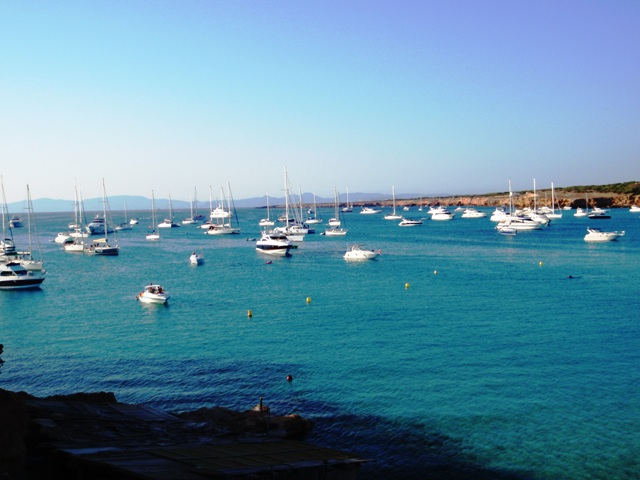 Needless to say
the 100 metre long beach was packed with sun worshipers in various states of
undress.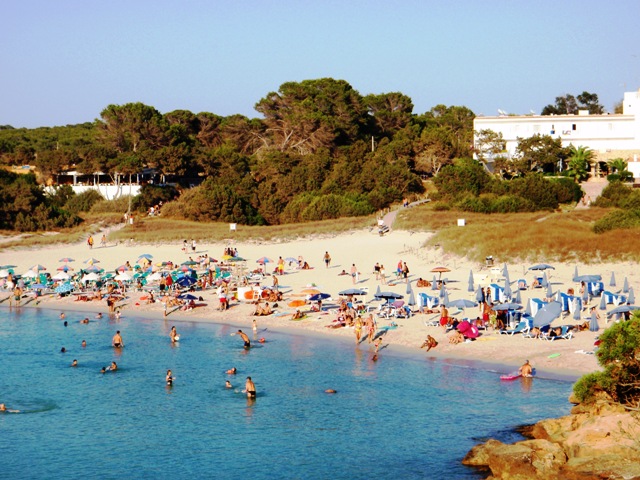 We swam, relaxed, went for walks on the rock cliffs and generally
soaked up the island life style we had been missing. Although there were no
corals to gaze at underwater we were impressed by the numbers and variety of
fish that showed no sign of fear as they swam with us. Our next stop, just a
few miles North was the busy tourist anchorage and beach of Isla Espalmador. We
picked up a mooring, as you are generally encouraged to do when they are
available, to minimise effects on the sea bed from anchors. A couple of hours
later the local officer came and told us that you need to book moorings 2 days
up front so we ended up anchoring in a sand patch anyway. Watching the activity
on the beach showed a strange thing, every now and then some people would walk
along coloured, virtually head to foot, dark grey. We figured, as it turned out
correctly, there must be some sort of mud bath somewhere. A km or so up the
beach was a track inland for a similar distance to an old salt lake bed with a
10m diameter stinking grey mud bath about a metre deep. Like many others we
took the plunge but didn't go the whole hog, we did not submerge our heads in
the stinking goo.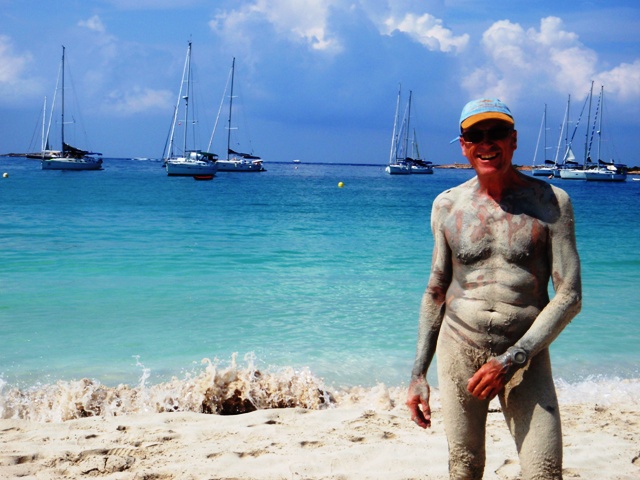 Had to describe the smell, even harder to see why so many
people would want to submerge in it, all I can say is the smell was no
pleasant. By the time we got back to the dingy the mud was drying so for good
measure we rolled in the sand before finally washing in the sea. An experience,
yes!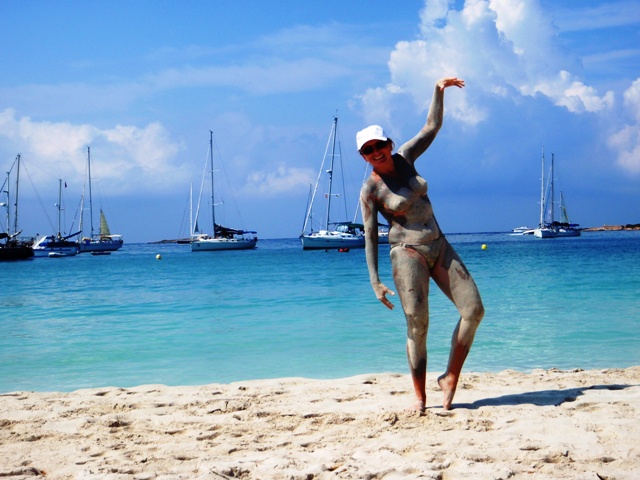 Next stop the
larger island of Ibiza and the old walled city of Talamanca. Another lovely
walk around on top of some of the walls, many metres thick, the through and
old, very well fortified wallet various points there are information stops with
pictures and descriptions of the history as well as displays of old - the way
people lived and worked together with various defence contraptions ranging from
dropping huge stones to cannons.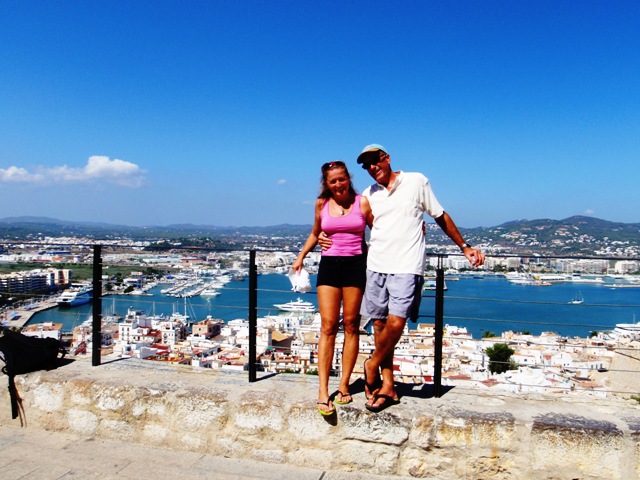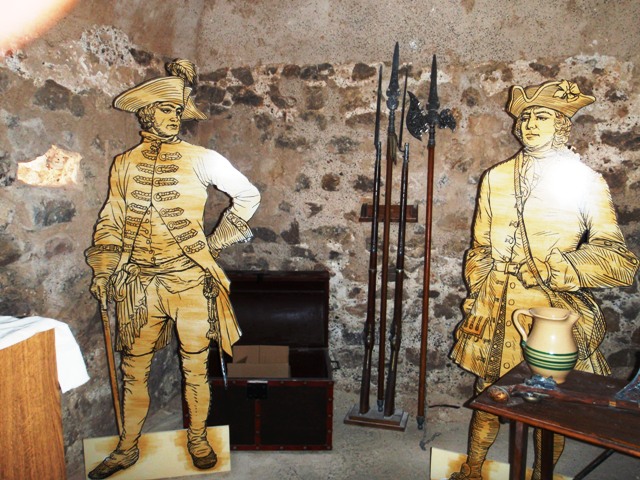 Very well done. It was of course hot work so
we cooled off under trees in the city square with a couple of cold beers and
chips bought at a corner mini mart.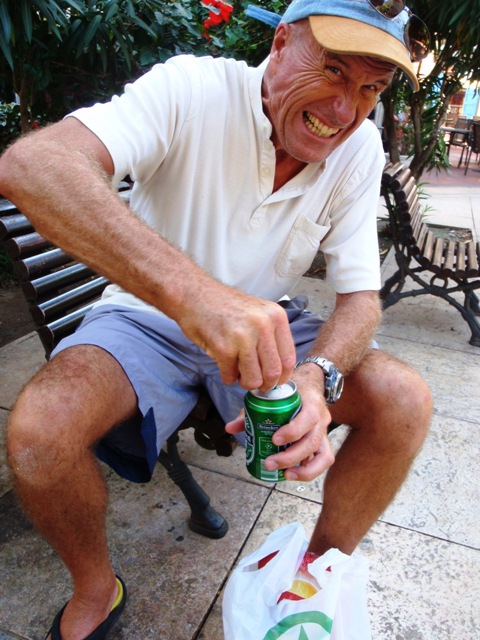 Even the jazz group was playing to entertain us.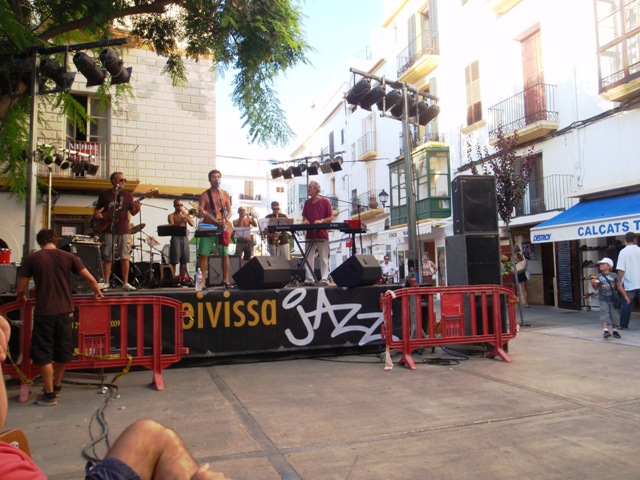 After applying,
by fax, for overnight stay in national park at Isla Cabrera we set off early
for the 65nm sail. Alas the wind died just over half way so the rest was motor
sailing. The almost enclosed bay has laid moorings colour coded for various
boat lengths so we hooked onto a spare for our size just before dusk. No sooner
than we had settled we received a visit from the local rangers, turned out we
were not on their list of expected vessels and they wanted us to leave. With a
mixture of English, Spanish and a lot of pleading they eventually said we could
stay so long as there were still free moorings. We counted 4, by morning
(Monday after the weekend) 8 were free, so no problem. As with anchorage,
moorings were also provided for dive sites so we took Ednbal to a wall dive
site on the outer, ocean, side.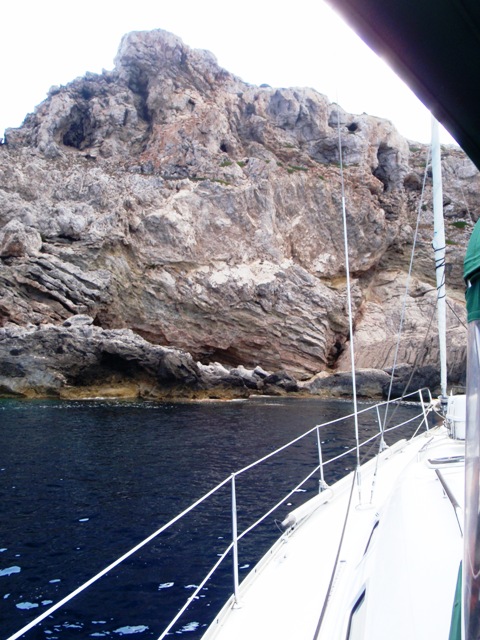 What a dive what was missing in the way of
corals was certainly made up for by the numbers, sizes and variety of fish.
There were several grouper well over a metre long that you get close enough to
touch. In the afternoon we climbed to the castle overlooking the bay entry for
early GnT sundowners despite signs forbidding alcohol and picnics.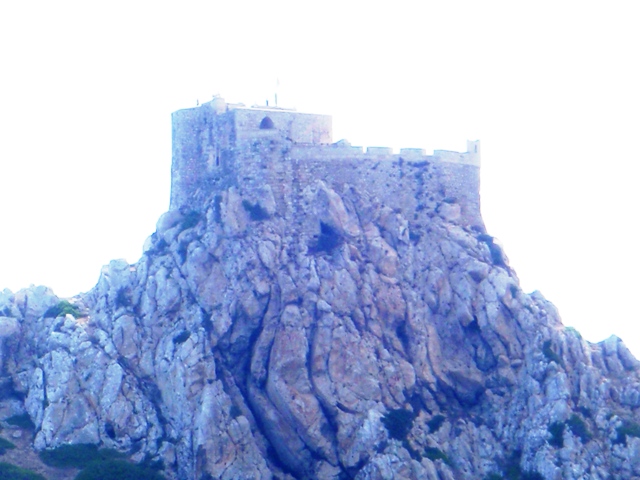 Early
sundowners because we were off to the blue caves before sunset.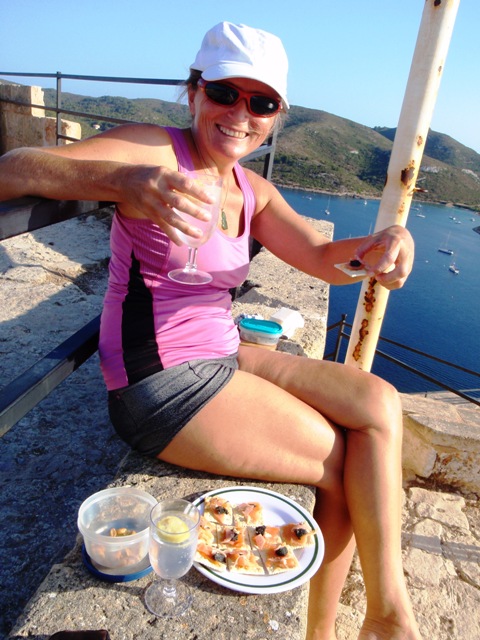 A short dingy
ride bought us to the water level entry of the caves that are big enough to get
25ft power boats into. The cave entry faces west so that at sunset the inside
is light, bringing a beautiful blue hue to the water and walls. Quite a unique
experience.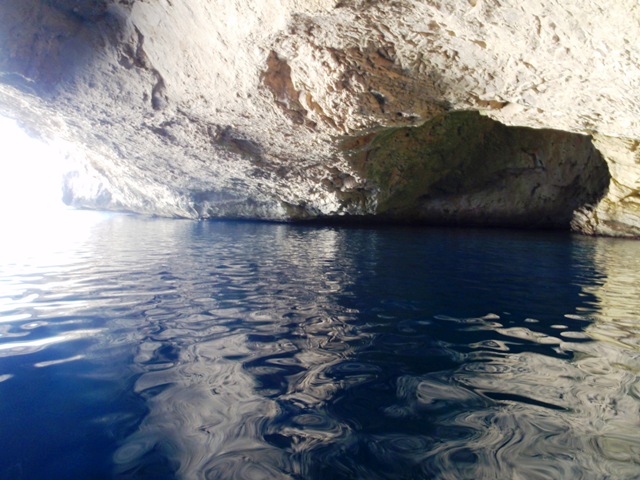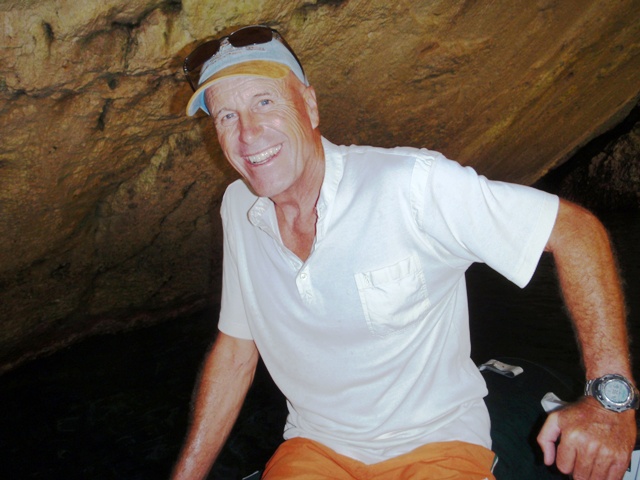 After visiting the small museum the next morning we set sail for
Mallorca.
In a fairly open
rollie anchorage. In the morning we got up to find the dingy half full of
water, she had developed a serious leak. We found a hole corroded through the aluminium
hull near one of the stainless steel fittings used to hoist it onto the transom
of Ednbal for most trips. On shore we cleaned the area around the hole and
filed out the hole to remove any residual corrosion before affecting a temporary
repair with fast curing two part epoxy putting. The most interesting part of
the exercise, at least from my point of view, was that the work  was done on a nudist beach! Next stop Puerto
Petro, an old fishing village turned tourist resort. Over the side we went for
a swim only to be confronted with a sea bed absolutely covered with rubbish, mostly
plastic. Hotel apartments surrounded the coves and the village had a heavy
German influence with German restaurants and signs in German. I was
particularly taken with all the old style fishing boats in the harbour, some
obviously used for daily tourist entertainment.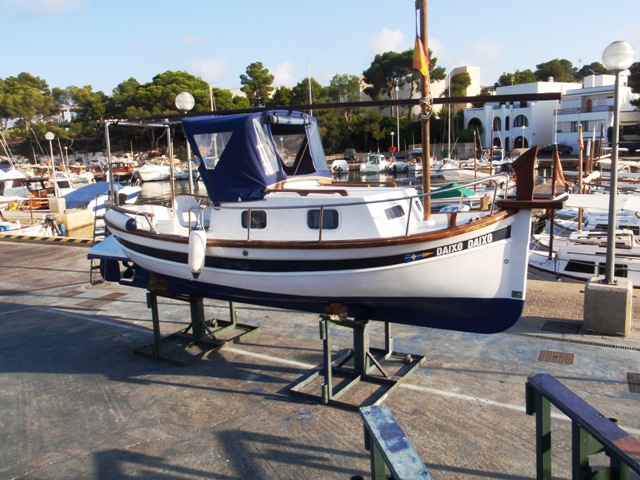 Now 3rd of
September 2009, time to refuel and keep heading east if we are going to get to
Turkey by October. Next stop, Sicily, about 470 miles.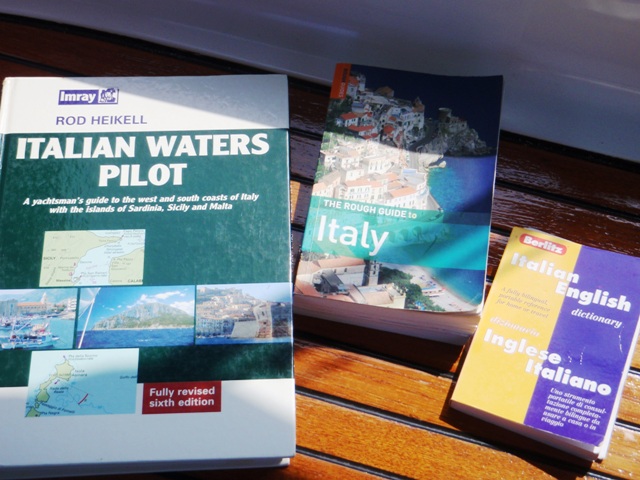 We had been watching the weather systems and it looked like we could get a
pretty good run with winds
varying 7 to 15kns, abeam or off the aft quarter. Initially we had the gennaker
up making progress, albeit slow, until late afternoon when the wind died and on
came the engine until the next afternoon when it slowly built up to 25kns by
early morning. By midday the engine was back on again but for just a few hours
until during the night it got up to 30kns, gusting to 35.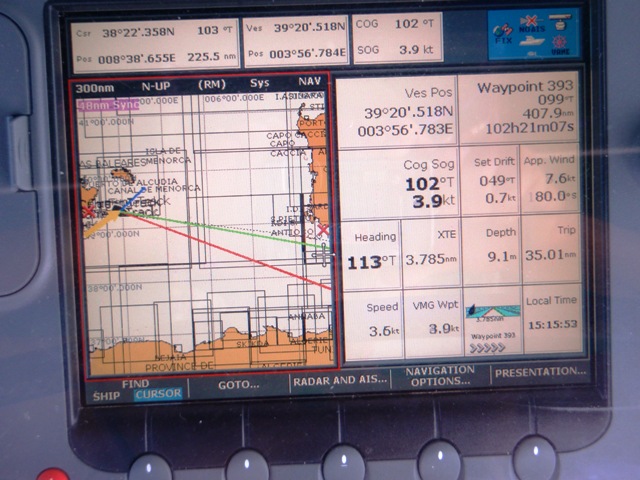 This sort of pattern
continued for the rest of the trip, some nice sailing, some no wind, some
almost gale, our first real introduction to the vagaries of Mediterranean
weather.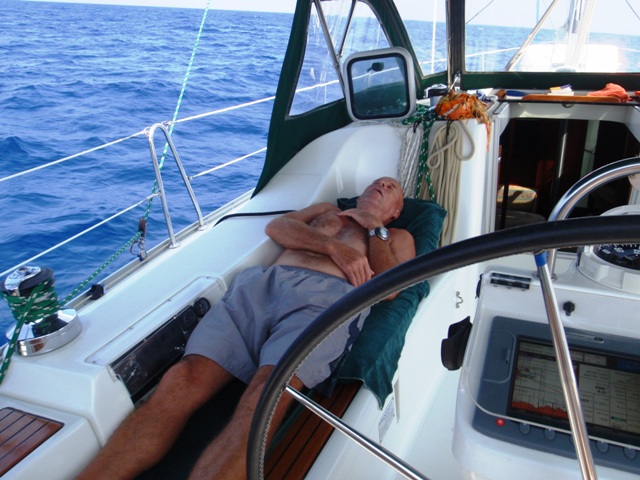 On one the calm periods, between Sardinia and Sicily we had some
excitement. I could see something brown on the surface of the water up ahead so
altered course to miss it. As we got close it suddenly dive, a big turtle. A
while latter. A real surprise, some big splashes up ahead. I kept watching but
could not work it out until suddenly a huge whale lifted half out of the water.
We had read that there were a few whales "retired" in the Med but that
are rarely sighted. The down side of the Med, pollution. No where have we seen
it worse, the crap floating every where, especially plastic bags, is
incredible. It really stands out when you see it most, on calm days motoring,
you pass some sort of part floating plastic every few seconds, unbelievable and
we thought Central America had a few problems, nothing like this, every where
we had been in the Mediterranean. Hate to imagine what the bottom must be
like.  By mid afternoon on 6 September we
had the first of the mountainous islands off the Sicily
coast in sight and at 7pm were anchored in the harbour bay
of Levanzo Island, 6 mile off the West
coast of Sicily.