Category: Mediterranean
Created: Friday, 17 February 2012 15:44
Written by Roger Boxall
Hits: 2798
imar
Almerimar, here for a week or two, a look around to visit some nearby tourist destinations, pull Ednbal out of the water for anti fouling, a few boat jobs and check over then back into the water and on our way. Well that was the plan. Almost four months later, on 25th of March 2012 we moved out of birth number 184!!!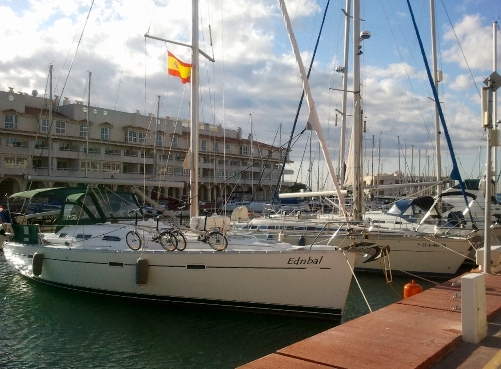 Almerimar, what a great spot, about the nicest, friendliest place we had been to in 6 years of cruising. Our extended stay was, however, primarily to do with health. Sasha had been suffering a problem with her foot for some months and when we spent a day walking around the roughly stoned streets of nearby Granada it got to the stage that she could barely walk, time to see a doctor. The local doctor's surgery was right next to the marina in Almerimar and, on top of that a chiropodist came to visit once a week. Xrays, scans, jabs of one sort or another along with a diagnosis that called for complete foot rest for at least two months started it all off. Initially we had Patti and James on La Aventura next to us as they prepared for their trip across the pond to the Caribbean. Good fun as always. We also spent many boozy nights, into the wee hours, with young engaged couple, Aussie, Ruth and Pom, Nick from Oonic, they were great fun, thoroughly enjoyed their company. A few boats away from us were Canadians Maggie and Branko on board Hobo with whom we also teamed up for a drink or three.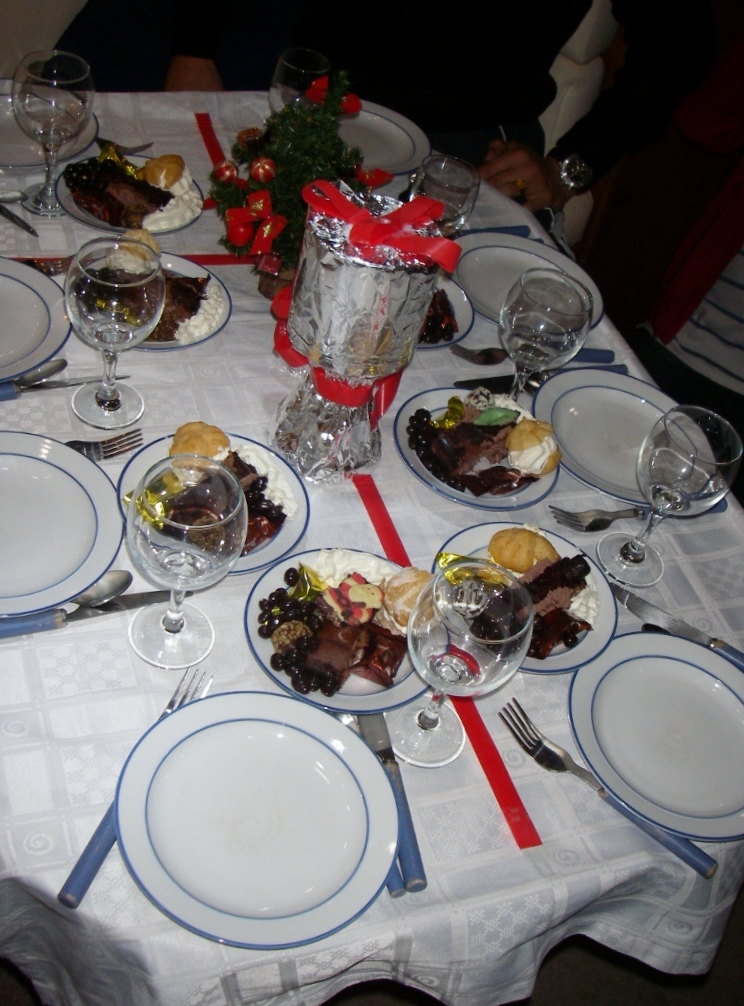 But we needed something more to keep us sane while Sasha, much to her disgust, had to keep off her foot. First we bought a couple of fold up aluminium 20 inch bikes from good old Carrefour to keep us mobile without walking. Now what? Sasha always has a habit of checking out real estate pricing, on a casual basis of course, almost wherever we go. It seemed prices here were abnormally low, further investigation ensued! Yes indeed prices had, in the last four years, dropped by more than 30% and there was an awful lot on the market, offers could be made. We started looking. A couple of real estate agents and 30 or so apartments later we started checking private sale appointments, those with a "se vende", for sale signs with a phone number, hung from balconies. Most were Spanish owned so Sasha had to get pricing info and make appointments to view in Spanish and, over the phone, quite an ask I assure you! She got only one wrong, thinking the lady said €90,000 when it turned out to be a full townhouse, 4 levels, 5 car garage, full rooftop terrace in a complex with three swimming pools, €390,000 a little out of our price range! We wanted something like two bedrooms with a view to the sea and close to the town centre as, according to the estate agents that provided the best rental opportunities. Most had some sort of view, one second floor three bedroom apartment had a fantastic view right down the beach and out to the snow capped Sierra Nevada mountains just 40 kms away but oh what a mess, no thank you. However the more we thought about it the more the idea of a renovation project began to appeal. The initial asking price for the three bed, two bath, squashy 65 sqm was €110,000 but had been reduced to €100,000, we offered 70 and settled at 72, with Sasha conducting all negotiations in Spanish!!
A few more hoops to jump through. To buy property in Spain you need a Spanish ID number, your NIE. Luckily I had my British passport making me an EU person, well good enough to just fill out a few forms worth a couple of photos and presto I get an NIE number. Well, as in any bureaucracy, not that easy but after a few visits to the police station in El Ejido, it all came to pass. Ah yes, Al Ejido. It is the larger town, city, inland 10 km North of Almerimar. This is where the bikes come into it. All the organising associated with the purchase had to be done in El Ejido. Over the next few months we must have ridden to and from El Ejido at least 25 times, good exercise especially as it meant going over the 100m high hill each time. Now, armed with NIE could open a Spanish bank account and transfer funds from Australia. What about settlement? Normal cost to have someone organise notary, registration, tax, stamping etc is 2 to 2.5% of purchase price, a lot of loot! Sasha found info on the net how to do it your self. We decided to give it a go, several rides to El Ejido and a bit over a week later, for the grand sum of €231 plus the unavoidable sales tax (not included in the 2 to 2.5% either), paid in addition anyway, we had the property in our names! Now just a couple of things to do, renovate and ship in our furniture from Oz that had been in storage and costing us a small fortune. Our furniture storage company in Oz would ship to Spain but we almost died at the price. With help from a friend in the container company, MSC, and doing the leg work ourselves we more than halved the price which even included the $1,000 the robbers charged to transfer the stuff from their container to a MSC container! Talk about being had over a barrel. Now the easy part, a lick of paint, replace a few bits and pieces and renovation complete, ha!!! It went something like:
Complete clean out as it had no been lived in for two years,
Remove, replace one bathroom basin cabinet of rotten chip board,
Replace one completely shattered, bathroom door jam,
Replace ALL power points, light switches and light fittings,
Replace toilet seats,
Remove and re-grout bidet,
Replace sink and basin drains,
Cut short kitchen bench,
Arrange replacement of bench tops with local granite (kitchen, bathroom cabinet, complete with splash backs and all cabinet plinths, all installed €600)
Have air-conditioning installed,
Remove and re-varnish spray all wooden kitchen cabinets,
Arrange installation of shower screens,
Re-fix skirting boards,
Remove grout and re-grout balcony terracotta tiling,
Completely repaint EVERYTHING,
Replace front door with full steel, 9 pin lock, security door,
Sand down twelve wooden slatted shutters (done by brother Les!),
Replace electric hot water unit,
Replace wardrobe shelving,
Build new kitchen cabinet for microwave and clothes dryer,
Crane the furniture up from the container to our second floor balcony, with much help from Branko and Maggie as well as an Aussie cruiser couple, Gary and Louise.
Well that's most of it! After almost three months of hard yakka you'd be hard pressed to recognise the place. See the transformation yourself in the photo-album "Apartment ". Mind you, as always, the photos really do not show the run down state of it, more just a glimpse of huge neglect.
The granite bench tops etc was an interesting exercise. We had, at about the time that our offer was accepted, hired a car to do a little inland Spain touring. On our way back to Almerimar we saw a granite quarry off the road on the Northern side of the Sierra Nevada mountains, with a granite stone cutting business a little further up the road. The guys running the business didn't speak English but Sasha managed to get pricing info for them to do our kitchen. When the time came most of communication was with one of the wives who spoke perfect English. Their factory was over 100 km from us and in doing the work they had to make three trips! Great guys, great service.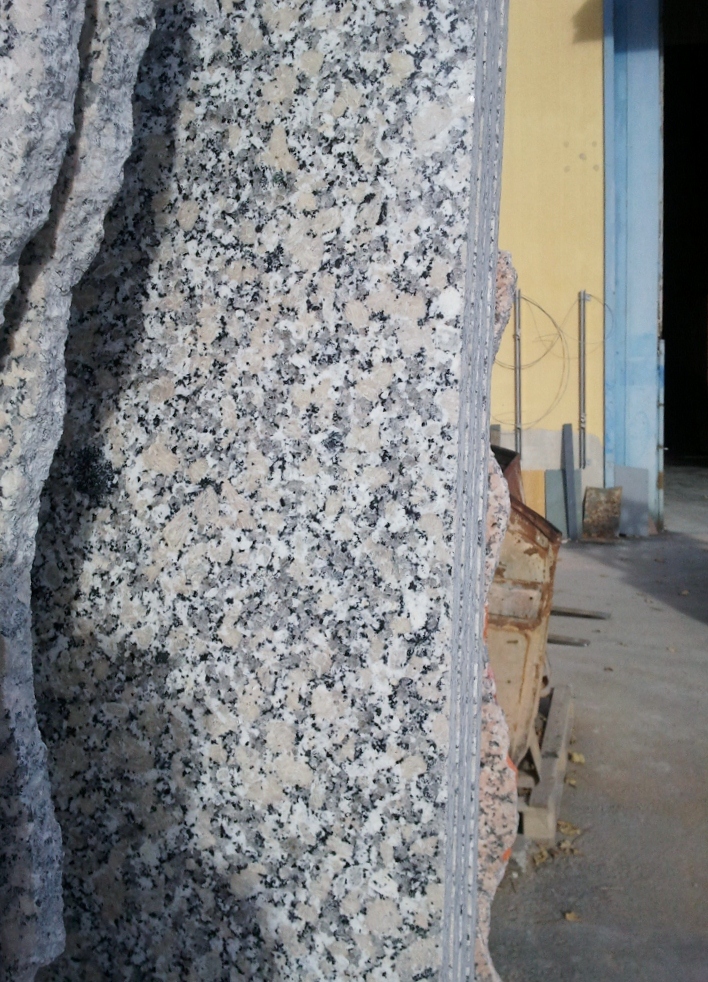 In February we also had a visit from Aussie mates Jim and Carola to trip off to Cadiz for "carnival" week, of course a very quiet time, not!!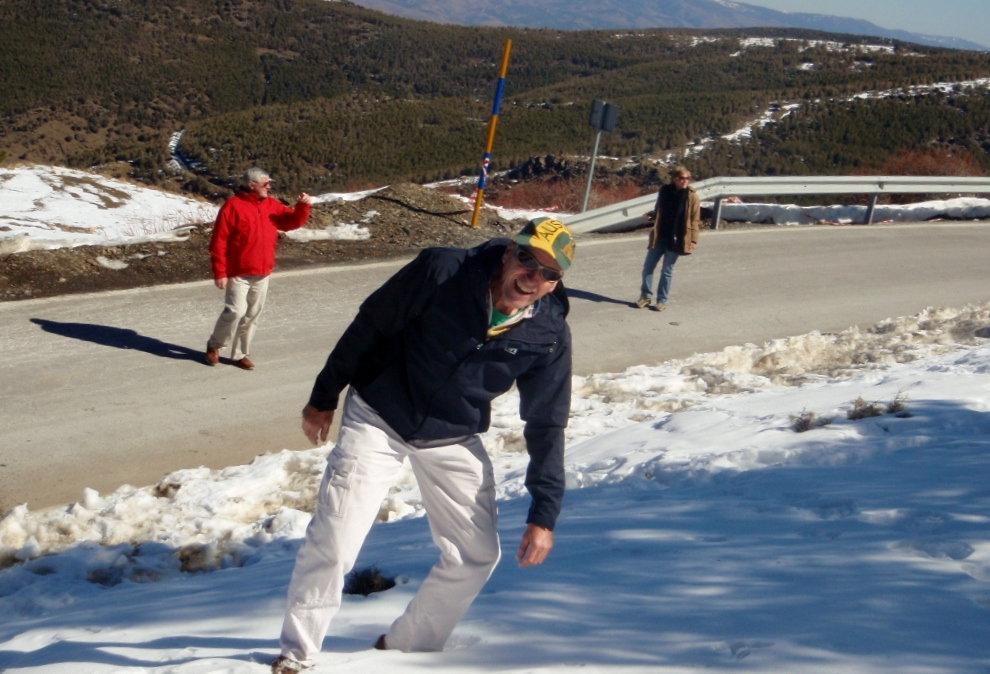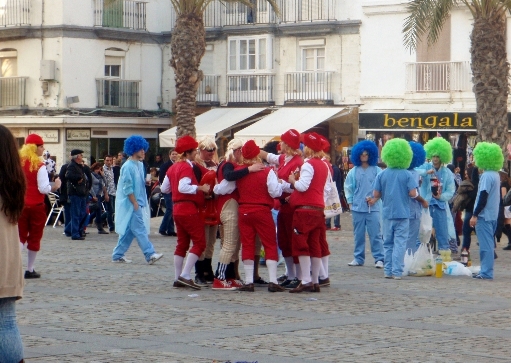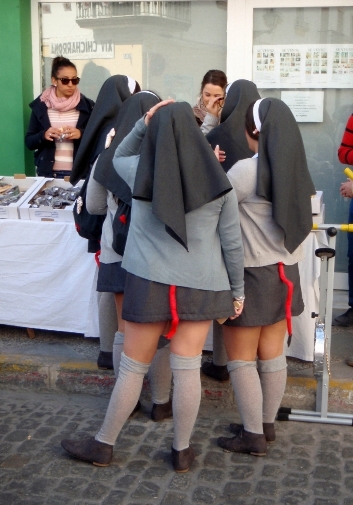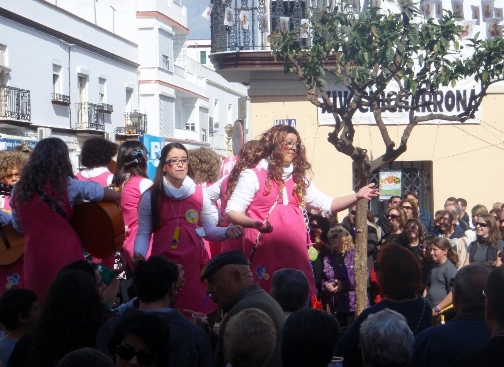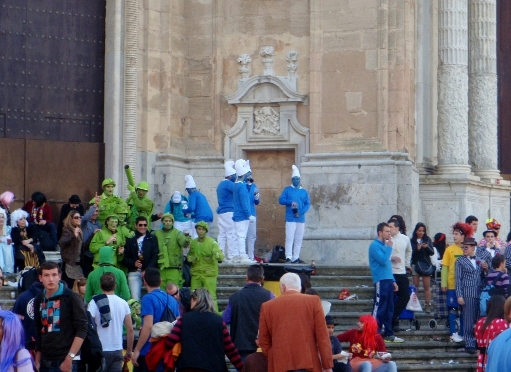 Finally brother Les and Sister in law Gloria joined us for some Almerimar before sailing off with us. They loved the place. See short promo video on Alemrimar.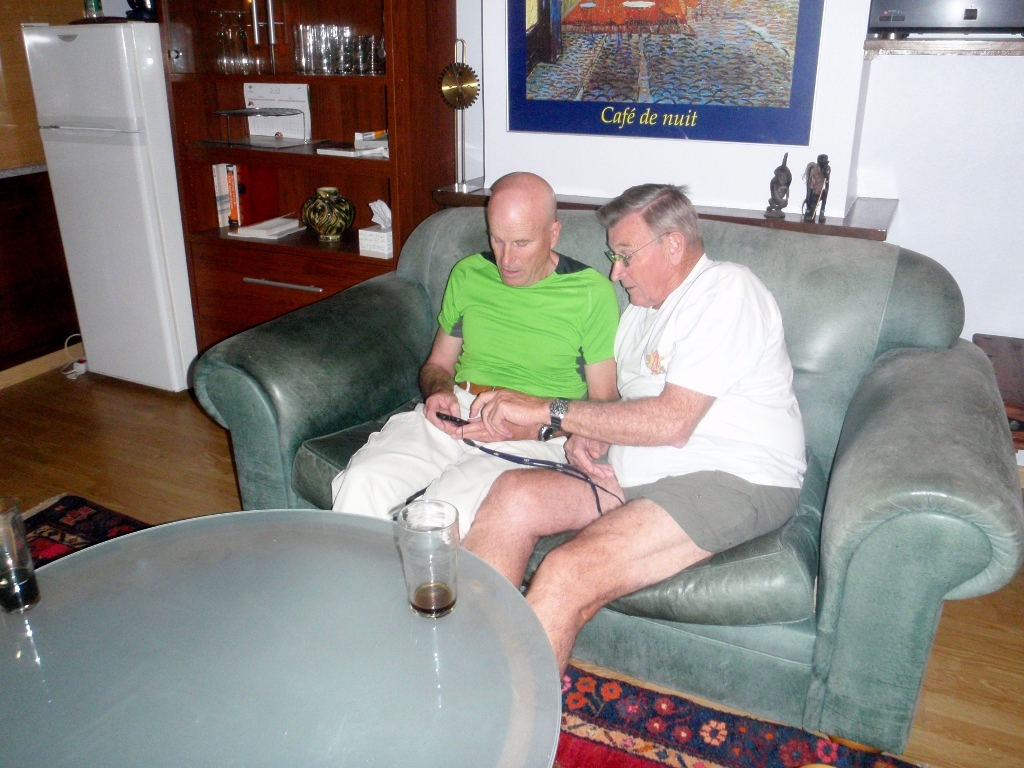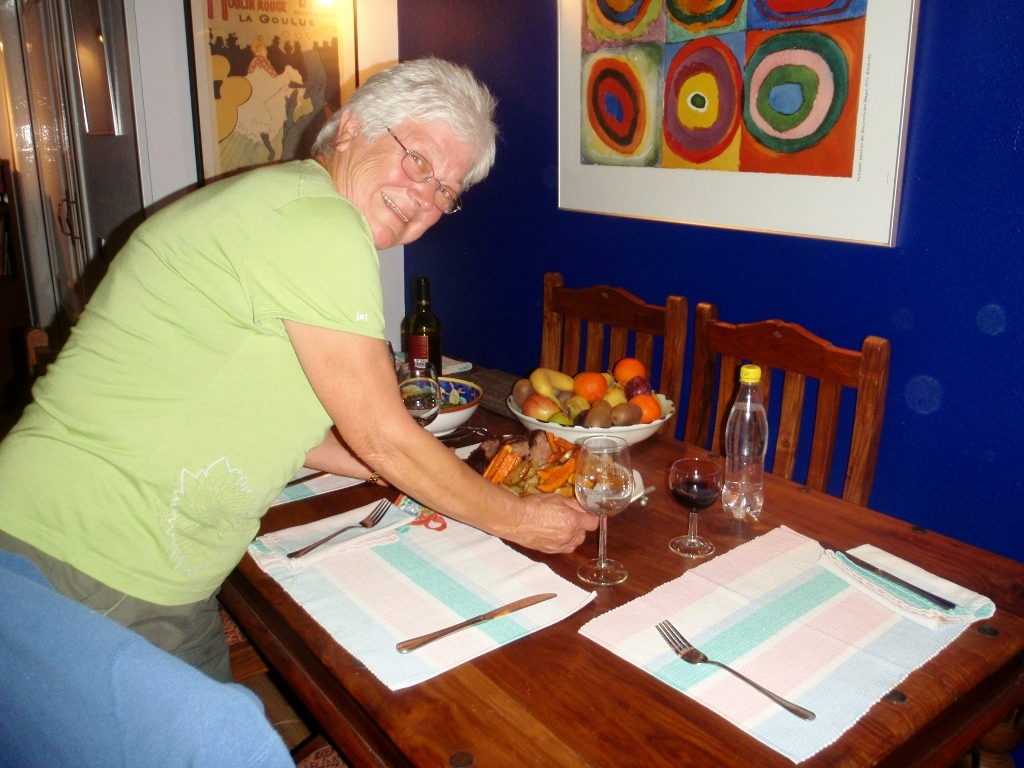 Almerimar has a lot to offer to the cruiser, a boatyard where you can work on your boat, very helpful chandlery happy to order in whatever they didn't have, stainless steel fabricator (great guys), a well stocked good priced supermarket (Mercadona)a shopping trolley distance away, doctors, dentists, restaurants, tapas bars and much more without being a big city. Yes, even though it was a somewhat enforced stay, we thoroughly enjoyed our stay. With a lovely 15 to 20 kt Easterly breeze forecast we made ready to leave, disconnected the umbilical shore power lead to find we had a house battery discharge of four amps with nothing running, both house and starter batteries isolated???. Frantic fault finding located a completely stuffed starter battery. Our smart charger/inverter that simultaneously charges house and starter even allows the house to try and keep the starter charged if out is flatten or in our case, dead. After disconnecting the starter battery we headed West, about 150nm to Gibraltar. Glor was very concerned about being seasick, we had a good 2 metre following sea which made Ednbal roll around all over the place as Les set us up in a perfect goosewing. I figured if Glor could handle this she would never be seasick but alas after waking from a short snooze it caught up with her. Next leg would have to be with seasick medication. Averaging over 6 kts we made it to Marina del Este, 48 miles, by mid afternoon. With an entrance open to the East and a fair old sea running, the birthing area in Marina del Este was somewhat surgey. Lines groaned all night so not the best sleep in the world but good enough for Glor to recover. In the morning Sasha went to return keys etc to the marina office and was even given a bottle of red, what a bonus. For the 38 miles to Benalmadena Glor dosed herself up, no problem this time with another downwind sail. Two thirds of the way to Gibraltar and only a couple of hours motoring, so far so good. In Benalmadena we hired a car from nearby Malaga airport, primarily to go to picturesque Ronda and found a new AGM 100ahr starter battery. When we removed the old starter battery we found that it had a split casing which likely answered another puzzle. About two weeks before leaving Almerimar Ednbal's gas alarm activated. Checked everything, several times, no cooking gas leaks, no containers with any hydrocarbons leaking, not even any alcohol leaks or spills, just could not work it out, most likely it was gas from the ruptured AGM starter battery.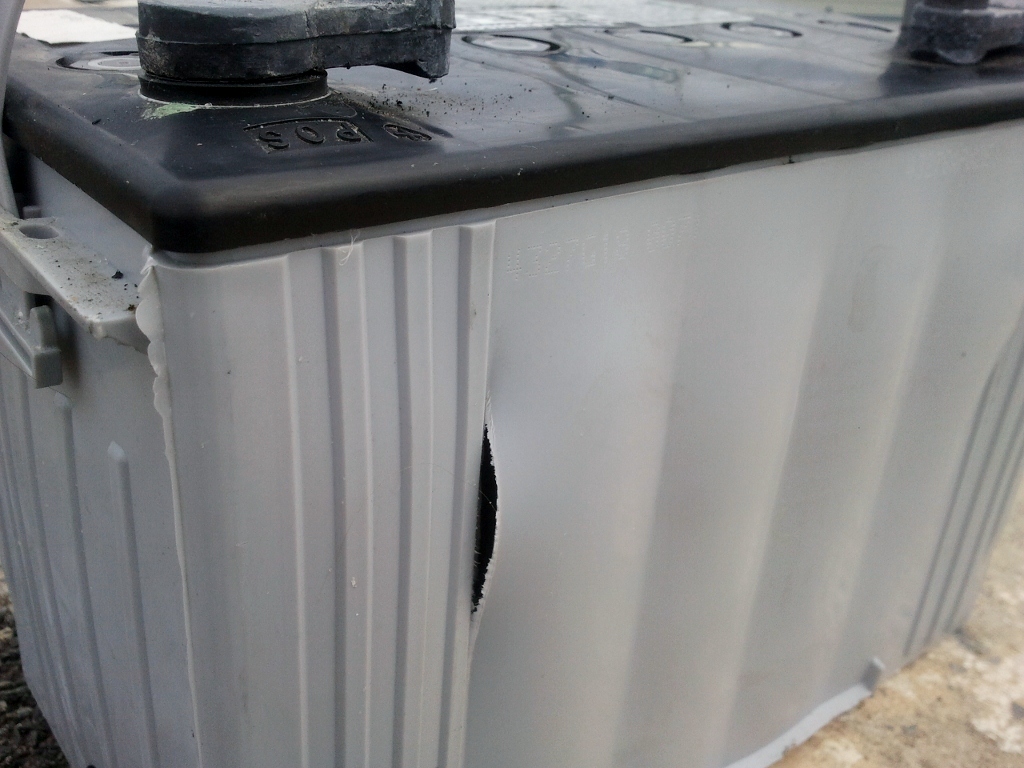 After four days of sight seeing we left Benalmadena with no wind and smooth seas we motored the last 48 miles to the rock that appeared gloomy on a hazy dim afternoon. In La Linea marina we tied up bow in, as usual, but with a lovely finger jetty alongside. Unfortunately the finger did not reach back to our transom gate so it was difficult for Les and Glor to clamber up and down. The skipper decided to turn Ednbal around, no engine no wind. With a little help it provided at least some entertainment for crews of vessels nearby! Miserable rainy weather bought in by South Westerly winds ensued
It was the season of religious celebration, holy week, with daily parades scheduled through the streets over a route shown on maps from the tourist office. On the first day we walked to the square where the parade was to pass but it seemed our timing was out so we wandered the streets and somehow stumbled across the procession. The central religious float was carried on the shoulders of about 36 men who stepped and swaggered as directed by a guy in front of them. All that could be seen of the men carrying the float was their feet.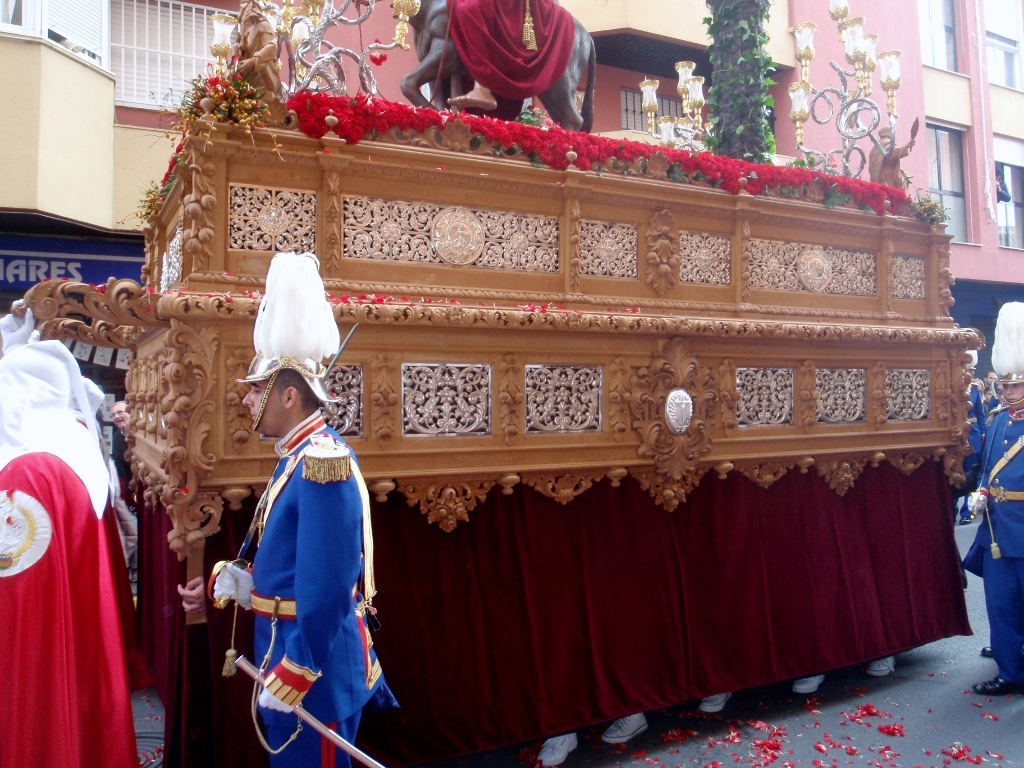 Just as well we saw it as the rest of the week was a wash out, parades cancelled, must have be a huge disappointment for those that put so much effort into preparation!
Next morning a small disaster, Les slipped on the wet wooden "gangway"leading from the shore to the floating docks and gashed his shin. Off to the hospital and 3 stitches by a lovely but very nervous nurse. Later, in Gibraltar he took another stumble but, thankfully, just grazed his knee. We did the tourist things in Gibraltar while we waited over a week for the weather to improve.