Category: Asia
Created: Wednesday, 17 September 2008 16:45
Written by Roger Boxall
Hits: 2594
China and Perth
China
Our flights had long stopovers, Mexico City, LA, Hong Kong and finally into Beijing 46 hours after we had left Ednbal. All two bags arrived, nothing lost, nothing missing all pretty much to plan. We picked up a Chinese SIM card for the phone at the airport and were able to call Grant at the Olympic village almost straight away, great to talk to him and find him in good spirits, confident that the Oz wheelchair rugby team would do well. From the airport we moved straight into the public transport system, always a great way to get a feel for the people of the country. Train into the city and subway to the suburb of our hotel, the Beijing Friendship Hotel, an apparent left over from the days when many Russian officials used to visit with whom it was very popular. The hotel was huge, 8 spread out buildings with parks in between, 6 restaurants, minimart, full fitness centre with 50m pool all in original Chinese architecture.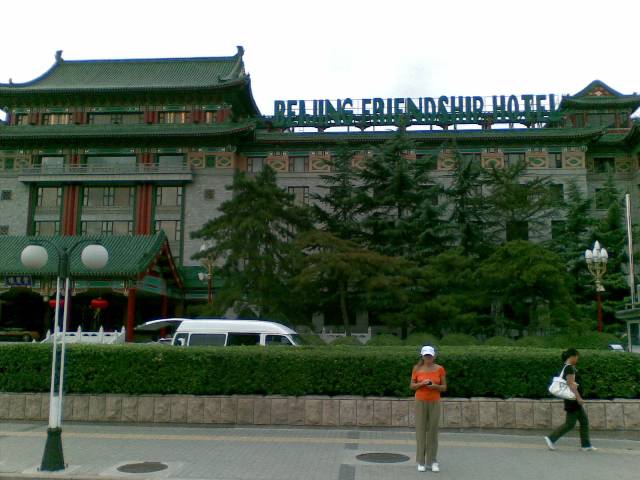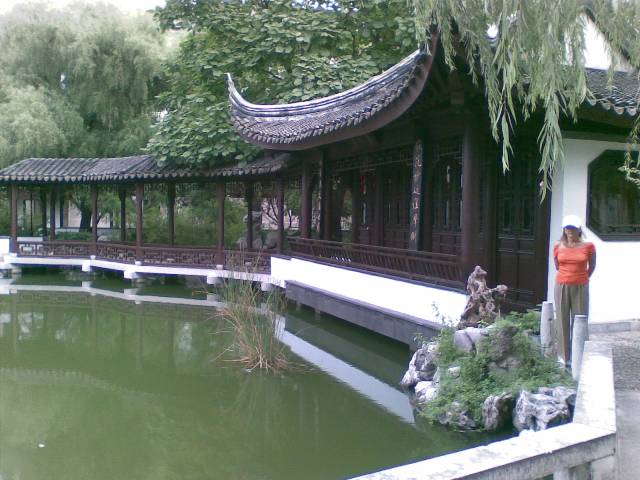 We had an apartment, supposedly renovated in 2004, up one flight of stairs for $65 per night. As is often the case things that sound to good to be true are not true. Yes all was as expected except the use of the fitness centre was at additional cost and the renovation looked more like 1984 vintage than 2004. All in all though quite liveable. There was an Olympic bus route right out the front to take us to the rugby stadium (not in the main Olympic complex) with buses every 5 to 15 minutes and easy subway access to the city, 
Our fist impressions of Beijing were the cleanliness generally and the public transport in particular, the relatively light traffic, the numbers of electric bicycles, and what appears to be a national pastime coughing up sputum and spitting it out.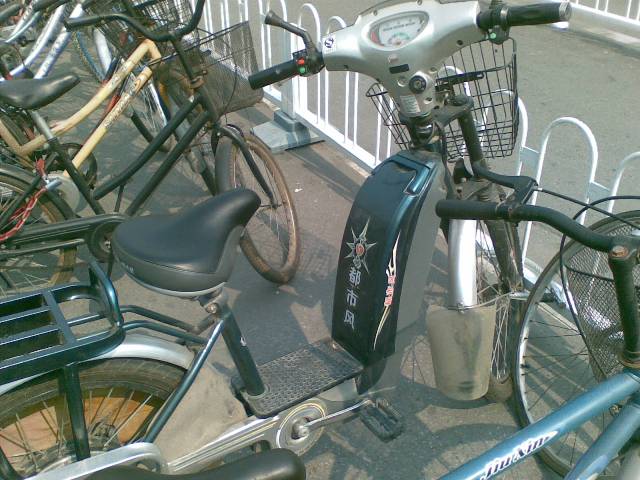 The visibility was not that flash but from what we saw, due more too misty weather than smog. We have seen far more brown smog in LA.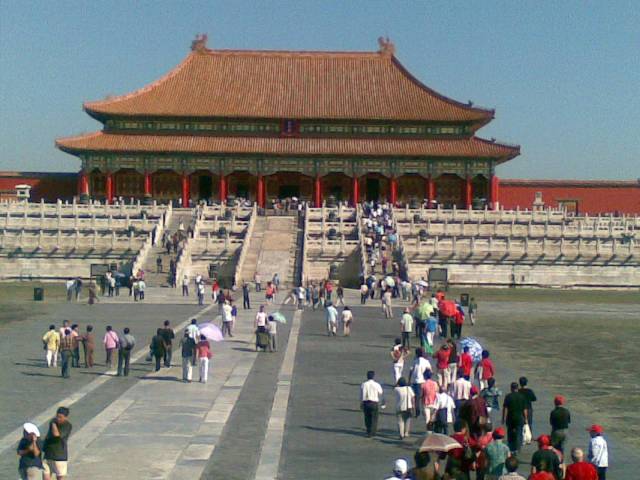 After a day of sight seeing it was into the wheelchair rugby, most days from about 3 to 10pm. It was very exciting, just fantastic. The stadium was full every time with university students allowed in free to cheer on the teams providing a great atmosphere. Australia won games by the smallest of margins and made it to the gold medal play off where they lost to a very strong US team. Seeing Grant presented with a silver Paralympics medal was very, very special, a proud moment indeed.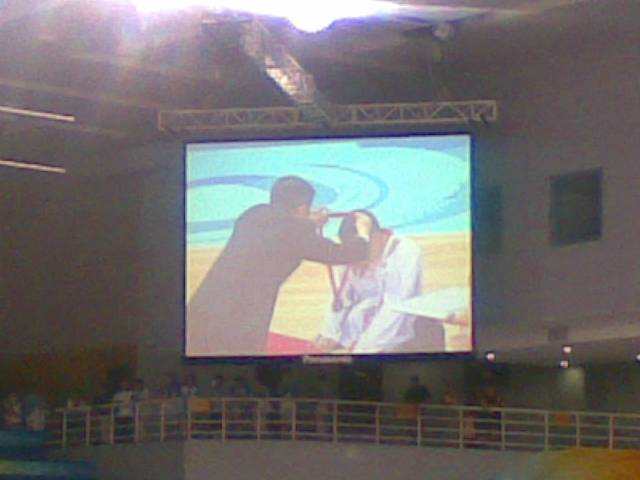 Editor's note: With the Paralympics photo album we tried to describe the atmosphere during the games. If you click on the Green highlited link above, you can view the photos.
After the closing ceremony Grant came with us to visit the Great Wall but it was not quite what you would call wheelchair friendly so he could not get onto the wall itself. Later Sasha and I did a little overnight train travel to get some idea of the countryside. We found it far less developed and much dirtier than Beijing. We did however meet some interesting people. On the first train we had basic sleeper accommodation, 6 beds to a cabin, 3 high on either side with a very small table, maybe 300mm wide and 2 fold down seats. Sasha and I sat at the tiny table, not knowing quite what we were supposed to do. Before long we were surrounded by Chinese eager to talk to us. An elderly, 25 year retired English teacher, a young man and young lady. All keen to talk English and tell us about the areas to which we were travelling. We chatted for a few hours until "curfew" lights out at 10pm. We slept, waking at occasional stops but overall a reasonable night's sleep. By 7am we were in Luoyang trying to find the taxi stand, which we eventually did, for the $7 14km ride to the hotel.
We decided to visit the main attraction, the Buddhist grottos, images of Budda and followers carved into shallow stone cave or grottos. A thousand or more carved over an area of a few square mile on either side of a river from about 500 to 1700 AD. Although very well preserved you soon get the feeling, if you've seen one Budda you've seen them all.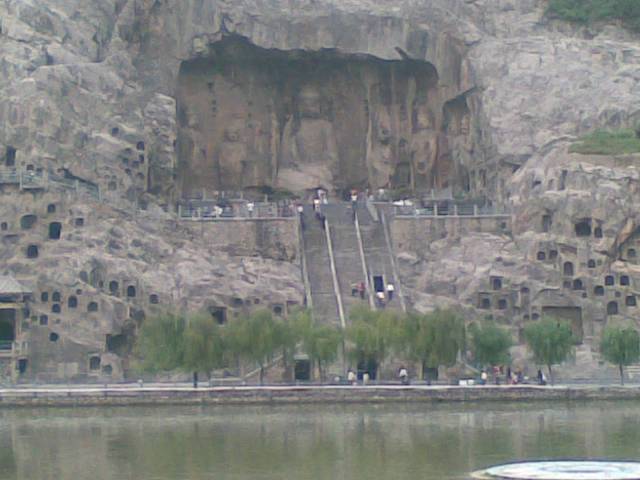 Never the less a beautiful walk along the river, over the bridge and back along the other side with climbs up to the various grotto levels to check out the carvings and temples.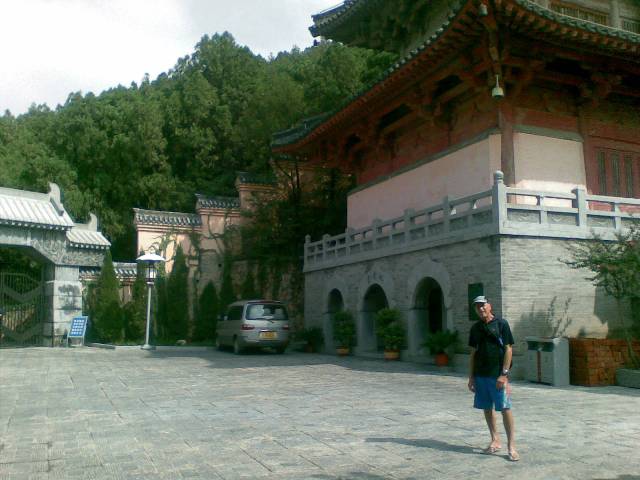 Next day another train ride of 5 hours to Xi'an (pronounced more like shearn), home to the famed terracotta warriors. As there were no seats available we had to book another sleeper only this time, as we did not catch the train at a terminal point, it was into a warm bed so to speak. We were too busy watching the country side go past to sleep anyway. In Xi'an, after the usual battle out of the train station to mix with literally thousands of locals carrying various items of produce, we went looking for the ticket office to buy tickets back to Beijing two days hence. With a huge line up we figured we could do it in the morning, all we wanted to do now was get to the hotel to shower and clean up. What a lovely hotel with the most helpful staff imaginable only too keen to help us get transport (local buses) organised for our visit to the terracotta warrior site about 50km away. The local bus to the train station was nothing like in Beijing. Holes in the floor had sheet metal riveted over them, old upholstered seat bottoms and backs had been replaced by pieces of plywood and the mechanics made all sorts of weird noises.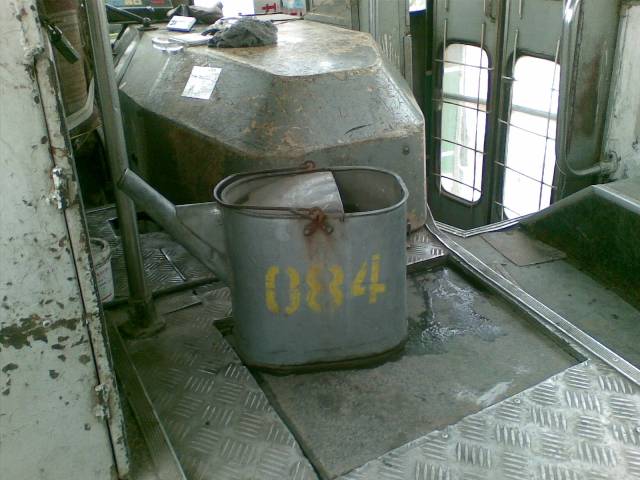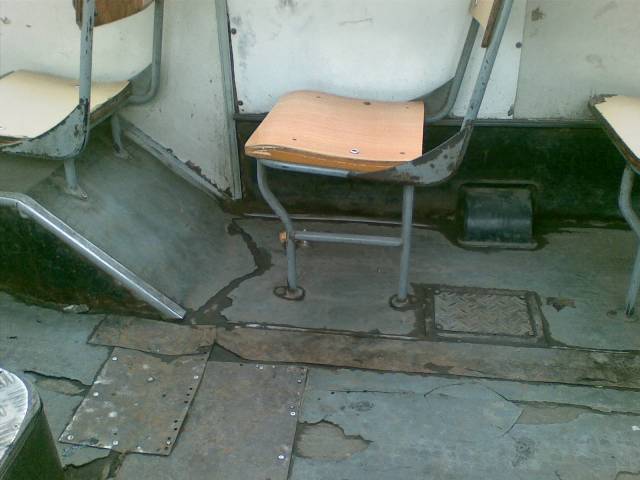 The driver stopped the engine every time the bus was stationary, traffic light, bus stops and any stop in the traffic. I just wondered how long the starter motor could last. However the bus from the train station to site was another matter, full modern tourist coaches, lined up one after the other, as the bus filled off it went and people started filling the next one. Like everywhere else that we saw in China the numbers of people were staggering. Terracotta warriors are in 3 major excavations, each fully enclosed by an enormous building something like 300m by 100m with viewing walkways so that visitors get to see everything.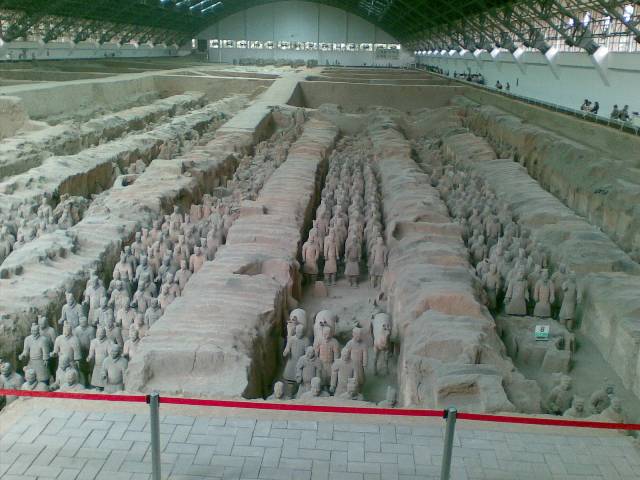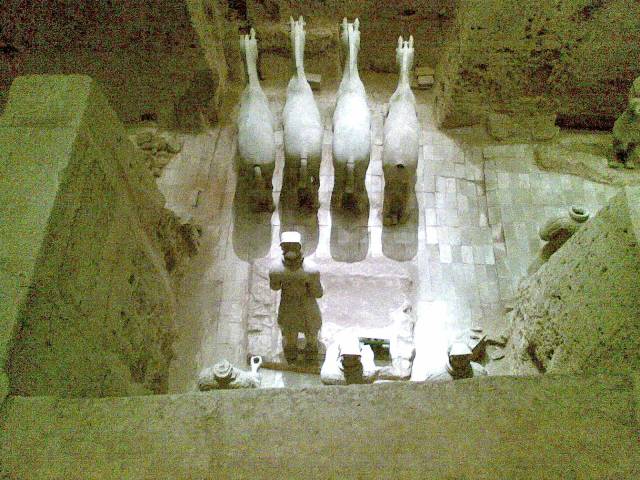 To say impressive is a huge understatement. The whole site (museums, surround movie theatre to depict how the whole thing came into being 2000 odd years ago) was the best attraction we had seen on our travels to date, extremely well done.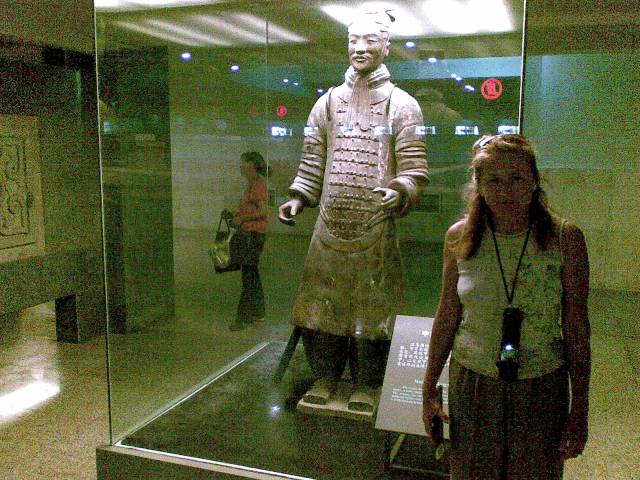 Perth
Before long we were back in Beijing, some last minute shopping and on the plane to Perth. We read our first newspaper in months on the plane to Hong Kong. Seemed to be mostly doom and gloom so don't think we've been missing much. Our plane was late into Perth so were banked for luggage delivery from the plane, immigration while Grant spent 2 hours waiting for us, it was fantastic to see him again. In Perth it was the usual break neck rush to get everything done as well as catch up with friends and relies. What a stark contrast to the life we lead cruising on the boat, just so glad we started when we did to enjoy while still fit and healthy. Ten days later and on the plane again for the 50 plus hour journey back to Panama and Ednbal. For the 13 hour lay over in LA we managed to weasel our way into the Qantas lounge, the comfort booze and food certainly helped! After the huge expense of the trip we decided to go on somewhat of an austerity Champaign starting with public transport from the airport in Panama to Colon. Straight out into the tropical midday heat to walk half a mile with all our bags to catch a local bus to the main bus station for the bus to Colon. We were not sure which number or name of bus to catch but it seemed the drivers must have known. The first 3 that came by wouldn't' stop for us but the fourth, a marginally more up market one did. Yes the driver was going to the main station.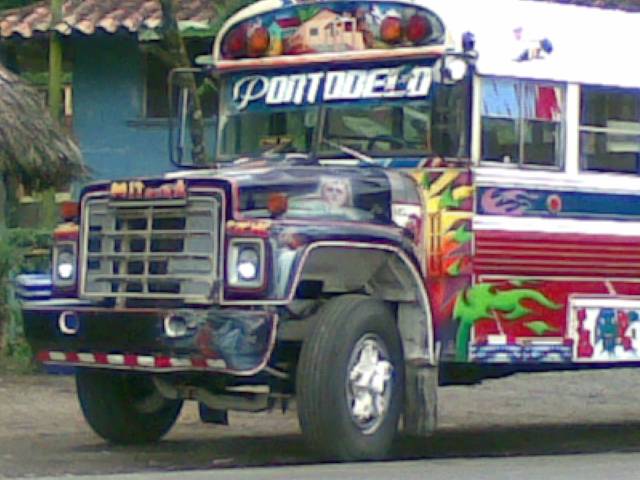 One of the passengers helped us on with our gear and we were away. The Colon bus dropped us off at the turn off to Shelter Bay Marina where we had no option but take a taxi for the last 10km or so. Apart from being dirty on the outside, Ednbal was just as we had left her. We dropped our bags, showered, at dinner and crashed for 11 hours!