Tahanea, early 2017
Tahanea, Tuamotus
The sail to Tahanea was easy and uneventful with arrival timed pretty much at slack water through the navigable pass where we again meet up with the families on Planet Ocean and Pelagic to enjoy a beach BBQ bonfire on a tiny sand and coral rock islet - "motu" with just three coconut trees and some low green bushes.
Tahanea seemed to be the place for problems for Ednbal, remembering that last time we were here the prop shaft stern gland started leaking water. The next day we started the generator to have it stop automatically, what's the problem? On removing the access cover we were presented with the stainless steel tray under the engine covered in oil. Evidently the engine had stopped due to low oil pressure. The source of the leak turned out to be the lip seal on the raw water pump, the pump I'd replaced before leaving Makemo so why was it leaking? After the big clean up, luckily all the oil was contained by the tray but even so a messy job. On went the spare water pump while I stripped the leaking one to find part of the lip seal turned over, guess that must have happened when I pushed the shaft through. Because the shaft has bearings on it when you slide it into the lip seal you can't see the seal so don't know if there is a problem. After another couple of generator runs the replacement raw water pump also began to drip oil but, thankfully only a couple drops per hour so I put a wire tie on the pump to enable the oil to run into a small jar that I tied underneath.
Planet Ocean and Pelagic left the West pass anchorage as friends Kristy and John on Raynad came in from Toao and a 50 foot trawler style power boat called Duet with Ron and Nancy on board came in. It was a very nice reunion with Kristy and John whom we'd last seen before they left the Gambier some months before. A small weather system, a trough was forecast move over us creating a wind direction change backing from North to West to South accompanied by rain squalls. The problem with the Tuamotus lagoons is that they are fairly large, tens of miles of fetch that can create some nasty waves. Before long we had 25 to 30 knot winds and very sharp one meter waves. Raynad had anchor chain caught on coral while Ednbal was pitching like a wild horse. Our primary snubber line broke then our secondary. I had to hurriedly put another longer heavier line onto the anchor chain to relive the load on the anchor winch. Thankfully the stronger winds and associated wave only lasted a few hours but the two stainless steel fittings from the primary and secondary snubber lines had been lost overboard. As we were anchored in only five metres of water the waves were enough to stir up the sand from the bottom so that the water visibility was down to only a couple of metres. John had his SCUBA gear on to dive and untangle his anchor chain so came over to see if he could find my snubber line fittings. Of course the wind had changed direction so Ednbal was not where the snubbers had broken but I had pretty good idea where they would be. I was also in the water free diving but had to dive down about three metres to be able to see the bottom. John found the most important primary snubber fitting so I could make a new proper primary snubber again. Next day, after the sand settled and the water cleared, I went looking for the secondary snubber fitting and found it lying on the top of a small coral bombie So, all parts recovered and replacement snubbers in place, time for some snorkelling in the pass that we enjoyed so much last time we were here. Over we went in the dinghy as the tide was turning and current dropping to drift snorkel through the pass tethered to the dinghy. Still beautiful coral and fish then, unbelievably, the big 50 metre plus diameter school of fish close to the bottom with Dog Tooth Tuna and sharks looking for dinner just as it was some 6 months ago, in virtually the same spot. We are amazed again and just floated around watching the action.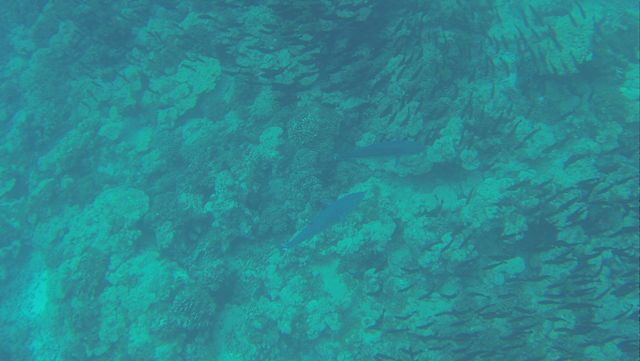 Now that the weather had settled we decided to head over to the South West side of the lagoon to revisit some of the tiny motus we'd enjoyed so much last time. Alas this time no fish caught on the way across, maybe the stormy weather had dampened their appetite. We'd not been anchored long when we noticed the fridge compressor kept restarting and not running. One just must have cold beer so it was action stations. Took a look at the little fridge control panel that showed a red LED fishing three times repeatedly and read the fault diagnosis info in the Danfoss manual. Compressor problem! No worries we have a spare compressor, with self sealing disconnect fittings, stowed in the aft locker all safely wrapped up just for such an occasion. An hour or so later the new compressor was in place ready to test. Switched on only to get exactly the same condition. Compressor tries to start but no go and still red LED flashing three times. Bugger, in fact double bugger. By now the big power boat, Duet, was anchored nearby so we went to see them to check what refrigeration capacity they had and their plans for movement. Ron and Nancy were only too accommodating with ample excess capacity and would be around for several days so we transferred our food and beer to Duet's refrigeration. Hmm now what? We shoot off a couple of emails to other learned cruisers about our issue and got the same reply, it's not the compressor as such but the "electronic module". The little compressor is actually an AC unit driven by a DC to AC converter, the "electronic module", many have had the same problem and some cruisers keep spares. Guess it could be, so I called on the VHF radio to see if anyone else in range by chance had a spare electronic unit for a Danfoss compressor. A Kiwi boat that had just left Tahanea responded, yes they had a spare and a relation coming from New Zealand to visit was bringing another for backup as they'd already had one fail. They were going to an atoll Fakarava, about 50 miles away, we could pick one up from them if we wished. One of the people we'd emailed also came back to say he could fly one from Tahiti to Fakarava for us so seemed we had options for replacement. After settling down and cogitating Sasha suggested we take our electronic module out and take a look. Slim chance of fixing says I bit I removed it anyway. On the small circuit board were two 470uf 63 volt rated electrolytic capacitors, one with a distinct bulge.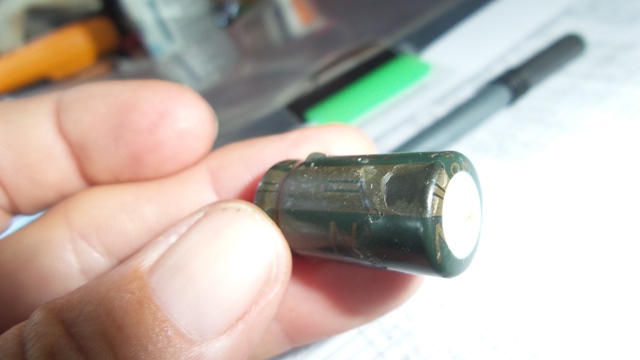 I de-soldered the capacitor and checked it on our trusty multimeter, about 300uf. Could be the problem, but just as hard to find a capacitor of the correct size as a complete electronic module out here, probably harder. Then I remembered the repair of our wall mounted Dell monitor that connects to the laptop. It had a power capacitor issue that we replaced and I recalled that there were many other electrolytic capacitors in it so why not have a look inside, never know your luck. Monitor down off the wall and opened up, low and behold five 470uf capacitors but only 35 volt working, well at least worth a try.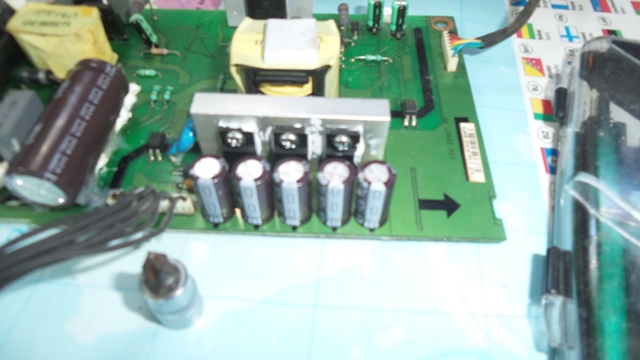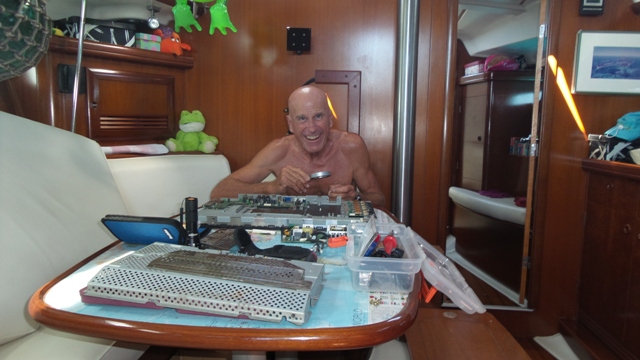 Removed one, soldered it into the electronic module, reinstalled and tested. Bingo, fridge working, happy days! Only issue now, the working voltage, how long would a 35 volt working capacitor last in place of a 63 volt one? However there were a total of five capacitors exactly the same in the monitor. Two capacitors connected in series results in a total of half the capacitance value but twice the working voltage, two in parallel gives twice the capacitance. If I were to connect two in series, another two in series and then the two sets in parallel we'd have 470uf at 70 volts working, perfect. Now it was a case of physically fitting to the electronic module circuit board as the four capacitors thus connected took up considerably more space than the original. With a little ingenious wiring I managed it although I could not fit the plastic cover but we had full working refrigeration again.
About this time we were joined at the anchorage by Kristy and John on Raynad. Now John, a Scott, retired surgeon, who has lived the last 30 or so years in Alaska is an amazing guy from the point of view of his breath and depth of knowledge as well as his skill in all things mechanical and electrical. By far the most knowledgeable and skilled man either of us had ever known. I knew that electrolytic capacitors were always liable to drying and causing problems but when I relayed the story to John he immediately asked how old the module was, I guessed around 15 years, 2002, as that's when the boat was built in the factory. He then explained the issue of most of the electrolytic capacitors from about 2000 to 2006 were from a factory in China that used a technology from Japan but left out or greatly reduced a form of protection on the aluminium foil used in their manufacture and that they had a severely reduced life. John was also the guy who had a problem with the injector pump on his diesel engine so stripped it, bought parts and rebuilt it himself, something normally only done in a specialist workshop! Anyway enough of the broken fridge saga.
The motus of Tahanea are still home to a reasonable population of coconut crabs so we arranged a dinner on board Ednbal to give Ron, Nancy, Kristy and John a taste of coconut crabs Asian style by Sasha. I managed to capture five decent size crabs for the occasion and we cooked them in our electric fry pan over drinks in the cockpit. It went down very well as a thank you to for wonderful people who'd helped us so much over the last couple of weeks.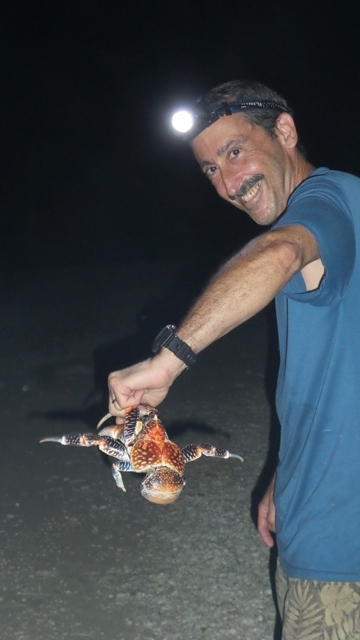 With light winds forecast we moved a few miles further up the Western side of the lagoon to another favourite anchorage that we called the three motu anchorage where we'd seen a lot of birds nesting last time we were here. We were not disappointed, Boobies, Terns, Noddies and Frigates were on nests of varying sizes and simplicity. Boobies on the ground and in trees, the small Fairy Turns just in the form of a branch, Noddies in small nests if large dead leaves and Frigates in twig nests. Most had just one, occasionally two eggs or chicks.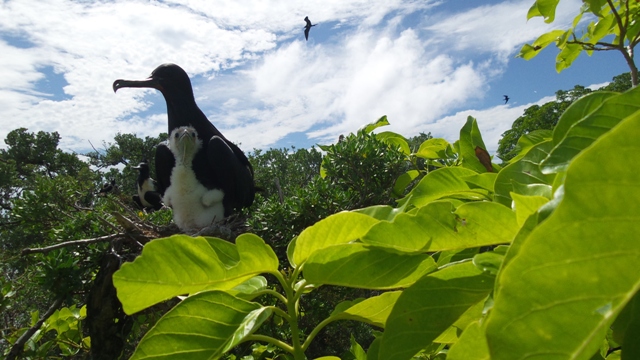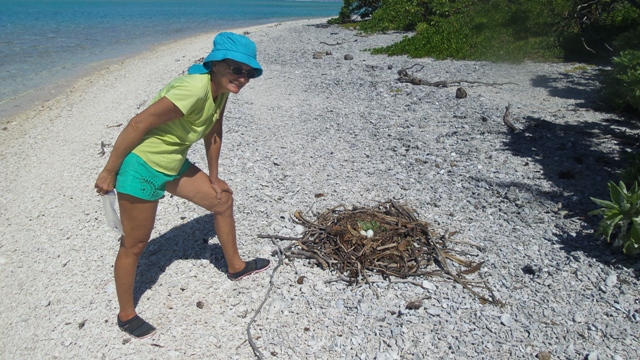 As is the case with virtually all the atolls we'd visited the snorkelling over fish infested coral provided hours of entertainment. After a few days the forecast showed strengthening South East winds so we moved camp down to the motus at the South of the lagoon to take advantage of the wind for kite boarding. On the way we had good luck with fishing, landing two nice size Job fish of several kilos. First time the wind came up over 15 knots we took our only operational kite, the 12 metre one out and set up on one of the coral pebble spits that generally separate the lagoon from the fringing reef. Just fantastic kiting on calm water with an off shore wind in a metre or two of water. Sasha really got into it, easily kiting up wind and being able to return to the take off point.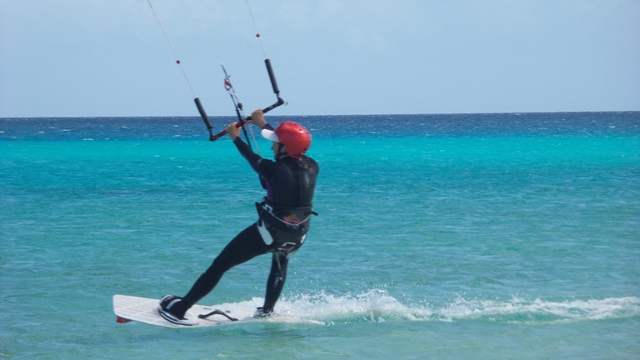 That meant we could take turns, as she came back I'd take over the kite and board, and visa versa. Worked a treat until the kite started deflating, another repair job. Turned out the inflate valve has started to detach. About the only decent contact glue we had on board was good old Shoe Goo so I made a wooden former, square piece of ply with a hole in it the size of the valve and another square piece to fit underneath so that I could put glue on the valve to stick it back onto the bladder and use the wooden former to clamp it together with a couple of small gee clamps. Seemed to work so we were off kiting again. With the success of that repair we decided to try the same trick with the 9 meter kite that died when we were in the Gambier, only this time all the leading edge and strut valves, 12 in total had to be reglued. I made another former set and we did two per day. Eventually got there but not before the wind had died off again and it was the end of kiting, at least we got a few days in using the 12 kite.
About this time we were joined by a few other boats, Raynad, Imetep with Annie and Eric on board, just sailed in from the Marquesas, as well as Birgit and Christian on Pitufa who'd just arrived from the Gambier. Pitufa had a bit of a rough trip experiencing 40 knot winds and rain squalls for part of the way and has sustained some damage having broken part of the spinnaker pole traveller on the mast. Both however had fresh fruit and a little vegetable for us, most gratefully received as we'd all but run out. Great to get together with friends made in our time in French Polynesia, along with a few new comers, for sundowners on the beach. Before we knew where we were it was near the end of May, almost six weeks had slipped by and it was getting time to make a move to Tahiti to prepare for the arrival of family, daughter Natalie with husband Mark and the two grandchildren, Lola, 5, and Mia, 7. The sail to Tahiti, where we initially anchored at Venus point, was well timed picking up a good sailing breeze for the whole trip. Next day the 27th of May we moved a few miles to re anchor once again at the Yacht Club de Tahiti.