Tahiti and Society Islands
Category: South Pacific
Created: Tuesday, 21 June 2016 11:03
Written by Roger Boxall
Hits: 1320
Papeete
We picked up a mooring in the Taina Marina mooring field just after 5pm on April 25th. Jim and Carola on Koza were in the Papeete City Marina, a couple of miles north of us accessible by dinghy through the channel in the lagoon so if course we had to go say G'day on our way to check in and pick up Sasha's new, well extended for another year, Carte de Sejour or long stay visa. All went well, Sasha got her document stamped for another year and met up with Mr Stephenson with whom she'd had so much correspondence following the debacle with the agency Tahiti Crew last year. He was most helpful and accommodating. Next off to the Tahiti customs to complete our formal check into French Polynesia. Although we had completed our "paperwork" in the Marquesas they had no record at customs. The customs officer said he recalled seeing it at some stage but now it seemed it was missing so we simply filled in a new set, problem solved. Our main reason to go to customs was to get out fuel certificate that allows foreigners to purchase diesel for the boat tax free, half price. That was literally a five minute exercise. Next the boat list. This was the first time we'd been anywhere in anything like a city for well over a year so high on the agenda was visits to the goodie shops starting with proper supermarkets, Sasha looking after groceries and general consumables, me the booze, I always get the hard part! Carrefour, SuperU and the bulk store Polynesian Trading were visited as we shopped with gusto. After initial splurged it was on to the other bits and pieces to get Ednbal back into better shape.
New house batteries to replace our six year old Fullriver AGM golf cart batteries were required. We'd been in touch with a battery business, Pacific Batteries, while still in the Marquesas and they had assured us they'd have AGM golf cart batteries available. Well not quite, golf cart batteries of about the right capacity, yes, but AGM, no. After some "negotiation" they finally admitted nothing available but were kind enough check with a competitor and yes they had the right batteries, even gave us battery identification and price. Jolly good thinks we, called the competitor and ordered, they'd deliver to Taina Marina fuel dock, fantastic. Off we went to Taina to try out our new fuel certificate as we needed to refuel anyway. As I was squirting in fuel a guy arrived with batteries on a trolly. I asked Sasha to check them. They were standard lead acid not AGM. No thank you. After a little "discussion" the company agreed to keep their batteries and refund our money. Now what? We'd been in contact with Fullriver in the US and they could supply our replacement batteries exactly the same as the old. Big advantage, no changes required to the battery box and they would be batteries we knew and had very good service from. One small problem, getting them from the US to Tahiti. Enter freight forwarders Vanguard Logistics who have offices world wide. Me thinks big organisation, big cost but not too be. Again it's all people. Our contact at Vanguard, Lala, was extremely helpful and accommodating. Price formally quoted at about $250, for their minimum shipment of one shipping ton, within one cubic metre. Turned out that the batteries on their pallet were much less so we asked Lala if he could consolidate other items we'd like to purchase, apparently no problem. Amazon, Defender.com, and a few other marine supplies, here we come. Internet ordering was fast and furious, just too good an opportunity to buy many things we couldn't get here or that were far, far more expensive that purchasing on the net. Twenty three additional packages were added to our battery shipment that was scheduled to arrive within a month. Naturally there were a few hiccups to raise Sasha's blood pressure but by now she's catching on to our never ever give up moto. She sorted it all even to the extent of producing our own hazard declaration for some Cetol clear coating for our teak and replacement EPIRB. With ordering complete and having spent several days enjoying life with Jim and Carola we all decided to move camp to the nearby island of Moorea, just twelve miles west of Tahiti.
Moorea
A short uneventful sail save for the rain squall on the way, yes still rainy, becoming a bit tiresome, now into May and we've been in a wet season since arriving in the Marquesas October last year! The tourist brochures for Tahiti suggest April and May to be the best months to visit, rainy season over and before the mid year windy season. Not this year with everyone blaming poor old Mr El Nino! It was still raining at least every other day. After dropping the anchor at the head of the fleet of cruisers anchored inside the protective reef of Upunohu Bay we had another couple, Lily and Steve from the yacht Liward, whom we had been communicating with on the HF radio net on and off for the last year, join us with Jim and Carola for extended sundowners. We found Lily and Steve a very interesting couple, they had retired early, Lily a former propulsion engineer working for NASA in Houston Texas, yes a real rocket scientist, Steve a sub sea oil specialist engineer. They'd been living on their beloved Classic design 47 ft Hans Christian sloop Liward for 30 years while working but were now off cruising. Moorea, much smaller than Tahiti is far more laid back with just one sealed road running around the perimeter of the mountainous Island. Anchored over white sand directly out from one of the local public beaches with a lovely grassed park populated by huge coconut trees we had a truly lovely spot to kick back for a few days.
The most notable sights, nearby on land, came on a walk of a few kilometers on the paved road up a couple of hundred meters to the main view point, belvedere, to get the view of the two main bays, Upunohu and Cooks, from one point. On the way visit the agricultural school for products made from locally grown fruit and home made ice cream followed by the local prawn farm, hopefully for a feed to take back to the boat. All went well except the prawn farm was open only on Wednesdays and about 15 minutes after our arrival at the Belvedere it started to rain. Luckily we'd just finished our small picnic lunch so off we went looking like a couple of half drowned rats as it rained continuously all the way down to level ground. The bonus was the abundance of passion fruit growing wild along the side of the road, our back pack was full!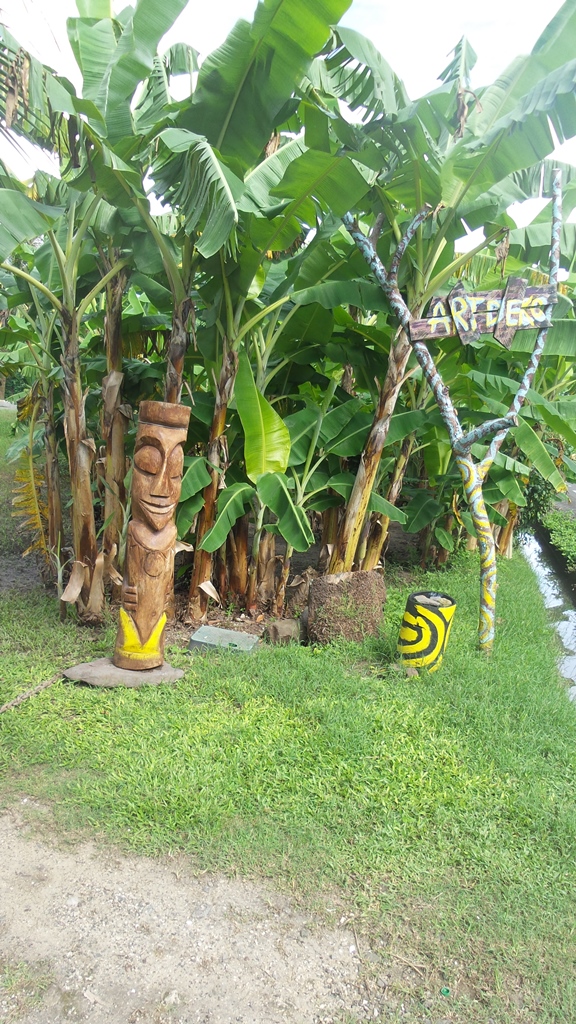 One of the highlight, must do on Moorea is you swim with the sting rays and sharks that frequent a small sand bar to the North Western end of the island. Mainly they are there to get the free feeds handed out by the tour operator boats. We teamed up with three other cruisers for a convoy dinghy ride the 3 or so miles through some narrow shallow, dinghy only depth, ride to the spot on a lovely calm morning led by Subs Steve and Lili who had been several times before. We were not disappointed! Twenty or more, mostly Black Tip, sharks circled around keeping just out of touching distance while equally as many stingrays interacted with the humans as the tour operators hand feed than. The stingrays that let you touch, even hold them were almost silky to the touch. On the way back to the boat it was so calm that Sasha and I took turns in wakeboarding behind the dinghy. Next evening we meet up with Jim and Carola for " sundowners on the beach " sitting at a small fixed bench table and bench seats at the small recreation area along with a couple of locals who gladly entertained us with ukulele accompanied Tahitian song. Just another instance demonstrating how welcoming and friendly the Polynesian people are to outsiders.
Steve, from Liward, is an accomplished guitarist and singer, he even has his own PA system with him so that he can set up at local venues when the opportunity arises. One such opportunity presented itself to play, together with another local entertainer at the nearby International Beach resort. The resort was close to the stingray sand bar which meant a long dinghy ride in the shallow narrow channel at night, not a real good idea especially for the return journey after a few beverages. Steve also had to transport his guitar and PA gear so he, very generously, hired one of the local tour operators to pick up all the cruisers who wanted to go from their boats, deliver us to the hotel and return us to our boats at the end of the night. We got to the hotel, all dressed up in our refinery, well as much as one has on board and were delivered to the hotel as planned. So far so good. Only as we walked along the jetty Sasha discovered that her shoes, that had been stored on Ednbal for some years, were separating, the sole from the upper. The hotel staff were most helpful coming to the rescue with a tube of superglue. Happy hour drinks were consumed and we ordered dinner. Not speaking the language, French, can sometimes have its down side. We sat opposite Jim and Carola who had their dinner of hamburgers and what they thought was a side dish of some sort of salad. They offered it around as, with their main meal it was far too much. Little did they know it was someone else's dinner. Luckily very little had been removed when the owner came over to start their dinner! After dinner Steve had set up his gear on a small stage under an outdoor gazebo surrounded by a sand dance floor. He combined with a local lad with "computer aided backing" and did his thing, very professional indeed and a thoroughly enjoyable night ensued.
Raiatea
Our time to haul Ednbal from the water for some repairs and new antifouling was fast approaching so time to head to the island of Raiatea where we had booked her into the Raiatea Carenage (boat yard) for haul out for mid May. The people at the Carenage especially the secretary, Verea, had been extremely helpful, they had ordered our antifouling paint and advised us that our parcel of spare parts from Beneteau, sent via the US Postal Service was waiting for us at the local Raiatea post office. The 85 mile overnight sail from Moorea was comfortable and uneventful and we tied up to the town dock mid morning 6 May. So, first stop the post office to retrieve our precious parcel, over $1,000 worth of bits, sent from Beneteau. We had the tracking number but knew that the USPS only tracked to the point that it entered French Polynesia. At the post office, in common with all we'd visited so far, you take a number and wait your turn, very orderly. Our turn came, Sasha presented the tracking number, no it's not here. A couple of phone calls later, it's still at customs, oh great. Off to Raiatea Carenage to see Verea first hand for the first time and find out why she thought our parcel was at the local post office. Verea also seemed perplexed and made a couple more phone calls. Apparently the contact guy for our parcel was on holiday back on Monday. And no one else could do anything. Hmmm. We decided to take a look around a couple of anchorages until Monday. We'd been to Raiatea back in 2005 when we charted a boat for 10 days so were keen to check out the changes. Alas we were disappointed as it looked like no maintenance had been done in the main town of Uturoa, everything looked decidedly run down. Their two main supermarkets had a reasonable selection but tiled floors were broken away and paint was peeling off the walls, indicative of the look of the town in general. On Monday we were back at the Carenage in front of Verea who rang the customs contact guy. End result, no problem our parcel would be on the next flight no customs or clearance charges. We checked at the post office each day and low and behold three days later it was there, total charge 85 Pacific Francs, about one dollar.
Now we were ready to haul Ednbal except it was raining and forecast to continue for the next few days. The Carenage yard was wet and muddy, not at all inviting and not the sort of weather for painting so we waited. Finally on 17 May Ednbal was lifted out of the water and settled into a steel cradle on the crushed limestone work area and away we went. The guy on the water pressure cleaner did a great job as had our two year old Hempel Globic antifoul, no barnacles and a finish on which we just had to apply new. Apart from antifoul painting we had two other important jobs, replace the forward head toilet outlet thru hull and ball valve as well as investigate the movement in the rudder. As part of the package from Beneteau we had all the spares that might be needed to do the job. To replace the thru hull I had to grind off the old skin fitting as it proved impossible to undo. After a few other tribulations, not the least of which was to get the threads to seal to watertight the job was done. In the mean time Sasha had started the job of applying antifouling paint, 20 litres of it, four coats! Next job for me, drop the rudder. To do that I had to dig a hole over a metre deep in the compacted limestone base under the rudder. With crowbar and shovel I went to work. Several hours and blisters later I was down a bit less than a metre and into ground water. Now what. Sasha suggested I drop the rudder down as far as it would go and take a look see. Dumb shiela what would she know!! Well, with her help and a rope on a winch I managed to drop the rudder to the bottom of the hole which revealed most of the rudder shaft and the source of the problem. The upper stainless steel collar that is attached to the rudder shaft to run in the upper Teflon bush bearing had detached from the shaft! Beneteau to the rescue with a procedure to epoxy glue fix the collar to the shaft.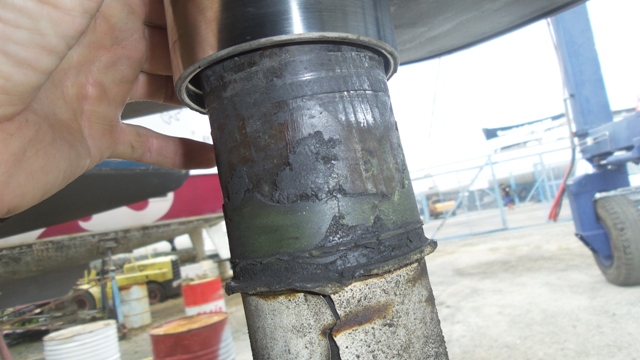 Only problem it was now Saturday and the Carenage chandlery was closed. However the owner Dominic happened to be at the yard doing some other work and let me into the chandlery, gave me the glue and said just let Verea know on Tuesday as Monday was a public holiday, what service. We reglued the collar and I reset the bottom copper sleeve bearing so that by Tuesday we were all ready have Ednbal lifted to paint the areas where the props were.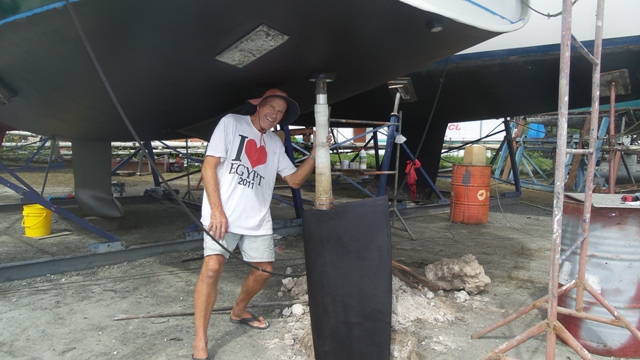 The spec for the antifouling paint said recoat time three hours so I got up and put four coats of paint on over the course of Tuesday night and Ednbal was dropped in the water on Wednesday morning. Everything worked just fine, phew.
Bora Bora
With a few days of nice weather forecast we headed over to the nearby island of Bora Bora as we had done in the hire yacht in 2005. With light wind behind us it was our first opportunity to try out our newly acquired second hand symmetrical spinnaker. While in one of the anchorages of Raiatea we met up again with an Australian catamaran, Our Rose with Richard and Jennifer on board. Over a beer we'd swapped stories including our sail from Galapagos to the Marquises when we blew out our asymmetrical spinnaker. They had a spare symmetrical spinnaker that they'd bought from another cruiser but it was really too small for their boat, we could have it for the price they'd paid for it $100! We took it and fitted it into the old sock and bag that we'd kept from the old spinnaker and it seemed it would do the trick. Well now the acid test. We put it up and used our existing spinnaker pole, it worked a treat, we were happy little Vegemites.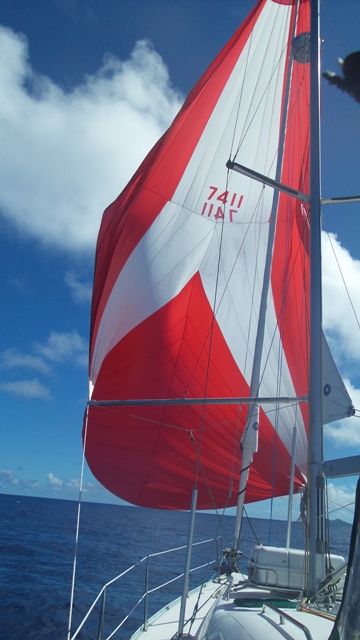 In Bora Bora we meet up with Jim and Carola on Koza once more. This would be our last time to get together before they headed West, planning to be in Australia before cyclone season. Another great, entertaining and relaxed few days anchored at the Mai Tai restaurant anchorage in Bora Bora.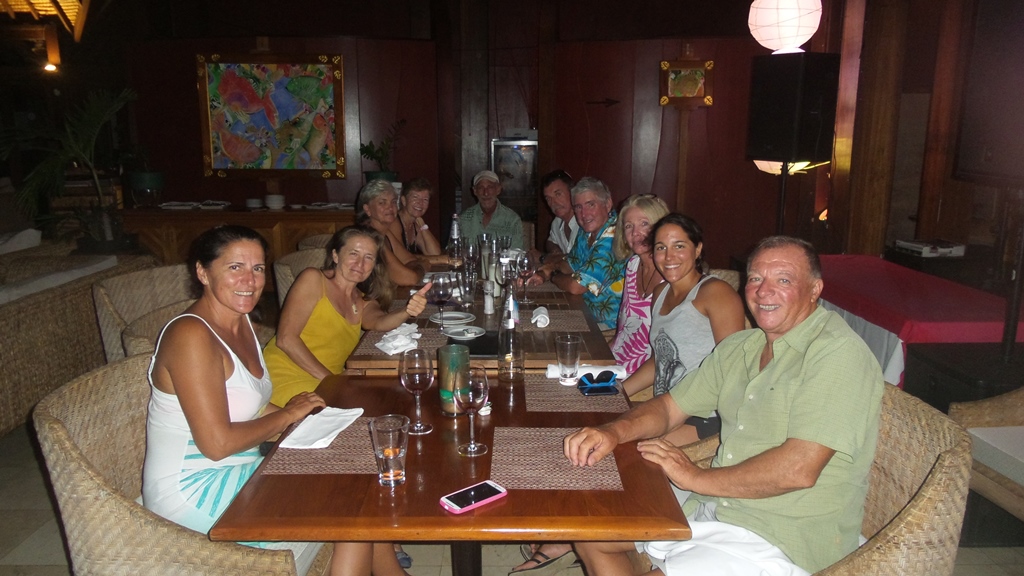 On the first of June we bad farewell and fair winds to our good friends as they headed West and we moved to another anchorage on the western side of the Island to do some snorkelling between some of the outer motus (small Islands on the outer reef line). Soon we would have to head back to Tahiti to rendezvous with Les and Glor, brother and sister in law, who were to join us for five weeks in early July.
Tahaa
First though a stop at the island of Tahaa only a mile or so North of Raiatea where we arrived and anchored close to the coral gardens, near Islet Tautau, that get good write ups in all the guide books. Next day we took the dinghy in and snorkelled the coral gardens. Well not too sure about the coral garden but the abundance of almost tame fish and the numbers of sea anemones with their attendant clown fish was another matter. Surely someone must be feeding the fish for them to let you so close. On this occasion I didn't take a camera but we could always come back again, we never did. With stormy weather, generally from the East, forecast we moved in to the shore of Tahaa itself and anchored in the protected bay of Tapuamu where a small village and dock are located. Here meet up again with friends Walter and Meryl on Flying Cloud. A little more frivolity mixed in with a little alcohol consumption.
Tahaa is known as the island of vanilla, more is grown here than anywhere else in French Polynesia so the challenge was on, find and buy some fresh vanilla at a reasonable price. Of we went for a ride around the perimeter road of the island. A few kilometres along near the capital of Patio we saw a guy working a small plot of land off the road so went and had a chat with him. He was a Frenchman preparing a building lot, no he didn't farm vanilla but his neighbour did so together we went and saw his neighbour. The neighbour's crop, in a large green house, was not ready to pick but his brother, a few kilometres away would have some available. Our now friend the Frenchman would guide us there in his car for us to follow on our bikes. Off the main road and along a couple of tracks we finally got to the right house, somewhat out in the back blocks you might say. The house, in keeping with most Polynesian homes was nothing fancy but the people were as friendly as ever. Yes they could sell us vanilla pods to dry and store ourselves, just what Sasha was after. We settled on a price to return the next day and make our purchase. Next day we returned with money and a couple of small gifts. After completing our purchase we gave the couple of very small Australiana gifts but were then given even more vanilla pods along with instructions on how to dry and care for them, a process to take about a month.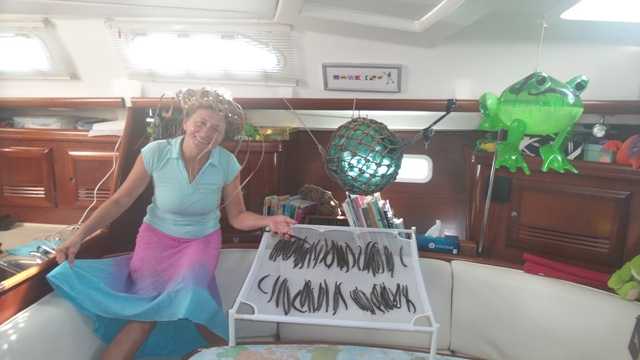 From the vanilla plantation we rode back to the main road and continued on to do a forty kilometre ride around the North island half of Tahaa getting only a little wet from a short rain shower down the home straight. It was a difficult start to the vanilla drying project the weather rarely strung more than two fine days together. Actually the ongoing rain was becoming a little tiresome. Basically we had been in an ongoing wet season since November. In the Society Islands the rain is normally expected to cease by April but now, late June showed no sign of giving up.
Arue, Tahiti
It was about time to head back to Tahiti and the Yacht Club to make ready to receive our guests, Les and Glor. Sailing South East, against the direction of the normal trade winds in the tropical Pacific is never easy but with a forecast if wind to shift to North East, even North we figured we had our chance coming up so moved the couple of miles to the anchorage off the Raiatea Carenage in readiness. Probably we were a little impatient and set sail early. The wind had shifted to NE so were able to sail close hauled but the seas were still from the SE as the wind had been for the past week or more so we were pounding into the seas, not real comfortable and it rained. About half way to Moorea we took the biggest greenie over the boat, well into the cockpit really, that we'd ever taken, it just came out of the blue so to speak and literally filled the cockpit with water, a little even ended up in the lockers having filled the drain channels and spilled over the lip, first time ever. We sailed around the West side of Moorea and on to Tahiti arriving at the pass into the Taina anchorage at 5am, still dark on the 21st of June. Here we stocked up from the nearby Carrefour and Polynesian Trading in readiness for our visitors.
Then a few days later moved the few miles north to the Tahiti Yacht Club in Arue. Our preparations continued primarily emptying out the storeroom, aft head, and other sundry items we would not need with visitors on board and stored then in a loft at the Yacht Club thanks to the very helpful Manu. We hired a car, first time I'd driven for a year and a half, picked Les and Glor up from the airport and served one of our favourite simple dinner meals, sashimi Yellow Fin Tuna, they seemed to like it.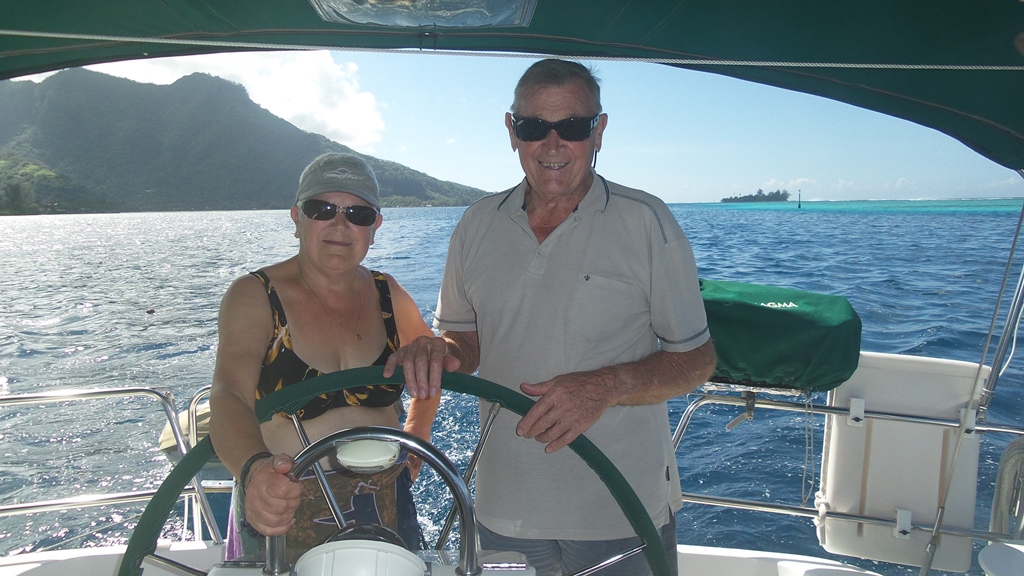 Leaving Ednbal on the dock at the Yacht Club we took off for a short two day island tour/excursion. That's when things went somewhat pear shaped. About forty kilometres down the coast, on the one and only road that circumnavigates the main island we'd pulled off the side of the road to go back and look at something. I waited for cars to go past, looking in the rear vision mirror, and when there was no one, started to pull out to do a U turn when a car ran into the side of us collecting us just in front of the passenger side door. Luckily no one was hurt but we were severely shaken and the car was no longer drivable. Insurance information was swapped and we rang the hire car company. The company owner came and picked us up, took us back to the office at arranged another car. Less than three hours after the accident we were on our way again. Unfortunately this meant that we arrived at our overnight stop in dark and had a bit of trouble finding the hotel we'd planned to stay in. When we did find it, it seemed it had shut, couldn't find anyone and it didn't look too flash anyway so we went back to one a kilometre or so that we'd checked out on the way. A very steep rocky road for our poor little car but somehow we made it up to the hotel. Very nice although a little more expensive than the budget, but with Les and Glor paying, who cares! It was absolutely wonderful. We had a five person cabin built into the rock with sweeping views to the ocean as we found in the morning. Open air dinner was equally as good pity we couldn't have spent more time there.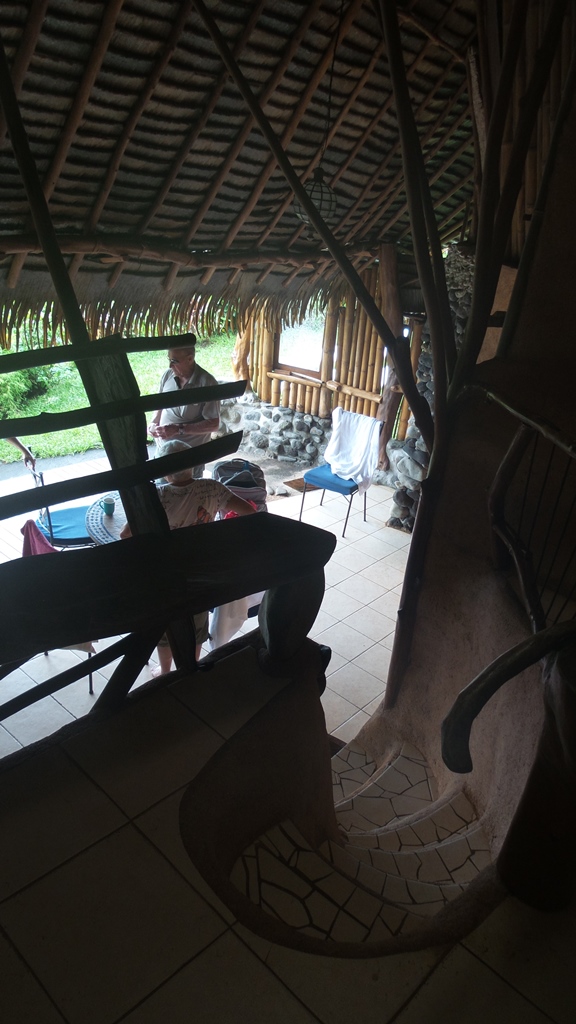 Next morning we headed back a few kilometres to Phaeton Bay, Taravao Marina to catch up with friends Jeff and Kate on Mezzaluna who had just returned from the US and had brought a Pacific fish identification book that we'd sent to them in the US from Amazon. Mezzaluna was up, out of the water and Jeff and Kate had a few weeks work ahead of them including a new bottom paint job using the long life, many years, copper coat system. From there we continued our drive around the island, not too thrilling for me as when driving a car you don't get too see much, not to mention still being nervous after my first accident for over forty years. By late in the day we'd returned the car and were back on board Ednbal, thankfully still in one piece.
It was Heiva, festival time, in Tahiti so we wanted to at least see something of it. The stadium used to Hieva, primarily Tahitian song and dance, is located south of Papeete, opposite to the Yacht Club so we decided to relocate Ednbal to the City Marina in Papeete for an easy walk to the stadium.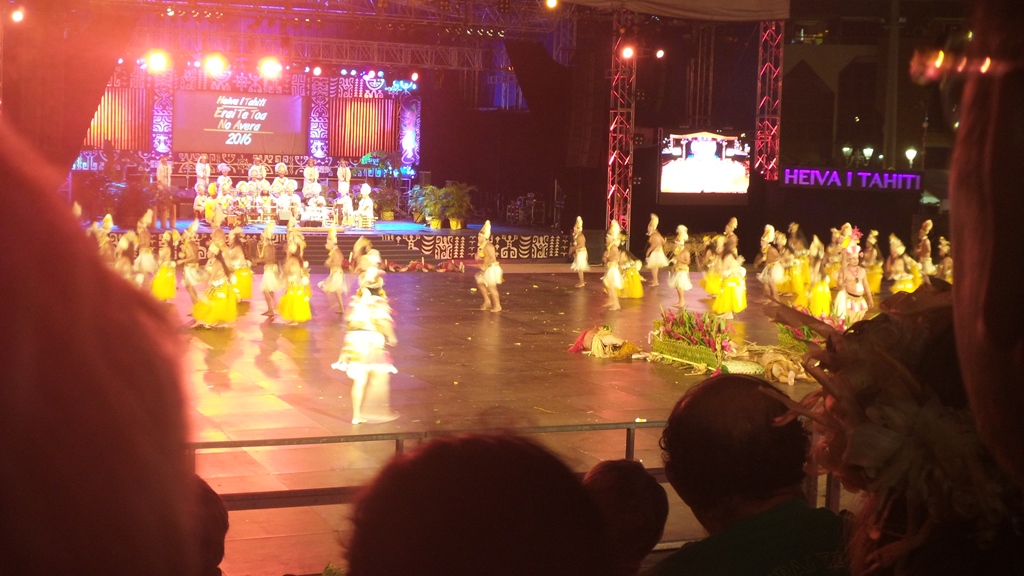 We booked seats for the four of us and four other cruiser friends including Russell and Jane from the catamaran Ta-b. Now that's another story. We'd first met Jane and Russell in Bermuda in 2009 and had kept in contact ever since having met up again in the Azores and Turkey. When they were in Panama they'd made the mistake of asking us if there was anything we needed them to bring for us. Silly question I'd replied to their email, booze, it's bloody expensive in French Polynesia, a dozen of the Panamanian rum, Abuelo, maybe some wine and coffee beans (hadn't been able to find beans in Tahiti). They duly arrived where we meet up in the Yacht Club anchorage and they delivered 17 litres of rum, much to Les's delight, 30 litres of wine, the good old Chilean Clos one litre box, and two kilograms of coffee beans. What fantastic people and great friends indeed.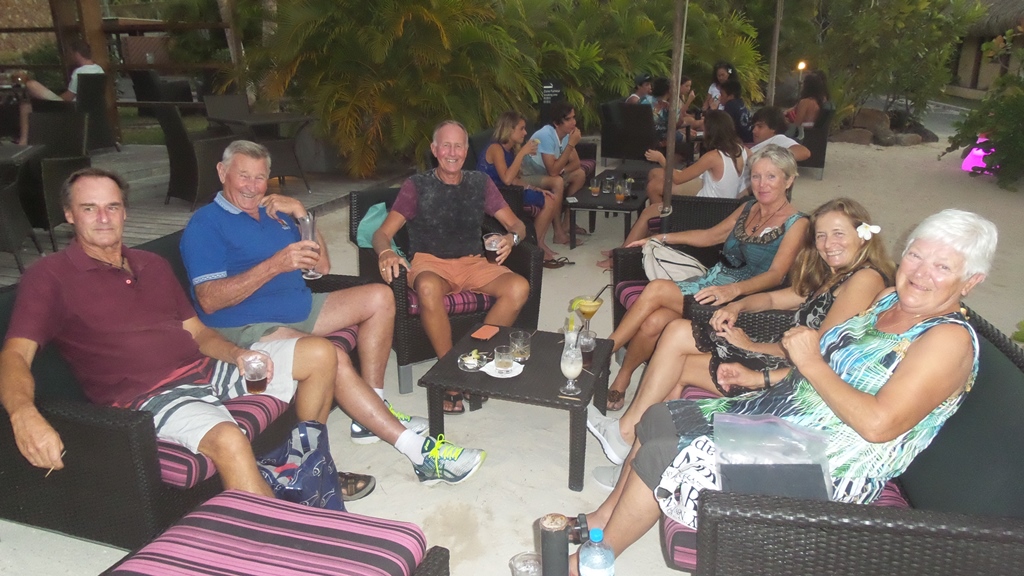 Of course there was a big party on Ta-b one night and as always one to remember but, to protect the innocent, the less said the better! Anyway we all trooped of for the Heiva show. For us a bit of a letdown when compared to the Marquesan festival we attended in Hiva Oa, still a very lively costumed performance by several individual dancers as well as groups.
Moorea
Time to move, to give Les and Glor a bit of a taste of Islands life so a short sail from Tahiti to nearby Moorea, with little wind forecast we decided to take a look at some of the Motus and anchorages on the Southern side. In through the pass to the protected waters between the island and outer reef we headed North East a little too Motu Ahi and anchored on the sand shelf in just a couple of metres of clear turquoise water just a short swim to the coral outcrops, home to abundant fish. Les was soon in the water and very impressed by what he saw.
Really was quite rewarding to see big brother swimming, snorkeling and enjoying it. Next up was Sasha's birthday and she wanted spend it on a nice anchorage a couple of miles away on the very South East corner of Moorea so off we went in there morning the big day. We found out way to the anchorage area without too much trouble but anchoring was a problem, wind against current causing the chain to rub against the hull, no good and Sasha was none too happy at trying to find another spot. We tried but couldn't find anything reasonable in clear water so it was back to Motu Ahi. Well at least Les was happy swimming with the fish again. Next morning we sailed east then north around to the more popular anchorages on the northern side of the island, settling in Upunohu Bay where we'd been a few weeks before. Here too there was some current, coincident with the tide, but not against the wind so no real problem except note needs to be careful swimming which put a bit of a dampener on things as far as Les was concerned. A couple of days to look around a little on shore, short walks, maybe hire a car, well that didn't work because the local hire car company did not have an option for third party insurance and given the recent incident we thought better of it. So we moved a little west to what is know as the Tiki anchorage. Apparently, many years ago then good old white man came and forced Christian religion of one sort or are another onto the enslaved local populous while the same time almost wiping them out with, before unknown, disease, some of the locals took a number of sizable carved stone Tikis out a few hundred metres from the shore and threw them in the water about 3 metres deep on a lovely sand bottom. Now it is yet another tourist attraction, frequented by small 20 to 30 foot local open tour boats ferrying the eager cashed up tourists to various shallow aquatic treasures. The anchorage frequented by cash stripped cruisers seeking out such treasures for the minimum cost possible is just metres away on an equally lovely shallow sandy bottom. The down side for us was the passing traffic so the Tikis and the anchorage are right on the narrow, shallow channel that all the tour boats use, of course at full speed. In any case we all checked out the "famous" submitted stone Tikis. We also followed the channel about a mile in the dinghy further west to the even more popular swim with the sharks and stingrays site. This time we were better prepared taking a can of sardines to feed the stingrays. Certainly has success here. We managed a time when the site was not inundated with tour boats and other tourists and were able to hand feed as well as hold the stingrays. Glor was not too keen on getting in the water so fed the stingrays from the dinghy. They were so eager that she could feed them out of the water! Once they knew food was there they literally climbed up the side of the dinghy to get their mouths a few centimetres above the water to take the sardine prices. At one stage Les had two or three stingrays climbing up his chest. Care did have to be taken not to get your fingers in the stingrays mouth but even if you did their bite did not draw blood. Good time had by all.
Our next move with Ednbal, a few miles west to the Western corner of Moorea was to be a little trickier. Our to the ocean through the Upunohu pass, up the coast a bit and in behind the reef again through the somewhat shallower Tareu Pass and on to Motu Fareone. Most of the channel is marked and actually goes past the sharks and stingrays site. Not far past it, it shallows considerably so we anchored and investigated with the dinghy, finding a narrow path with minimum depth about 3 metres but certainly would not want to wander off course by any more than a few metres, tight navigation indeed. To add to the difficulty there is almost a constant current created by waves washing over the outer reef to the west. Back on Ednbal the admiral took watch from the bow while the skipper tried not to hit the bottom. Despite a couple of panic screams from the bow we made it through to anchor not too far from our friends on Ta-b. Initially all was well but the next day the ocean swell increased creating a stronger current and of course against the wind so we were back in wind versus current again causing Ednbal to wander all over there place. To make it more interesting another Aussie cruiser, Tony Roberts in his go fast catamaran, Tactical Directions, came in and anchored just up of us. The cat and the monohull reacted differently in the current versus wind game and a few times hulls came perilously close to each other causing Tony to re anchor the next day. Close to us, between the motus of Fareone and Tiahura, was calm still water with good coral and lot of colourful coral fish much in standing depth water. This was an opportunity for Glor to try some snorkelling, well at least she was about to look through the mask and after a while even used the snorkel. Again Les seemed fascinated making extensive use of his underwater camera. We had thoughts of sailing to Huahine, quite OK virtually downwind to get there but not usually too easy to get back to Tahiti against the prevailing wind so eventually we canned the idea especially since we'd give Les and Glor a bad sailing experience a few years before sailing down the North West coast of Africa and didn't want to repeat it.
We'd heard that there was to be some Heiva games, most Islands do their own thing, in Afareiaitu, a village on the other side of the island. Now we'd seen buses but weren't sure how the system worked but had been told that there was no bus timetable as such, more that a bus or buses left the ferry terminal whenever a ferry arrived, uh huh, so find the ferry times from the two ferry companies and make an estimate of how long it takes for a bus to get around to us. But first the only road circumnavigates the island, do buses go in one direction or do they take off from the ferry terminal in opposite directions, getting more complicated by the minute! We decided the best thing to do was to give ourselves plenty of time on the day. Somehow we managed to catch a bus that dropped us off at the entry road to the sports ground in Afareiaitu and found the stadium, rows of tiered bench seating, had plenty of room to spare. In short time the activities began, first a walk past by most of the competitors. It seemed there were a few teams, dressed fairly casually, with basic identifying colours. First event, a sort of javelin competition. Each member of each team has for javelins. About twenty metres in front of them is a coconut mounted on the top of a pole about 10 metres high. Object of the exercise, throw your javelin, in an underarm fashion, to bury itself in the coconut. A few achieved the goal! Next stone lifting. Start in a squat position, wrap your arms around the smooth stone, lift to a standing position then throw the stone onto the shoulder. Who lifts the latest stone on the fastest time is the winner.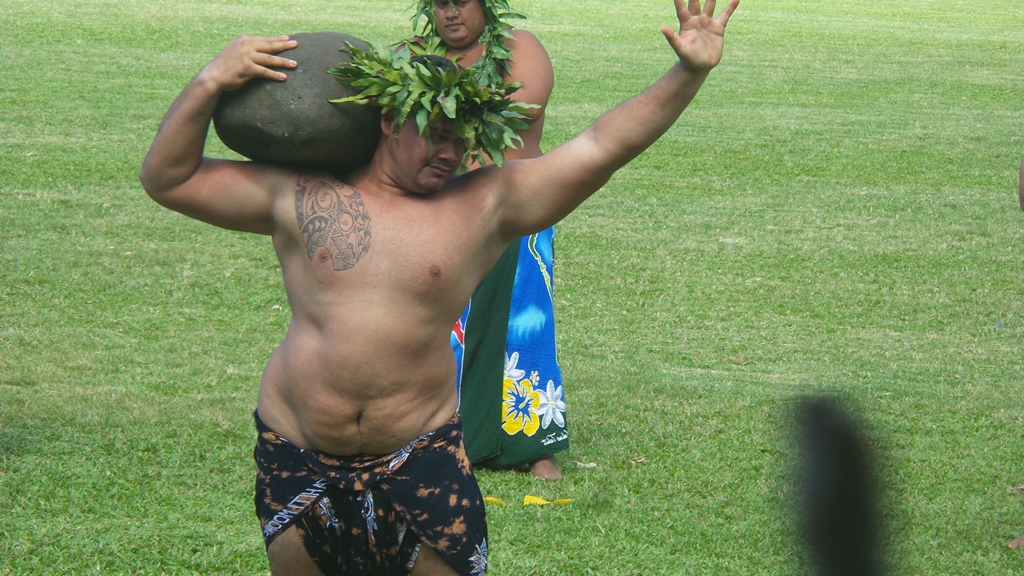 And stone weight, the biggest apparently 200kg. Now something that many Polynesians do regularly, the coconut copra competition. Each team starts with a big pile of coconuts that must be split with an axe, the copra (the white coconut flesh) scooped out with a special curved steel spike and the copra packed into large jute bags. Most teams had one person splitting, two scooping the copra and one packing. For a bit more action a relay race with each team member doing one lap of the oval. But not so easy, each competitor had to carry a pole across their shoulders with stone or wooden weights on each end, total weight for men 50kg, for women 30kg that was effectively the baton to be transferred after running one lap.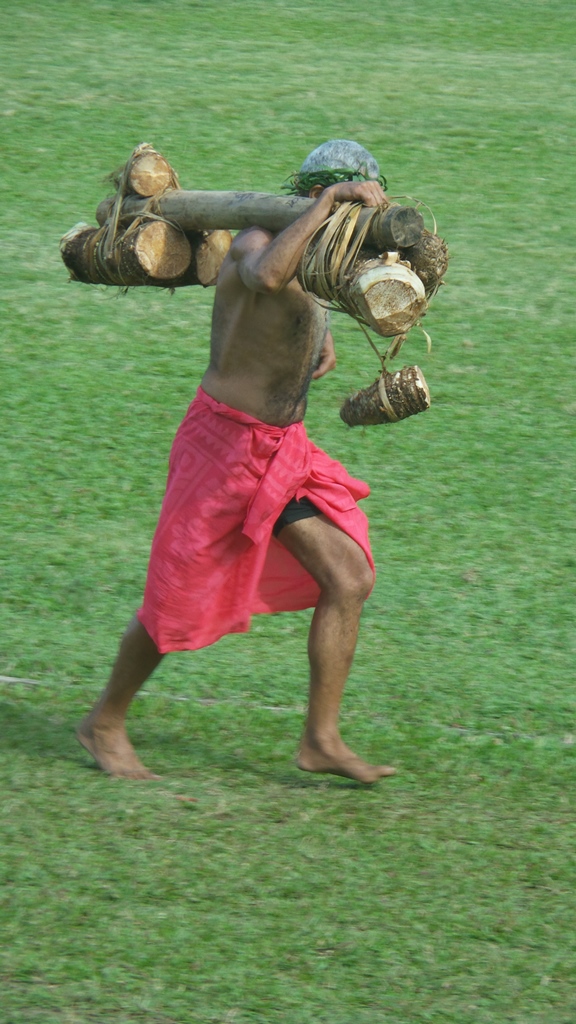 The whole thing was very much a local family day out, the organisers at times having trouble keeping the kids off the arena. Lunch could be bought from a food stall, the standard fare, chicken and fries or steak and fries with a couple of other, far less popular, choices. All in all, a most interesting and entertaining day.
After a few more days of relaxing, snorkelling and another visit to the sharks and stingrays it was about time to head back to Papeete, this time into the anchorage of Marina Taina. We'd been in and out of the pass at Taina a couple of times so no big deal. I was chatting to Les and Glor as we were making our way past the marina entry, keeping an eye on a pervious track on the chart plotter when suddenly I saw the depth jump up from about twenty metres to just a few. Panic, I threw Ednbal into reverse, we hit the reef doing probably less than one knot and scrapped the keel. Next I had no steerage, it was as though the rudder was caught, more panic! A local outboard powered boat came to offer assistance but couldn't get close enough to do much. Luckily the very light wind and little current actually allowed us to drift back out of the coral bomby reef and as my heart rate started to subdue I realised I still had the autopilot on which was locking the wheel, once I switched it to standby I had control again. Shaken, we motored to a mooring where I immediately went over the side to investigate damage. Fortunately just a bit of antifouling scrapped off the keel and rudder. After doing a bit of a stock up at the easy dinghy access Polynesian Trading bulk store we headed back to the Tahiti Yacht Club for our guests to end up their 5 week holiday before catching their plane back to Australia. After Les and Glor departed we put Ednbal back to normal after retrieving the things we had stored at the Yacht Club to make room for their visit.
Huahine
Next for us was to get a good wind direction, south to south east, to sail north of east to the Northern Tuamotus however there was nothing in the forecasts for the next several days so we decided to sail north west the hundred or so miles to Huahine with a chance to catch up with Aussie friends Andrew and Clare on Eye Candy. It was an easy aft quarter sail and we entered the east, Farerea, pass of Huahine to anchor nearby Eye Candy as well as other friends, Mark and Cheryl on French Curve along with Walter and Meryl on Flying Cloud. Together we did some dinghy exploration through an "ancient" labyrinth of stone fish traps.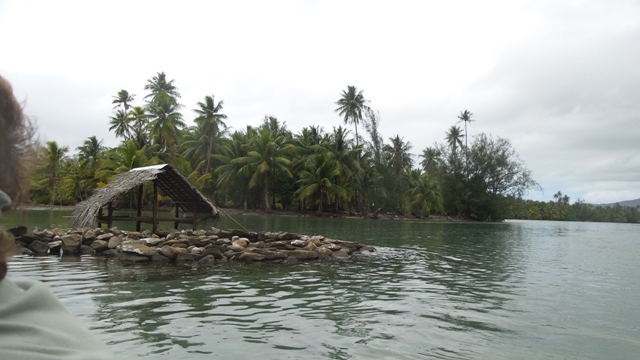 The trap is in position to allow fish to swim in with the tide but to prevent them returning from the narrow part of the lagoon back to ocean. We also visited the small museum and did a short hike up to a large Marae lookout point where we had a picnic lunch.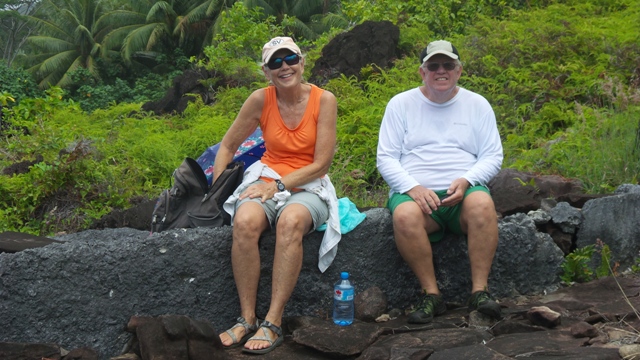 A couple of days later we all sailed around to the main village of Fare on the north west side of the island. Here we took our bikes ashore and rode around the only road to circumnavigate the northern half of the island, about 40km. Sore bums again! We heard from Andrew and Clare that there was another Yacht in the anchorage also planning to head to the Tuamotus so we went and introduced ourselves to Susi and Sebastian on the 37 ft Puffin. Two days later we bad farewell to our friends and worth ea favourable southeasterly headed for the Northern Tuamotus hoping to make it to the Atoll of Toau, 290 miles East. Puffin had left the day before. It all started out pretty well, initially sailing close hauled in about ten knots of wind that initially pushed us a little south of our desired course. Puffin was doing a little worse; they had been pushed down almost to Moorea. After two days the wind died out completely so on came the engine and we motored almost a hundred miles to the "false pass" of Anse Amyot. A so called false pass because it does not give entry to the lagoon but does provide a very sheltered anchorage for any wind other than north west.