Cyclone season in Marquesas
Category: South Pacific
Created: Saturday, 21 November 2015 11:03
Written by Roger Boxall
Hits: 2633

Ua Pou
Ua Pou is about 8 miles by 6 miles with its highest mountains over 1,000 metres, a few small villages at semi accessible spots around the mostly inhospitable coast to accommodate the 2,000 or so inhabitants and a couple of anchorages that are mostly open to the swell and as such fairly rolly.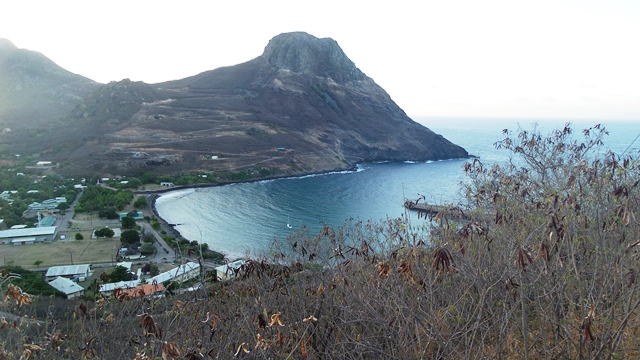 Anchored in Hakahau Bay where the island's capital of Hakahau is located was reasonably calm and although the guide book recommends a stern anchor to hold the boat into the swell it was reasonably comfortable without one. We found Hakahau to be a most inviting village, super friendly people, a great little lunch eat out smorgasbord of local dishes and fruit for $5, what was reputed to be, and with later experience we found to be true, the best stocked supermarket in all the Marquesas. Part of the reason for sailing back to the Marquesas was for the once in 4 years' festival on Hiva Oa Island in mid December. Oa Pou has a reputation for the best dancers in the Marqueses and it was easy to see why, already various teams were practicing every evening, sometimes well into the night.
I had a job to do on our generator raw water pump, replace the mechanical seal. To install the new one I needed to use a small hydraulic press. On one of our wanderings around the village of an evening I spied one in a small garage come car workshop attached to a house. Next day I went there with my pump shaft, housing and new seal. One small problem, language, my French zero and his English almost as limited and no Sasha to help out. After a few gestures, sign language and a lot of finger pointing we both figured what was required and the seal was duly pressed on. I also found out that although there was a bakery down the road this was THE place to buy bread, one style of loaf only, as the guy was also a baker with reputation so a loaf was ordered. Next day I picked up the round loaf, about 0.4m in diameter with a spoked wheel style indentations on the lovely brown spoke wheel intended crust dusted with flour. It was a beauty to behold. Back on Ednbal even Sasha was truly impressed! And the taste, as good as it looked. Our evening walks were also fruit gathering exercises, so many trees literally dripping fruit, bananas, huge juicy sweet grapefruit (well over 500ml of juice from one fruit), papaya and mango. The latter two just coming into season. Some were trees growing wild, well at least not in someone's yard, free to pick, others were freely given by locals we stopped just to say hello (Ka'oha in Marquesan). A most enjoyable week spent in Hakahau on Ua Pou.
By now it was getting into the last week of October and time to sail the 30 miles North to Taiohae bay on Nuku Hiva, the capital of the Marquesas. Main reason, to pick up Sasha's Carte de sejour, her permit to stay in the Marqueses for upto a year. OK for me as I have dual passports, Australian and UK (EU passport holders can automatically stay in this French territory). Sasha's Carte de Sejour was quite a saga. It all started when we initially checked into French Polynesia in Atuona, on another Marquesan island, Hiva Oa in May. Well in reality well before we got here when Sasha started her investigation emails to various consulars, embassies etc. When we arrived she knew the procedure and had all the forms and documents ready to roll. It all had to be sent to Tahiti where the Carte de Sejour is issued. We have always had a certain aversion to using what is known as agents. Those, who fire a fee, "help" the helps helpless yachties with the formalities associated with checking into and out of a country. In general we avoid them like the plague, partly because of the cost, partly because they often don't get it right and cause more trouble and partly because doing it all yourself teaches you a lot and necessitates interaction with local officials. The local agent was Sandra of Hiva Oa Yacht Services. We had already checked in but weren't too sure about getting Sasha's application to the right person in Tahiti. We asked Sandra, first mistake! Well I guess not really at that point, yes she could take all the info, documents, passport photos and application payment, tax, about $100, send to Tahiti and receive the Carte de Sejour for $20. Not too bad for the service thinks we. Two days later we see Sandra again when she tells us she must involve another agent organisation in Tahiti called Tahiti Crew and there would be an additional charge of $50 and we would have to sign a form agreeing that Tahiti Crew would be our agents for all and any activities in French Polynesia. For me this was like a red rag to a bull. We had clearly agreed an arrangement then the other party suddenly demands a changed to the terms. The contract was terminated immediately, followed up with an email specifically requesting that Tahiti Crew have no involvement with us or Sasha's Carte de Sejour. Next we went to the local government office where we met with the mayor, dressed formally in shorts, flowery shirt and thongs, the upshot of which was that I was given sort of honorary Hiva Oa citizenship and his commitment to submit Sasha's Carte de Sejour. One of his officers, Jean-Francois would be our contact. He would first email all the info to the office of the Hugh Commissioner and when they had checked for correctness he would send all the originals and buy the $100 stamp fee. And so it happened while we sailed off to the Tuamotus with the arrangement that the Carte de Sejour would be sent to the High Commissioner's representative in Nuku Hiva for Sasha to pick up at the end of October. Over the next couple of months Sasha had phone and email correspondence with both Jean-Francois and a Mr Stephenson in the High Commissioner's office in Tahiti. Yes her Carte de Sejour had been issued and would be sent to Nuku Hiva. No problem everything honky dory. Until an email out of the blue from a person signing as Tehani from, you guessed it, Tahiti Crew. She claimed she had just "found" Sasha's email address (if she'd had Sasha's application all the time she would have had her address as it was one of the must fill fields), done all the work, submitted documents, passport photos, the $100 stamp fee, had visited the high commissioner's office several times and now had Sasha's Carte de Sejour which she would return for $60 plus postage! !!! Talk about see red! Sasha's initial response was I don't know you, you must have me mixed up with someone else, my Carte de Sejour has been issued, yes, but should be in Nuku Hiva. She replied insisting she'd done everything and wanted money. Finally we drafted an email with copies of other emails to and from all parties involved, especially the one about not wanting any involvement of Tahiti Crew, and copied it at all parties involved. Sasha got a response from Tehani saying that even though she had done all the work, which clearly she had not and was blatantly lying, she would return the Carte de Sejour to the high commissioner's office. How she came to get a hold of the Carte de Sejour from the high commissioner's office in the first place was never answered. Now the reason for telling the story was for you to get some appreciation of Sasha's anxiety at the chances of her Carte de Sejour being at the High Commissioner's office on Nuka Hiva when we got there. Without it she would be, as the yanks call it, "an illegal alien", subject to deportation or being drawn and quartered, which ever would come first.
Nuku Hiva
With a nice 10 to 15kt ENE breeze we had a lovely sail over to huge Taiohae bay anchorage, our first visit to Nuku Hiva, where we anchored, fore and aft into the swell, near a couple of acquaintances, Kiwi, Amanda and Pom, Mark on Balvenie, and Americans, Jeff and Katie on Mezzaluna so it was first evening sundowners on Ednbal. Next morning was our first chance to look around the "big city" of Taiohae. At least the village was on the shores of the bay, not a 2km hike up hill and down dale as was the case on Atuona. A little sort of cafe on the dock with a dinghy landing, locally known just as Henry's, the meeting spot of cruisers, free wifi, cheap coffee serve yourself from thermoses, watery fruit juices and meals for $13. Most looked pretty ordinary, some sort of meat or fish with fries or rice and a touch of salad. But they also had, for the same price, "poisson cru", believe it or not, Yellow Fin Tuna pickled in lime juice and fresh squeezed coconut milk with chopped onion and "sashimi", again Yellow Fin Tuna, at least 250gms, with a dipping sauce, salad and either fries or rice. Both absolutely magnificent.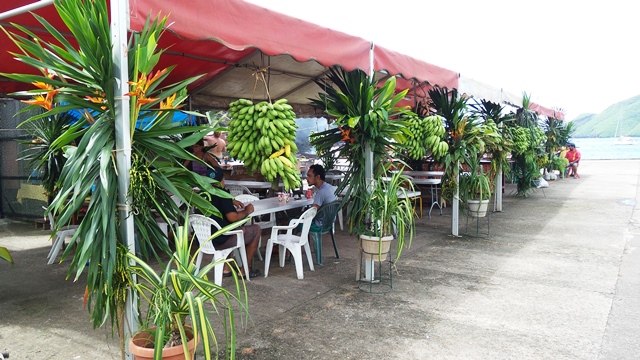 Where did the fish come from? Daily the local fishermen came to the dock with the nights catch, all, including Wahoo and Yellow Fin, sold for $7 a kg, cleaned and filleted right in front of you.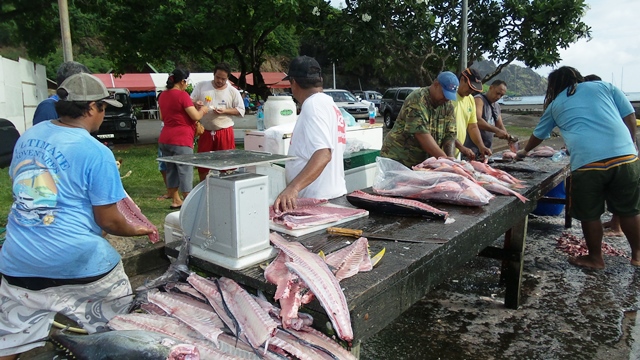 In town we found five small supermarkets, hardware store, a couple of souvenir joints and a few other miscellaneous retail outlets for the want of a better description. Booze, as with everywhere we'd been so far in French Polynesia, bloody expensive. Then there were the various government offices where we found Anne-Marie, the High Commissioner's representative. We knocked on the door and emerged introducing ourselves, Roger Boxall and Sasha Barac. Ah Ms Barac she immediately replied I have your Carte de Sejour right here. Oh so easy eh. Yes Sasha was certainly a happy little vegemite.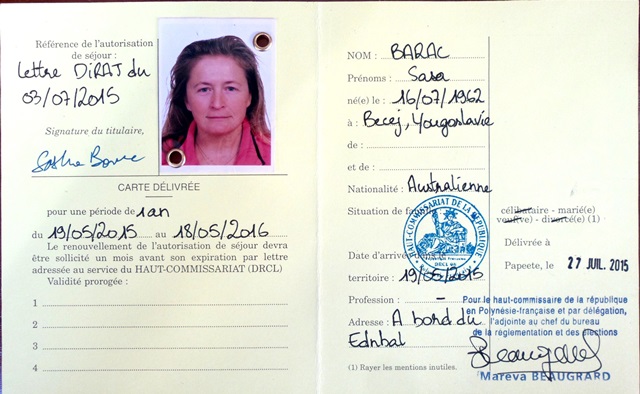 Our big job in Nuku Hiva was to organise our new sails, both main and headsail. Shouldn't be too difficult except for the fact that we were about as far away from any continent add you could possibly be in the world. Sasha got stuck into it on the net emailing our sail spec to as many sail makers as she could find. The local guy in Raiatea responded that he just cannot compete and forwarded our request on to Leesails in Hong Kong. We received numerous responses from several countries two or three, including Leesails, had the lowest prices using the same sail cloth but in the end it came down to transport cost. Leesails were able to ship both sails via FedEx all the way through to Nuku Hiva airport for about $450, almost a quarter of the best price out of the US. We placed the order.
Taiohae has good medical facilities, hospital with several doctors and some specialists. Sasha had a small growth in her cheek that seemed to be getting bigger and was aggravated by sunglasses add the rim sat almost straight on it. We went to the hospital, saw a GP who checked it out, called the surgeon who saw Sasha a day later, cut off the cyst type growth, put in a couple of stitches, sent it to Tahiti for biopsy, all done and dusted, perfect job. Total cost $300!
As we hadn't walked much, even in the Tuamotus we kept up our evening walks started in Ua Pou. As with all the Marquesan islands Nuku Hiva is mountainous, the backdrop to the anchorage over 1,000 metres. Even walking the paved roads gives good exercise, the only flat road is the one around the shore line. As in Ua Pou there is ample opportunity for tropical fruit collection, some from wild trees but many freely given by the very generous locals. We did a couple of local hikes, one out to the point of the bay entry started on the paved road and then on to narrow path through the undergrowth. Well it was supposed to be through the undergrowth with a green canopy providing cooling and protection from the sun but when we did it, going for a picnic there hadn't been much rain and these sort trees were almost leafless. We had expected a small covered gazebo at the end but found it was all but collapsed, no shade on sight for our picnic. What an incredible difference to heavily forested mountains inside the bay. We quickly gave up the idea of a picnic in the sun, looked for another option and found a nice big rock overhang a short way back along the trail that provided good cool shade.
By now our on vessel stock of non-perishable goodies, those things outside of the basic essentials, such as nut selections, reasonable wine, olives, nibbles like mussels, oysters, anchovies and a swag of other stuff was running low as the last time we had access to real supermarkets was about 10 months before in Panama. On top of that things that are available in the Marquesas are fairly expensive, especially alcohol. The cheapest terrible wine $20, beer $3 a can. So, a stock up was in order. We'd heard from Jean, at the signal station in Atuona, about Juliette in Papeete, she would buy what you require and put it on the ship to any island for a very modest charge. There are big supermarkets and bulk food joints in Papeete, trick is to know exactly what they have as you have to give Juliette the exact description of what you want. Sasha tried the major ones looking for on line catalogues but none existed. We asked around especially the few French cruisers we knew from Papeete and eventually came up with our list. Before we knew it three other yachts had their lists added to ours, suddenly the whole thing was getting bigger than Ben Hur! Sasha had a big spreadsheet breaking down all the costs, Juliette' s fee and transport cost for each item, the whole lot over $4,000 and over half a ton. A lot of beer, wine and spirits at half the cost in the Marquesas. It all happened, reasonably, just a couple of minor mix-ups. The day the ship arrived and we retrieved our booty from the container on the wharf it was like Christmas, we'd bought enough to last us until we sail to Tahiti in six months time.
One of the other major reasons we'd come back to the Marquesas was to attend the once in four year Marquesan festival being held this time in Hiva Oa and scheduled to stay on 18 December. On the HF radio net we hear how the anchorage at Atuona is filling up. It is small but has been even further limited to allow for one of the bigger Marquesan passenger/supply ships to been during the festival so we need to decide when to go, how long before the start of the festival, to try and get a "spot". Towards the end of November we decided to move out of Taiohae to have a look at a couple of other bays around Nuku Hiva before sailing to Atuona on Hiva Oa. First stop Controller Bay about 5 miles east on the SE corner of Nuku Hiva. Controller is a combination of the bays separated by two fingers of land, Hakapaa, Hakahaa with the village of Taipivai and Hooumi. First night we anchored in Hakapaa but found out to be a little too rolly so next day relocated to Hooumi Bay which was much calmer. Saw plenty of Manta Rays in the semi clear water and a lovely walk, albeit on the paved road, over to Taipivai. The best pay was being back to an anchorage all by ourselves. We took the dinghy back over to the far western most point of Hakapaa where we'd heard of a hiking trail up to a small waterfall. As with all other walks in the Marquesas, nothing marked, you just have to head to some very general direction and hunt around to find something that looks like a horse trail as in the mountains that is the mode of transport. Marquesans think you are nuts wanting to walk for pleasure they drive or ride horses probably part of the reason for the gross obesity. Anyway we found two guys doing some clearing of land, by hand, and asked them where to find the beginning of the path. After a couple of false starts we found a cattle trail but didn't get too far before Sasha had a blow out, the sole of her walking shoes literally peeled away. Luckily we had a couple of pieces of cord to tie it up with, enough to get back to the dinghy.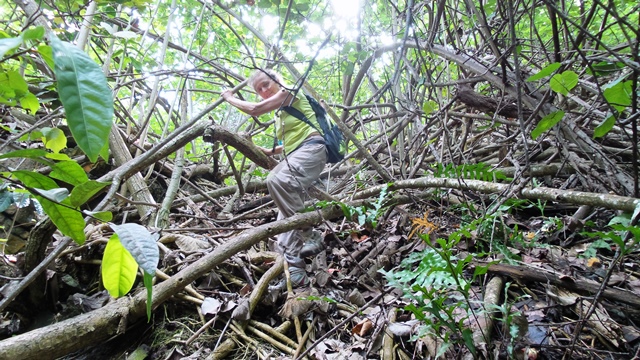 A couple of days later we sailed slowly up the East coast of Nuka Hiva which is about 8 miles and around into Anaho Bay, reported to be well protected with some coral to snorkel over and some nice hiking trails. It pissed down the first night so the water visibility, with all the run off, was maybe three metres at best so couldn't see much in the way of coral. After doing a bit of a recy on shore we found the only land access was via horse on a trail that goes over a mountain valley pass up about 200 metres to the village of Hatiheu about 3km away where there is a connecting paved road. Quite a scenic steep walk mostly under the canopy of forest trees including many Mango. All was very green I guess mainly because it rains a lot, as I may have mentioned, and rain on volcanic soil means two things, stuff grows and the ground is muddy. Mud stuck to our shoes while walking meant more like playing a game of dodgem with the real soft sticky patches.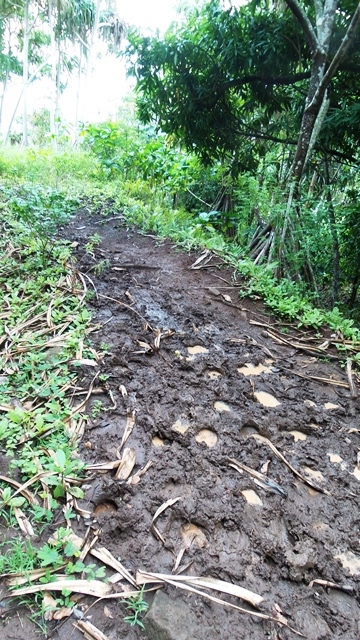 Several locals passed us on horseback, one riding bareback on a piece of old foam sheet to ease the butt.Of course the mid didn't seem to worry the horses.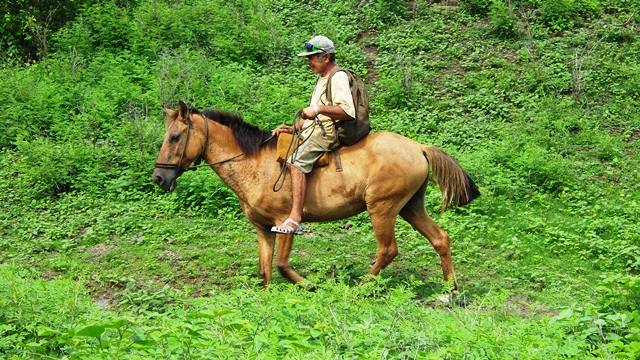 All in all however it was a most enjoyable walk as we then wandered the small village. It was one of the rare occasions we ate out, lunch at a recommended local restaurant, a shared goat curry, enough for four people! Guess we should have known better than to take a recommendation from an American, good usually just means big quantity. Quality, well not too flash, at least we didn't get sick, just over ate. A couple of days later we were joined by another yacht, turned out to be friends, the French couple, Odile and Alain, we'd met in Makemo, great to catch up again. The only other trail that leads out of Anaho Bay is to the adjacent bay of Haatuatua where there is a small farm growing tropical fruit and some vegies run by a guy by the name of Moana which means Ocean in Marquesan. This walk was equally as muddy as the ground hadn't had an opportunity to dry from the torrential rain of a few days previous. We stopped on a small hilltop for a picnic where we ran into another small, very small, problem, no-nos. No-nos is the local name for sand fly, sand fleas (they are actually part of the flea family) or as the yanks call them noseeums. We were aware of the problem, Sasha had long legs and sleeves and we both had bug spray on exposed areas of skin however when we sat for the picnic the no-nos managed to infiltrate, part way up Sasha's legs and under my shirt up my back.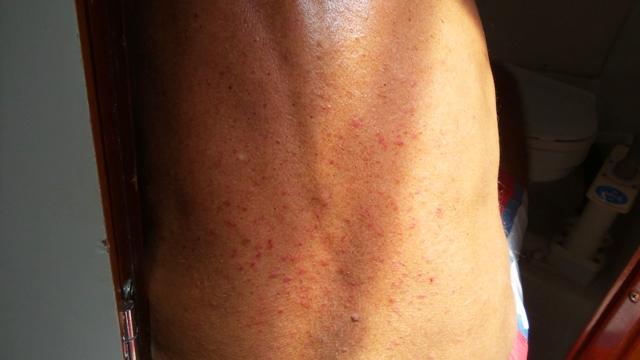 One thing about no-nos you often don't realise you have been bitten until the next day and next day we sure knew about it. Sasha had a lot of bites on her legs, my lower back was covered. Now another thing there are no-nos and there are no-nos. On Nuku Hiva they have the normal black and white no-nos and they have the real nasty black no-nos, of course we were bitten by the nasty buggers. Sasha still had red marks on her legs 6 weeks later! Anyway we had a beer and a lovely picnic before continuing to the farm, a few various plots of different fruits and vegies as well as fruit trees, what you might call semi organised. We bought a backpack full of stuff all fresh picked and ripened on the plant, taste, just the best, and lumped it all back to Ednbal.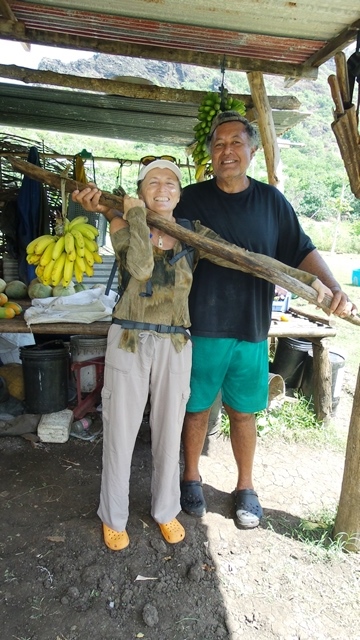 Moana and his wife take produce by pack horse once a week to Hatiheu about 100kg in big bags slung on either side of the horse, each controlling up to 5 pack horses. Most is sold at the fresh market in Taiohae.
Hiva Oa
Early December, with a forecast 10 to 15kn NE breeze, we set sail for Hiva Oa hoping to still find room to anchor in Tahauku Bay near the main town of Autona where the once every four year Marquesan cultural festival was scheduled to run. We took off mid-morning for the 80 mile sail with a couple of other yachts leaving an hour or two after us. There were a couple of squalls, not much change in wind, up a bit dropping off a bit but wind direction swinging ninety degrees. Our track on the chart plotter looked like we had put on a couple of tacks! By the evening radio schedule the other two yachts were ahead of us. I said to Mark off the NZ vessel Balvenie who was net controller, that I needed some sailing advice. "Why was it that two yachts with only their main sails up could go past us when we were under full main and headsail?" He almost took the bait but not quite, of course the other two had their engines running and were just using their mainsails to stabilise their boats. By day break we were just off Hiva Oa and we had the fishing line back on the water, I was still smarting from the loss of a big Wahoo that swam around our rudder and broke the line a few days before. This time it was my turn we landed two medium size Tuna and one big Wahoo, well over a metre long. Over the last few miles sailing into the Atuona anchorage I filled the freezer with fillets and cutlets with plenty left over to share with friends already in the anchorage.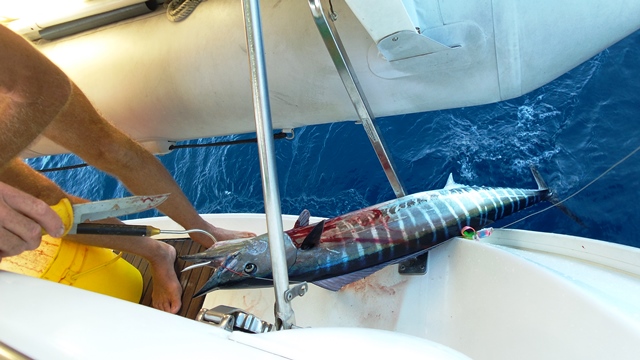 Somehow we managed to shoe horn our way into an anchoring spot so that with bow and stern anchor set, as everyone else had, we wouldn't bang into any other boats. Well that lasted a while until, with only a light breeze our stern anchor, set in just a couple of metres of water, started to drag. I went for a swim, quite courageous I thought given the tiny bay was literally packed with boats all full of people peeing and crapping, not to mention the small stream bringing more of the same into the bay, not to mention you could barely see your hand in front of your face. I followed the rope and short 3m piece of chain to the anchor. No wonder it dragged the bottom, which I could only feel, not see, was all stones about the size of tennis balls. I relocated the anchor, same result, this went on for a few days! Finally I put in two stern anchors each almost 90 degrees to the boat in marginally better ground. Don't know how the other boats managed to stay put, surely I was not the only one to be on top of some quarry.
The festival is a major event to say the least. From the time we were in Atuona a few months before the village had been transformed. A new road down to the foreshore, a new "paepae", pavilion, well a very nice Marquesan ceremonial dance ground surrounded by a stone wall, likely from my same quarry, about a metre high with two covered stands on two sides, numerous new, somewhat temporary eating establishments, bit of a push to call them restaurants, any almost everything repainted.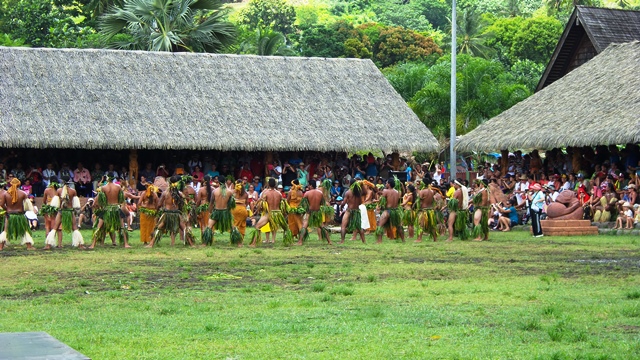 We wondered where all the visiting dancers and guests would be accommodated. Turned out that a lot of public buildings were used for that prose, schools, military barracks etc. The whole festival is definitely not put in as a tourist attraction, far from it, it is primarily a celebration of Marquesan culture, largely in dance and song. Unfortunately, from our selfish perspective, it was all in the Marquesan language but of course it would be. Only for some of the announcements was French used, and very occasionally an English translation of some important French announcement. However the dance was in itself very descriptive, the most popular being the pig and the bird dances. One of the islands put in a dance depicting arrival of missionaries and, with some humour, their removal and return to tiki worship. Most dance costumes were made from natural local materials, palm frond skirts and leg bands featured heavily. One group, from Easter Island stood out with the beautiful women adorned in brightly coloured feathers while the very fit muscular guys wore the most minimal g-strings with body paint. Sasha, in common with most of the other female yachties, had trouble trying to keep her eyes in their sockets.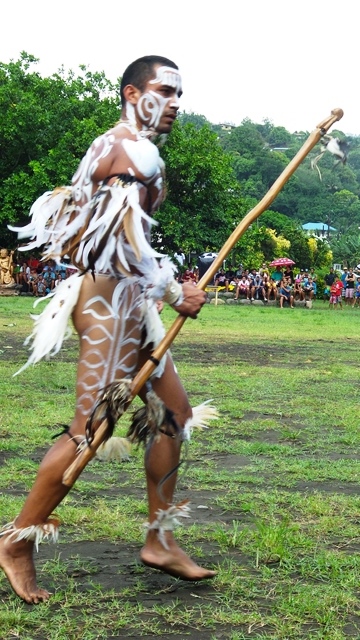 Three days of almost non stop song and dance with virtually the only accomplement being huge drums played by hands as you might a bongo. The biggest drums so large that the drummer had to stand on a stool about half a metre high. Each dance group, 12 in all had their own drums so with each change of dance group in the "stadium" there was also a change of drums. Another stand out was the performance of the group from one of the smaller islands, Ua Pou. Their bird dance and in particular the lady out front, the lead bird so to speak, in a largely white feather costume gave a stunning performance dancing the whole time on toes, taking tiny steps while at the same time slowly lowering and lifting, bending and straightening her legs as you might do when trying to dance the twist.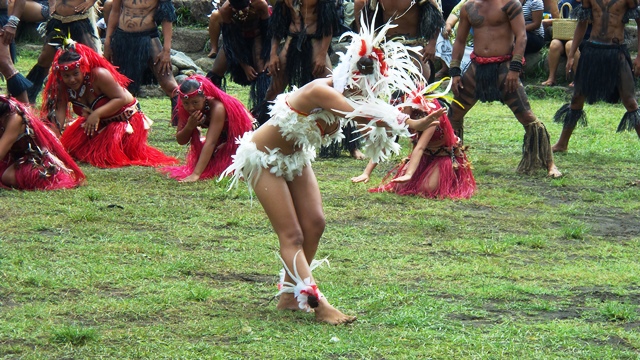 The grand finale had the home, Hiva Oa group, dancing to all of the drummers playing together. With no amplification it still made ones internal organs vibrate! The whole thing very memorable.
Tahuata
Immediately after the festival we sailed the short 10 miles to the adjacent island of Tahuata to get away from the packed anchorage of Atuona and enjoy calm clear waters in the approach to Christmas. From our previous visits we decided on Hanamoena Bay largely for its clear water as we hadn't been swimming for some weeks, we were not disappointed, snorkelling over white sand and rock with enough fish, including Manta Rays to keep us entertained. Well entertained for some of the time, on very calm days we went wake boarding. Christmas eve was a big get together of most of the cruisers in the bay, 10 boats, on a very spacious, locally designed and built by the French owner, catamaran. Everyone bought their own food and booze, a great night. Christmas day and we had the traditional baked chook with all the trimmings washed down with a lovely Italian Prosseco. While there we had feedback regarding our new sails, they would be arriving in Nuku Hiva on the first of January, yeah likely story but all the same needed to get back. A nice weather opportunity presented itself on 28 December, 15kts SE, for a lovely beam reach sail back to Nuku Hiva where we joined Balvenie and Mezzaluna along with 70 other anchored vessels in Taiohae Bay.
Nuku Hiva
Naturally our first task was to track down our new sails with the FedEx taking system still saying arrival in Nuku Hiva 1 January. In due course of time they arrived at the Site Tahiti office, agents for Global Air Cargo of Tahiti who in turn were agents for FedEx in French Polynesia. Before removing the old sails we wanted to make sure they were dry for storage, the headsail still in good nick for a spare, the main to take to a sail maker in Raiatea where we expect to be for haul out of Ednbal later in the year.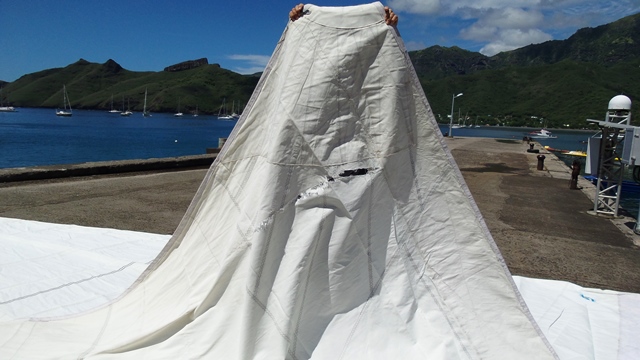 We waited, and waited for a period of more than 24 hours without rain, a few weeks later we got our chance, the changeover went smoothly, next to sail somewhere to try them out.
We'd had a few issues with our second hand dinghy bought in Panama about a year and a half ago. It started leaking water through the glued connection if the fibreglass hull to the PVC pontoons which, despite numerous repair attempts, became worse and worse. After many months of frustration Sasha started looking at replacement options for a RIB (rigid inflatable boat) on the net from the US, New Zealand and Asia. Two brands were available from Tahiti, Highfield with aluminium hull and Mercury with fibreglass hull, both with the more UV resistant hypalon pontoon fabric. As a yacht in transit we would not have to pay the 16% tax. Our preference was for the lighter Highfield, the UL310, 3.1m long Ultra Light RIB. While the price in the US for the same was slightly lower than our, less tax, price in Tahiti, by the time you added freight, customs etc it would be much higher. The only down side, we must pay full price and have the tax returned by the supplier, Sin Tung Hing Marine, when we leave French Polynesia but we are trusting souls aren't we! We placed the order, our new dinghy to arrive to Nuku Hiva from Tahiti by Aranui ship in 10 days time. The old dinghy continued to leak worse than ever until, with 4 days to go before the new one arrived, one of the pontoons completely separated from the hull almost drowning our one year old outboard.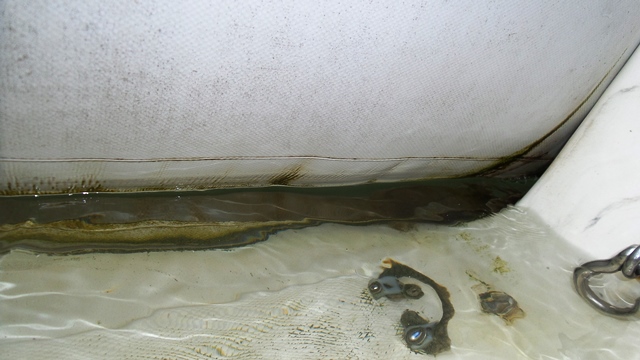 For a few days we were dinghyless, hitching rides with cruiser friends to and from shore now and again. On the day the ship arrived we wondered over to the main dock, no rush, from previous experience it takes some hours to unload. Unloading is really quite organised, an old container is the office from which you pick up your documents, I just have my name and hey presto the lady gave me our cargo documents. Now to find the dinghy. We are expecting it to be in a container and started checking. Funny thing was, the documents did not have a container number written anywhere and when I inquired with the lady in the office all I got wad was a shrug of the shoulders. Near the gate of the dock area was a large white shrink wrapped plastic package with Roger Boxall written on it, fair bet it was our dinghy. A quick look over the package revealed that all was in order so I started to unpack while Sasha went to find another box of goodies from STH marine, some rope, primer for the RIB so we could antifoul it etc, sent at the same time. Having recovered the box she returned to help me and take some photos of the unpacking and inflation process.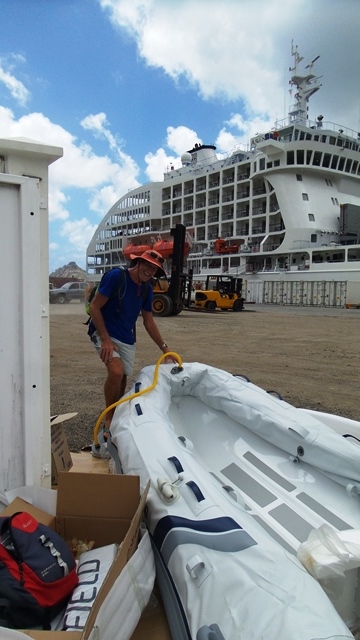 She also checked out the primer as it was from a manufacturer not familiar to us, downloading the data sheet from the net to the phone. On reading she discovered the primer, called Altra Bond, was for aluminium yes but for aircraft and aluminium extrusions, specifically saying "not for emersion"! I rang our contact at STH, it should be returned on the ship and STH would refund us. So, on with unpacking, inflation and photographic session. Once inflated we carefully lowered it into the water off the wharf with the help of Jeff off Mezzaluna who also towed it back to Ednbal. The rest of the day was spent organising the return of the primer, not quite as straight forward as you might imagine. Before nightfall we hoisted our new dinghy and near new outboard up out of the water alongside Ednbal using a mast head halyard. Sasha commented that she had seen something on the hull of the dinghy while it was being carried to the edge of the wharf for launching but didn't think much of it so I jumped into the water to have a look at the bottom of the dinghy from outside as we had never turned it over while unpacking or inflating. Imagine my "surprise" when I saw a dent in the hull, about mid ships, where the hypalon joins the hull. Another look from inside the dinghy and you could just see it, only because you knew it was there but from outside it was quite a dent. Luckily, when you zoomed in on one of the photos Sasha had taken during unpacking you could just see the dent on the inside, no one had noticed! An email with photo was shot off to Christian at STH. Answer, there are no more in stock, we could swap for the one on the showroom floor or return the damaged on when we got to Tahiti. We took the latter option but that was later retracted by his manager largely because it would be a couple of months before we got there. So, STH would sent the showroom replacement on the next ship at no charge and we could use the damaged one in the mean time, OK. In addition, one of the STH employees was on a yacht in the same bay as us and would assist. Upon closer inspection we found another dent at the transom. Two weeks later the next ship arrives, this time with 3 dinghies, two, different sizes, for friends of ours and our replacement. Ours was last to be unloaded, the other two having been unpacked and carefully checked by their owners who were very happy. Finally our dinghy came out, of course not in original packing but well packed none the less. The STH representative, Benjamin, was with us to make sure all was good.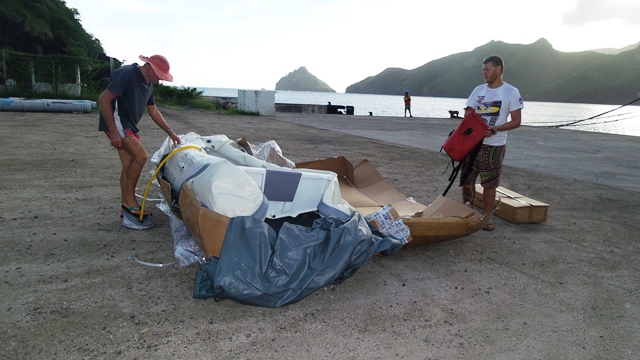 Unfortunately it was not. When we had inflated it we turned it over to check, lo and behold a dent at the transom on almost the identical position as the first dinghy. Neither Benjamin nor us could believe it, surely they would have noticed when it was in the showroom or when it was being packed but apparently not. More toing and froing with STH. Final solution, we could buy the second dinghy, with only one dent, for about half price. With few options we agreed and crossed our fingers.
Finally, with the dinghy saga hopefully over, we could escape from Taiohae bay, the Internet, "city" life and so many people, comparatively speaking, for some of the other more isolated and beautiful anchorages around Nuku Hiva. First however to lift the anchor. We'd been in the same place for almost 6 weeks and I'd been cleaning Ednbal's water line regularly not thinking too much about the anchor chain. All prepared to move out, I hit the up button on the anchor remote control. Almost as soon as the chain started to lift out of the water I saw it had increased in diameter from its normal 20mm or so to overt 60mm, barnacle encrustation! Plan revised, chain cleaning first. Big leather gloves did most of the removal by crushing the barnacles by hand while Sasha completed the job by poking a wooden dowel between each link to remove those inside the chain links. The chain was encrusted from water level to the ocean floor, about ten metres.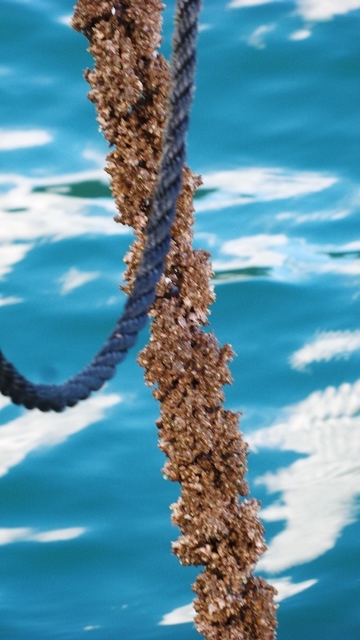 Eventually we cleaned the chain and lifted the anchor to sail five miles to Hakatea Bay with a light 10kt breeze behind us so out went the new headsail. All good except the foot of the sail a bit too low and rubbed on the lifelines. No real drama, should be able to lift the sail with a short strop or soft shackle inserted at the bottom furler connection.
Hakatea Bay, also nick named Daniels Bay after a long time resident, is almost totally enclosed and protected from the Pacific Ocean swells, very calm after the rolly Taiohae Bay. One of the attractions is the waterfall hike, more like an hour walk through the tropical forest really. We joined friends Jeff and Katie with their visiting niece Nancy for the walk, Jeff and Katie having already done it some months before. Getting ashore a little tricky because you start the walk from the cove next door, Uauka, which is far more open to the ocean swells with access to calm water via a small river/creek outlet. At low tide you need to walk, half carry the dinghy, over the sand bank creek entrance that is, fortunately in a corner of the cove where the waves are least. From just inside the creek the walk begins, through the tiny village of Hakaui, just a few houses, population 12, pay the public phone box, the only means of communication, no road no mobile phone and on through small tropical fruit plantations to the waterfall path. Much of the path is stone lined with 3 or 4 small creek crossings that you can either wade through or stone step or branch climb across. A truly beautiful walk with views to the 1,000m high mountains and lush green vegetation covered rock spires while walking mostly under a canopy for equally lush green tropical forest trees.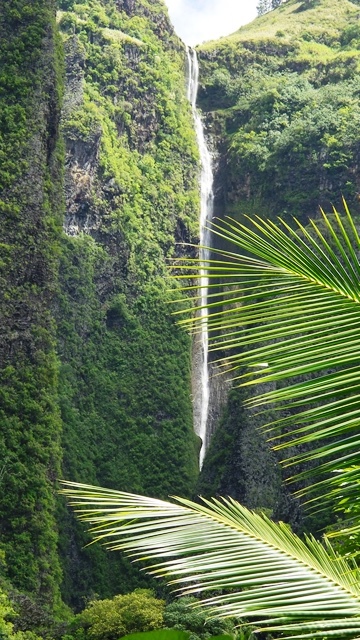 At the end one is rewarded with an open green, reasonably flat area of green ground cover carpet with shear rock walks almost as equally green with a small section of the waterfall as a backdrop, fantastic. Of course it's strip off and into the fresh cool water for a most refreshing swim and cool off albeit with the local inhabitants, large fresh water eels!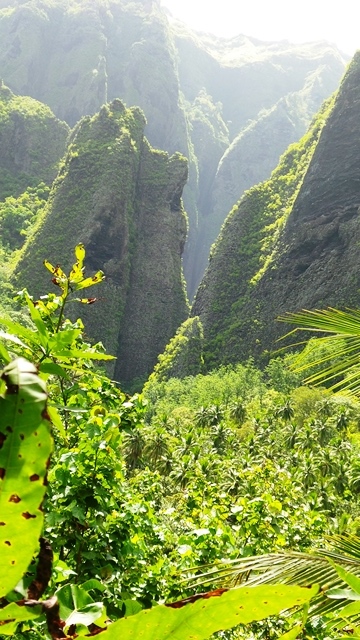 Ah but alas there is always a down side as we found out the next day, the good old viscous no-nos or sand flies. Although we thought we'd covered ourselves adequately many still got us, over 50 itching, red bites each, that were to last for a week. It was here that Sasha got out her sewing machine and began modifying the cover of our old dinghy to cover the new one, no mean feat with the dinghy in the water I assure you.
Now if was getting towards the end of February and the countdown was about on, countdown to the end of cyclone season, at least to be safe enough to sail to the most northern of the Tuamotus. In the meantime there was one Marquesan island we'd heard many good reports about but had not yet visited, Ua Huka, about twenty miles east of Nuku Hiva but from our anchorage in Hakatea more like thirty five.
Ua Huka
We set off with a forecast 12 to 15kts NNE, should just about make it in one tack but it wasn't too be. As we cleared Nuku Hiva the wind swung to almost east so we decided instead to go into Controller Bay on the south east corner of Nuku Hiva and see what the next day would bring. Friends Amanda and Mark on Balvenie were anchored in the same bay so good excuse for a few ales. Next morning we set off again with less wind forecast but still from NNE to NE. Again not to be, it was pretty much from east and dying, consistently we ended up motoring most of the way to the most western anchorage Haavie Bay, quite unprotected but close to the famed bird island. Bird island is something unusual in these parts, it is flat, a flat rock a hundred or so metres in diameter covered in green grass/ground cover. Hundreds if not thousands of Terns nest there and the locals go there in their boats and climb a rope dangling over the edge of the rock at the lowest point, a few metres above water level to collect Tern eggs. Apparently they take it in turns on a family by family basis.
The whole Ua Huka island is home to only 600 people with perhaps 300 living in the nearby main town of Vaipaee. You would think the Terns would get pretty sick of their eggs disappearing and find somewhere else but apparently not. There was a bit too much swell for us to try it, closest we got was going past in Ednbal the next morning on our way to the most eastern reasonably protected anchorage of Have. Ua Huka is only 7 miles east to west and 4 north to south in the shape of a croissant, the indentation facing south so it's not far between anchorages. We anchored in Have behind the only other yacht that left soon after we arrived, didn't realise my BO was so bad. First trick how to get ashore in the dinghy in one piece. Although the swell was from north west it still bent around the small island creating small breakers on the small rocky beach. Also remember we have a brand new dinghy and don't want to scratch or dent it, at least not yet. We sat on Ednbal and watched until we figured where the waves were least and decided to row the dinghy in so that we could carry it up the beach over the small rocks and stones. Mission accomplished with no major mishap. Didn't quite work so well every time we went ashore, Sasha only got half downed once! One of the major attractions of Ua Huka is the artistic wood work hand made pieces produced by some of the locals from native and other trees grown on the island. The little village of Hane has, what appears to be, a communal type workshop come shed where several people hand craft all manner of Marquesan objects from small tikis, manta rays, turtles to huge tikis, warrior clubs, ornate canoe paddles and bowls of all sizes. All have some form of hand carving to greatly enhance the appearance. The range of this wood art is incredible and the quality truly impressive. Of course, as we both love wood we bought a few items we thought useful.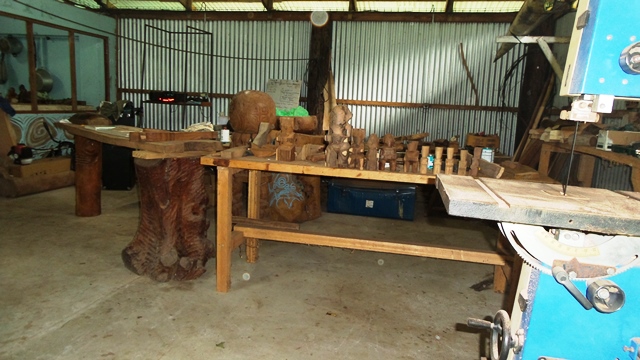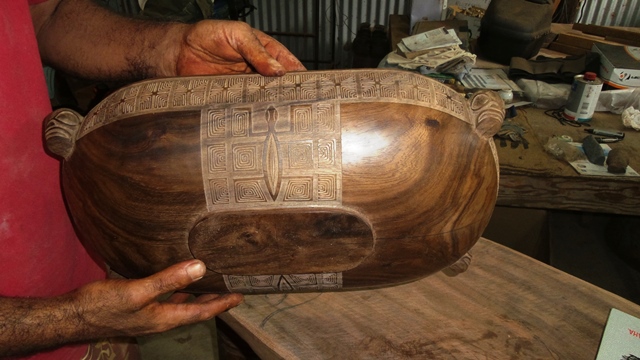 After a couple of tranquil days which included a walk over to the neighbouring village of Hokatu we moved a couple of miles west to Vaipaee a narrow, about 200 metres wide bay, stretching about 800 metres into the island with shear rock walls around 100 metres high either side. Thankfully here there is a small dock used by locals with their runabouts and eminently suitable for our lovely new dinghy which, being so close we just rowed in. While in Have we had met one of the craftsmen, John, who was working on in a small bowl made from a beautifully grained local timber called Tou.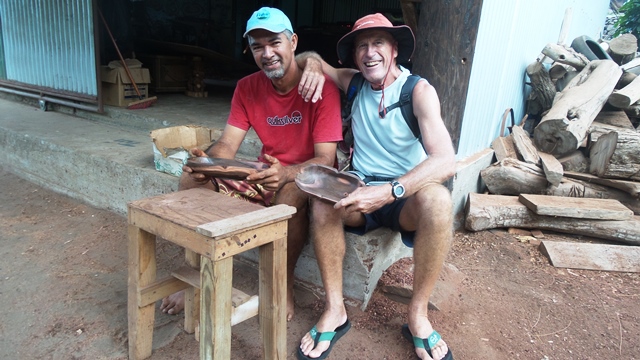 I was so taken with it that I asked, via interpreter Sasha, if I could buy it when finished, yes, he lived in Vaipaee, we could pick it up when we went there. So, we had a mission to find John. In the mean time we visited the local museum. Big deal you may think, some museum in a town of 300 at most, exactly what I thought. Whatamistakatomaka, it turned out to be the best we'd seen in a long time. Obviously someone or some people with a very keen sense of Marquesan and especially Ua Hukan history and culture had gone to a lot of trouble to create this wonderful museum.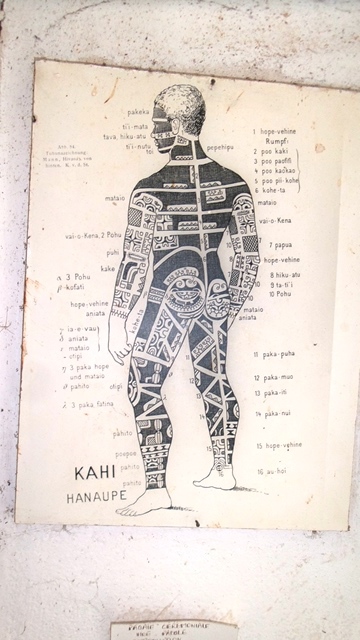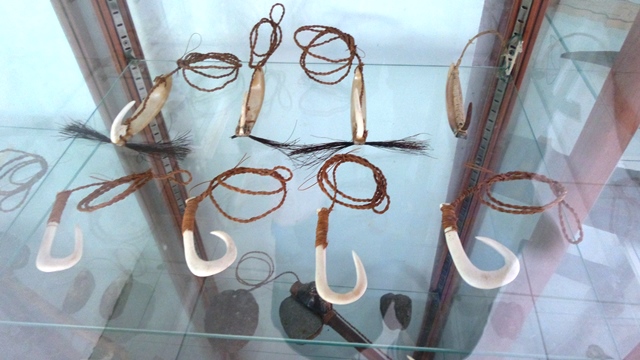 It is not maned, you just go to the local government council office almost next door and the museum is opened for you to peruse, no charge. As with all other French Polynesian islands the arrival of the supply/tourist ship is cause for celebration, delivery of items purchased from afar, shops restocked and copra sold. We understand that copra production is subsidised by the French who buy the dried coconut flesh for 1,500 xpf (Polynesian French francs) or about US $1.5, per kg. The "farmers" or collectors of coconuts, husk the nut, break the shell, scoop out the flesh and dry it on huge racks, 100 or more square metres. Most have an elaborate corrugated roofs that run on rails to cover the copra at night or when it rains. The copra is packed into jute bags to the required 25kg per bag, tagged to show ownership and delivered to the wharf for loading onto the ship. In Vaipaee the new passenger supply ship in one, the Aranui 5, arrived while we were anchored. Of course we knew it was coming, interested to see how it would handle such a narrow anchorage. Essentially she came to the mouth of the bay, craned two work barges over the side that assisted in turning her around in the head of the bay to have the bow facing the ocean do she could drop the anchor. Next the work boats took two heavy lines from each side of the stern out to big anchor points on the rock wall on either side. Vessel secured! No one going in or out of the bay while she is there!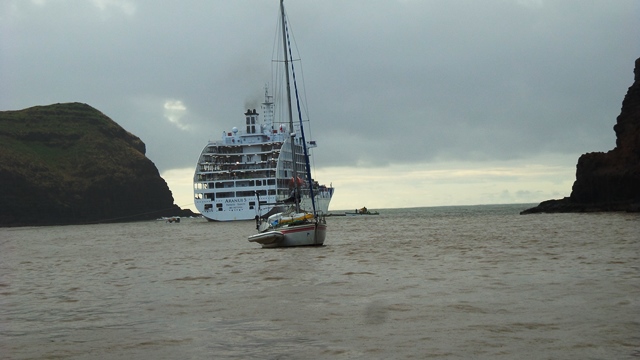 This day the weather was not exactly cooperating, a convergence zone was right above the Marquesas, it rained and it poured. The passengers were ferried to the small dock in open landing craft also craned off the ship. After disembarkment the unloading of supplies for the island followed by loading of the "export" copra. On the dock there is a notice board proudly announcing that in 2013 Ua Huka shipped out 208 tonnes of copra for an island revenue of 28 million xpf, or about a whole $300,000! After asking around we, well Sasha, did manage to find John's home where, in John's absence escorting Aranui tourists around the island in his car, his wife Victoria have us the bowl that John had finished. Now there's another thing there is no such thing as tourist coaches on these islands so they have a different solution for providing tours of the island for the ships passengers, private cars. Most common are very modern 4wd, 4 door utes. This is in stark contrast with the relatively basic houses the people occupy. It seems that the cars are bought at a good discount based on the owner acting as a guide to provide an island tour to visiting ships passengers.