Marquesas
Category: South Pacific
Created: Wednesday, 20 May 2015 11:01
Written by Roger Boxall
Hits: 2127
What an arrival, great to see Greg and Kaycee again for a few not so quiet beers, party on Oceanna the first night, after abstaining for three weeks.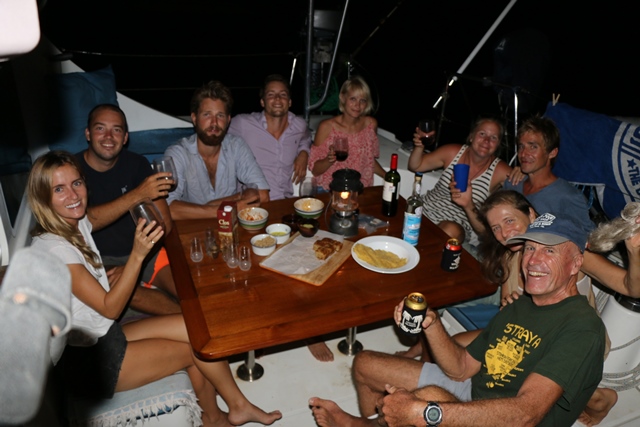 The anchorage was deep, anchoring in seventeen metres but clear water over black sand and some rock with the backdrop of the mountainous lush green island with the enormous rock spires that make the island famous.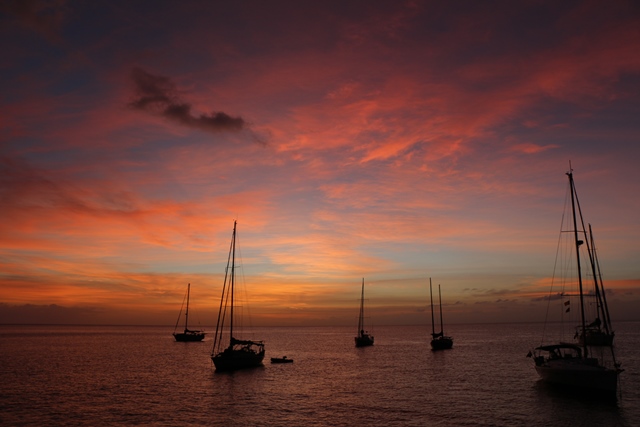 Greg, in his normal manner had been spearing fish although there were concerns about ciguatera. We had caught a couple of Tuna en route so there was plenty of fish to eat. We still had some veggies left but were looking forward to fresh tropical fruit. What was abundant was Pamplemousse, a kind of huge swy grapefruit, some as big as a bowling ball. The tiny local village of Hanavave had one small shop with the only veg available being potatoes and onions. Fruit, pamplemousse and papaya available from the trees just of town. There were also huge mango trees but unfortunately not in season. There were also a couple of must do things, a picnic to the local waterfall and the 17km hike over the 600m mountain pass to the next village of Omoa. Instead of walking there and back we arranged with Greg and Kaycee for them to take their dinghy the 3nm to Omoa, we would take ours to shore here so that we could walk, cross half way and return in each others dinghies. Worked well until the downhill run when I had a lot of trouble with my knees, guess three weeks of no walking didn't help.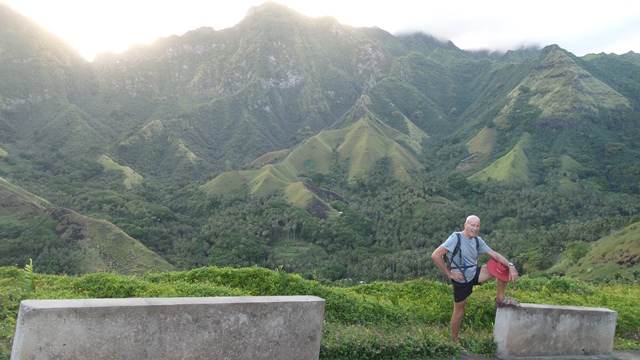 The other was a much shorter hike to the waterfall. Off on the same road to start with them turn off onto a narrow walk trail through the thick lush green forest growing on rich volcanic ash. Considering it was only a small island the waterfall and lovely pool at the bottom was quite impressive. For a water entry, Greg showed us how it was done, climbing up the rock a good fifteen metres, he leapt off and did a one and a half somersault into the pool. We all sat back to have our picnic lunch and obligatory beer. Fatu Hiva is known for a few cultural things, wood, bone and stone carving as well as making and decorating tapa. Tapa, a kind of paper is made by carefully pounding the bark of a tree between a stone base and a stone club. It is generally done by the women who then create designs that look somewhat like tattoos. I like wood carving and found a guy by the name on Kemo who was reported to be willing to trade for his wood carving, question was what did we have that he would be interested in. Together with Greg and Kaycee, Paul and Sundy we paid him a visit at his family home, what wonderful people. Turned out he values yacht ropes like halyards and sheet lines as well as spear guns, I had spare lines, Greg had spare spear guns. Greg repaired Meko's spear guns and traded one for four beautiful and quite valuable wood carvings, we got a nice carved tiki and bowl, both made from Ebony for two old halyards. The family then agreed to do a traditional in ground cooked dinner for us and any other cruisers interested for about $17 per head. What a feast it turned out to be, we rounded up seventeen others so it made it really worthwhile for Meko and his family. Cooked in the ground covered with banana leaves was pig, goat, breadfruit, a type of tropical cucumber, banana and some other fruits.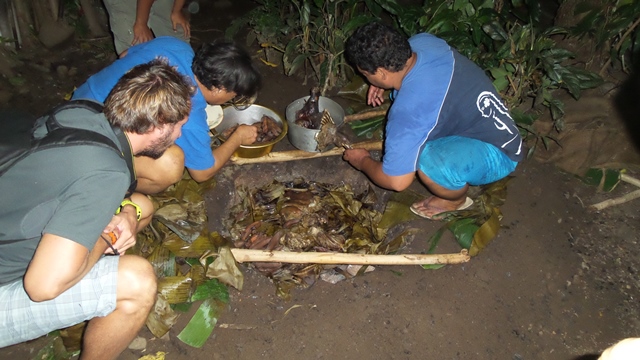 We all sat, a little crowded, at two long tressel tables with a wonderful mixture of cutlery and crockery from various sets with a watery cordial served in paper cups. Some of us bought our wine as we knew our hosts did not have any. At the end of the meal Meko's wife and another similar aged lady preformed traditional Polynesian dancing, what a treat.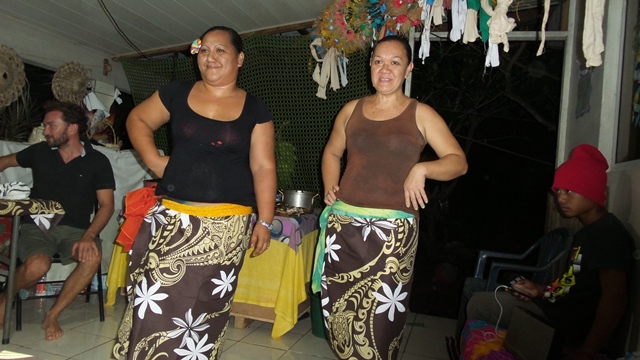 After a beautiful week in Fatu Hiva it was time to sail thirty miles to Hiva Oa and the harbour town of Autona to formally check into French Polynesia.
This is where the "fun" started. It seems that many people have overstayed in French Polynesia. Any non EU resident must either show a plane ticket to their home country or pay a refundable bond to the same value. Yet are some tricks. Go to the only internet cafe in the town, at $5 per hour, and book a refundable ticket on line, take your machine to the Gendarmerie (police station for check in) go through the check in procedure, return to the Internet cafe and cancel the ticket. Since I had dual passports Oz and UK, no issue for me but Sasha has only an Oz one which meant she not only had to pay bond but also apply for a long (one year renewable) visa. We decided not a good idea to try and beat the system so we paid the bond and checked in. Next, the long stay visa, this was another ball game altogether. Application must be made in Papeete, Tahiti. Sasha put together all the paperwork, copies of documents required etc and emailed it off but no response no matter what. We spoke to the local "agent", Sandra, the person who does check in work etc as a job for those who don't want to do it themselves and can afford to have someone do it for them. Sandra said she'd handle Sasha's visa application for $20. Quite reasonable we thought. She took the physical paperwork and passport photos and off she went but two days later wanted another $50, not the way to do business so we cancelled that option. Next we went into the small local government office armed with a document that Sasha found on the net saying she could apply there. After scrutinising the info and checking with the mayor yes they could do so. Sasha handed over all the info again. We even had an interview with the mayor complete with interpreter. Now you have to imagine this, Autona is a small village, a few hundred people, it is Polynesia, the mayor sits in an open room at a long table dressed for the weather in shorts, tee shirt and thongs (most locals here seem to wear thongs). Nobody dresses up here. He was very helpful and has sent off Sasha's application by email to see if all is in order before sending the original with passport size photos etc. Every few days we stopped in to check progress, yes it had been emailed off but we must wait. Next trick, an Internet connection. About three options, wifi hotspots/cafe, a pay wifi service called Manospot (very limited range and locations) or a phone/tab data SIM. As we planned to be in French Polynesia for a couple of years the data sim seemed the most logical. The local provider is Vini, the only outlet to buy, the post office, so off we went. Turns out the bloke at the PO was the most unhelpful bloke we met. At first his response was no such thing only voice and sms was available. We returned next day and with info Sasha had reached, seems you can't get one sim that will do voice sms and data, you have to buy a data sim separately so we asked specifically for a data sim, no he didn't have any, could he order us one? No, but if we went to the island of Nuka Hiva, 80 miles away we could get one from the PO there. Could he have one sent from Nuka Hiva of we paid up front? No. No pleading or cajoling helped at all. Young cruising friends Paul and Sundy on Arbutus were planning to go to Nuka Hiva so we gave them money and organised for them to buy and send one to us, which in a few weeks happened.
In the mean time we had run out of gas. None was available on the island, or anywhere else for that matter, at least for visitors, due to a strike in Tahiti from where gas comes, in 10kg cylinders, by ship. Next ship scheduled for 3 weeks hence. By this time we were riding around the place on our bikes, town about 2km from the anchorage, and on one of our "cultural tours" we went to see the grave of one of Sasha's favourite painters Paul Gaugin then on further up the mountain to the local water reservoir where we happened to meet a guy who turns the tap on and off twice a day. We, well Sasha, got talking to him and he offered to give us fruit, pomelo, papaya, limes and, using along bamboo pole with a small net on the end, picked some early mangos. Not only that but when he hears we are out of gas, offered to fill one of our bottles if we could decant from his full bbq bottle. I had an adapter hose so no problem.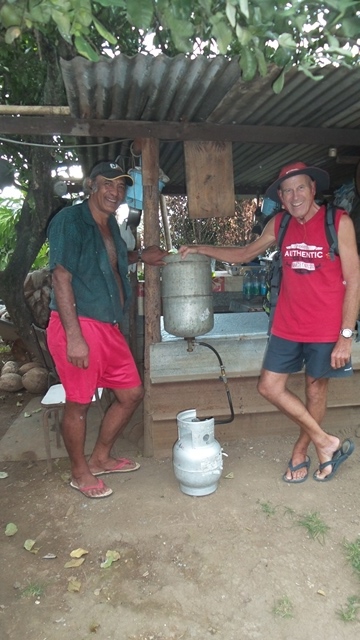 Just an illustration of how helpful and friendly most of the people are. We did another cycle excursion with Paul and Sundy, who also had fold up bikes, to a Polynesian archaeological site about 7km from town up on the rain forest mountain. Nothing is flat in Hiva Oa, the ride was constant uphill downhill, certainly keeps you fit. The last kilometre or so was up, up, up, had to walk the bikes, at least Sundy, Sasha and I did, off the main road to the site itself. The site was sort of interesting, a lot of stones was really about all that remains so you need a bit of imagination to follow the illustrations and descriptions on the big poster for the benefit of tourists. On our way back down to the main road we met a couple of locals who again gave us more fruit pomelo, papaya, banana, breadfruit and enormous beans. The bean pod is about 40cm long and 5cm high. For our stay of about a month we did not have to buy fruit once and had so much beautiful typical fruit that we could hardly eat it fast enough!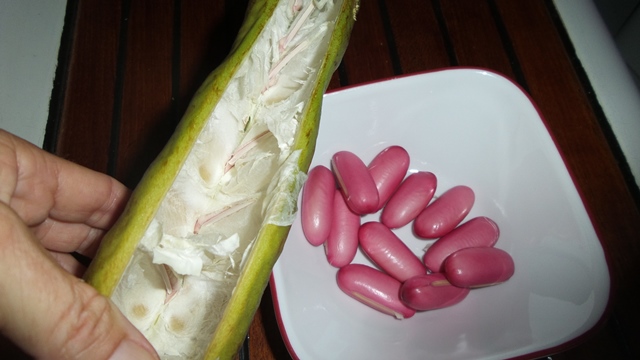 After spending too much time in the Autona anchorage between bow and stern anchors in muddy waters we were itching to try some other close by spots especially on nearby Tahuata island just 10 miles around the corner
Our first stop was Hanamoena bay, probably the most popular of the half dozen possible anchorage along the protected 10 mile West coast. Water was wonderfully clear, Manta Rays glided by the boat, big pods of dolphins swam a little further out and at night we could pick up small fish to fry whole with the scoop net right off the back of the boat. We swam so close to the Manta Rays that you could almost touch them. On shore was one of the few lovely sandy beaches in the Marquesas and to top it all off the local Marquesan resident, living in a small hut with no amenities welcomed you ashore with fish cooked over his open outdoor fire. We stayed several days, met other cruisers and just loved it. This was the Marquises we had imagined.
The other bay we really liked on Tahuata was the more Southern, Hapatoni. Like Hanamoena we visited the bay with its lovely little village a couple of times, the first when there was a festival on, albeit somewhat religious in nature. In the afternoon the community oval with church on one side and community hall on the other was the centre of activity. Ladies weaving sophisticated tiaras and leas, some teaching the kids, kids playing and generally running amuck while on part of the oval there was intense, serious boules competition with about ten games being played simultaneously, men, women and mixed. Just after dusk it was announced that dinner was on, for everybody, free of charge. Huge drums of goat and pig with equally huge containers of rice served on a plate with a little of some sort of salad. Only a little salad as suitable vegetable and fruit were in short supply and a sweet white coffee to wash it down with. A real feat, and feast, for well over a hundred people! Later came the religious part of the evening with short plays of Catholic religious significance, I guess acted by groups from the four or five villages on the island all in local Marquesan language, a bit hard to follow! ! All in all an interesting and "culturally enlightening" afternoon and evening.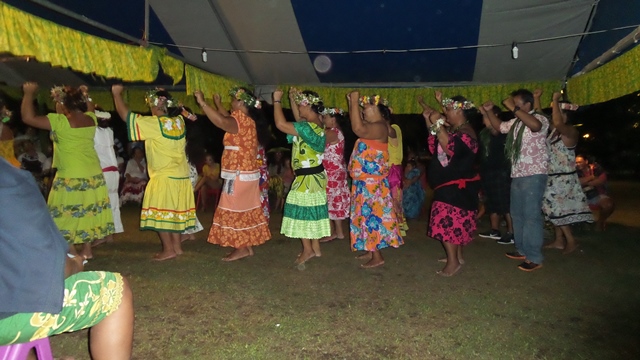 The village is also known for its hand laid stone road along the foreshore. Laid, maybe a century or more ago, it is some disrepair but the basics are still clearly visible. Hapatoni was also our last stop in the Marquesas before heading South to the Tuamotus region of French Polynesia. This time in Hapatoni we did our final fruit stock up as we'd heard that there was no for grown on the coral sand Atolls that make up the Tuamotus. Locals have us several hands of bananas, more pomelo, early season mangos and, something we'd not had before, citrus apples, all suitably green to last as long as possible and enable Sasha to make me plenty of banana cake.