Galapagos
Category: South Pacific
Created: Wednesday, 15 April 2015 10:58
Written by Roger Boxall
Hits: 1744
Next morning we had our Galapagos destination island of Isabela in sight and Oceanna a more or so off our port side. The entry into the anchorage is well marked so no problem there but it seemed all the cruising yachts had the same idea, it was petty full so now the fun starts trying to find somewhere to anchor, reasonably calm, not too close to rocks, the big steel ships buoys, shallows or other yachts. At least only the latter can complain which the one closest to us did so we relocated to the rough water end. Most yachties stay here a short time so just needed to keep a look out for someone vacating a nice spot. Next trick, check into the country, theoretically Ecuador but in reality somewhat different and certainly more expensive with the need to use an agent (as the port Captain will not talk directly to yachties only but the only agent), to pay national park fees along with other miscellaneous costs, total near $900. But still this is the famed Galapagos, not to be missed.
Straight up there are Blue Footed Boobies diving, Sea Lions, small Penguins, Black Tipped sharks all close to the boat in the anchorage, the quantity of sea life is just amazing.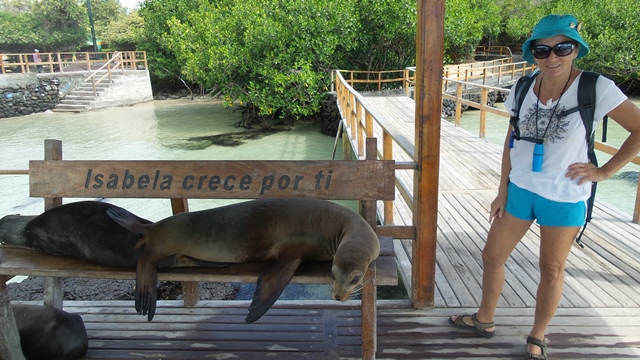 Our first trip to shore showed that the sea lions and iguanas are very much at home around humans in fact the sea lions take over the dinghy dock lounging around on the seats and floor, at times you can do nothing but step over them. Turns out that the village is about 2km from the dock so we soon offload our fold up bikes to get around. The down side of the Galapagos is that everything costs. There are only a few places you can go or swim/dive without a guide, even snorkelling around the boat is not allowed as Sasha soon found out! The Tortoise breeding centre a few Kms out of town is free to walk to and enter. The walk is partly on a boardwalk over swampy lakes with all sorts of bird life including pink flamingos that you can get quite close to as distinct from others in other countries we had seen in the wild.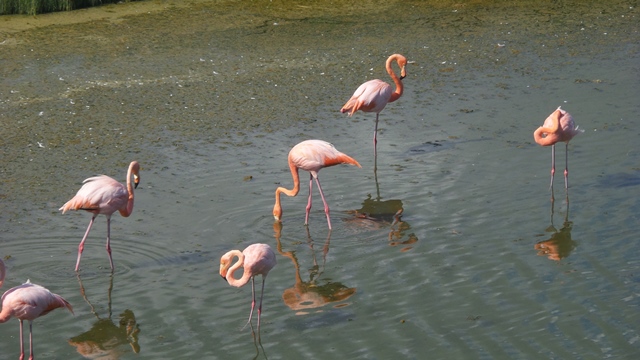 The Tortoise breeding centre had over 500 tortoises from tiny hatchlings to some real monsters about 1.5m long, well round really. The walk, with our picnic lunch, and centre visit took the best part of a very enjoyable day.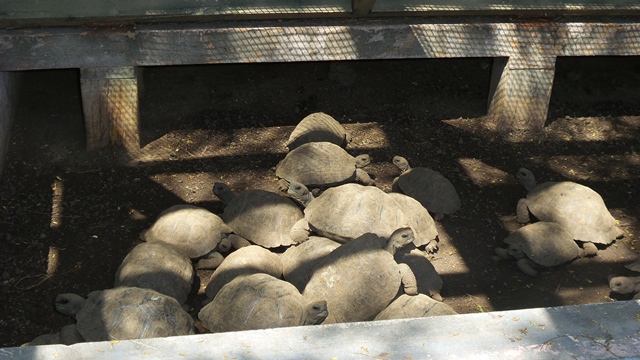 Our next excursion was a bike ride of 8km or so on a pretty rough dirt road to the Wall of Tears, a stone wall built, under force, by political prisoners some decades ago. The wall served no purpose, more a torture thing, and many died in the process. Off the road were several lookout points, one in particular, quite a climb, gave panoramic views over the adjacent valley and to the more distant mountains. It was also the first time we saw tortoises in the wild. On the return journey we stopped off at one of the sand beaches and found a lovely shady tree for our picnic, and yes this time we did have a siesta after refreshing swim.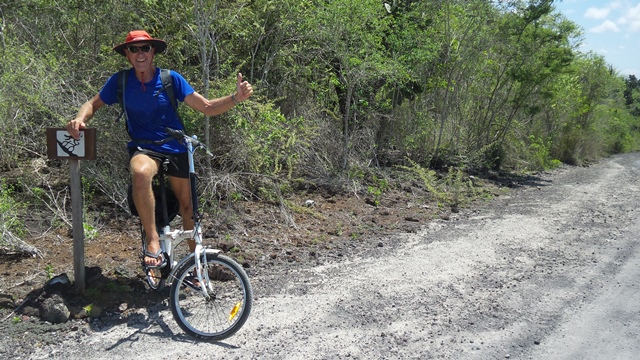 On our way from Panama we had thoughts of eating out in Isabela but after surveying the many restaurants and seeing the "tourist" fare they had on offer we figured we, well Sasha, did a much better job on board. Some spots frequented more by locals looked somewhat more promising but the meals were simple, soup, main of a meat or fish with a little salad and plenty of rice that we had sampled adequately in Colombia. Instead we opted for the occasional beer at a bar to do a bit of socialising. Greg and Kaycee on Oceanna were anchored nearby and as always great fun. Early one morning we borrowed their stand up paddle boards to take a close look at some of the nature, birds, turtles, fish and Penguins in an area close to the anchorage where we knew we were supposed to be only with a guide.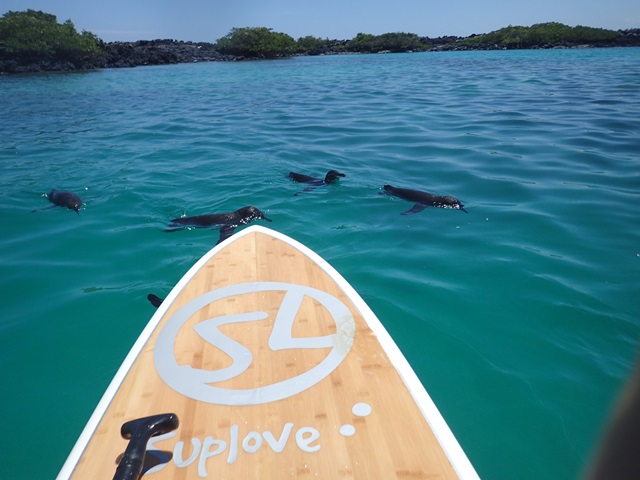 It was great to get up close and have a little different exercise at the same time. We had heard of the farming area about 20km away in the foothills of the volcanic mountains and decided to make an excursion to visit on our bikes. We were dead lucky with the weather, cool with some drizzly train in the morning for the hard push about 20km up hill. As we got to higher altitude, five or six hundred metres where the small farms start, it all cleared. What an incredible change in climate and scenery from volcanic rock with little vegetation in the lowlands to thick lush green growing everything imaginable in volcanic ash. Even the fence pays sprout back into trees.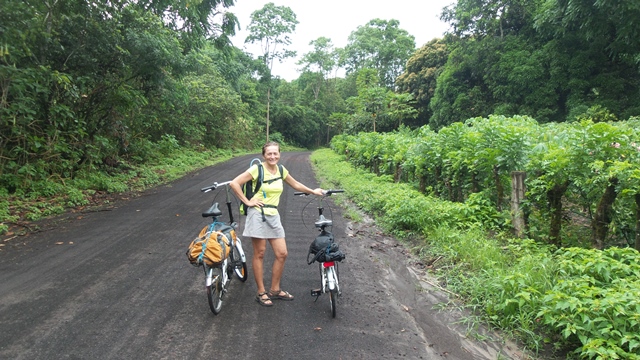 After a picnic lunch we enjoyed the downhill ride back to town and Ednbal. Some days later we returned by open air bus with twenty other cruisers to have lunch at one of the farm restaurants and walk a short distance to another farm that welcomes people to come in and buy produce. You walk around the fruit and vegie plots pointing to the ones you want, we bought a lot green for our 3,000nm hike to the Marquesas, had our back packs and bags filled to the hilt for very little cost, just fanatic.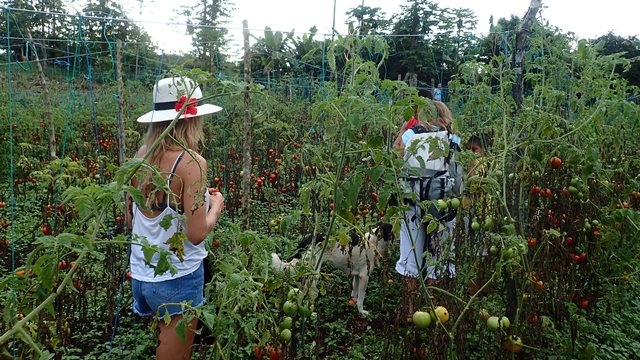 Our only paid, guided trip was to a huge underground volcanic dome, partly to see but more the fun in getting there. After a short drive up into the rain forest there is a walk to a hole in the ground. So far easy, next is a decent down 250m using an abseiling harness and ropes while climbing down on a very dodgy rope ladder. There were others with us, Max and Sandy, Aussies from Volvo, Kaycee, and, at the bottom a heap of animal bones, those that missed their footing 250m above! Overhead was a huge lava rock dome, about 30m high, apparently created by gas trapped as the lava cooled. Under torch light, since it was completely black without, the rock was a myriads of colours from blacks, reds through to yellows and in places almost white.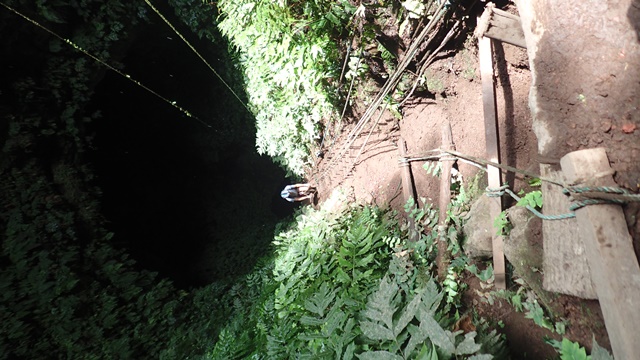 Pity was we only had head lamps, would have been much better with a good spot light, never the less still very impressive. We were all a bit apprehensive about the climb back up again but really was no problem just a bit wet and muddy, an expedience well worthwhile.
All stocked up with fresh fruit and veg and at the end of our maximum permitted time stay of 20 days, it was time to get mobile for the big haul, 3,000nm West to the Marquesas islands, the most Eastern of French Polynesia. Friday the weather looked good but it was not an option, no sailor sets sail on a Friday so mid-morning Saturday the .... of April 2015, along with Oceanna we set off. Enough wind to sail for a few hours but then, under the influence of the island it swung to the West and died out so we motored for a few hours to get away from the island. Soon a breeze of around 15 knots settled in from the ESE enabling us to sail SSW as we wanted to get down towards 5 degrees South into more established SE trade winds and the South Equatorial current to assist us on our passage. The first issue came on Saturday evening. As Sasha was coming down the companion way steps she slipped and feel awkwardly landing on the outside of her right foot. At first it didn't seem too bad so we didn't treat with ice or anything, unfortunately by next morning she could barely put any weight on it and it was still not right three weeks later when we arrived in the Marquesas. Next, when the breeze increased, we furled in the mainsail to the first reef and noticed that the leach tape was separating from the sail so we furled the main in completely with a view to repairing when the wind drooped. As it happened the wind never dropped much below 15kts so we sailed the rest of the trip without the mainsail. Without the main we slowed down a bit and Oceanna started pulling away from us. In an effort to keep up we put the spinnaker up which went nicely for a day or so but the wind picked up a little and swung a few degrees further South which meant a reduced sailing angle and more apparent wind. We were debating about bringing the spinnaker down when the wind did it for us, virtually shredding the sail. Now, down to one sail with 2,400nm to go, just had to hope nothing else would go wrong! While under way we were maintaining radio contact with about 10 other yachts crossing the Pacific all in similar weather conditions to us, pretty constant 15 to, at the most 25kt SE wind but a very uncomfortable sea with wind driven SE seas at 1 to 2m and a ST swell. Apart from being uncomfortable on the boat really very nice sailing conditions. It seemed we were fortunate, the damage toll we know of was:
One yacht sank, crew picked up by another yacht
Two lost rudders after hitting something, unknown
Four had major rig damage, two had to continue motoring only
For the rest of the voyage we sailed on headsail only making landfall in three weeks and five hours at the Marquesas island of Fatu Hiva, dropping anchor near Oceanna in the famed Bay of Virgins. Whilst we made excellent time, averaging just over 5.9kts, it was the most uncomfortable, rolly sail of any distance we had experienced. We were happy to be at anchor in the Bay of Virgins, Fatu Hiva.