Crossing from Bermuda to Azores
Category: North Atlantic Ocean
Created: Wednesday, 17 June 2009 16:55
Written by Roger Boxall
Hits: 1609
es
Bermuda to Azores Atlantic Crossing - 1800 NM
A very quiet start, September (Klaus and Elgard) less than a mile to our port side, Amour De La Mer (Barbara and Lee) an hour ahead, about 5 miles. It soon became apparent that September, an older 20 ton steel sloop, was slower than us but our sistership, Amour De La Mer, quicker. By the next day, we would barely see either vessel. The course to the closest Azores port, Flores, is 67 degrees, 1,670nm. Initially we head a little East of North as taking the rhumb line, 67 degrees, would have us trying to run almost into the wind. For the first 30 hours we all headed about 30 degrees. First thing we noticed was what appeared to be plastic bottles floating in the water but when one when close by one was not plastic, nor a bottle, but a Portuguese Man-O-War jellyfish with their characteristic gas filled float and tiny sail above the water. Later in the afternoon I noticed a disturbance in the water up ahead then saw a Sperm whale surface less than 30m off our starboard side, wouldn't like one of those to run into us. I radioed September behind us to keep an eye out. Our radio schedule with Herb was for 1640 each day.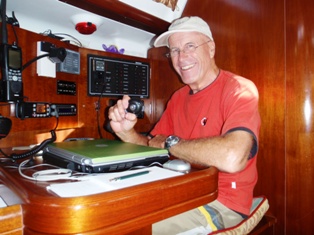 The way it works is vessels register each day by transmitting their vessel name between about 1640 and 1650 when Herb comes on and acknowledges the vessels. He then goes through, on a by area basis, to call each vessel in turn, get their position, latitude and longitude, and wind conditions before giving a detailed forecast to that vessel. Herb provides the forecast for the next 4 days based on his estimates of where you should be on the trip. We use both feedback from Herb and our electronically downloaded weather data to then determine our course. Plan, stay on this course until same time tomorrow then reassesses.  With little wind and a stable boat Sasha made banana rum punch for our daily sundowner, with nibbles, smoked oysters and red caviar on crackers, then pasta bake for dinner. When on a trip such as this we take shifts, or watches, through the night. In general we do not have strict regimes of a certain number of hours on and off watch.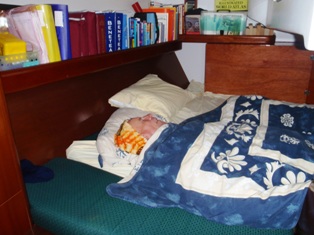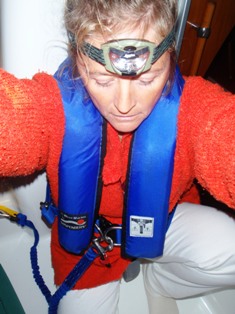 We find roughly 3 to 4 hours works but if one cannot get to sleep then we try swapping over. During the day we take naps to get as much sleep as possible in amongst a surprising number of other activities and reading books. With no moon at all the night is a black as the inside of King Tut's Tomb, as my Dad used to say,
 Day two, fine a little cloudy, still shorts and tee-shirt weather, just. Ham and eggs for breakfast. Per the forecast the wind veers more to the South, enough for to put up our asymmetrical spinnaker but with only 4 to 5kn wind progress is slow. Towards the middle of the day it is beer o'clock, a beer each with nibbles usually nuts and crisps. Communication on board takes time. We have email through our HF (SSB) radio. Our provider in the US also had coverage in Europe when we signed up in 2006 but since then has closed down so we had to change. No big deal but not straight forward either. Apart from having to change our address there was a different radio communication software package to learn, another job for Sasha! To send and receive email on board we need to, based on our position and time of day, select one of the HF email station frequencies, list to ensure someone is not already using it and then try to connect. I emphasise try because sometimes you can, sometimes you can't. If not then try another station. Once connected data transfer happens automatically, oh so slowly a few kilobits, yes kbits, not megabits, per minute, yes per minute, not per second. Our new provider limits any one message size to 30kbits, equivalent to about a page of "plain text" email. Our weather data files, known as "grib" files are typically 20 to 30kbits and take 5 to 10 minutes to download. In addition to email we have radio skeds, Herb as already mentioned, and others for September and Amour De La Mer. Some hours each day are taken up with communication. After talking to Herb we decide, at 33 degrees 30 minutes North, it is time to turn East to be pushed along by a very light 4 to 5kn South Easterly breeze and jibe the spinnaker to do so. We continue our generally east course with wind of 10kns or so pretty much behind us. Wind astern is not necessarily a good thing, the boat tends to roll and, even with a gennaker (another term for an asymmetrical spinnaker) we are lucky to do over 4kns. Another surprising big effect on boat speed, even in the middle of the Atlantic, is ocean current. Ednbal items of data that feed into the chart plotter to help see the effects of current, vessel heading (the direction in which the centre line of the boat is pointing from an electronic compass), Course Over Ground (the actual direction she is travelling, COG moves from one of the GPSs), speed through the water (from a small paddle wheel in the hull) and Speed Over Ground (from one of the GPSs). The chart plotter displays Set and Drift.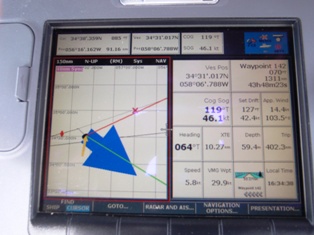 Assuming the boat is not being pushed sideways by the wind then set and drift become the angle of the current and the strength of the current. Of course there is always some effect of the wind pushing the boat sideways except perhaps straight down wind sailing. We also see forecast ocean current strength and direction on our weather forecast data. Over the course of our trip we saw currents varying all directions of the compass and from 0 to almost 2kns. With only enough wind to push you along at 3 or 4kns, the effects of current are significant. For most of the time we saw a current of at least 0.5kn in one direction or another.  
 Sailing further away from the equator, out of the tropic and into temperate climates is quite different to that we have grown accustomed over the last few years. At 33 north we no longer expect the constant, generally east, trade winds. Now the high, low pressure systems, troughs, ridges, fronts etc cause wind changes, all around the compass. On our third day out the wind changed from 300 degrees to 60 degrees in an hour and over a period of 11 hours we made 6 miles towards our target of the Azores, most disheartening. By day 4 we have eaten our way through enough of the food that Sasha had prepared and frozen to have enough room in the freezer for fish so the new rod and reel, with a good old skirted lure, was pressed into action. At 9:30am, less than 15 minutes later the reel started to scream, music to a trolling fisherman ears, and soon after we had a 850mm long Mahi Mahi (Dorado or dolphin fish) on board. Fish frames for dinner and enough fillets for at least 8 meals. Cleaned the rod and reel and put it away again, a feat never to be repeated! Later, at the start of our sched with Herb, he put out an alert for all mariners "to keep a sharp look out" for a 30 foot French yacht, Cle de Fa, that had put out a Mayday or set off an EPIRB (Emergency Position Indicating Radio Beacon), last reported position, just 120nm North of us but only 60nm North of September. Herb requested that anyone close enough to make VHF radio contact on the emergency channel 16 as the vessel in distress did not have HF radio. We called September and they started calling the vessel at hourly intervals but no contact. Later that night we heard a US Coast Guard plane talking to Cle de Fa but could not hear the other side of the conversation. Apparently the Yacht had been dismasted in a gail, just to the North of us that we had seen on our weather data and Herb had warned us about the day before. The Coast Guard made contact with a motor vessel, don't know how big, nearby and arranged an interception to transfer 500lt of fuel, to enable the yacht to motor the 1500 or so miles to the Azores. How they were to transfer and store that amount of fuel on a 30 footer I don't know but apparently it happened.
Our weather sched with Herb on day 5 gave us a bit of a fright. An early season tropical depression had formed, was currently located at 37 North, 69 West and heading East, straight at us. Although still 700 miles away he suggested we not go any further North as the forecast was for it to head North of East. Over the next day much reading was done on hurricanes, their tracks associated with the famed, relatively constant Azores high pressure system, dangerous quadrants etc etc. Thankfully, two days later it had turned North and was dissipating. That night, 4am, we had our first breakage, a pulley for the mainsail inhaul, at the base of the mast broke as I was furling on the mainsail in moderate winds that had increased to only about 19kns. There was no moon, it had been raining and at first I didn't realise what had happened. I thought that the inhaul rope had slipped in the winch so started winching in again which caught the line on another fitting and striped the outer braid from the load bearing core. Sasha awoke to the flapping sails and I went out on deck to investigate.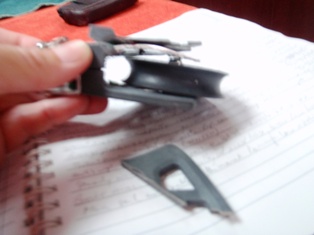 A new pulley, flown out to us in Venezuela,  installed in preparation for the big trip, had failed, one side cheek split away from the wheel. Put the old one back on, whipped the braid together and away we went. Two days later the old pulley block failed, nut of the fixing screw striped, so I installed another new one and crossed fingers.
 With light wind behind us we were making good use of our asymmetrical spinnaker or gennaker. The third time we put it up we noticed a tear up the top near the peak so pulled it down again to affect our first underway sail repair. We laid the sail out in the cabin with the damaged peak in the cockpit, measured the L shaped piece of sticky back sail cloth we would need for the rear, cut it out and stuck it on. Virtually as simple as that. Put the gennaker back up again and hey presto. Later in the day the wind began to build so we decided to pull the gennaker down before dark. I went up forward to start pulling the sock down over the sail but it got stuck. Next thing a gust filled the half of the sail still out of the sock forcing me to let go the sock down haul rope. In the process, rope burns to the 4 fingers of my right hand. I tried again to pull the sock down, this time OK. By the time I got the gennaker in its bag and back to the cockpit my fingers were blistering, requiring the attention of Dr Sasha. Thankfully with her extensive on board medical and first aid kit my fingers were soon wrapped in gel soaked cloth specifically for burns and, although they hurt for few hours, there was little pain thereafter.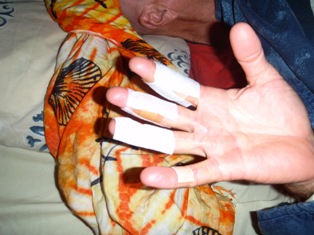 As the wind picked up more we needed to reduce sail area so started to pull in the headsail furler but found it jammed for the second time this trip. I had installed a new furler line in Saint Martin, theoretically the same diameter as the old one but in reality a fraction of a millimetre smaller. Enough for it to, more easily than the old one, wedge its way out between the furler drum and the stainless steel outer retaining cage. So, with fingers wrapped in gelled gauze, up the bow to sort it out, what a mess.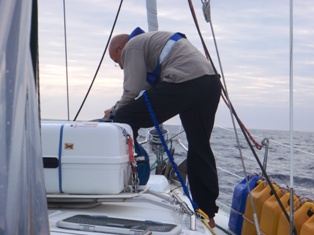 Of course I upset the Dr but it had to be done. After things had settled, the next day, we had a look at the gennaker sock to see what may have caught and found a small 150mm tear in the sock. Another repair with sail cloth and all OK.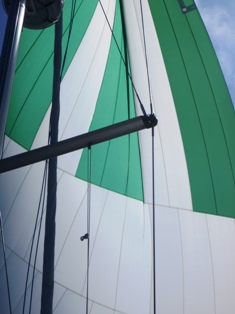 While on the subject of things going wrong we also had a problem or two with our autopilot. Ever since our lightning strike the autopilot has, for reasons unknown, switched itself from Auto mode or, if we are using it, Wind Vane mode, to Standby. In Standby you have to manually steer the boat. So if it suddenly switches to Standby the boat radically changes course causing all sorts of sail problems, most often she heads into the wind and tries to go about to the other tack. Most disconcerting and causes panic level activity for the crew, not good for the heart! We think it may be associated with a remote control unit we installed after our lightning strike. Then, one day out of Horta, the autopilot died completely, showing that it had lost communications with the rest of the system. Manual steering only! While Sasha took the helm I started checking communications cable connectors, unique to the manufacturer's "SeaTalk" system. Luckily we were in light winds, the previous night we had 25kns gusting to 30. With an element of luck I traced the problem to one of the SeaTalk connectors that provided a tee connection to the autopilot wireless remote transceiver. It was simple enough to take the faulty tee piece out of circuit and connect the autopilot direct, bypassing the transceiver and all was back to normal again, big sigh of relief.
 Now just one day out the wind was picking up from the South West, directly behind us, forecast to 30kn. Running downwind in a big sea can always be a bit tricky but we wanted to get in to the port of Horta before nightfall, Wednesday 10 June.  With as much sail up as I dared we powered along getting the occasional scare as we went down a big wave and started to broach. Only once did the autopilot not correct fast enough so that I had to take the wheel.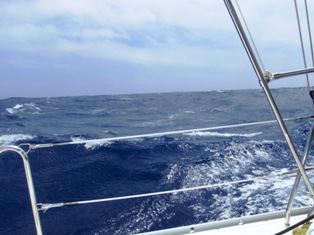 In light misty rain we approached the island of Faial with Horta breakwater just around the point and protected from the swell. The visibility was so bad, not helped by the late hour, that we first saw land only 3 miles out and sailed into the harbour in the middle of a rain squall. After being directed to a birth via the VHF radio we found to be next to but Jane and Russel off Ta-b whom we had had drinks with in Bermuda. After a few beers with them we fell into bed and slept like logs in the Azores!
Now for a little reflection as we had our 3rd cruising anniversary, 2 June, enroute to the Azores. Three years and over 15,000 miles sailed so the highlights of the year passed. First we both continue to enjoy our life immensely, we love it, the sailing, the travel, the people. Without doubt it was some of the off boat travel this time; seeing son Grant win silver at the Paralympics just can't be beaten, after China it was the inland travel in Venezuela but more over it is the people. People we have met, some for just a short time, others we have cruised with, others we just keep "bumping into" and those who live in the countries we have visited, just fantastic. Ednbal, our home, treated us well with, especially compared to other stories we hear, has continued to treat us well providing all the comforts we need while delivering us safely. As we had said to each other so many times, "it just doesn't get better than this".