Bermuda
Category: North Atlantic Ocean
Created: Wednesday, 27 May 2009 16:54
Written by Roger Boxall
Hits: 1607
rmuda
Bermuda
Next priority for John and Mish was to arrange flights as well as activities in the UK and Europe. They managed a flight out to London, on 18 May, a little less than 2 weeks away. We wanted to have some time in Bermuda anyway, and besides that there were no good looking weather systems for the Azores trip coming up. When we arrived there about 20 cruising yachts in the St Georges anchorage, in a few days the 38 ARC (Atlantic Rally Crossing) vessels, that left Tortola for Bermuda after us, would arrive. Other vessels were also arriving daily. Destinations, from Bermuda at this time of year are either the Azores or NE USA. A week later, there were over 70 yachts waiting good weather to get going.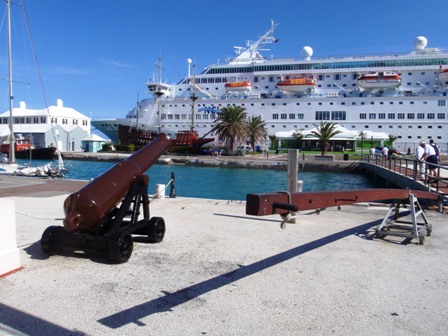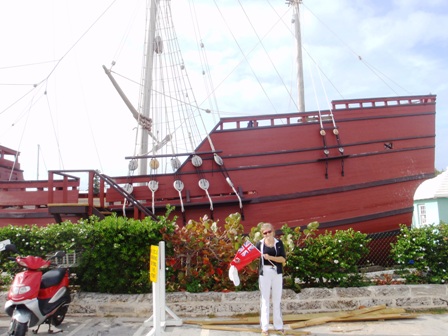 Best economical transport on the main island was bus. Tickets are sold for single trips, day, multiple day, week etc, valid for bus and ferry.  A day pass US$12. We needed to go to the capital, Hamilton, to get Sasha seen at the hospital the other side of Hamilton, woman stuff, so got a single day pass. You present the ticket to the first driver who notches it for the day. We jump on the bus at 7:15 and present out tickets to be punched but the lady driver just looks at them and says OK. A bit strange, we do the same on other buses but no one bothers to pouch them. The hospital visit lasts until 2pm. After examination and ultrasound there is nothing more to be done other than a prescription for pain killers and of course the US$1,000 bill. Thankfully, nothing real serious. Back on the bus, still no ticket punching and a walk around part of Hamilton. As normal places to go, chandleries and check out supermarkets. Man is it expensive here! One of the tourist information books boasts Bermuda having the second highest standard of living in the world and, judging from food prices, a cost of living to suit. We get back to St Georges to be picked up in the dingy by Mish, who has also cooked dinner, very nice too.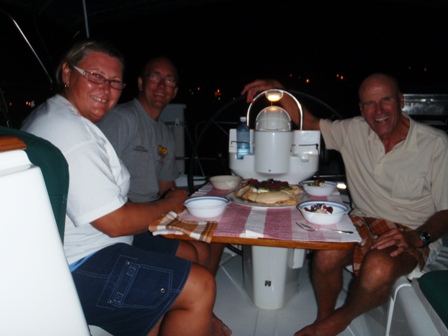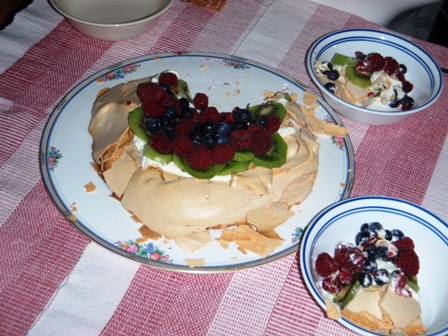 Next day we all went, by bus and ferry, to the dockyard, built by the British using convict and slave labour as the biggest facility outside Britain. It was in use until after the Second World War but now a US style tourist attraction complete with cruise ship terminal. This time our travel passes were punched, still two days for the price of one! The museum within the fort was good, not as spectacular as some of those on Spanish islands and it was difficult to keep Mish and Sasha away from the markets. Most memorable was the rum cakes, various tastings and we took one back for our dinner desert. Talk about laced with rum, they sure were potent. Bermuda is certainly a modern island with the entire infrastructure to suit, it is certainly safe but it is very upper end touristy.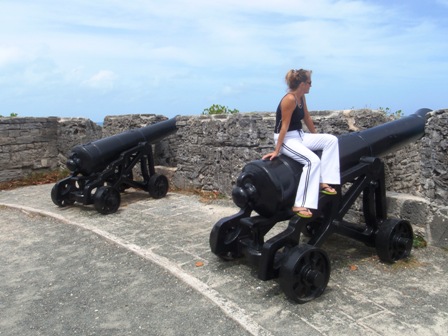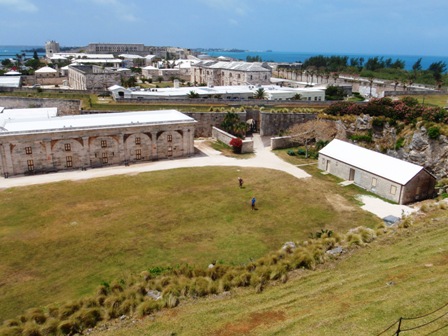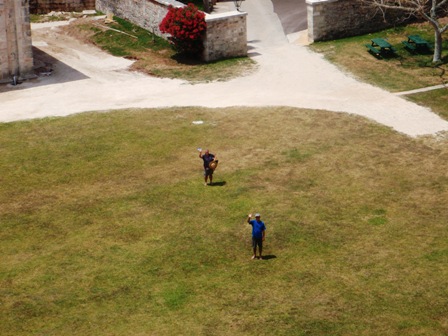 One of the "attractions" is an extended walk trail along the route of train that ran almost one end to the other. The light railway built in the 1930s was the most expensive and slowest rail project of its day. Would seem nothing to boast about, it ran at speeds of 10 to 12 miles per hour, missed the more populated areas and was finally sold, rail, rolling stock and all to one of the African countries in the 1950s. Now you can walk most of the old track except where fuel oil storage facilities etc have been built. Good exercise anyway. Mish and John played tourist most days while we did a few boat jobs and stocked up to get Ednbal prepared for the almost 2,000nm sail to the Azores. We didn't miss one daily tourist entertainment in the St Georges harbour. With original dress of the day a punishment was "executed" to the ladies accused of using their tongue to "gossip" too much, and thus were reported for an evil doing. They were immersed in the water over and over again, for as long as they finally remorse and publicly apologised.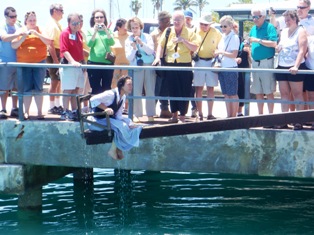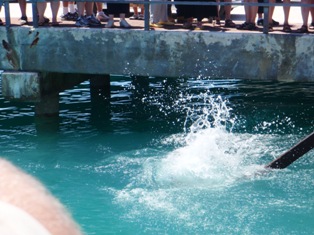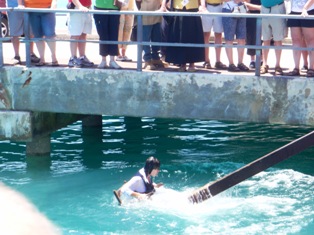 Before they left Mish and John presented us with a new game fishing rod and reel to replace the one stolen in Guadeloupe.
Before we knew it, we were waving goodbye to Mish and John and seriously looking for a good weather opportunity to head off to the Azores. We had several sources of weather information, the net, local 4 day look ahead surface charts and Herb. Herb is pretty much a legend in cruising yacht circles. For 30 years he has been providing weather and routing advice to cruisers throughout the Caribbean and Atlantic, from his base in Canada, over the HF radio. Initially we contacted him by email then by radio and remained in contact on a daily basis to get his view on departure options. On Wednesday 20 May the 38 ARC yachts left but Herb suggested we wait for a better opportunity. A couple of other yachts anchored very close to us, Amour De La Mer and September were also waiting so we decided to sail together. Finally, Sunday 24 May looked good. All stocked and fueled up, we set sail within an hour of each other around midday, initially heading North, North East with a light 6 to 8kn breeze from the East and forecast to veer towards South.