Melbourne Florida
Category: North Atlantic Ocean
Created: Sunday, 17 December 2006 16:21
Written by Roger Boxall
Hits: 1685
Melbourne Florida, Fitout
Melbourne fit out
We settled in at the Melbourne Yacht Club, many thanks to Garry Killian and the club caretakers Jack and Jackie.  I had to return to Australia for a medical appointment leaving Melbourne on 18 December for a one and a half day trip to Perth, 2 days in Perth and then one and a half days back again arriving in Orlando at 11pm 23 December 2006 to pick up the hire car for the drive back to Melbourne. My bags did not arrive until after Christmas so neither Sasha nor I had pressies for Christmas day. We did however enjoy "bloody maries and quiche" with friends Jane and Sean on board Gandalf, a 42 ft trawler.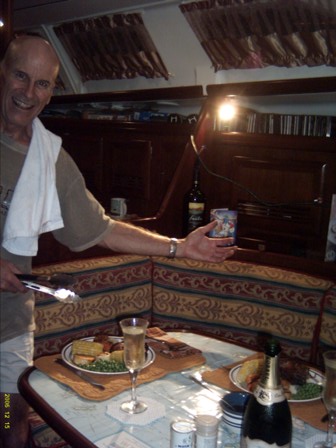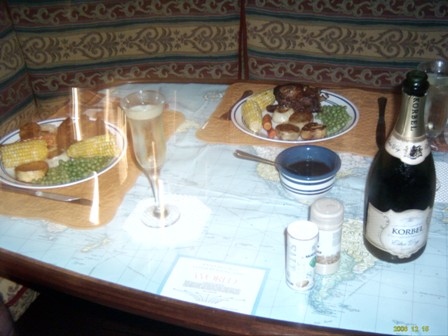 After a "few days off" it was soon back into fit out activity, the story of the washing machine!! It all began when we were first specifying our vessel. One of the must haves for Sasha was a washing machine. I did not think too much about it but on our initial 6 months of cruising the East coast of the US it soon became obvious. Even in the US where almost everything is readily available, chasing around for laundramats is not much fun. Then there is getting the washing to the laundramat, waiting for the wash and seeing, in many cases, that the materials are not properly clean anyway. After energy and water, it was the next biggest bug bare. Sure you can hand wash but for linen and heavy items it is a bit of a pain. In addition Ednbal is home and if we are to have energy from the generator and water from the water maker then why not wash.  Biggest trick is to find somewhere to put a washing machine and/or find a small enough one. We wanted to fit it in the aft cabin almost along side the generator. Since the aft cabin bed was almost 7ft by 7ft cutting it down by up to 2ft would not be an issue.
Sasha searched the net for small washer dryers in one. It soon became apparent that the standard small size was 850mm or 33 inches high. The most we had in the aft cabin was 700mm. Sasha eventually found two, Zanussi and Candy. Zanussi was 670mm high, perfect, but was now out of production. Candy was 700mm high, right on the border line and only available in Europe, 50 Hertz 220 volt, not ideal for our 60 Hertz 110 volt US made vessel.
While we were in Italy staying with Stef and Nicoletta wa saw a Candy machine and discussed it with Stef. Stef was very keen to get involved, he wanted to buy one, get a transformer 110 to 220 volt and send to us in Florida. Almost before we knew it Stef had sent us an email to say that washing machine and "custom made transformer" were crated up on their way via FedEx. They were addressed to us care of one of our friends in Melbourne, Brian Westmoreland, and scheduled to arrive late December.
Brian had gone North to visit family in Virginia for Christmas and returned 29 December 2006 to find 3 FedEx notes from FedEx trying to deliver the crate. The last one saying that being unable to deliver it was to be sent back to the sender. He immediately contacted FedEx and then drove to Orlando to rescue the package, all unbeknown to us. He turned up at FedEx in a SUV but the FedEx guy said it would not fit in an SUV. Undeterred, Brian, with the help of a FedEx fork lift, tried and succeeded in getting the substantial crate into the SUV and back to Melbourne. With the help of a few friends he unloaded in his garage and let us know that it had arrived!!
Next, Brian and Rich picked us up from the boat to have a look.  Dismantling the mammoth crate proved no mean feat. Stef certainly made sure all was very, very secure. With hammers, Jemmy bars and saw it took almost an hour to get the washing machine and transformer out onto the garage floor. In the mean time I had built a bed to mount it on in the aft port side of the aft cabin. Sasha and I figured we could get the washing machine down through the companion way, through the cabin door (with the door frame removed) and manouvre it into position. WRONG. All OK except we just could not get into position, even with the bed base removed. No amount of pushing, moving, shoving or cursing would do it. There was no alternative but to cut out a section of the port lazarette bulk head to slide the machine into place. After making the cut out we still had to take the machines lid off to get it into position and then put it back on again, just 1.5mm to spare!! The transformer mounted and water connections made we just had to give it a try. Apart from a couple of jerky movements of the washing cylinder, no go. Prior to putting it in we had sprayed all exposed metal, screws, hose clamps etc, with a clear sealant to minimise rust. I noticed that the motor had a commutator indicating it was a DC motor, probably driven by a DC drive so we weren't too concerned about frequency. After exhausting all other possibilities I wound back the governor on the generator to 55 Hertz and bingo away went the washing machine! Over the next few days Sasha tried most of the machine's different cycles as she got through the washing that had built up over the last few weeks. Finally we had an operational washing machine on Ednbal.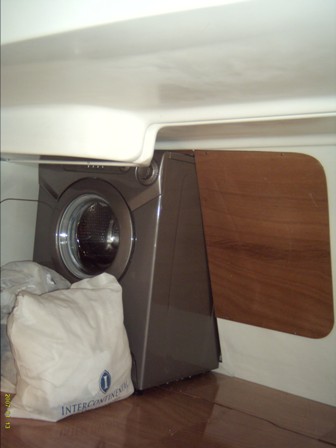 Have a look at dedicated Washing Machine Photo Album page to see more exciting details.
Next the water maker. This was a relatively simple installation, following the Ech2oTec instructions and diagram. For us, it was more a case of ensuring that once connected we had reasonably easy access to change filters, clean strainers and read gauges.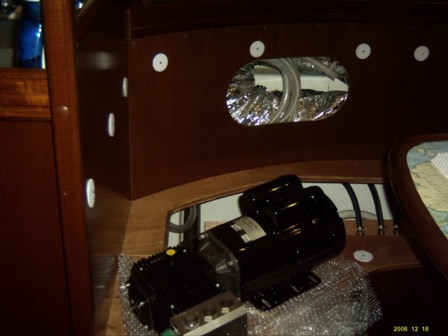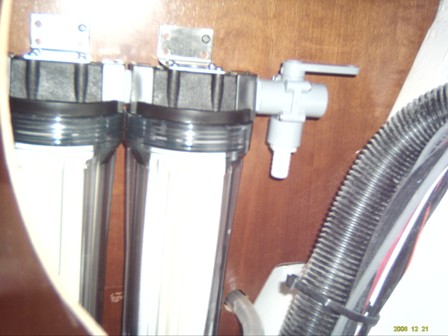 After mounting 8 items, making about 20 different hose connections and connecting the AC power the unit was, on 19 Jan 07, ready to test. We had, at the time of purchase, been advised by Ech2oTec that the continuous load would be 500 Watts so I expected around 5 Amps.  So, I was surprised when the 15 Amp circuit breaker tripped. Sasha pointed out that the manual said 17 Amps. In the short time the unit ran we made about 1 gallon of water that we ran into a bucket from the sample water outlet. So with no visible leaks we declared it operational. On 21 Jan I put in a 30 Amp breaker and tried the water maker again.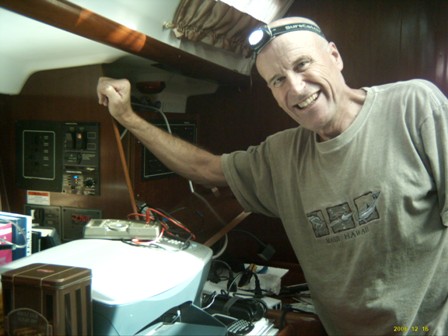 It started up, I increased the membrane pressure but no water came out of the sample water outlet. Suddenly I remembered I had not taken the cap off the outlet. After taking the cap off I restarted but no water, not a drop.  In the manual on large bold capital letter print it said " CAUTION: UNDER NO CIRCUMSTANCES SHOULD THE PRODUCT WATER LINE BE ALLOWED TO BECOME BLOCKED WHILE THE SYSTEM IS RUNNING. DO NOT INSTALL SHUT-OFF VALES. ANYWHERE IN THIS LINE". By having a cap on the sample outlet and the product water switched to sample then I had the product line blocked, how could I be so stupid? I only put the cap on to prevent any drips, seems it may be very costly. We sent an email off to Ech2oTec seeking their resolution! The next day the answer came back, good news, run it again and wait a while all will work. We started up the generator and turned on the water maker, in a minute or so product water was flowing at 20 gallons or 75 litres per hour, I felt a lot better.  Just in case, however, I drilled a hole in the sample water cap!!!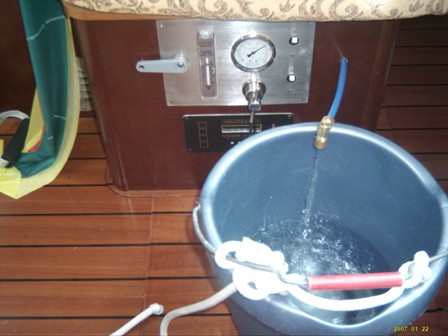 One of the packages sent to Willy's place was from Australia.  Sasha's Mum had been sewing for us and Ednbal – new fender covers and a riding sail.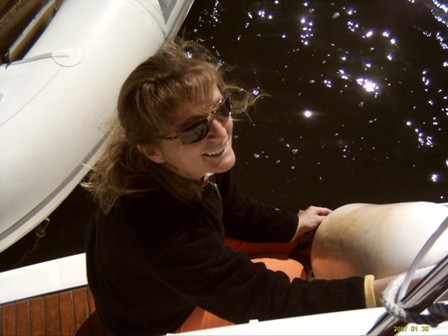 As with many sailing vessels that have a fin style keel and are relatively beamy, Ednbal is inclined to swing quite considerably at anchor, up to 60 degrees to the wind. The riding sail fits to the back stay and acts to limit the swing at anchor. Sasha's Mum did a fantastic job and it works a treat!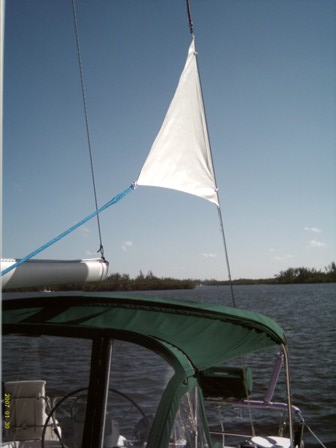 Another installation, largely to meet the requirements of the first mate, was the Bose speakers. We spend a considerable amount of time in the cockpit and, weather permitting, had all our meals there in the open. The standard cockpit speakers are not real flash so we decided to really splurge and install a pair of Bose, fully enclosed speakers.  The 301 Bose have their resonance box mounted as part of the speaker assembly to give a constant reproduction quality no matter where they are mounted.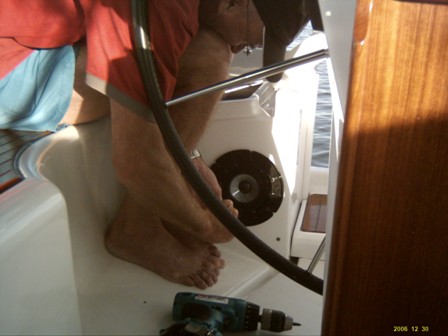 I was, and still am, a little sceptical of this especially as I could not pick a significant improvement in the sound from the Bose compared to the originals.  I think Sasha is also somewhat disappointed. On the other hand one of the real installation successes was the spice rack.  We had seen, in one of the retail spice stores in Maine small stainless steel spice containers with plastic magnetic strip on the bottom to enable them to "stick" to a steel material. Sasha later found them on the net and ordered. When they arrived she made "Ednbal" labels with the name of the spice and an Ednbal animation on ech one. The trick was to find some coated steel that we could fit to the timber gally walls to mount the tins. We found some Teflon coated oven baking trays that fitted exactly 24 tins each. I mounted the trays above and to the side of the microwave. We then had immediate access to all, well most anyway, spices required in the galley.