Elizabeth City to Oriental
Category: North Atlantic Ocean
Created: Monday, 20 November 2006 16:19
Written by Roger Boxall
Hits: 1524
Elizabeth City To Oriental
Elizabeth City to Oriental
After an early night we up getting ready for the 60 miles to Pungo River, our mid way stop to Oriental, while it was still dark.  Unfortunately it did not get very light as there was a very dense fog all around. The weather forecast estimated the fog lifting by about 9:30 but this would not give us enough time to get to our planned anchorage, there would have to be a change of plan and another day to get Oriental.  Around 9 two yachts left their slips. At 9:30, still with dense fog, two others left so we decided to "risk it too".  We untied Ednbal and heade5 off on Sasha's GPS route with visibility less than a couple of hundred metres.  It was dead still and the wake of the two vessels in front of us was visible but we could not see the vessels.  I followed the GPS course and kept an eagle eye on the echo sounder registering about 13 feet most of the time.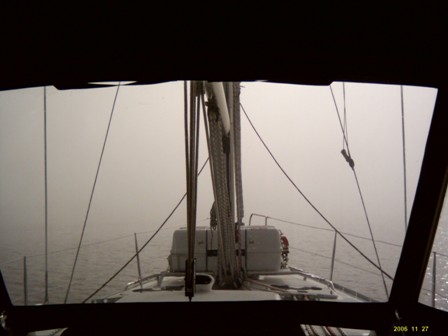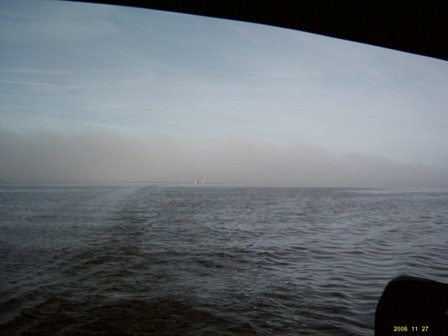 Slowly I increased speed from 4kn to 6kn as we moved further out into the river, then at 10:20 the fog suddenly cleared, virtually in a matter of seconds. With little wind, I had the headsail out a half hour or so, we followed the route into Alligator River and on to the Alligator River Bridge which is some 2 miles long with a big swing bridge section in the middle to let boating traffic through. In the lovely sunshine, with Rick, the autopilot looking after Ednbal, we started polishing the deck and completed a couple of sections. Ednbal's deck was last polished in Melbourne Florida over 6 ago so was starting to look a bit shabby.  By 4:30 we were at our revised anchorage , Tuckshoe Pt at the mouth of the 20 mile long Alligator River - Pungo River Canal. The evening was cool but not cold so, after a lovely hot shower we sat in the cockpit for an evening beverage virtually in the middle of nowhere, the nearest wooded shore about half a mile away,  watching the last rays of sunlight disappear on a clear still night.
Fog was again forecast for the next day Tuesday so we did not plan an early start. Early in the morning Sasha said it was foggy so I was in no rush to go outside but when I did, just as the sun was rising, it was as clear as a bell - women, can't trust them to do anything! A couple of yachts went past as we hurriedly got underway before breakfast.  Within a 15 minutes we were into the 20 mile long  Alligator to Pungo River Canal. It was wide, over 50 metres and deep, mostly over 15 feet so I had the autopilot on "tracking".  In tracking, Ednbal automatically follows the current GPS route, giving a visual and audible signal when the next way point is reached but will only change course when the skipper hits the OK button.  The canal was almost dead straight so the only thing really required was to look out for floating debris, mainly tree braches and logs while eating another of Sasha's gourmet breakfasts - this time French toast using egg mixed spring onion and chervil, fried banana and sausage. Other than a couple of big barges, pushed by tugs, going past the other way, no problem. The canal opened up into the Pungo river where we had the current with us and started to consider that we may make it all the way to Oriental.  After checking carefully the remaining route lengths, by maintaining at least 7kn, we could make it before sunset, 5pm.  I upped the engine revs to 3200 and we sat on between 7.5 and 8kn as we entered the next canal taking us into the Neuse River where Oriental is located. The Neuse River is wide and open so took the opportunity to have Rick look after navigation while did some cleaning. I scrubbed the cockpit floor and swim platform while Sasha shook out the mats, washed the cabin floors and polished the transom. Had to have her looking presentable for Oriental as this where she was when we bought her. By 4:15 we were heading down the channel into Oriental hoping that one of the two free town docks may be vacant for us to use but no such luck. By 4:30 we anchored and settling in for the night. Exciting times, tomorrow we see our generator and whether i.e. will fit onto the bed I have prepared for it!.