Start of Fitout
Category: North Atlantic Ocean
Created: Tuesday, 07 November 2006 16:17
Written by Roger Boxall
Hits: 1908
Start Of Fit out
Start of fit out
Before we had left for Oz we had ordered a number of items to begin fitting out Ednbal for long term cruising so, in addition to those sent to Bill that we picked up before we left, we now had even more:
2500 Watt Victron

 

inverter/120 Amp battery charger,

4 tank monitor (2 for water, 2 for holding),

Raymarine E80 Colour chart plotter,

Raymarine 125 GPS (bringing to 4 the number of GPSs on board).

Surflo variable speed water pump,

ACR 406 EPERB with built in GPS,

Fender cover kit (Sasha to sow),

Zodiac 6 person Solas A Ocean life raft,

Chart books for Bahamas and Caribbean,

and, waiting for us in Oriental North Carolina the 5kW Northern Lights generator and 25 gallon per hour water maker (desalination unit)

Then after our return we ordered and received 2 additional diesel fuel tanks (11.5 gallons each)
All we had to do now was install it all!!
The most critical job was to make ready the location for the generator. In general it was to go where the aft cabin air conditioner had been but the generator was somewhat larger and would protrude out some 8" (200mm) into the aft cabin.  Given the size of the aft cabin this was not an issue however it would weigh, with its sound enclosure, some 450lb (200kg) so the base had to be substantial.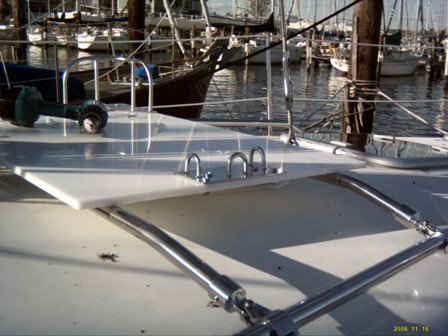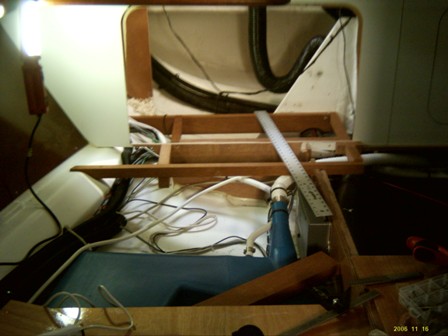 We planned to do as much installation preparation as possible while waiting for some new medication for me to arrive via DHL from Australia. The medication was supposed to have arrived in Oz in time to bring with us but did not arrive until 8 hours after our plane left. My sister Helen packed it in an esky (cooler) with frozen blocks (it was to be kept between 2 and 8 degrees C) and dispatched with urgent DHL, 48 hours to me in Maryland USA. It arrived a little over 2 weeks later - DHL lost the paperwork provided in Oz and couldn't tell me what they needed to clear customs, then sent it to the wrong place. So much for reputed international couriers!  At least we were in a very nice marina with all the facilities and the AC going twenty four seven keeping us warm in Ednbal when it was bitter outside.  It took almost all the time to make the base for the generator, install the fuel tanks, fit the like raft and fit the outboard crane.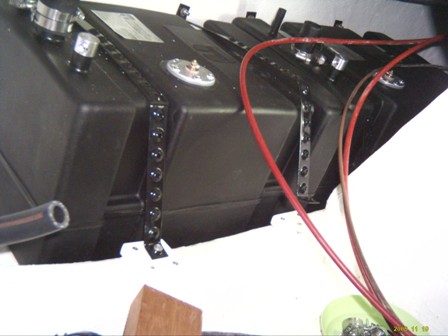 Finally, after the medication arrived me made ready to sail South to, hopefully, warmer weather.
A little before 8am on 21 November we left Zahniser's but were back less than an hour later - the autopilot was not operational. During the construction of the generator base I had the floor up where the course computer is located and had been working around the linear drive that drives the rudder so these were the likely places to look.  I found one of the linear drive wires had come out of its terminal in the course computer terminal block. Off we went again, only to return once more with the autopilot registering an error message "no data".  This time I found a wire from the fluxgate compass had been dislodged from the course computer.  A thorough check of all wiring then took place!  Finally at a little after 10am we set out into Chesapeake heading for our overnight stop at Deltaville, about half way to Norfolk Virginia.