Chestertown to Solomon Island via Europe
Category: North Atlantic Ocean
Created: Tuesday, 17 October 2006 16:16
Written by Roger Boxall
Hits: 1751
Chestertown to Solomons and trip to Oz via Europe
Chestertown to Solomons and trip to Oz via Europe
After a beautiful still clear night the breeze came up in the morning to around 20 knots, unfortunately fairly much from the south, the direction of our next leg to Chestertown.  This time we had a little current against us as we left a little later than the ideal, and were sailing close hauled. Our route down the Chesapeake essentially followed the shipping channel but this day we saw very little in the way of larger vessels.  By early afternoon we at the mouth of the Chester River but still a couple of hours from our planned anchorage.  Planned it very much was!  Our new hand held GPS and VHF radio also came with the maps of the US compete with the search software so Sasha had downloaded the info for Maryland and plugged in the address of a relative - Bill Lewis 7637 Quaker Neck Road Chestertown. The GPS showed it close to Quaker Neck Landing so that was our planned anchorage so that we could take our bikes ashore and ride to Bill's place. By early evening we were anchored directly opposite the Quaker Neck Landing jetty and planning the next days visit to Bill.  
The following morning we packed the bikes onto the dingy and set off. Religiously we followed the GPS route to where the software showed 7636 Quaker Neck Road just 1.5 miles from the landing.  However there was no house, but more like rural land where X marked the spot on the GPS.  We checked with the occupants of a nearby house No 4213 to find the best was to head along Quaker Neck Road towards Chestertown and we would find 7636.  Some time and 12 miles later we got to 7636 but no one was home.  Perhaps I should explain that Bill is the son of my Mother's first husbands sister, Jean so no blood relation to me but I had a hear a lot  about Bill, his wife Doreen and two children from my half brother and sister, Bill's cousins. We left a note at Bill's door and continued on bikes to central Chestertown, about a mile further down the road.
The town library had wireless internet so Sasha did the usual updating of financials and we received and sent email. By now it was late lunch.  From so many people we had heard recommendations for Chesapeake crabs and had seen a couple of restaurants by the water while riding in. After a short scout around we found A spot with a sign outside advertising fresh steamed crabs. We were not disappointed!  Lunch of crab, a couple of beers in sun on the balcony overlooking the Chester river.
Partly sober we headed back along Quaker Neck Rd to Bill's place but no one home. By now it was mid afternoon so we decided to ride back to Ednbal and relocate right up the river to a spot about 200 yards from Bill's house, opposite the Chester Yacht Club. Later that evening we took the dingy ashore and finally caught with Bill.  His son had seen our note but not passed it on so it was still a surprise for Bill.  Over the next two days we caught up with family and picked all the gear that had been delivered to Bill's place for us.  Bill had a hectic schedule but he and Doreen visited us on board for drinks and nibbles Sunday evening. On Monday Sasha was planning to have a hair cut but after listening to the forecast we decided to get going with following winds and outgoing tide we hoped to make the 80 miles to Zahniser's Yachting Centre on the Western shore of Chesapeake Bay at Solomons Island.  Here Ednbal would be left while we returned to Oz, via Italy and Croatia, for a month.
En route we were aided by a good current and passed under the huge double bridge that spans Chesapeake Bay to join Annapolis to Eastern Bay.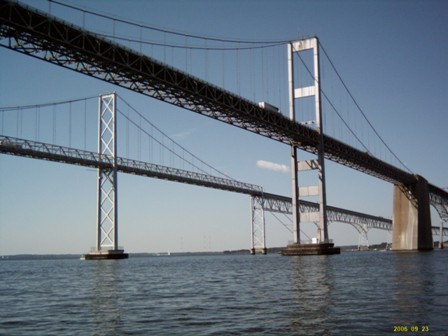 By late afternoon we had Ednbal in her slip at Zahniser's  with two days to spare before having to catch the plane from Ragan National in Washington DC. Initially we had Ednbal bow in but the next day turned her around and secured her with 10 lines, e forward, 4 springers, and 4 aft. We soon found Zahniser's to be the best Marina we had been to. Friendly, helpful, knowledgeable staff, clean facilities, full vessel repair facility (metal shop, carpentry shop, mechanics shop as well as fibreglass and paint), extensive chandlery and very well protected from the weather. We didn't even have to get our bikes out, Zahniser's provide free of charge.  In addition the small lounge has free wireless internet and fresh brewed coffee.  Within half a mile there is a shopping area with Westmarine, grocery store and, best of all, a fresh sea food market, where on several occasions we bought steamed crabs and freshly shucked oysters.
Before we knew it, it was 5 October  we on our way to the airport, not really wanting to leave Ednbal, now very much our home. We flew Washington, Miami, Heathrow, (then bus to Gatwick) and on to Venice where Shtef, an old friend of Sasha's picked us up and took us to his home in Schio Northern Italy.  By the time we arrived it was after 10pm but still Nicoletta and daughter Nika had a traditional 5 course Italian dinner ready for us all. It was simply magnificent. I found their hospitality almost overwelming, hard to believe people can be so generous, open and welcoming.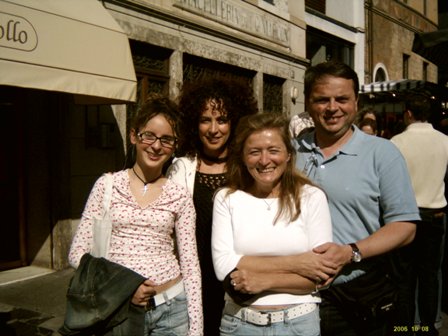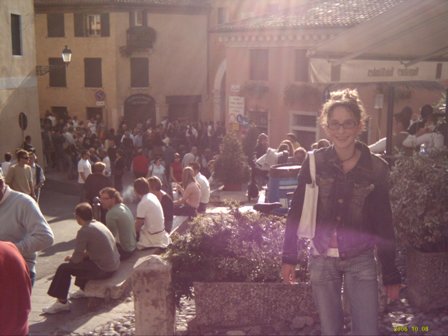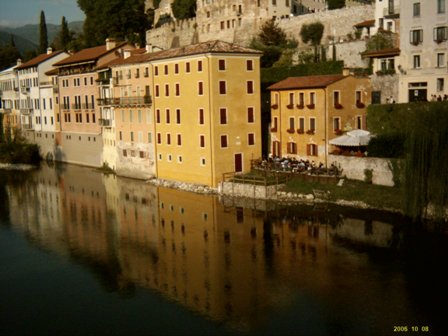 Shtef and Nicoletta spent the whole weekend showing us the sights, Schio, Vicenza, Bolzono, Marostica and Thiene before Shtef delivered us to the hire car joint to pick up our huge Fiat Panda, 1.2 litres, about 2m long, what a go machine, to drive about 500km to the island of Krk in Croatia.
A dear friend of Sasha's, Zoran (her first real boyfriend) lives in Krk and he met us in the town centre so that we could follow him to his house.  There we met his wife Mira and son Evan, 17 months. As in Italy we were again treated magnificently. Zoran took time off work to show us the Island. I was hugely impressed with the whole island, somewhere we would have to come back to in Ednbal.  We had lunch on the edge of the water at a beautiful little local restaurant, I had black risotto (the black was from being cooked in sqid ink). Back at Zoran's house we were treated to some of his hobby/relaxation, music played through a most spectacular stereo system. I often heard Mira say ""dodji"" to Evan.  It caught my ear as it sounded like dodgy. When I asked, Mira explained that it a word used to call a child to come to you. I was very soon saying dodji Sasha, much to her displeasure!!  Dinner was an enormous banquet at small local authentic Croatian seafood restaurant, the very best in local fare.
Next stop was Zagreb to catch up with a couple of Sasha's old uni friends,  Kris and Ksenija what an emotional meeting that was!  The 3 girls talked non stop the whole next day although Sasha had some trouble losing her voice with a cold she had picked up.  After staying in Kris's apartment in central Zagreb we were soon on our way back to Italy to stay one more night at Shtef's before flying out to Perth.
We spent two and a half weeks in Perth and just did not stop. Caught up with family and friends, attended to business that had built up over the last year, medical check ups etc etc. One of the highlights was a day trip to my childhood town of Kondinin to meet with siblings and lay Mum's ashes to rest at the gate to the farm "Glemore". It was a most enjoyable day catching up with pats of family I had not seen for years and for Sasha to see the farm I had described to her. Before we knew where we were we were back on a plane heading home to Ednbal.  We picked up a hire car in Washington, took a wrong turn on Interstate 95 but finally got to Ednbal at 3am on a very cold 3rd of November.