Maine to Chesapeake
Category: North Atlantic Ocean
Created: Sunday, 17 September 2006 16:15
Written by Roger Boxall
Hits: 2154
Maine To Chesapeake Route
Getting South to Chesapeake
One of the reasons that we decided to outlay significant funds, $30, on a mooring was to take advantage of Boothbay Harbour Yacht Club facilities, namely very long hot shower! We packed up our gear and headed for shore on a fairly dismal afternoon and found the showers around at the back of the Yacht Club building. In we went, only to find my expectations dashed, the water only luke worm. I had a shower and still shivering, dried off and put all the clothes I have taken ashore.  Shortly after I met up with Sasha outside, prepared to be quite pissed off if she had a hot shower, but is seemed that the water came from the same system, she fared no better than I. Next morning we moved off the mooring and dropped the anchor, only 30 or so meters away and went ashore to have a look at the city centre. Another beautiful old fishing village that, like so many others we have seen, had many buildings and items of the historical significance well restored. Another Wi-fi internet enabled coffee café was found so that we could download e-mail and access the net. Sasha had placed an add on the Beneteau 393 user group to try and sell our aft cabin A/C unit, and we used this opportunity to "close the deal" selling it to one of the other active user group members, Jim Kane. We arranged to meet Jim at our next port of call, Portsmouth, New Hampshire where he would take it out of the boat.
After some deliberation we decided on a slight change of plan and instead of a long seventy to eight mile trip to Portsmouth, cut in half and spend a night in Woods Island Harbour, Fletcher's Neck, part of the Saco Bay, south of Portland. The next morning we continued our trip to Portsmouth, arriving just after midday and anchored close to the mouth of the river at Kittery Point. Town dock was located about two to three miles up the river which has a reputation for significant tidal flow, around four knots and as we had arranged to meet Jim at the town dock, we first took the dingy to check it out. The reputation was well founded. There were swirls, whirlpools, and rapid changes of direction all over the place, impossible to keep the dingy on a straight course. We found the town dock, opposite the shipyard and adjacent to Prescott Park, an area of about half mile square with beautiful well kept lawns and garden beds. After a quick scout around we found the small visitor's centre booth on the other side of the park. It was maned by an older volunteer who was extremely helpful in providing us brochures and information about points to see on foot around Portsmouth including a local microbrewery not far away in Market Street. He also directed us to the nearest Laundromat so with two big bags of washing we set out for the five or six block walk. When we arrived at the block that was supposed to have Laundromat none were to be found. We asked directions of a lady walking to her car and she insisted on giving us a lift as the Laundromat was about a further one mile away. Patty was a lovely lady who dropped us off at the Laundromat and picked us up an hour or so later to deliver us back to the dingy. After stowing the washing in the dingy, we visited the pub earlier recommended to try a couple of pints of the local stuff. While there we saw a guy walked out with a gallon bottle, flagon beer. It turned out that you could purchase these large bottles and return them for refills. After perhaps a pint too many and bowl full of French fries, we made it back to the dingy at dusk. Once back on Ednbal, Sasha checked the tide and currents for the next day so that we could get a free ride with the current up to the town dock.
Jim was to meet us at around ten am, so we had an early start and we were tied up at the town dock by eight o'clock to test the A/C which had not been run since we left Florida. As Murphy would have it, of course, it would not run! The A/C itself ran OK but the raw water pump that provides sea water to the condenser would not operate. I had just begun to investigate when Jim rang to announce he would be arriving almost an hour early. Jim duly turned up with two of his friends, Ray and Earl and was quite happy to take the A/C as is. A couple of hours later the A/C was out and the guys were on their way after inviting us to visit Mystic, on the Northern Shore of Long Island Sound, a few miles west or Rhode Island. By the time we had finished at the town dock the current had conveniently changed direction to give us a free ride back to the anchorage at Kittery Cove. Sasha put together the voyage plan for our next stop at Marblehead, just south of Salem and North of Boston, and we left Portsmouth at 8:45 on 7th September for the 50 mile run to Marblehead.
With a light North Easterly we were able to sail most of the way, dropping anchor shortly before 5 pm. A few notes about boating, in this part of the world, are warranted. The first thing that stands out is the sheer number of vessels, and Marblehead was no exception. The small bay was a mile or so long and about half as wide. A path from a narrow channel, maybe twenty meters wide, the whole bay was taken up with moorings and boats, mainly sailboats. There would have to have been over a thousand in this one spot alone, ranging from ten or fifteen feet to almost a hundred feet.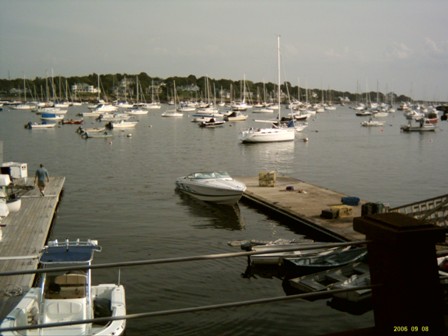 Secondly, there is a significant emphasis on assisting boat owners to overcome the temptation to pump their sewage overboard. The state of Massachusetts provides free sewage tank pump outs, even to the extent of a pump out launch coming to your vessel and pumping out your tank into theirs. The pump out launch employs a large engine driven diaphragm pump to suck your vessel's tank content into its own. To further assist in any temptation to pump once own sewage overboard there are the environmental police. On a couple of occasions we saw launchers maned by uniformed personnel with Environmental Police in big letters along the hull. Apparently they can board your vessel, put some dye into the head, pump it and see if any dye goes out into the water. If so, you are liable to a fine of up to $10,000.
The shoreline of Marblehead was entirely granite with numerous houses built right to the edge of huge granite rocks that rose vertically from the high water mark.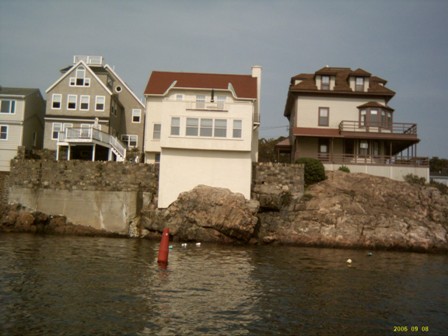 On shore we found a very much marine centric community. With sail makers, marine stores, boat lifters, Yacht Club, and marinas abounding. Sasha was particularly taken with the immaculately cultivated flora. Many houses had large displays of flowering plants and almost every window seemed to have its' own window box full of colour. It was however noticeable that autumn, fall, was not far away, as many of the tree leaves were already beginning to darken. After a stock up of fresh food, a couple of beers sitting on a veranda overlooking the bay, we returned to Ednbal.
Sasha had put together a voyage plan for the next day that would take us to Plymouth and then onto Marion via the Cape Cod Canal.
We were under way before 7:00 and making a good progress to be off at Plymouth before 1:00 pm, so after checking that we could easily reach Cape Cod canal and have current with us going through we decided to continue and make it to Marion before nightfall. By a little after three we were in the Cape Cod Canal with a current of 4 knots helping us to reach SOG (Speed Over Ground) of 10 knots. Sasha had pointed to comments in the cruising guide warning of conditions experienced in leaving Cape Cod canal into Buzzard's Bay with the current but against a South Westerly wind. By now wind was up to 20 knots from the South West and we would be shooting out of the canal with a 4 knot current. True to the warning, we were confronted with almost vertical waves 4 foot or so. As we made our way up the Hog Island channel into Buzzard's Bay. Ednbal was lifting her bow clear of the water then crashing into the next wave with water running all the way up to deck and a couple of times over the dodger. Three quarters of the way up the channel, when at one point we were making only 2 knots, I was inclined to return to the anchorage of Onset at the mouth of the canal. Sasha however felt that since we could soon alter course and have room to move outside of the channel, we should continue on to Marion. Another reason for carrying on to Marion was its very well protected harbour and with weather warnings of large swell from hurricane Florence passing a couple of hundred miles to the east of us, Marion would provide safety and comfort.
Under engine and no sail I tacked Ednbal so that we were not heading straight into very steep seas, which made life far more comfortable. By close to 6 o'clock we were anchored in outer Sippicon Harbour close to Marion township.
By this stage it had been over three weeks since we refuelled and with both of standby 5 gallon jerry cans empty, we needed to refuel. The only refuelling point in Marion was at Burr Brothers boatyard at the far end of the inner and shallowing harbour. We weaved in and out of the red and green markers of the very narrow channel that eventually ended at Burr Brothers, where we had to wait for another vessel that was already refuelling to leave. The manoeuvring space was limited to say the least. Immediately in front of refuelling dock was another floating dock with boats tied to it. This left just over one Ednbal boat length to turn around which we managed without sustaining damage or running aground! After taking on nearly 40 gallons of fuel, and refilling the water tanks, we made our way back up the harbour and found the anchorage area just inside Ram island where we dropped the pick along side a New Zealand registered 50 foot ketch ("Long White Cloud"). Steve and Paula onboard the timber "Long White Cloud" had left NZ six years ago to arrive in the USA via Australia, South East Asia, much of South Africa, across the Atlantic, South America, the Caribbean's, and Canada, and they were working their way down the east coast of US. We had quite a long chat on board White Long Cloud and picked up several pointers about navigation software and the conditions in and around Caribbean. Having been cruising for six years Steve and Paula were considering their options and thinking of selling Long White Cloud to do something else.
While at Marion we changed Ednbal's engine oil. We had been waiting for an e-mail reply from Yanmar regarding the frequency of engine oil changes. One of our manuals recommended 150 hour intervals while the other 250 hours. Since our engine is used regularly and we settled on the use of full synthetic lubricants I believed 250 hours should be more realistic so as it has been 230 hours since the last change, we replaced oil and filter. Our last oil change had been a bit of messy affair, using a hand pump supposedly designed for the job, from West Marine, that leaked oil all over the place. In the meantime we found a small electric drill powered pump again specifically designed to pump warm engine oil.  This time it worked like a dream, using our battery operated drill. The Yacht Club in Marion, Beverly Yacht Club, was most hospitable to us and we spent some time sitting in their lounge  near the open wood fire (of course not real wood but it certainly looked that way) working through our business on the internet. They had a lovely hot shower that we stood under for quite some time! It is from this Yacht Club that bi-annual Bermuda race is run so at those times it must truly be hectic.
After spending three days, somewhat rainy and cool, relaxing in Marion we headed off to Newport Rhode Island primarily for the Newport Boat Show. We were lead to believe that this was one of the biggest sailboat shows in the US, with many equipment manufacturers providing significant discounts, or so called "show specials". As we were entering the anchorage at Newport, we called Escape II, Bridgette and Willy, whom we had met at North East Harbour, on channel 16 as they had intended to make Newport as one of their stops. There was an immediate response from Bridgette to say that they were anchored in the Brenton's Cove which was where we were headed. Brenton's Cove is one of the few areas not completely taken up with moorings. In common with most other town ports and harbours we have been into, Newport is chock a block with boats of all shapes and sizes right up with huge luxury mega-yachts. We managed to find a spot in 20 feet of water that we thought it will give us enough swing room and a couple of boats away from Escape II.
When Jim Kane saw us in Portsmouth, he had given us a contact for some free boat show tickets, so the following day, the first day of the show, we went ashore to see if we can find them. Luckily we began well before the show opening time and after asking directions a couple of times, found a booth where our vendor supplied tickets were available. Armed with the show guide we went to a small coffee shop and started marking up locations of various manufacturers whose products we wished to see. The next two days we spent talking to suppliers and establishing best prices for the equipment that we needed, most of which was available from multiple manufacturers so competition was good. By the end of the second day, we had eyeballed most of the equipment on our list, and had decided pretty much what we will purchase. In most cases the manufacturer representatives gave indicative pricing but sent us to their dealers for final pricing. We found that one of the bulk suppliers, Defender had most of what we needed, extended the show specials and beat most other dealers for price. We left the Defender booth with our list of equipment for them to provide best pricing and delivery to Solomon Island in Maryland, Chesapeake Bay where Ednbal will be fitted out on our return from Australia in early November.
Escape II sailed out of Newport to head straight down to Cape May, two or three days sail. Long White Cloud came in but was experiencing refrigeration problems and was waiting for the refrigeration's mechanic to attend. On 17th September, we made it early 6:45, start for our first leg down Long Island Sound to the village of Mystic. We sailed a little but mostly motored, came passed many recreational fisherman and decided to put our trolling line with a skirted lure. A couple of hours later, a large, 50 foot or so, launch went across our stern before I noticed and that was the end of our fishing for the day. The lure that had caught our last three fish has gone! As we entered the eastern end of Long Island Sound we soon began to drop the speed over ground with at least a knot of tidal current against us. By little after one, we were anchored next to Mouse Island at the mouth of the Mystic River Harbour. We took the three mile or so dingy ride, again through many hundreds of moored vessels to the village centre and dingy dock. Mystic is a somewhat more of a tourist attraction than other spots we had seen in the recent past, although the village centre and riverside boardwalk were indeed most attractive. Without great hesitation we decided that the short look around was enough and we would continue our general Southward journey the next day.
Now it was Monday morning and we were up getting Ednbal ready to depart by 6 am. After clean up, engine check, weather forecast check and coffee we were under way by 6:45. Weather forecast was for a sunny day with cloud developing and southerly winds of 5 to 10 knots. Sasha's course for Port Jefferson was pretty much in a Westerly direction so with bit of luck we may have been able to sail some of the 58 mile route. Within an hour however, after passing a US submarine, we found ourselves in dense fog.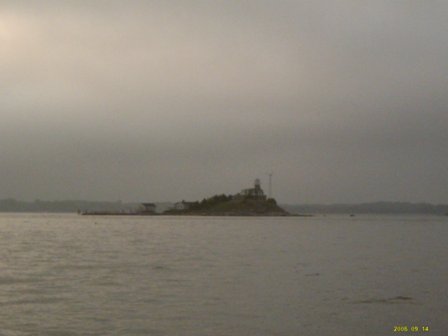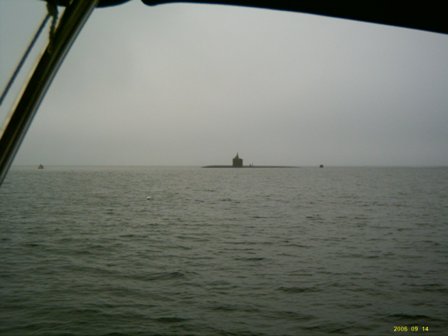 As soon as we turned the radar on we could see a large ship approaching on our port side. With fog horn sounding loudly every two minutes the ship passed less then a quarter of the mile away, but we did not make visual contact at all. It is pretty obvious why almost every vessel in the North East of the US, from even relatively small runabouts, has radar as standard equipment. By late morning the fog has lifted but still visibility was less than a few miles and remained that way for the most of the rest of the day. The breeze started South West, swung to South, died out completely, swung to North, died out completely, swung to East and by the time we got closed to our destination was around the South East, most of the time less than 5 knots. We motored all the way! Responding to my frustration about not being able to sail, Sasha noted my comment:"We'll wear the engine out!" in the log book. In response to the light winds we placed orders for two items of equipment seen at Newport boat show, a North Sail 900 square foot asymmetrical spinnaker, commonly known as APS (All Purpose Spinnaker) and Autostream feathering propeller.
One major positive however was that we were no longer cold. It was finally shorts and T shirts weather!
Port Jefferson was another long narrow harbour area although somewhat larger than the others we had been to recently, a couple of miles long and mile or so wide. It was largely shallow with a channel that was long and narrow having been dredged to 30 feet and about 100 meters wide to allow the numerous car carrying ferries that seem to ply across Long Island Sound. It was low tide but we came along side one of the marina docks to find the dock 12 or 15 feet above us. It appeared there was no water available and pump outs were not bot being conducted for another two days and there was a cost of $30 into the bargain. We anchored in the outer harbour area and the next day took the Ednbal into the Yacht Club where they had a floating dock and water available. We had tried to contact Yacht Club on VHF but there had been no response. As we came along side three men came to us and the harbour master made it very clear that the dock was for Yacht Club members only, however it would allow us to stay long enough to only take water even though there were no boats at the dock whatsoever. Decidedly unfriendly. It's funny how some villages or towns seem far more friendlier than others, when we went ashore asked direction we received similarly unfriendly response.  
Our next stop, some twenty miles further West on the Long Island Sound was to be Oyster Bay also on the eastern Long Island shore. It was a lovely sail virtually the whole way to Oyster Harbour where we dropped the anchor at the back of the mooring field, next to a British vessel. Shortly after we had settled the British Yacht Shian weighed anchor, swung passed our stern and skipper asked whether we are travelling south. We confirmed and he suggested we catch up at Sandy Hook bay, just South of New York and cruise overnighter down to Cape May. He apologised for leaving but had been invited to the local Yacht Club. Ashore we found Oyster Bay to be a lovely looking and friendly place. We found internet connection at a small coffee shop and were able to catch up on business! Armed with several bags of groceries, we haded back to the dingy but found that the gate in the fence along the railway line, that ran between the shore and the town had been locked. After walking up and down the fence for away we decided the only course of attack was to scale the fence and jump over. Dinner was fresh steak on the bbq with somewhat cremated vegetables, also cooked on the bbq but in the dark.
By now we were beginning to judge our timing for the critical passage down the East River on the Southern End of Long Island and notorious Hell's Gate area. We decided to anchor as close to the mouth of the East River as possible, so the next day we sailed, virtually the whole way to Throgs Neck and anchored almost directly underneath the highway 295 bridge. Although it was noisy it was at least out of the way of the significant East River currents.
The Waterway Guide recommended we arrive at the Hell's gate bridge about 15 minutes before slack water in order to ride the ebb current through to Manhattan Island. Leaving Throgs Neck at 9 am will give us a little under 2 hours to make 8.5 miles down the East River to Hell Gate.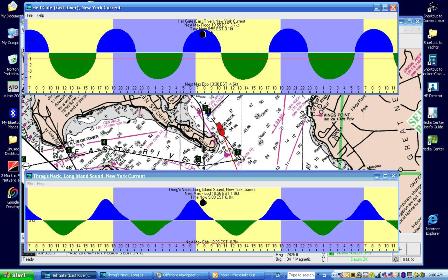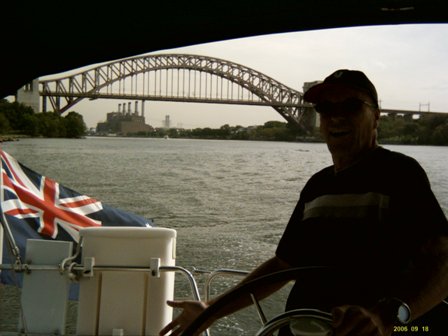 From the time we entered the East River; we had some current with us and were able to make our way gently to Hell Gate bridge. After hearing so much about eddy currents and swirling waters around the Hell Gate area we were hugely disappointed! We glided through with about a knot of current with us; it was far more comfortable that many other areas we had been into.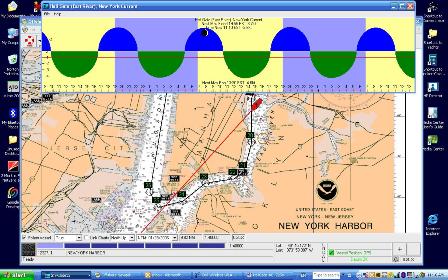 Our intention was to make our way around the Southern tip of Manhattan Island and up to the mooring field at West 79th street boat basin in the Hudson river for a second visit to New York. By midday we had secured our mooring and were planning visit ashore to pick up tickets to a Broadway Show from the discount booth in Time Square. Being now experienced New York subway travellers, we purchased all day Metro pass and made it directly to Time Square without missing a beat. We eventually found the ticketing offices that had been temporarily located to the Marriott hotel (thanks to Rich's advice earlier received by e-mail) and started scanning the board for shows currently on. The discount ticket offices open at 3:00 pm to provide up to 50% discount on tickets for shows that night. There were about 15 Broadway and seven or eight off Broadway shows to choose form. I left the decision entirely in Sasha's hands. We ended up paying a small fortune to see The Drowsy Chaperone starting at 8:00 pm. From there we headed to Chinatown to replenish our Asian cooking supplies mostly powdered coconut milk. We found a couple of Chinese grocery shops and stuffed both our backpacks with goodies, at a fraction of the price we had seen in other regular supermarkets. After a very quick but delicious Chinese meal we headed back to Ednbal for shower and change and the Broadway show.
It was a very fine schedule but we did indeed make it to the show by about 10 minutes to 8. We found our seats in the very back corner, well not quite, but at least we had a full view of the stage. Two hours later as we were walking back the subway we both agreed that we had at least seen a Broadway show but were somewhat disappointed.
After getting off the train at West 72 street we had a short walk on the Broadway to 79th street dodging mounts of trash but also finding an extensive fresh food market. It was very convenient to reprovision on the fresh food on the way back from the show.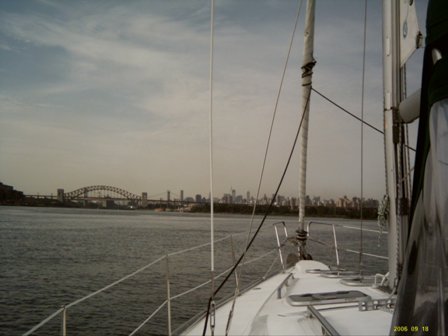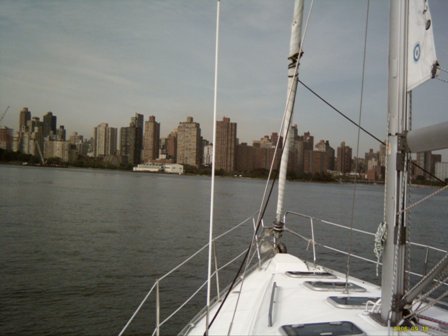 Again Sasha thoroughly checked tide times so that we could take advantage of the current flow for our trip to Sandy Hook bay. As we let go on the mooring the current was slightly against us but that seemed changed as we motored down New York harbour, passed the skyscrapers and huge anchored barges towards Narrozzano bridge and Hudson river upper bay. In Sandy Hook we found a couple of vessels that were awaiting good weather for the overnight trip down to Cape May including Shian (old name for Edinburgh) with Paul and Jane on board. It was now Saturday and weather forecast for Monday looked most optimistic with North Westerly then Westerly winds forecast that would have the wind abeam of us for most of our south, south west trip. At Sandy Hook it was warm enough (just) for a swim so we were able to bathe off the back of the boat. On the shore line we could see a thirty five foot sloop on its side some several meters from the water line and had wondered what went wrong. One of the other cruising captains told us that had been tropical storm remanence of hurricane Ernesto with high winds and 6 foot storm surge that caused some twenty vessels to break their moorings. When we went ashore we could see many vessels both power and sail on the hard stand area with extensive damage and for some there would have to be right-offs. In particular we saw the remanence of the 36 foot Beneteau that obviously been rolling on its side up against the rocks. The whole of the port side was torn away exposing the cabin which could be seen quite easily. Most disconcerting! As forecast, a small cold front came through on Sunday and on Monday morning the wind was around to the West so we up anchored and headed out for the 120 miles sail down to Cape May. Almost as soon as we passed the breakwater we had sails up and engine off, continuing that way for most of the trip. We could see many other yachts making the same passage down to Delaware Bay area as ourselves. During the night there was some concern from a captain of a tug boat towing barges. On VHF 16 he was requesting the sail boat in front to alter the course and I think about half a dozen sailboats altered course together. Although we had lost my favourite lure in the Long Island Sound we decided to put our "red-head" and before long had a three or four kilo fish on board. We hooked two others but lost them both, one right at the transom. Our run down to Cape May was timed almost perfectly, arriving at the entry channel at first light Tuesday morning.
Overnighter trips are quite tiring as you do not get an opportunity to fall into any sort of watch pattern. We each took short naps and only got a few hours sleep so after anchoring along with five or six other yachts we climbed into bed, waking up around Midday. By this time the number of vessels anchored was up to 20 or so, very obvious that many cruisers had the same idea of taking advantage of the weather to escape the cold North. We heard Ednbal's name called over the VHF radio and found that Willy and Brigitte with Escape II were also in Cape May but unfortunately not under ideal circumstances! During their trip down from Newport several days before they had experienced engine vibration so severe that they could only run at very low revs and had to pull the boat out of the water. Now they were waiting for a new shaft, propeller and coupling although no-one could find anything wrong with their old ones. The most likely cause, it was thought, was something wrong with their feathering prop – Max Prop, even though they had stripped it down and found it had been in good order. Willy was especially frustrated as he had had the whole engine drive train, including prop, shaft and coupling overhauled down in Florida in May, only five months before.
Once more Sasha did the tidal calculations and voyage planing through the Cape May canal up the Delaware Bay and through the C&D canal into Chesapeake Bay.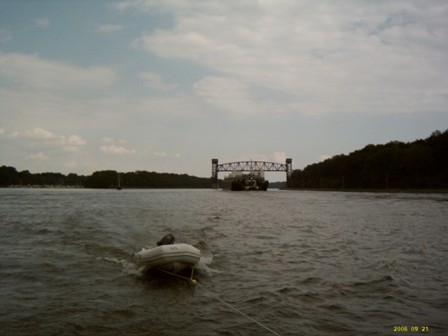 By the time we left Cape May at 7:30 in the morning, there were only six vessels left in the anchorage, there would be a virtual armada of cruisers heading up the Delaware that day. With almost two knots of current with us we soon traversed the short two and a half mile Cape May canal and were into Delaware Bay on a nice warm, but windless day. Indeed, stretched up the bay in front of us were many, many sailboats. We motored the whole day and somehow managed to have between 1.5 and 2 knots of current with us, right through to the C&D canal and Chesapeake Bay until we anchored at the mouth of Sassafras river. In less than ten hours we have covered over 80 nautical miles.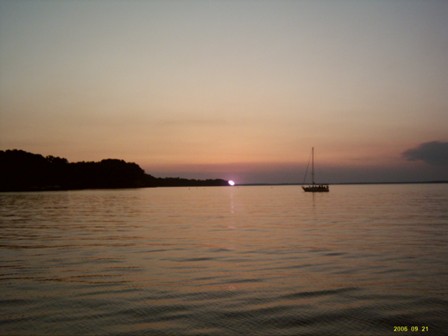 By the time we had dropped the anchor the Ednbal's Log showed over 3,000 Nautical Miles, meaning that we have travelled some 2,500 Nautical Miles, 4600 km, since leaving Florida at the beginning of June.