Georgetown and Wilmington
Category: North Atlantic Ocean
Created: Tuesday, 27 June 2006 15:59
Written by Roger Boxall
Hits: 1412
Georgetown And Wilmington
Georgetown And Wilmington
Shortly after entering the ICW off Charleston Harobur we came to Sawyers Bridge to find that the next opening was not until 6 pm, an hour and a half to kill. We idled up and down the section of ICW in front of the bridge, had a couple of beers and finally went through. An hour or so later we anchored in 20 feet of water, where a creek crosses an ICW before an opening to the ocean.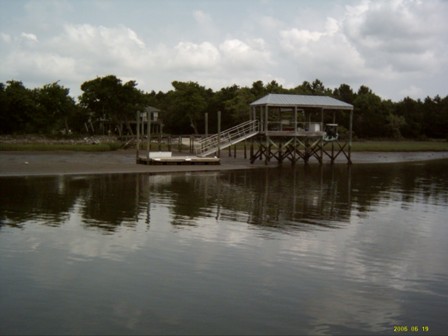 Current was so strong that the transom ladder was more horizontal than vertical and too strong for us to swim. Despite the many bugs and mossies it was a beautiful still moonlight evening for a bbq on the ICW. Next day we had a leisurely start not getting under way until almost 8 am as we headed for Georgetown. On the way we stopped off at a small fishing village, McClellanville,  where the Waterway Guide said there was fresh seafood available. After anchoring, we tied the dingy up at the small floating dock and tried to find the dock master. The whole establishment was deserted so we walked a few hundred meters to the seafood outlet and bought prawns (shrimp), flounder and shark cutlets. This was the first time we had fresh local fare from the outlet that purchased seafood direct from the local fishing community. We continued on to Georgetown, arrived a little after 6pm to find an Ozy yacht from Lake Macquarie in Sydney. He was amongst a number of other vessels anchored on the other side of the river from the main downtown Geogetown harbourwalk.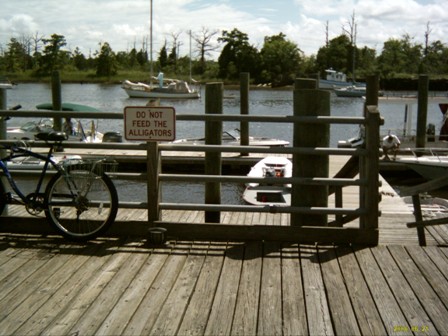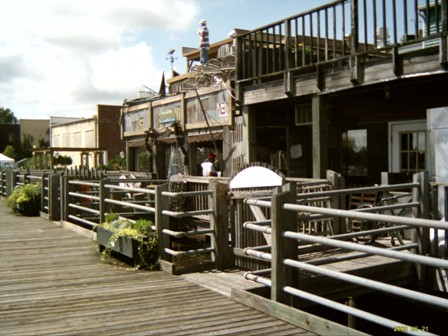 We attempted to find space but after dropping the anchor once decided it was too risky to try and squeeze in. A couple of yachts were anchored in the lee of Rabbit island about half a mile on the other side of the ICW so we elected to do the same. Next day we did some vessel maintenance – Sasha polishing woodwork inside while I stripped our small teak cockpit "dining" table and gave it a coat of clear gloss Cettol. Early afternoon we took the dingy to the city dock had a brief look around Georgetown, a beautifully preserved town impressive board walk along the river shore which had numerous restaurants and drinking establishments adjacent in typical Carolina style, first street parallel to the water was Front street and general centre of activity. The information centre advised that it was a major fare the next day and that Front Street will be closed for the occasion. We decided to have a good night sleep and check things out the next day – Saturday. The Georgetown Harbourwalk fare was more than we anticipated. The whole mile or so of Front Street was filled with stalls and exhibits of one kind or another. In keeping with American way, about every second stall selling food, predominantly hamburgers, hot dogs, fries and sweet cakes. There was an incredible exhibition  of a couple of hundred vintage, restored and "hot rod" cars off the streets running into Front street, I managed to prevent Sasha from spending a whole month budget but we did pick up a couple of bargains.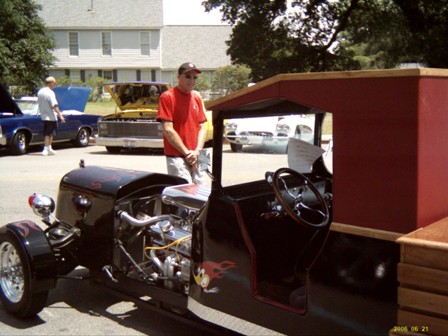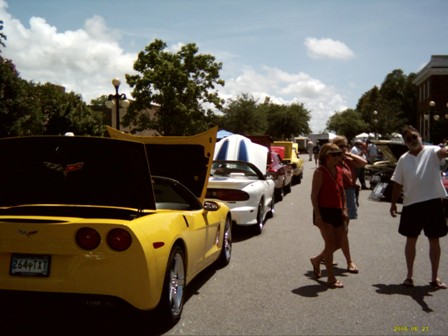 After a couple of beers at the bar adjoining board walk we were back to the dingy and Ednbal.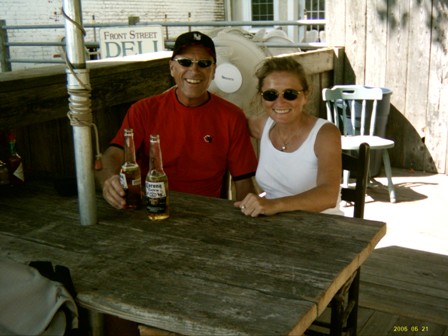 There were two options for heading North to Southport, continue on the ICW or go out to the ocean. Even though it was about 12 miles to the ocean, we had had enough of ICW stress for a while and with a South Easterly forecast of 15 knots decided the ocean route heading North East was the way to go. To minimize the effects of the tidal currents, early start was required. We managed to get under way before 6am but it was not long before we had the current against us. At the river mouth we had almost 3 knots against us and it took nearly three hours before we were in open ocean. It was the best day's sail we have had to date. The breeze fluctuated from 12 to 22 knots so we went from full sail to second reef, maintaining the speed in a very comfortable ride. Sasha's voyage plan had us arriving at Southport around 7:30 pm so that we could anchor before dark. About ten or fifteen miles from the Cape Fear river channel (leading into Southport) the breeze began to drop so to ensure a daylight arrival we motor sailed the last leg and dropped anchor in 18 feet of water, strong current just off Bald Head island, 91nm traveled. The Waterway Guide had good reports of public beaches and an other "must visit"- lighthouse on Bald Head island. The island is only accessible from the mainland via ferry and it was not long before we realized that high speed ferries were passing about half a mile from us, and we felt the effects of their wake! It was not exactly a comfortable night at anchor. Next day we took the dingy to the Bald Head island marina to be told by a most unfriendly dock master that it would cost $20 to leave the dingy at the dock for up to 5 hours and that the cost of dockage for Ednbal would be $1.65 per foot per night. Since the public beach was virtually just around the corner, we anchored Tadpole "dingy tender to Ednbal" (with Ednbal being Australian Aboriginal for frog) a few meters off the beach and went for a swim. Well, hardly a swim as we were not going to go much deeper that waists high, due to the extremely strong current running almost parallel to the shore.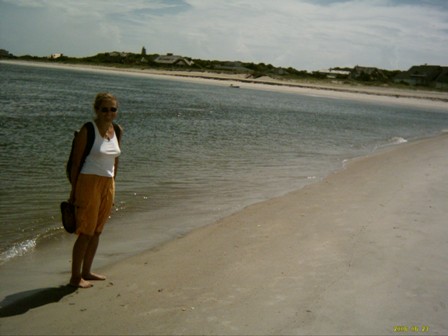 A short sun bake, couple of beers and it was time for little sightseeing. There are no cars on Bald Head island, only electric golf cart style vehicles. A short walk later we were at the lighthouse only to find it was closed on Mondays, of cause today was Monday. As the picnic ground was closed we had lunch sandwiches that Sasha had prepared and a couple of beers on a beautiful teak bench under a huge tree, at the grounds of the Chapel adjacent to the light house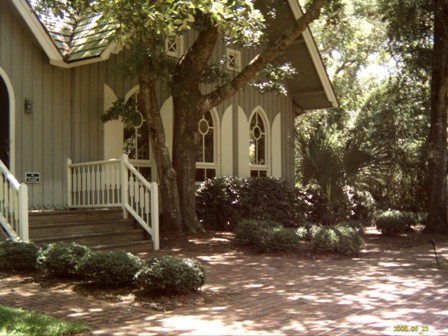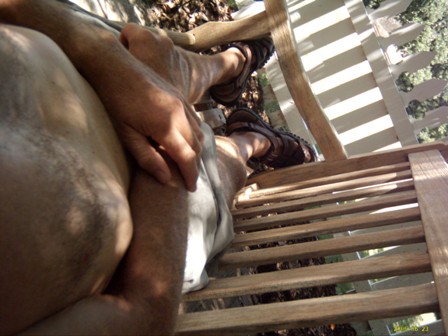 Later that afternoon to get away from the ferries, we motored the short distance to the town of Southport and anchored near a river island just outside main shipping channel that heads to Wilmington, On Tuesday we visited Southport where Sasha was able to connect to the net at the local coffee house and I left to see doctor as I was having trouble with my right shoulder. Sasha was able to catch up on e-mails and conduct our internet banking while the doctor took x-rays and gave me Cortizone injection in my right shoulder. Visitor center had a heap of information on Cape Fear region. We wondered around and found a nice small Thai restaurant offering lunch at our sort of price (well Roger's anyway). After sharing a meal, we head down to the river front to find Tadpole "high and dry". The tide was well and truly out.
Late afternoon we set sail, headsail only up the shipping channel towards Wilmington. Nice and deep, mostly around 40 feet with a beautiful 15 to 20 knots breeze almost right behind us, sailing at 6 to 7 knots. A large container ship and barge pushed by a sizeable tug boat went past us going a couple of knots faster. There were several anchoring options, we selected one on a lee shore on a beautiful calm evening. After dropping the pick I pulled back to ensure it was holding and ended up very close to a small red buoy. We had seen from the waterway guide that temporary channel markers were often used but could not work out why that would be the case so close to the main shipping channel. I decided to pull on the light line connected to the buoy to find a crab pot on the bottom, full of crabs! We could not resist taking a small sample, just enough for appetizer! It is always so nice to be away from it all in a lovely quite anchorage, although we could hear what sounded like some sort of diesel power station in the distance.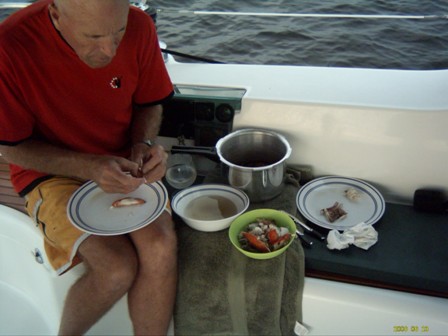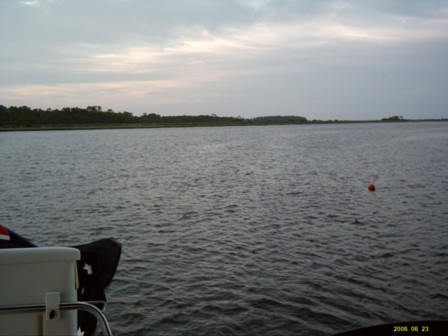 With a relatively short distance, around ten miles to Wilmington we had a leisurely start and I cooked sausages and eggs for breakfast while under way. Having phoned ahead to Wilmington City Dock we had a slip organized for Ednbal. By late morning we were tied up at the floating dock in the middle of the city centre directly opposite to the Hilton hotel just in front of the river side board walk. Dock master R.T Jones, said that the Hilton facilities, pool and restrooms were available for our use, we were almost immediately in the pool. In the afternoon we picked up information from the visitor centre and took the trolley bus ride around the main business district. We had heard that the "walking tour" was something not to be missed with the next schedule for 10am the following day.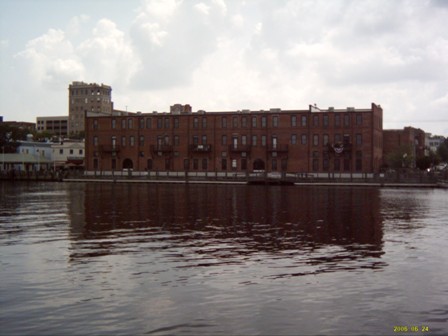 In the morning I was checking that we had all battery powered devices on charge, after we returned to Ednbal after having visited the restrooms for no more than a few minutes. I noticed VHF handheld radio was not plugged in. Both Sasha and I were certain it had been plugged in the previous day as the battery was flat when we tried to contact the bridge prior to docking. Despite an extensive search of Ednbal – no VHF radio was found, very strange!  In the process we found that the mesh cover of the forward emergency escape hatch was off and there was what looked very much like a shoe print on the bed linen, surely someone had not come aboard and just taken the VHF hand held?  In any event it was never found and we bought a new one a few days later.
Just before 10 we met the walking tour guide, a sprightly 70+ native of North Carolina, Bob Jenkins. We sat in a covered area adjacent to Information centre with four other people to be thoroughly entertained by Bob's descriptions of Wilmington's early days of the eighteenth century. Bob passed around photos and various samples illustrating the points he was making.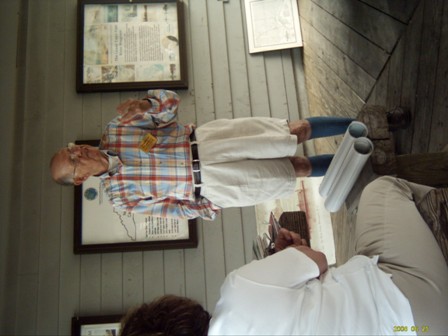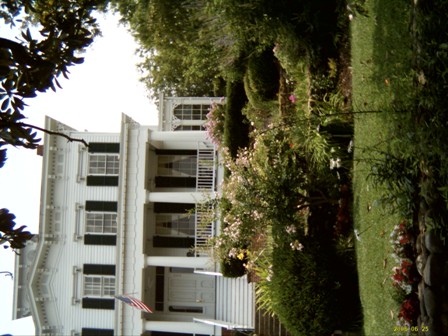 Wilmington's early residence made their fortunes primarily from rice and lumber. The marshy fertile low lands with abundant fresh water available from the Cape Fear river (the largest in North Carolina) provided an ideal environment for rice cultivation. West African slaves provided both the labour and expertise. In addition to rice the area had an abundance of long leaf pine trees whose timber was highly prized for ship building. King of England, George I,  declared North Carolina a sovereign of England so that he had full control. Even English peasants were able to take up land holdings provided they cut the long leaf pine trees for shipment back to England. The lumber was used primarily for ship's keels because of it's density and unique resistance to ocean worms and borers of all types. At the time when wealthy Englishmen's income was in the order of 200 pounds per year, the residents of Wilmington were making in the order of 35 000 pounds per year from the sail of rice, known as Carolina gold, for obvious reasons! After an hour's history lesson, we commenced walking tour scheduled to take another hour. However it was to be another three before Bob actually stopped. Bob was one of the first residence to "open return to the city centre living". Many of the old city shops were designed to have the owner living quarters above the shop with a separate street doorway and stairs leaving up one level. Bob is extremely enthusiastic in maintaining history of Wilmington. He was constantly reminding and illustrating the concept of "don't tear it down, blend in with what is available" and restoring properties to their original grandeur. He took us into many shops and private residences where he showed original 17th, 18th and 19th century constructions, local bricks and mortar limes made from crushed oyster shells, molded ceilings, magnificent long leaf pine floors, that in many cases looked as though they were only laid yesterday. What an incredible wealth of information Bob was, It was by far most informative and interesting tour we have been on since the start of our cruise. By the time it was all over we were having trouble keeping up with Bob and went to one of the restaurants he had shown us on the tour for relaxed beer and traditional US hamburger lunch. The best hamburger we'd had! A little more time was spent walking around city centre before returning to Ednbal late in the afternoon.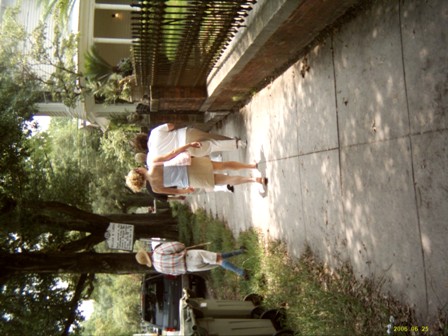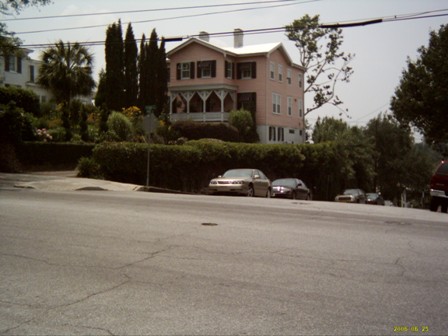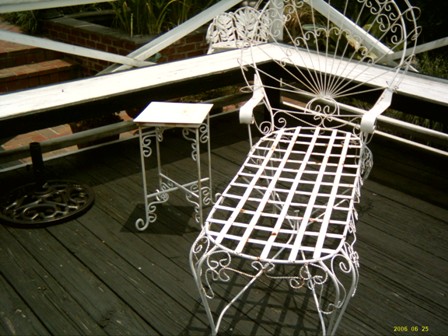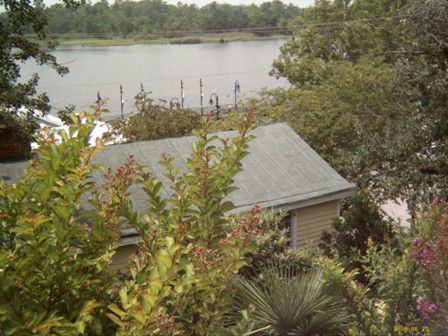 An early start the next day had us back on ICW and anchored almost in the centre of Wrightsville Beach along with few other yachts and very heavy pleasure craft river traffic. As usual there was little shopping to be done and since we have found Ednbal's alternator was having trouble keeping sufficient charge in the 400 Amp hours house batteries we wanted to order a larger 120 Amp alternator with separate smart regulator from West Marine located within a half a mile of the shore. We thought we could order and have it delivered to West Marine Oriental for us to pick up but were told by Store Manager and we should order directly from West Marine in Oriental. We found a small grocery store to pick up fresh supplies that were running low. Back on Ednbal there was a very important chore to be done, fit a replacement zinc anode that we had bought from West Marine, to the end of the prop shaft. Since no original spare was available I modified a small cylindrical anode with our battery drill and counter sinking bits to fashion in roughly to screw into the original position. A couple of dives under the boat and it was in place.
Wrightsville Beach is quite a large city with water craft raging from canoes, sailing dinghies, jet skis run a boats right up to 60 foot cruisers constantly moving around us. One area very prominent – no wake signs displayed – and magnificent three and four story river front residences, obviously the better part of town.
Back out on the ICW, next day we were off to a very slow start having to wait over half an hour for the next scheduled opening of the Wrightsville swing bridge. Along with the several other craft we went through and continue to head North along the ICW. Anchoring some further forty miles North in a disused military basin in Billy Hammock Bay just off the ICW.  A beautiful calm basin about ½ a mile square with, what looked like, a huge concrete boat ramp at one end and an adjacent wharf with a derelict naval fueling vessel of some sort tied up.  On the concrete apron of the boat ramp were several army vehicles including one with a large barrel protruding and point right in our direction. Maybe they don't like Aussies in this neck of the woods.  The water was almost warm, quite salty, so we same around for a while and checked out the keel of Ednbal.  Even though we had touched the bottom a few times only the leading bottom edge was "polished" clean.  The very bottom of the keel is flat and had some barnacles on it which I scraped off.  Other than that the prop was clean and only a thin slime on the hull's antifoul.  Sasha made the voyage plan for the next day that would take us another 50 miles or so to Moorhead City and Beaufort.
One of the yachts left the anchorage in the early hours but we were in no rush, getting underway about 8:30.  Sasha skippered while I raised the anchor and within a few minutes we were back out onto the ICW.  It was now Sunday 2nd of July and middle of the "4th of July long weekend".  It say there was some traffic on the section of the ICW to Beaufort is an understatement.  We went past river islands with white beaches packed with people, anchored runabouts, jet skis, people being towed on a great assortment on objects from wakeboards to large inflated tubes holding up to half a dozen kids. It was bedlam!  One huge "go fast" boat about 40 or 50 feet long with the crew sitting in what looked more like an aircraft cockpit went past doing at least 60knots.  In amongst it all where were Ospreys nesting on channel markers, we saw one pair feeding their young as we went past.