Cape Verde
Category: North Atlantic Ocean
Created: Sunday, 17 June 2012 15:48
Written by Roger Boxall
Hits: 2434
Cape Verde
The Cape Verdes, 706 miles from El Hierro, the most Southern island of Canaries, downhill all the way. The first 50 miles was a real mix, firstly in the wind shadow of the island motoring then the wind came at over 30 kts before settling at around 10 kts right behind us so up went the genaker for a few days, coming down when the wind gusts hit 20 kts, usually at night, and back up when the wind dropped. Our aim was to average 6 kts to get us to Palmeira, on the most Northern island of Sal in five days, Saturday. Our concern was the forecast for increasing wind, 25 kts or more on Friday, although still downhill, from NE. The wind did come up early Saturday morning, gusting well over 30 but mostly sitting at 20 to 25 enabling us to sail comfortably at over 6 kts with just the headsail at two reefs. All in all a nice uneventful sail. We made it by mid afternoon, enabling us to anchor in the small harbour area, with half a dozen other yachts, in plenty of light, not that it helped much as you couldn't see the bottom even in five metres of water. Guys on one smaller yacht, less than 30 feet, just in front of us, motioned that out was a good spot to anchor. Time for a clean up and RnR.
On Monday we went ashore, tying the dingy up at the small harbour wharf, next to a smart looking Coast Guard boat, rather than risking it where all the local open wooden fishing boats were tied up at small rock pier.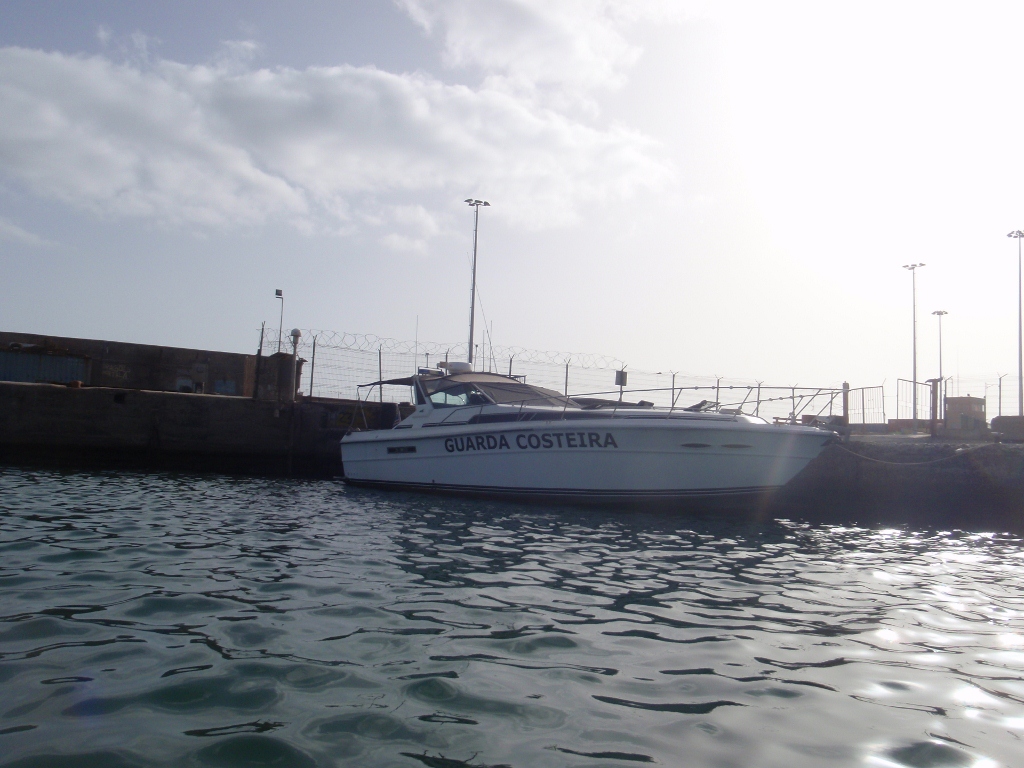 Turned out we were inside the ferry terminal area so had to pass through "security", a guy at the gate, to get out of the compound. Certainly no first world place this! Dirty, dusty with dilapidated buildings, people selling very poor selections of fruit and basic vegetables squatting on the street. Our main aim was to find the police station and check into the Cape Verde islands. At the cop shop we were told to come back in the afternoon, seems it required a special policeman to stamp our passports. In the mean time we took a local mini bus to the capital, Espargos, for a quick look around. The island is completely barren, the capital not much better than the little port Palmeira but we managed to get phone and internet operational, albeit a very slow phone internet connection, at least enough for emails and weather forecasts. Minibus back to Palmeira where, after a long wait at the police station, the appropriate officer showed up to stamp our passports and give our entry permit. The fruit and veg looked so unappetising that all Sasha bought was some bananas, even they weren't too flash. We still had enough from the Canaries to last a few more days. On Tuesday morning we sailed to another anchorage in the Northern end of the large Murdeira bay, a few miles South. What a lovely spot, no other boats, no houses, good sand for the anchor and coral rocks with plenty of fish, just what we had been hoping for. The bottom shoals slowly to the shore so we were anchored a few hundred meters from the shore where there is just one small patch of sand beach, a bit tricky to land the dingy in the small surf but managed OK. What an idyllic little spot. Caught fresh fish, Coral Trout no less, for dinner almost each day which have Sasha the challenge of cooking in different ways. On one snorkelling swim I dived under a big rock to come face to face with a sleeping shark, looked a bit like a Nurse Shark. Couldn't quite convince Sasha to go down and take a look!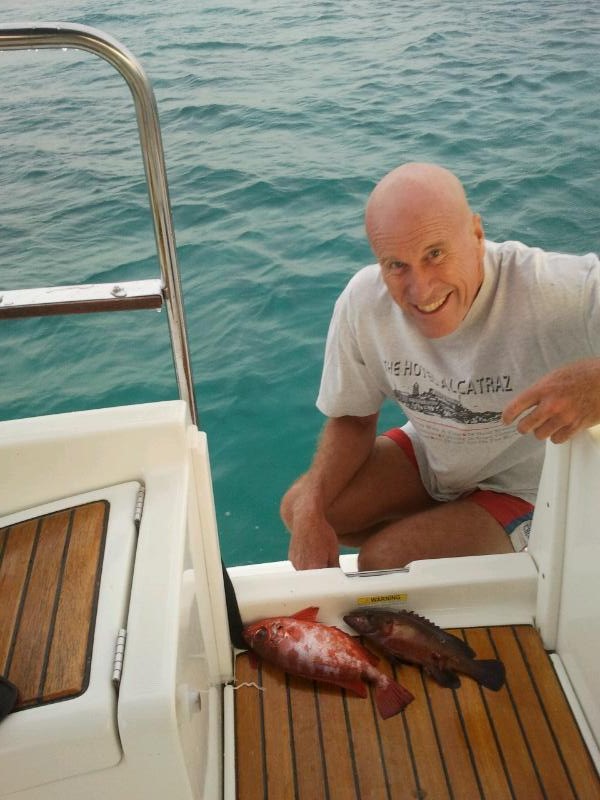 After a few days, with forecast increasing wind, we decided to sail 10 miles South to Santa Maria in search of kiteboarding lessons as we'd hear there was a number of schools there. Anchored in the bay, completely open to South, close to the jetty and amongst other local vessels, mainly fishing boats, it was more than just a bit rolly. On shore, three kite schools, we went with Surf Zone, owned by Rod who stopped by the Cape Verde islands en route to Perth and was asked by a friend to open a surf school, that was twelve years ago. That afternoon our first lesson, main task, to control the big kite, quite different to our little trainer kite, and, in fact so powerful that it was quite intimidating. In Santa Maria no need to catch fish, a huge variety always available fresh direct from the fishermen on the jetty for €4 or €5 per kilo. While walking along the path back from Surf Zone we ran into a young couple touting for customers for pinger of the tourist boats specialising in dolphin and whale watching, turned out that they, Francisco - "Kiko", Italian, and Matti, French, were the ones on board the yacht in front of is when we first anchored in Palmeira. They had hitch hiked down the West coast of Africa as far as Dakar in Senegal where, along with another guy, had bought the yacht, no working engine and a "few" other issues. They got out sufficiently shop shape to sail the 250 or so miles to Palmeira, no engine. Now they were working, day and night jobs to save enough for a second hand engine they had found in Palmeira!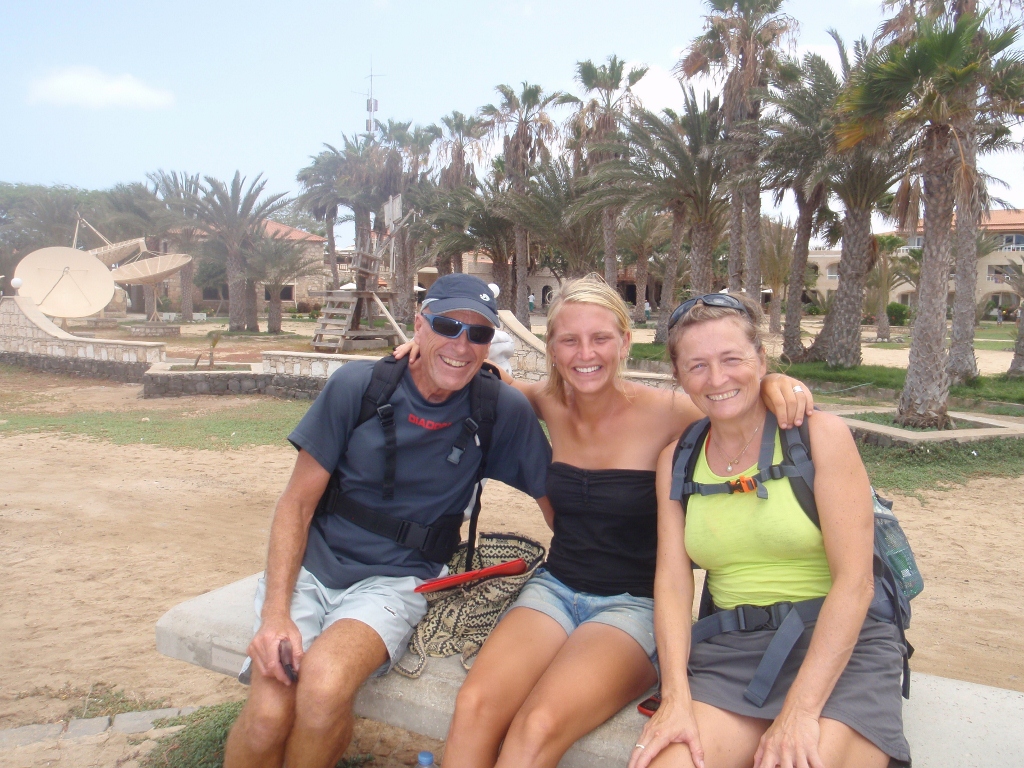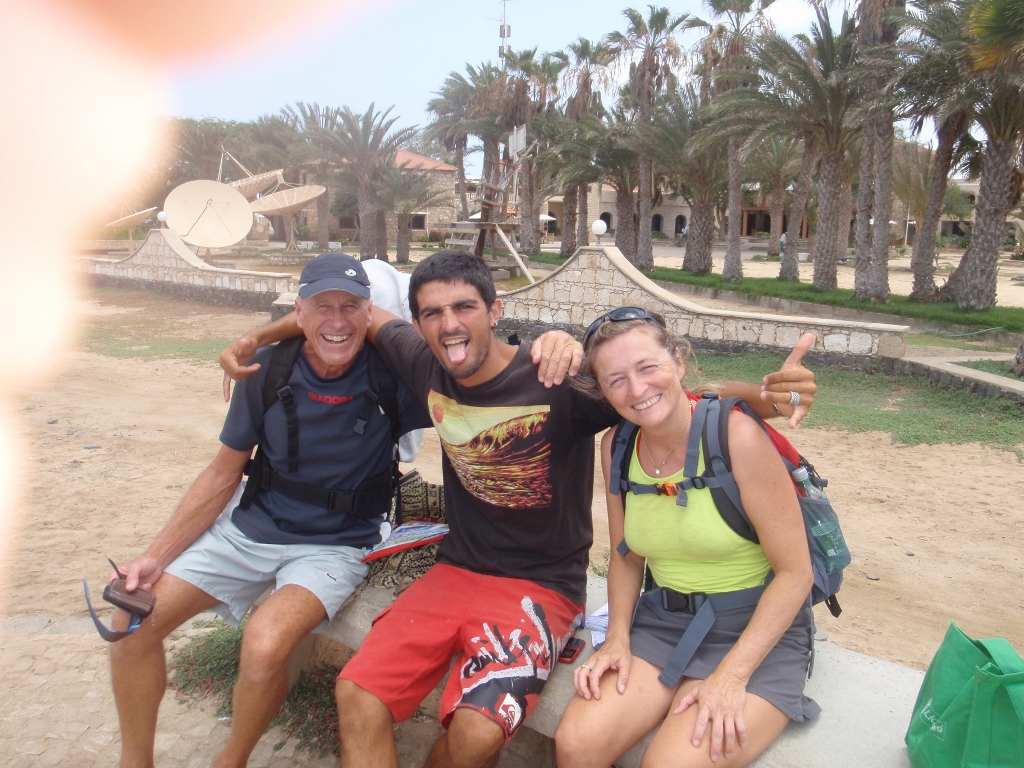 Next day the wind was down, less than the 12 knots minimum required for kiting, so back up to lovely calm Murdeira anchorage. Although we had used Surf Zone's equipment we had our own kit, bought from Diversur in Almerimar, including of course the board, very similar to a wakeboard. Now there's a challenge, could we wakeboard behind the 8 hp dingy? No rope, no handle, no fittings, no problem, we have ingenuity! Had a couple of lengths of 9 mm nylon rope with loops spliced in the ends, a spare block (pulley) and some pieces of wood, hey presto, ski rope with handle. Into the water went a very sceptical Sasha, board on feet, handle in hand, skipper applied full 8 hp, she almost came up, skipper went bananas, "it'll work, it'll work!", another try and Sasha was wakeboarding, 12 knots, flat strap. Could I do it, answer no, just not enough power to pull me out deep water start. Why not try the old waterskiing beach start from the transom of Ednbal. After a couple of tries, coiling up more rope each time so that Sasha could get Tadpole going faster before taking up the strain and bingo away we went. only down side, had to go back to Ednbal whenever I fell off.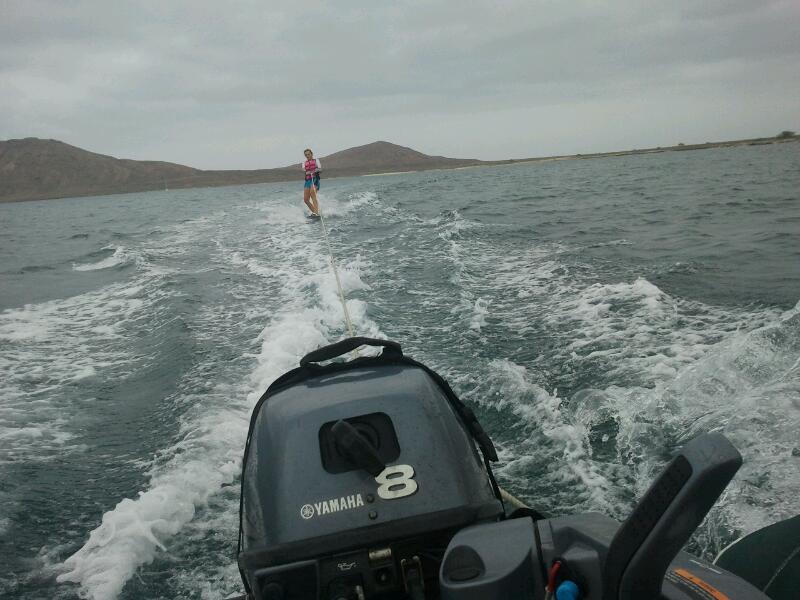 Now we had more exercise options, no wind, wakeboarding, windy, kiting, to add to our usual daily yoga, strengthening exercises and swimming, Just have to learn to control that damm kite. A couple of days and a few boat jobs later, with a forecast of more wind we headed back to Santa Maria for lesson two. As it turned out only just enough wind even with 12 square metre kites it was difficult to practise water body dragging, the exercise you do to learn to control the kite and it's power before you progress to the board. After a restock of fruit and veg from a very limited choice and quality in Santa Maria, we ventured to the local bakery, sign outside says Pizza, to be most impressed by the baguette style bread, foccaccia and cream crochets, mass purchase before heading back to Murdeira. As with most good things, they come to an end. In Murdeira, on the morning we planned to head back to Santa Maria for lesson three, we had a visit from the Guarda Costeira, local coast guard, in their official vessel, an adapted forty foot pleasure boat. Apparently we were not supposed to anchor in Murdeira bay without written police permission. The reason? Couldn't quite get that with their limited English and our non existent Portuguese or local creole. Was it a nature reserve? Anyway it was back to Santa Maria and lesson three. This time, at the end of the two hour time allotment we tried with the board but neither of us yet had sufficient kite control to get up. We had learnt the fundamentals more kite control practise, much more, required. Walking back towards the jetty we stopped and chatted to Francisco and Matti again, great couple.
At 6 in the morning of 12 July we left Santa Maria, heading South, for Sal Rei on the North West of the island of Boa Vista about 25 miles. It was a lovely sail with 15 knot nor-easter. Sal Rei has two possible anchorages, a small area on the Northern side close to the main breakwater or in the huge, open South and West, bay on the Southern side away from the town centre, much more suitable. We anchored amongst three other yachts, two local and one with a British flag that was also pretty much a permanent fixture and swam in the reasonably clear water to check the anchor. What a lovely spot, very little roll despite its size and openness and a big expanse of 5 to 10 metre deep water. The small town has good fresh fruit and vegetable market, fresh fish market and, we were told, some 30 Chinese shops, small "supermarkets" run by Chinese. Why so many, no idea. All transactions were mostly in sign language, sometimes requiring the translator on our smart phone. In the Cape Verdes yachts are required to check in and out from each island so we went on search of the Delegacio Maritimo to be finally told, by the Maritime Police that the one and only officer, Mr. Nadir was away as his sister had recently died, the police didn't want to know so we left well alone. With calm water we did some more wakeboarding and were joined in the anchorage by another yacht with German couple, Markus and Michaela heading to Brazil. Very entertaining people, we had meals on each others boats and learnt a lot. Luckily they both spoke perfect English! At the Southern end of the bay, about a mile away was another large, all inclusive Riu Hotel, 2,000 plus capacity, apart from a few B&Bs, the only hotel on the island. Between us and the hotel was a sunken freighter, about 300 feet long, lying in six metres of water, apparently great for snorkelling, and it was. Fish of all shapes and sizes. Concurrently the stem and stern posts were still a couple of metres above the water, ideal to tie the dingy. The unfortunate thing about Sal Rei, as we found for most of the Cape Verdes, was security. Things not locked down were known to disappear. Even leaving the dingy tied to the concrete jetty, along with other fishing boats, was risky, kids jumping on ours broke the fuel line filter. One pulled up on the beach at night the week before had vanished. On the up side we met a couple of guys that worked for the dive centre at the Riu while at the petrol station refuelling the "ski boat" and asked where we might find a Yamaha fuel line fitting. One of them later bought two fittings, in original packaging, to the petrol station for us and then flatly refused any payment. On Sasha's birthday, with virtually no wind, we motored around to the Northern end of the island in search of Humpback whales and turtles that are supposed to frequent the area but alas no birthday treat.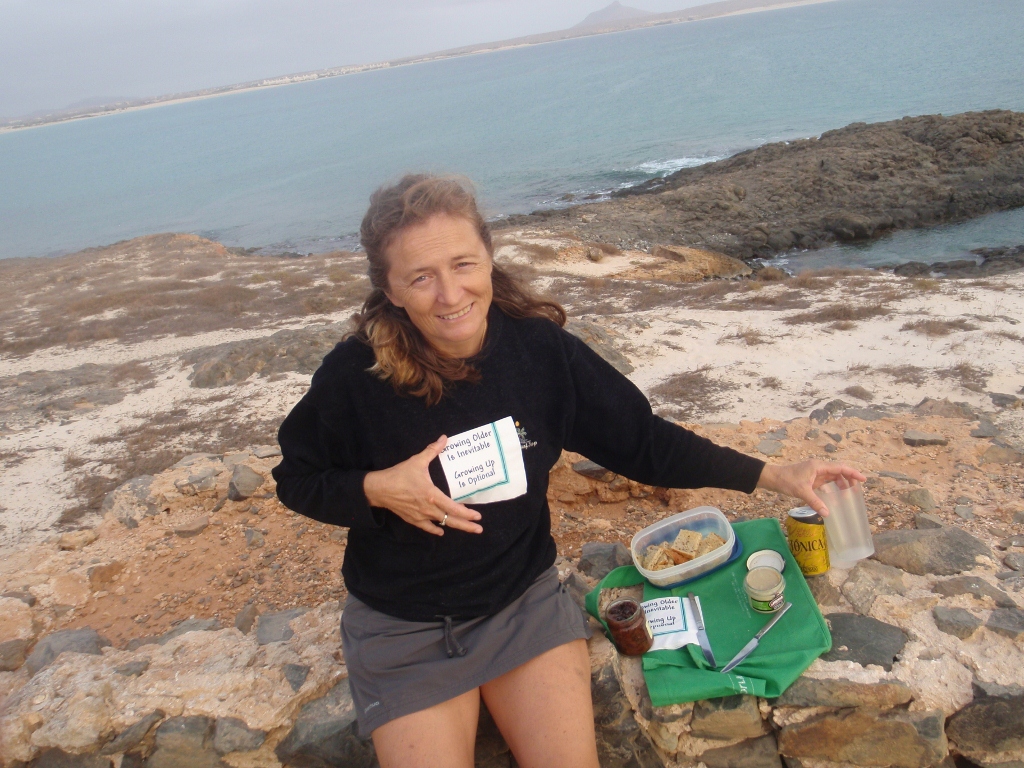 After ten lovely days, with the threat of Southerly swell we had another beautiful beam reach sail back to Sal's Palmeira harbour anchorage to check out ready to move West to Sao Nicolau island.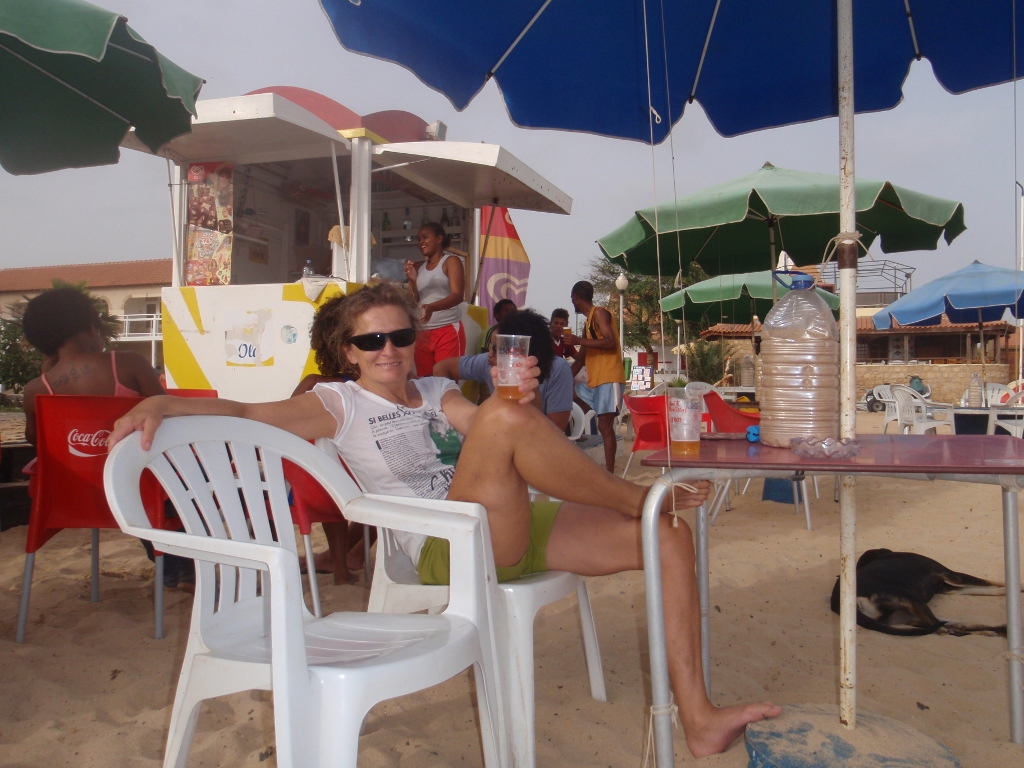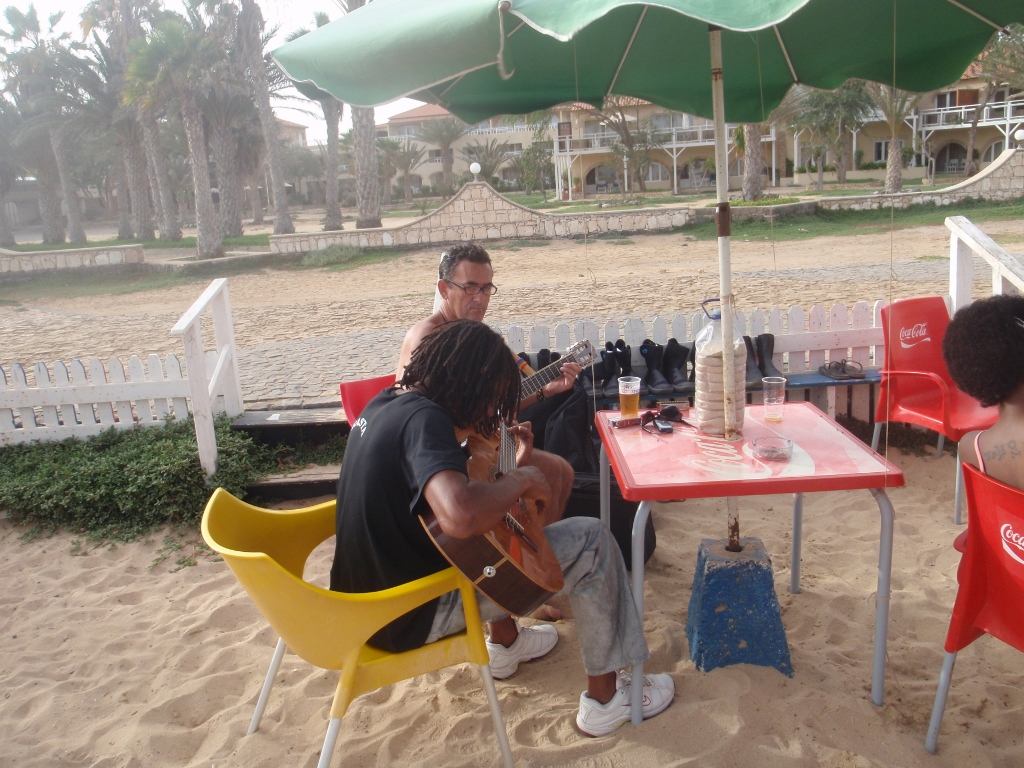 Check out with the police was no problem, just a small fee of 700 Escudos (about €7), and yes we would anchor in Murdeira Bay , when a short walk to where local fishermen were selling their catch. Not much selection, one guy had some netted fish, looked like some kind of mullet, we enquired the price, €4 a kilo we thought he said, three fish was all we wanted, what it turned out he meant was four fish for €1, wouldn't let us take three for a euro, insisted we take four! Next morning we anchored in Murdeira, as lovely as ever as we waited for a nice Northerly to provide a beam reach sail West to Sao Nicolau. Two days later our opportunity came so we lifted the anchor, still dark, at 3:30 am for 63 mile trip to a small bay on the South West corner of Sao Nicolau that our pilot book mentioned as a possible overnight anchorage. Very light wind from North saw us sailing at 3 knots until first light when we put up the genaker, after a few hours up to 6 knots, much better. Later it picked up to 15 so we sailed comfortably on normal main and headsail. By four we were at the anchorage but didn't like it, very small rocky bay and quite rough. Plan B, continue, another 24 miles to Porto de Tarrafal. With the nice wind we might make out before complete dark, well we almost did but we anchored in darkness at about 8 pm. Oh, forgot to mention, some big fish broke the line on the way, another Boxall special lure gone. Porto de Tarrafal was, according to our guide book, very popular with cruisers, in 2003 the author recorded 45 yachts in the bay, there was one other with us, a Dutch vessel, Eric and Ernie on board, who also had been in Murdeira Bay. Ashore we found Tarrafal one of the few places we did not feel comfortable with, very poor and we really stood out, not that people hassled us any more than normal, indeed people were most helpful but many were just poor. The public laundromat is a small hut on the beach with a well behind. The women draw water from the well and hand wash in big concrete troughs using wooden wash boards then lay the materials on black volcanic pumice, held down by stones, to dry. Not one hundred metres away the black stone beach is the local public toilet.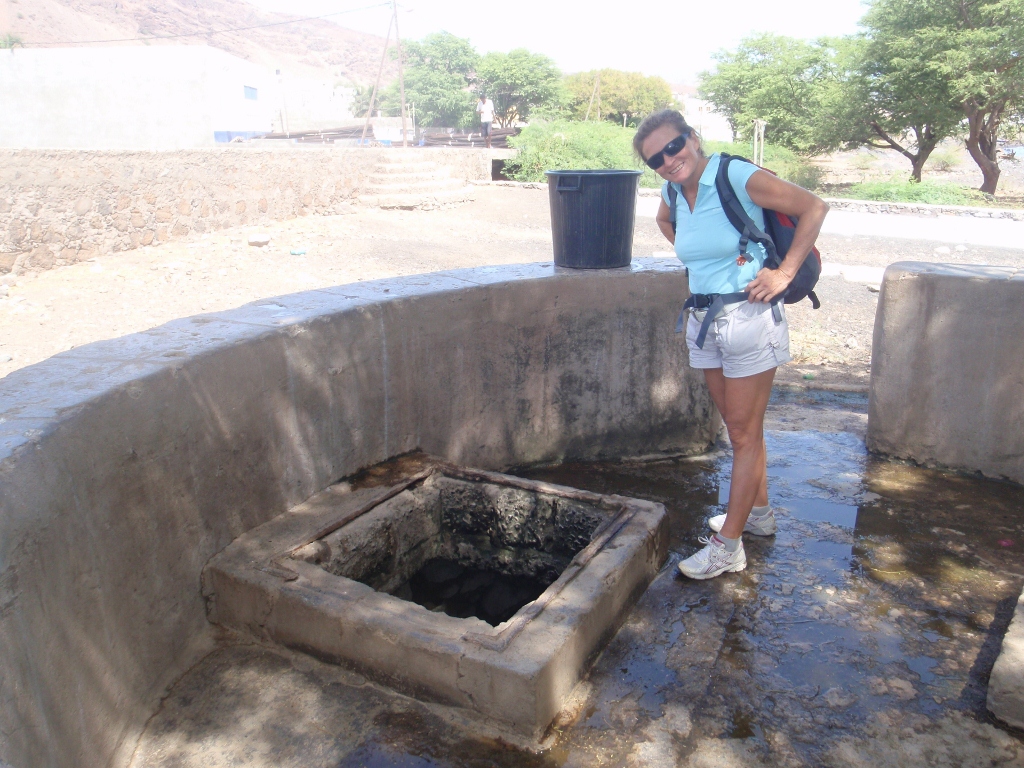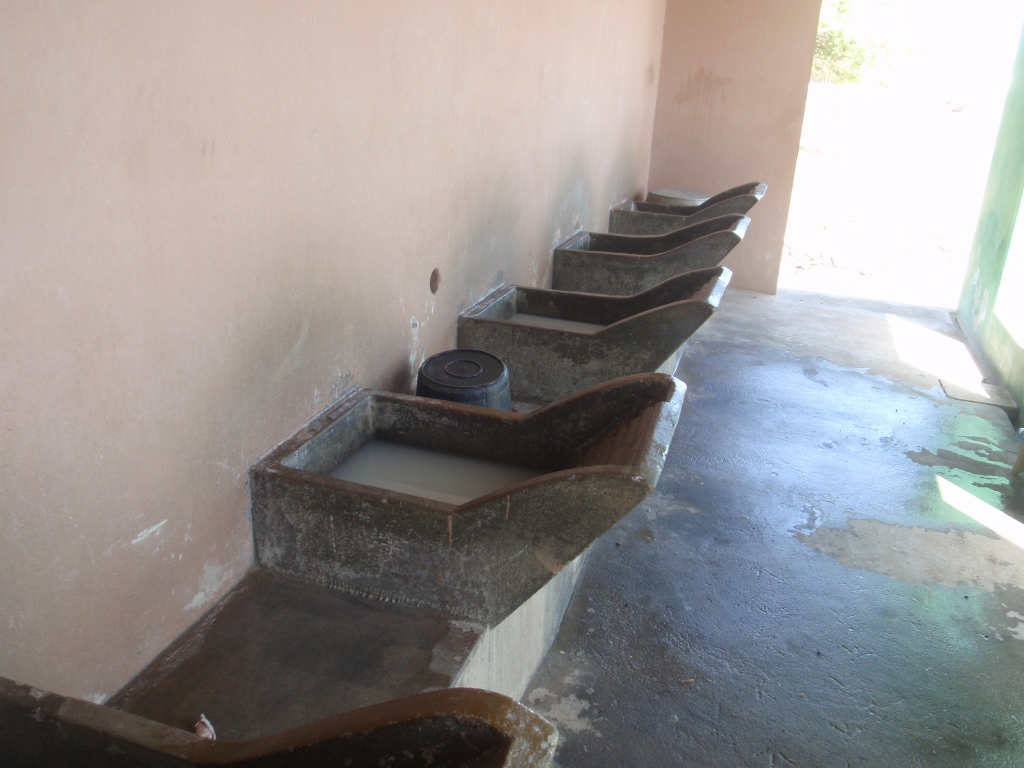 People come to the area, squat, crap, wipe their bum with a stone and walk away, this almost opposite of where were anchored! On the plus side the market, fresh fish, local fruit and vegetable was invaluable, albeit somewhat hygienically questionable. We had Eric and Ernie over one evening for a lovely Sasha special curry chicken. They had come to the Verdes from Dakar and had known Francisco and Matti there, the cruising world is indeed small. The following day we upped anchor and sailed to the uninhabited Santa Luzia island, timing our run to have the 2 knot "between island" current with us as we approached Santa Luzia. The only bay recommended for anchoring is on the Southern side, according to the book, anchor on 6 metres of water over sand to the Eastern end of the big two mile long bay. Second try we managed to get the anchor to hold. When we dived on out we could see why, the bottom was mostly rock with some thin later of sand, the anchor caught on a piece of rock, it would do for now as little wind was forecast. A bit rolly but not too bad, just enough off shore wind to keep put stern into the the half metre or so swell, no other boats, no other people, nice and warm, beautiful! A lovely long beach to land on when the Southerly swell drops. Well that was the theory, over the next three days the swell, if anything, got bigger, the wind died so that Ednbal was controlled by three tidal current, 6 hours facing East, 6 hours facing West, all side on to the swell, and we rolled, and we rolled, after three nights we have up and with a storm forecast in a few days we headed for the only safe harbour anchorage and marina in the Verdes, Mindelo on Sao Vincente. Again our run, this time motoring with no wind at all, timed to catch the favourable current.
Mindelo harbour, Porto Grande, as the name suggests is the largest in Cape Verde. To get to the anchorage and marina you pass the port and all the anchored ships. Initially we anchored just outside the buoys making the marina pontoon limits, the marina was built in the middle of what was the anchorage. Dingy theft is a recognised problem but one may leave ones dingy tied up at the marina for €4 per day, reasonable value for peace of mind. The marina was built, and now run, by a German guy, Lutz with everything, amazingly for this part of the world, run to good German precision and quality. All still in one piece, clean and in perfect working order. With good off season discounts we decided to move in, first time since leaving the Canaries. The storm? It did not eventuate.
Mindelo was considerably better than our last stop, Tarrafal on Sao Nicolau, almost modern by comparison. Well stocked supermarkets, restaurants, hardware shops, chemists, fresh fish market, fruit and veg markets, etc etc. We soon met up with other cruisers and, in a couple of days, were joined by Eric and Ernie although they decided to stay on anchor. We were introduced, by Mike and Audrey off Wind Shadow to Club Nautico, a bar over the road from the Marina, with live music, best being a local trio, violin, guitar and bongos, on Wednesday nights. Loved the violinist. As usual, more boat jobs, knocking things off the list on preparation for crossing to South America. One of the particularly interesting guys we met was an Italian single hander on a 30 year old trimaran, Raffaele. Raffaele's wife was not a keen sailor so she would occasionally fly to meet him and he sailed single handed. The trimaran was his second yacht, the other more suited to kids and wife was in Italy. Raffaele's motto was buy cheap and replace often. On the way from the Canaries his autopilot failed and he was very soon tired of steering so he decided to investigate, pulled the cover off the electronics and saw a burnt resistor so he unsoldered one, resistance unknown, from some other board and soldered it in place of the burnt one and hey presto autopilot operating again, could you believe it! He along with a couple of others we met seemed unfazed about heading straight West, into hurricane territory, for the Caribbean islands. He left on Saturday 17 August heading straight for Trinidad.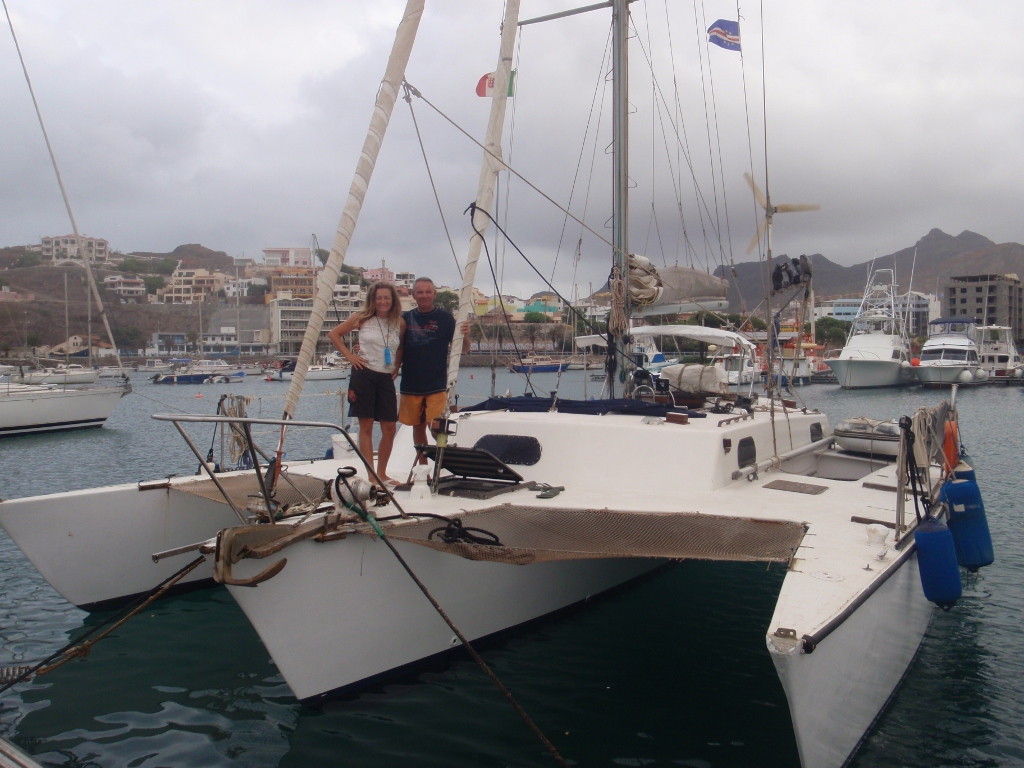 We had not intended to stay long in Mindelo but the place sort of grew on us. One of the reasons we had wanted to visit Sao Vincente was to go to their famous music festival held on a big beach, Baia das Gatas. Normally Baia das Gatas is a tiny village, couple of hundred people tops, during the music festival the biggest on West Africa, the crowd is over 100,000, many sleeping over the whole three day event in tents. It becomes a huge tent city, tent bars, tent restaurants and all manner of outside cooking, albeit fairly basic, and of course a huge stage with more sound output than most ears can handle. Along with Eric and Ernie we went on the first night, Friday, local bands and likely less people. Although we had enquired at the tourist office in Mindelo, there was, apparently, no program but scheduled to start at 7:30 pm. We arrived, by bus, about 8 but the only music was from a dj, techno, from another small stage about half a km from the main stage. About 10 things started to happen on the main stage, at first it seemed there was a volume competition between the dj and the main stage but after an hour or so the dj retired. Bands and singers changed over smoothly so we, along with many thousands of others, enjoyed a sample of local pop music.
Back in the very well run, clean and maintained Mindelo marina it was time to run the water maker as we had not "pickled" it for long term storage. Oh, I forgot to mention the music at the marina, well not at the marina itself but at a big open, outdoor, entertainment area, with swimming pool, right next to the marina. On the weekends they start up the dj sound system, equally as loud as the one at the music festival, and pump out techno until dawn! Saturday morning, time to move out of the harbour bay for peace and clean water so we sailed 10 miles south to Sao Pedro, another big open bay generally protected from the prevailing North Easterly where we found good anchoring sand in 11 metres of water. Swell was still working its way into the bay, not uncomfortable on board but waves on shore too big to land Tadpole. Pity as we heard, and could see, a popular restaurant, apparently the best on the island, serving local food. The swimming in clear water was wonderful as we watched the comings and goings on the beach for a couple of days before returning to Mindelo where we found Eric and Ernie planning a hiking trip to neighbouring Santo Antao island, something that we also wanted to do. Could we join in, no problem. They had out all planned, we just had to get our ferry tickets, pack and tag along.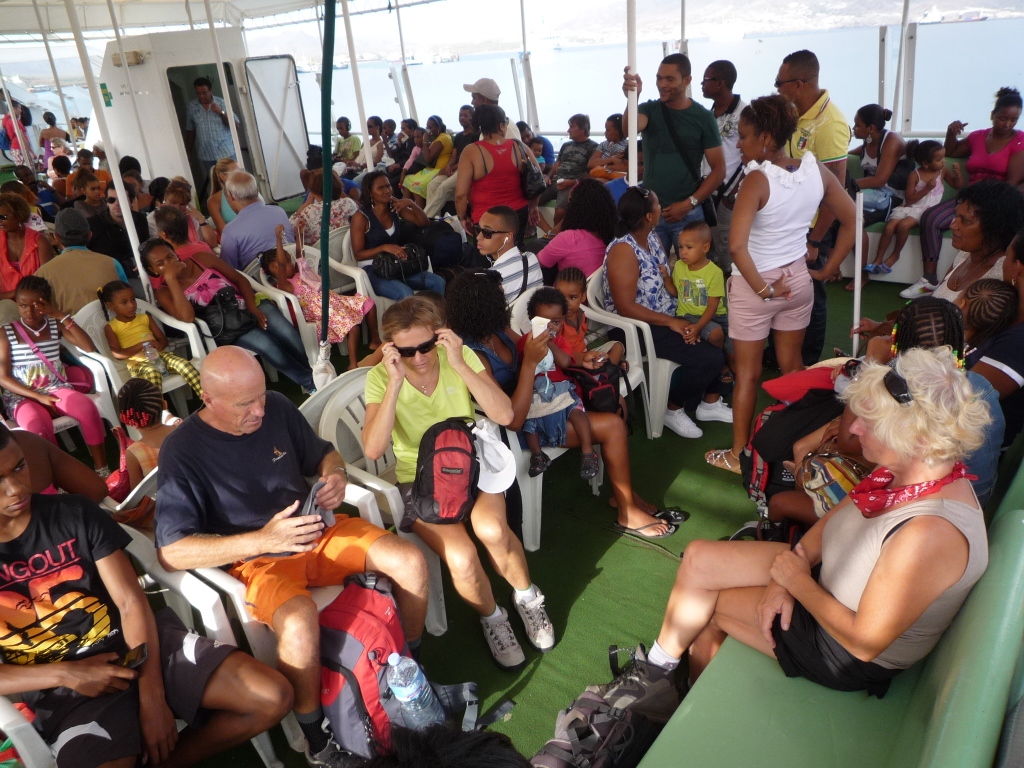 Yes, ferry tickets, although just 7 miles North, Santo Antao, the biggest of the Cape Verde islands, has almost no anchorages and the plan was to to spend two nights away. First walk started at 1260 metres, through an old volcano crater then a steep winding path decent down 700 metres over a total distance of about 6 kms, a good test for the knees and Sasha's foot. The scenery, especially when we came to the edge of the crater to look down through the rising misty clouds was quite spectacular.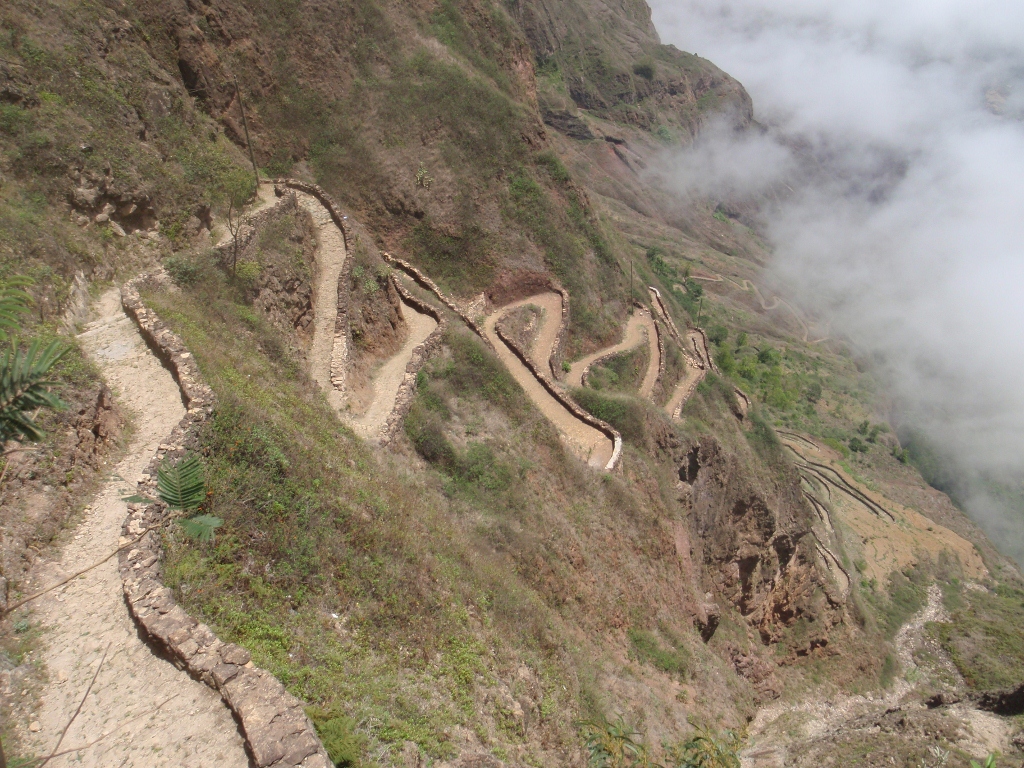 Local farmers seem to cultivate almost every square inch of any flat ground on the steep volcanic slopes. We stopped at a small irrigation canal, apparently fed by a spring further up the mountain, for packed lunch and again at the bottom for well deserved beer!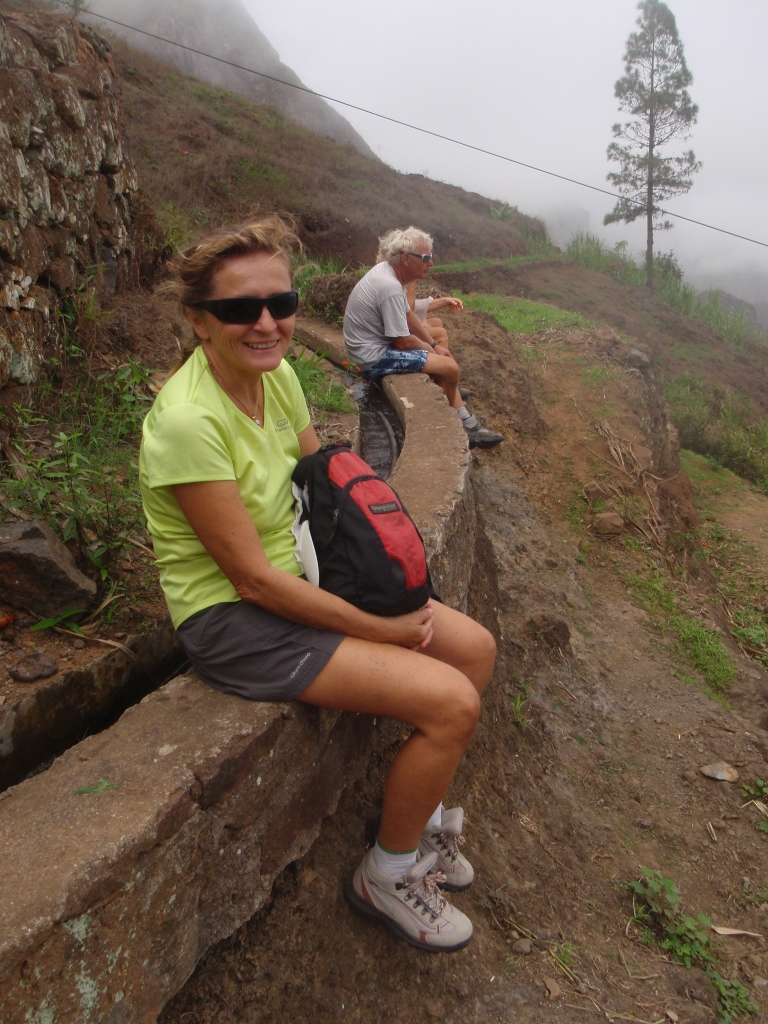 Next trick, to find a bed and breakfast or small hotel for the night so we caught a local mini bus to Ribiera Grande, where Eric and Ernie had a couple of recommendations. The first, they had been told was €25 per double per night, sounded good, and we found it just one block from the bus stop. Yes rooms available but at €16 per couple per night, en suit bathrooms, although without breakfast, it was almost brand new and spotlessly clean, yes please. I think it was originally designed to be a 3 storey block of apartments, now a small hotel with combined bar, restaurant and reception on the ground floor. Now for dinner, off we went in search of a reasonable, most important criteria food safety, definitely did not want to risk any sickness. In the end the best seemed the one at our hotel, we were not disappointed. Next day a bigger walk, about 20km, along part of the North Western shore, highly recommended in the books, shouldn't be too much up and down, wrong!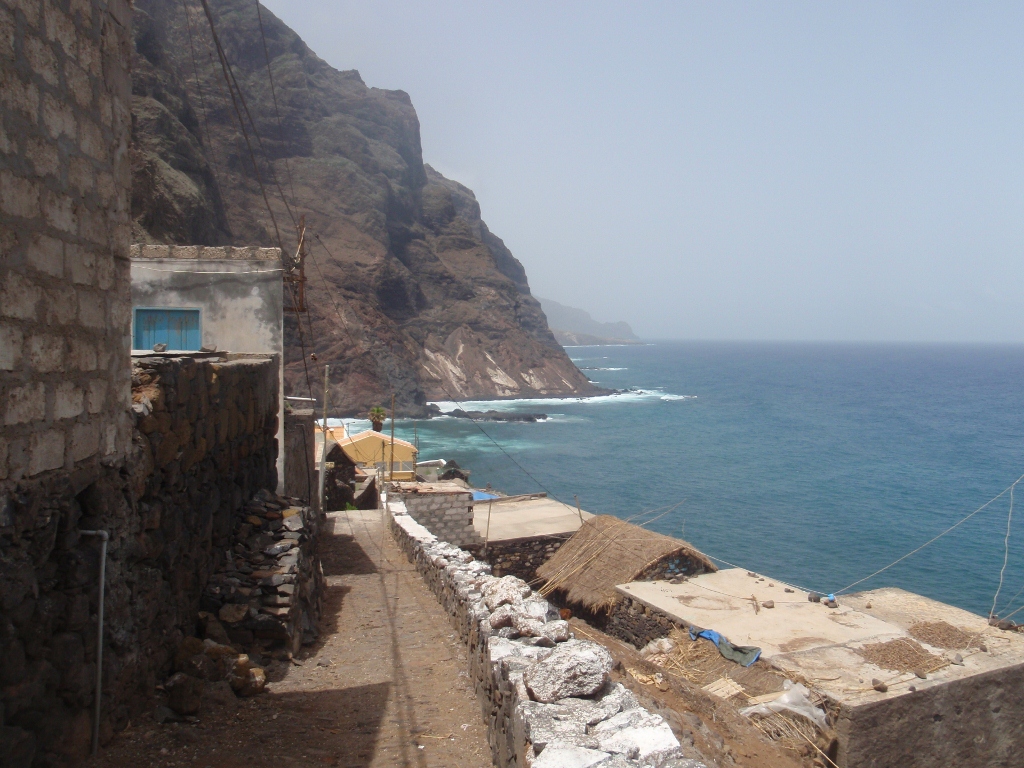 A mini bus to the start at Ponta do Sol, and off we went on a well kept cobble stone type path following the barren volcanic cliff of the shoreline. In common with most town streets and many other roads, the path is of stone, roughly 10cm cube, hand laid with about 1cm gaps filled with soil. As we were to find, this one was mainly in place for people to walk from village to village using donkeys as beasts of burden.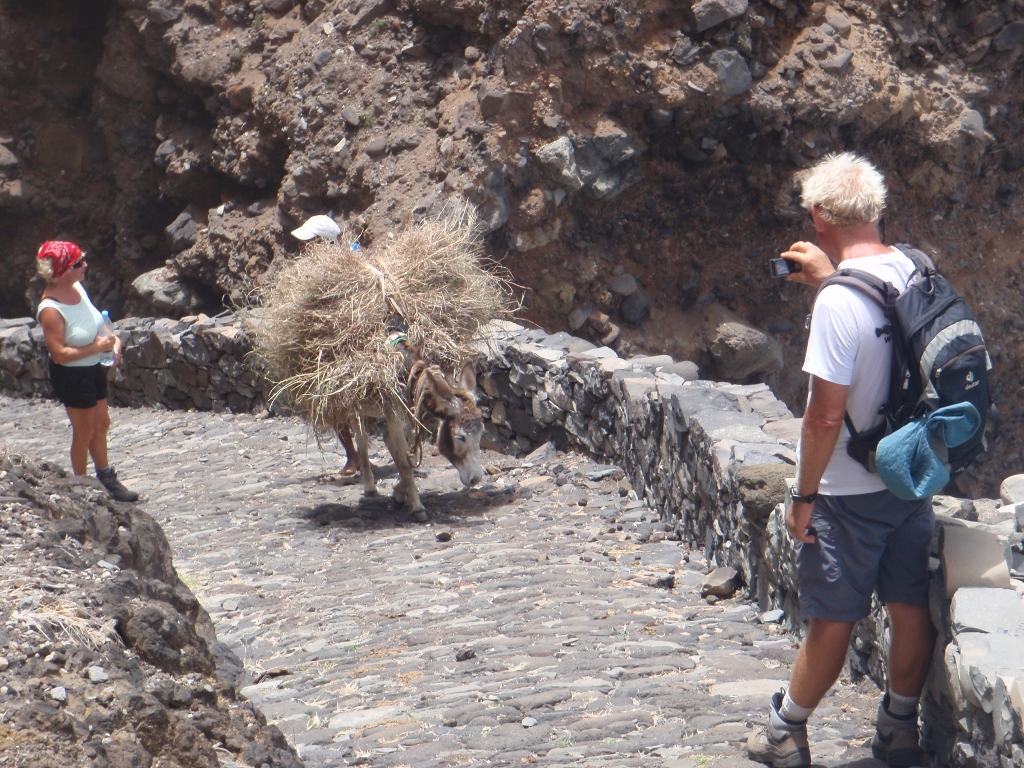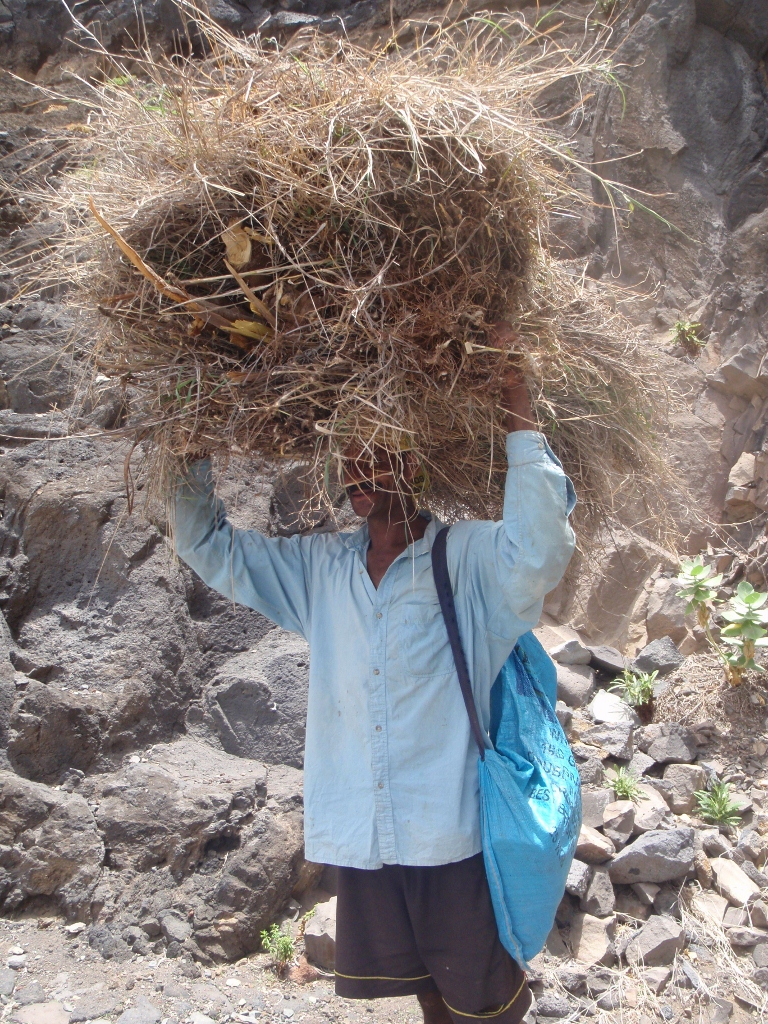 Again wonderful scenery as we went up 200m, down 200m, seemingly continuously for most of the 20k walk which ended at Cruzinha De Garca. Now to get back, the long way, to Ribiera Grande. This was not a regular mini bus route, we would have to hire one as a taxi. Luckily two other guys the the bar, yes definitely needed a beer after that long, long, and hot, walk, were also wanting to travel to Ribiera Grande so we all pitched in. Bonus, on the way we stopped at a roadside fully laden mango tree and each picked a plastic bag full of perfectly ripe mangos that had fallen to the ground, um, um! Dinner tonight had been pre ordered at the hotel, the local Cape Verdean speciality, cachuppa, really a peasants meal, beans (a few varieties), corn, bids of long cooked pork and any other cheap bits and pieces among with some spices. Powers had a pork sausage and two fried eggs on top. I am no bean fan but had to admit it was very nice.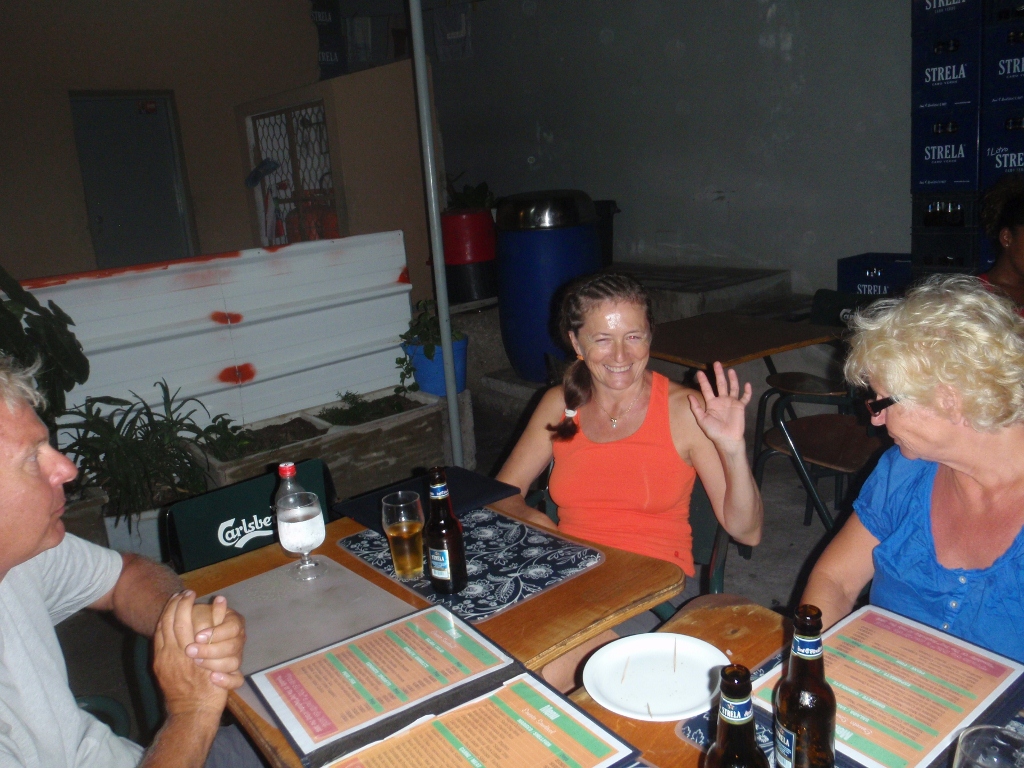 Last day we looked at options for walks that would end is on one of the bids routes back to the ferry terminal, one was an 800m climb over 6km, we took the slack option, hired a mini bus to take us to Lombo de Figueira for the short 2km wall up to the islands highest point. The "bus" was a ute with wooded bench seats along each side in the back, a bit hard on the bum over the bumpy road but the rugged mountain scenery from barren sea level to pine forest mountain peak at 1,400m was absolutely stunning.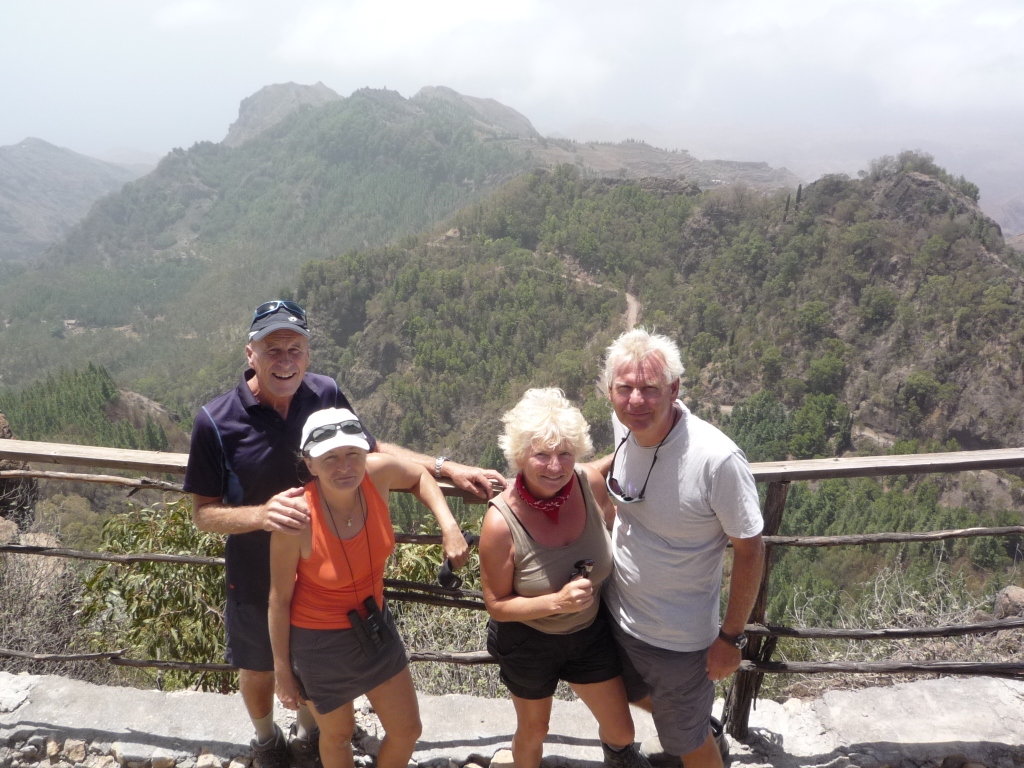 And the short walk over pine needle covered path to the lookout post, for picnic lunch, lovely. What great three days, thanks principally to Eric and Ernie.
Now it was time for final preparations for the trip to French Guyana, across the Atlantic to South America, 1,800 nautical miles, as the crow flies. Last minute jobs, purchases, fuel etc. Sasha had been reading blogs of friends on two other yachts, Serafina of Maldon and Scott Free, who crossed Mindelo to Barbados and felt that our provisioning preparation was somewhat haphazard by comparison, to say the least, sure hope we don't starve! Then all the pawing over weather forecasts to find the best route for the time of the year. In late August, early September, the Inter Tropical Convergence Zone or doldrums is at its furthest North, just South of the Cape Verdes which lie between 15 and 17 degrees North, Mindelo being at 17. We could go North a bit to pick up reliable NE trade winds to go West, then South through the ITCZ at its narrower point closer to South America or try South from here, down far enough to get into the SE trades that are now at about the same latitude as our destination, around 5 degrees North. Current forecasts, and the sailing route pc sailing program, passage planner, both favoured the North option, problem being the risk of being run over by a tropical depression, the beginnings of hurricanes that head NW towards the Caribbean and USA, not an encouraging thought. The forecast, to head out, on 31 August looked good to catch 15 kt NE winds at about the same latitude as Mindelo. We woke in the early hours to hear the wind howling, showing 35kts on the anemometer, out in the channel between Sao Vincente and Santo Antao it would be much, much more due to the tunnel effect of the two islands. So, not today, besides which it was Friday and no sailor should start a trip on a Friday. The whole day it blew, more than twice the forecast wind strength, and that was in the anchorage! We went ashore in the evening as the wind was moderating to spend the last of our Cape Verdean escudos and have a beer at the lovely marina bar built on pontons over the water and chatted to fellow cruisers. Saturday morning, with wind down to 10 kts from NE, we made last phone calls and headed out now concerned we may have missed our weather window.
Out on the channel we started with the current against us but ended with is on wind of 15 to 20 kts off the aft quarter, beautiful. Around the bottom of Sao Antao and turned West, the wind behind us and dying. By mid afternoon, about 20 miles West of Sao Antao we had to reassess, no wind and very confused seas, uncofortable. Sasha retrieved another weather forecast, it now showed no wind in our area for the next two to three days, yes indeed out seemed we had missed our opportunity. We decided on option two, head South to try and get straight to the SE trade winds, motor the 130 miles to the Southern Island of Brava in this no wind situation where we could top up with fuel and sail South beating into light wind, and at about 4 degrees North we could then head due West to French Guyana. Course changed to 160 degrees, arrived Brava 16:00 Sunday 2nd September, anchored in the small port bay of Furna , in full view of the village where it seemed we were the local spectacle. A guy swam out to us to say hello, it seemed in any language other than English, and, in a mix of French and English, told us he was the school president. Did we have any spare pens and pads? Sasha told him we would bring some in in the morning when we go ashore for fuel. Off he swam, Sasha raided our pens supply and her painting supplies to put together a package to deliver, duly done next morning.
Next day we loaded up the dingy with four empty jerry cans and headed in to the very rough, crumbling, concrete dock. I was very concerned about tying the dingy up to it, as with the choppy sea it would likely be torn to shreds. Fortunately another guy came along and helped lift the dingy up onto the dock. He then escorted us to the "fuel depot", a shop door, inside old 44 gallon drums, with sealed bungs, of diesel. The "fuel attendant" proceeded to syphon fuel into a 10 litre measuring tin which he in turn used to fill our for jerry cans, 160 litres. On the street a few men were chatting one said hello and spoke excellent English, he had been a seaman and had visited Fremantle. Sasha have him our parcel that he promised to pass onto the school. Our guide helped carry the fuel back, relaunch the dingy and was very happy with the couple of hundred escudos we gave. An how later we were underway, South to the bottom of Brava then with the breeze North of West we set our course of 200 degrees, all good. By mid afternoon however the wind shifted to South West and began increasing, by evening up over thirty knots and, with East setting current, we were heading towards Africa, not the forecast, not the plan! We managed to make contact with Herb, sailing weather guru in Canada, by SSB, his forecast was for strong squally South Westerlies all the way to the equator, over 600 miles. In his words "this is not the time of year for such a crossing, you are better going back to Cape Verde and wait, maybe until November".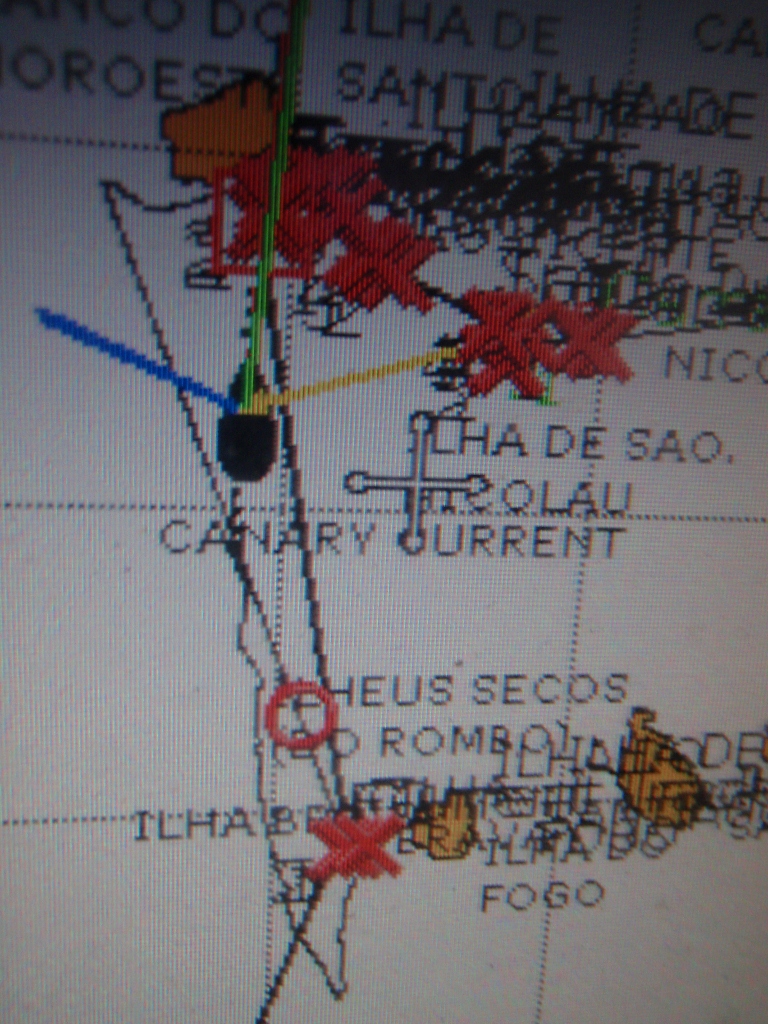 With tails between our legs we turned, in another squall, and headed North back towards Mindelo. It turned out to be a lovely sail, beam on with lots of fresh water to give Ednbal a good clean. So ended our little 400 mile round sail!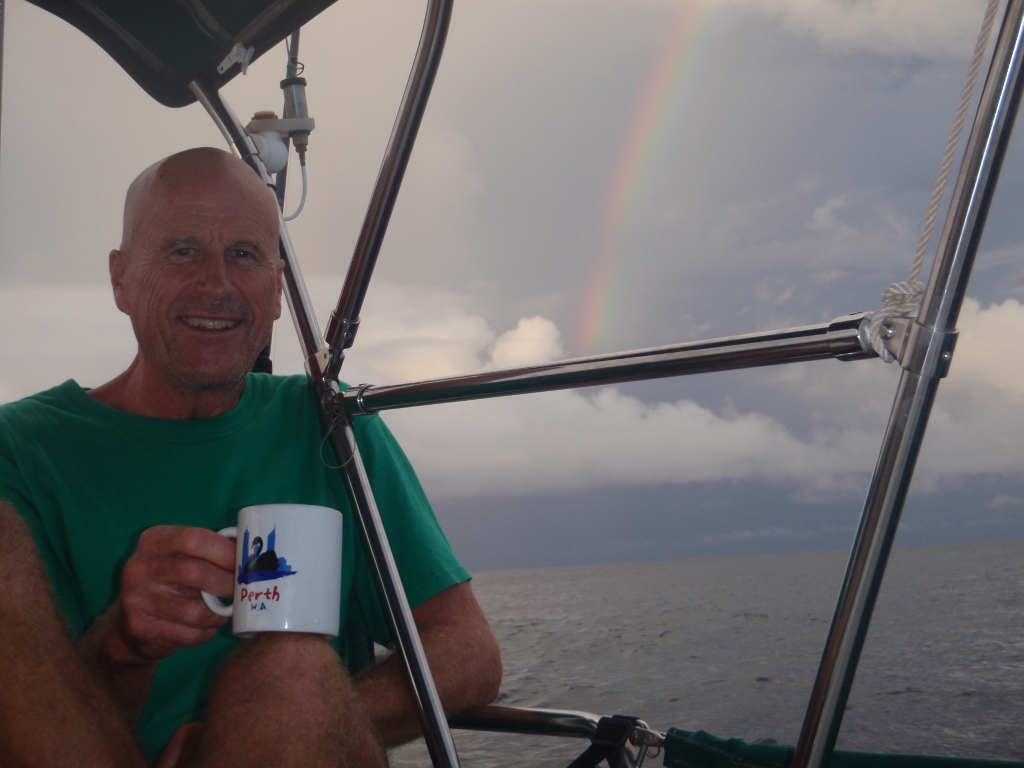 --------------------
Back in Mindelo sad news, Roger's brother in law had been given only days to live, maybe it was divine intervention that we had returned. Sasha hastily booked flights, we fly out on Sunday 7 September for Australia via Paris and Doha. As you can imagine this was not the best trip home but still enabled a lot of family catchup time for us both.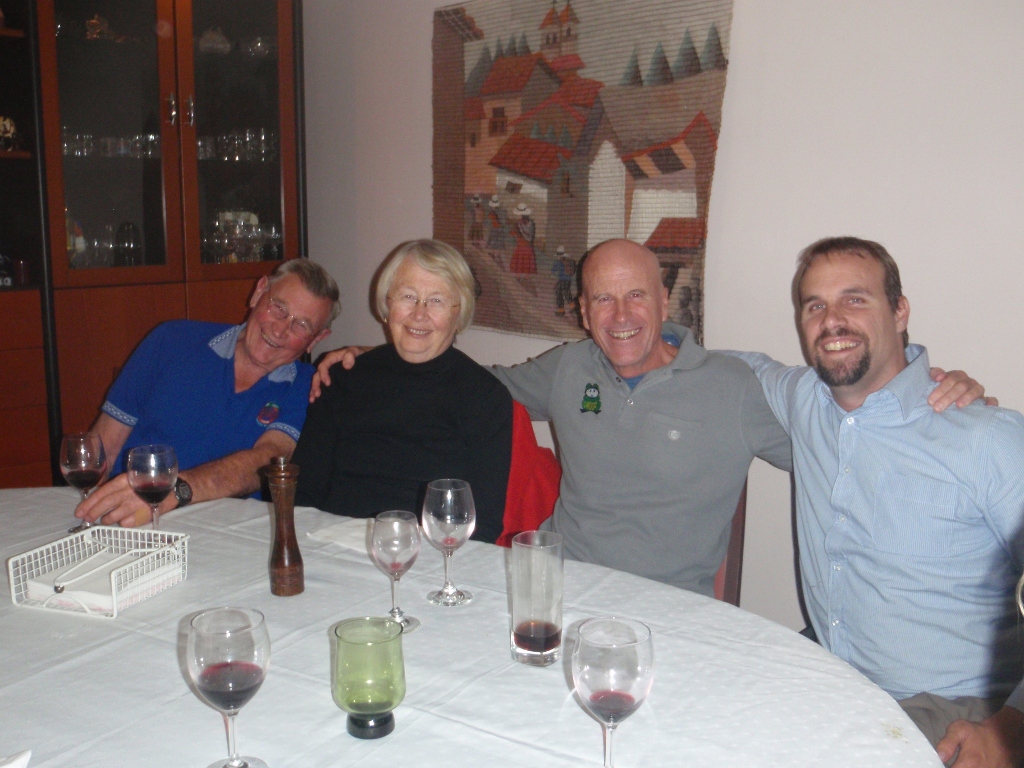 Our return flight gave us two nights (www.hoteldaval.com), one day in Paris. It was great, we took full advantage of the bicycle hire system and very well marked cycleways to see the sights and watch barges in the canals. One day we we will return to sail the French canals, probably hiring a barge.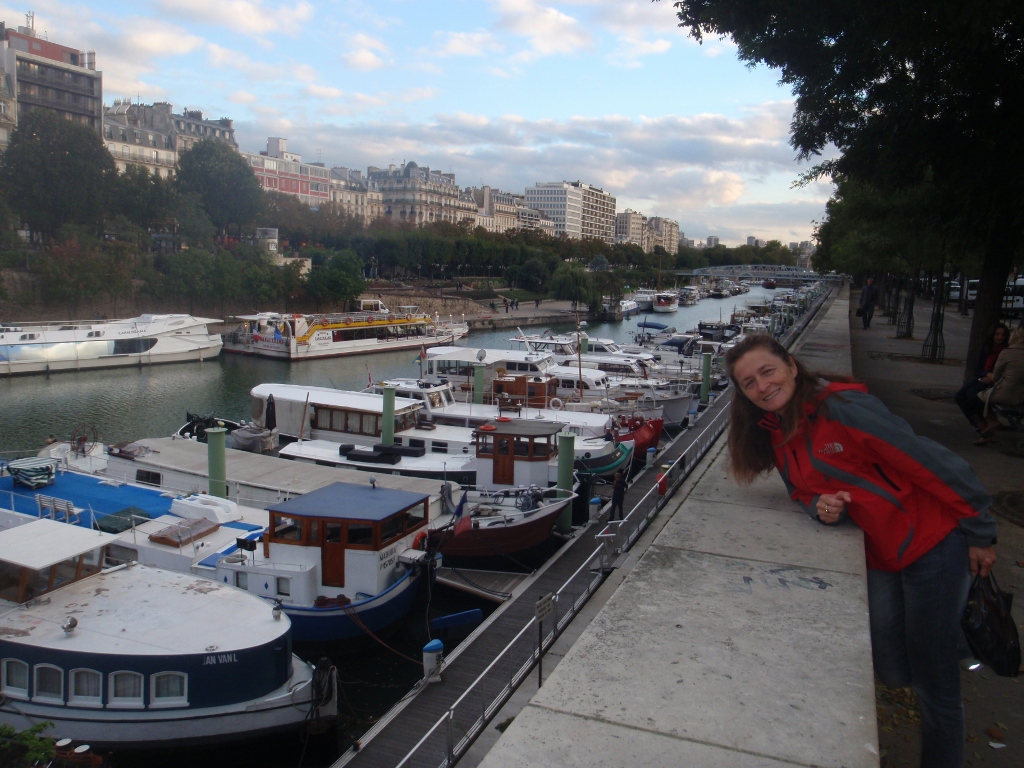 Across from our tiny, clean but quite suitable hotel room was a small French restaurant, no surprise you think, well the area was packed with restaurants of all sorts of foreign flavours, French was the exception. It was a wonderful meal, frogs legs and snails washed down with French red. Saturday night was Nuit Blanche, White Night, the night Paris does not sleep, party night all night. Unfortunately most of the outdoor entertainment just didn't happen as it started training about mid afternoon and drizzled all night. We had a couple of hours sleep before walking to the subway to catch the first train, 5:30 to get to the airport for put 8:30 flight to Mindelo. No such luck, by 5:50 am, with a huge crowd of damp all night revellers waiting at the subway gate, there was no sign of the subway opening. TAXI!! The airport, that is where the fun began! Flight delayed, flight delayed more. Breakfast served at a cafeteria., we all lined up to get a croissant and a coffee, only one guy serving and making the coffee, a long process but then with the delay we had time. Further delay so we were booked into the airport Ibis hotel, flight now scheduled for 16:00. At lunch we were informed further delay, be at the airport by 11 pm. It seems our flight had been cancelled to combine with the scheduled midnight flight. Some of the seasoned passengers booked on the midnight flight said it was not uncommon! Now our flight was no longer direct to Mindelo but via Praia on one of the other Cape Verde islands. Arrived Praia about 5am, scheduled to depart at 7. Rescheduled to 9. Began boarding at 9. By 10, no movement, the overhead lockers were still open, the French on board nearly rioted, a few women began walking the isles slamming the overhead lockers closed, mocked the safety drill and started abusing the couple of stewards. Finally about 20 minutes later we started to move for the short 20 minute flight to Mindelo. Back on the boat after midday, thankfully safe and sound.
--------------------
Now back to the weather watching waiting game. We had an extremely good deal at Mindelo maria so decided to slum it and stay in the marina but by the weekend, enough was enough, off to our favourite little bay just 3 miles, as the crow flies, 5 miles out and around the corner. With light winds and sunny days we enjoyed, no other boats, noone on shore, warm clear water and plenty of fish to snorkel with, just gorgeous. So the pattern developed, a few days on the marina, a few days in the unnamed bay, all the while waiting for the NE trade winds to settle in. Unfortunately there was heavy hurricane activity in the Northern Atlantic that prevented it from happening.