Morocco
Category: North Atlantic Ocean
Created: Saturday, 17 March 2012 15:45
Written by Roger Boxall
Hits: 1571
orroco
Finally on 9 April, 10 days after arriving to Gibraltar we set sail for North Africa, Spanish Ceuta, 15 miles across the strait of Gibraltar. Close to Ceuta, while dodging ferries we had a close encounter with a turtle. Unusual in that we circled it quite closely, close enough to see its damaged shell before it dived. In Ceuta we tied up comfortably, Les had his wound checked by a doctor, OK but not ready to have stitches removed. Part of our reason for visiting Ceuta was to do a little excursion into Morocco. Search as we might we could not find any package deals even to visit the famous Fez. Sasha contacted a few small hotels, B&Bs, but it seemed that accommodation was at a premium. Eventually, largely to do with a general lack of interest the idea was dropped and we spent time waiting for reasonable weather to head out of the straits for the Canary Islands some 600 miles Southish. Timing plays a part in getting out into the Atlantic, you definitely don't want the 2 to 4 knot current against you. At two hours after Gibraltar high tide on a cloudy, a cool11 April we were out of Ceuta motoring into a light west breeze hoping to ride the current out. We didn't do as well as we had hoped but not too bad, setting sail towards the Canaries by 3 in the afternoon to have a lovely night sail at 6 knots plus. The North West wind held for most of the day but started to pipe up in the evening with a 3 metre swell caused by stormy weather up in the area of the Bay of Biscay. Les and Glor were keen to take a shift by themselves so at about 8 Sasha and I tried to get some sleep. Unfortunately the wind came up a bit more to 25 knots and gusting then a larger wave collected Ednbal on the starboard side, saturating Les and causing a bit of a mess inside as some books fell from shelves. Les and Glor were not happy! I took over the watch, shortened sail even more and hoped that they would recover. It was a bumpy night, more sail shortening but after a few hours things settled. In the morning it was decided best to head in for shelter at one of the few Moroccan all weather ports, Safi.
We checked in with police, customs and harbour master at 14:00 on 13 April 2012. With no marina facilities we were directed to tie up alongside a larger commercial vessel. While waiting for more favourable weather we visited Marrakesh, advising the authorities and our boat "watchman" before we left on the 15 April. Before we left, we spent whole day with our "watchman" a person named Bush, who was introduced to us by harbour police to look after us and our interests. He organised our tickets, took us to wifi cafe, ordered tagine for us in the restaurant and showed us the old Medina within Portuguese castle walls.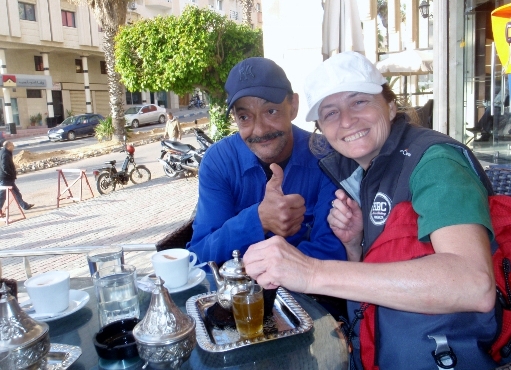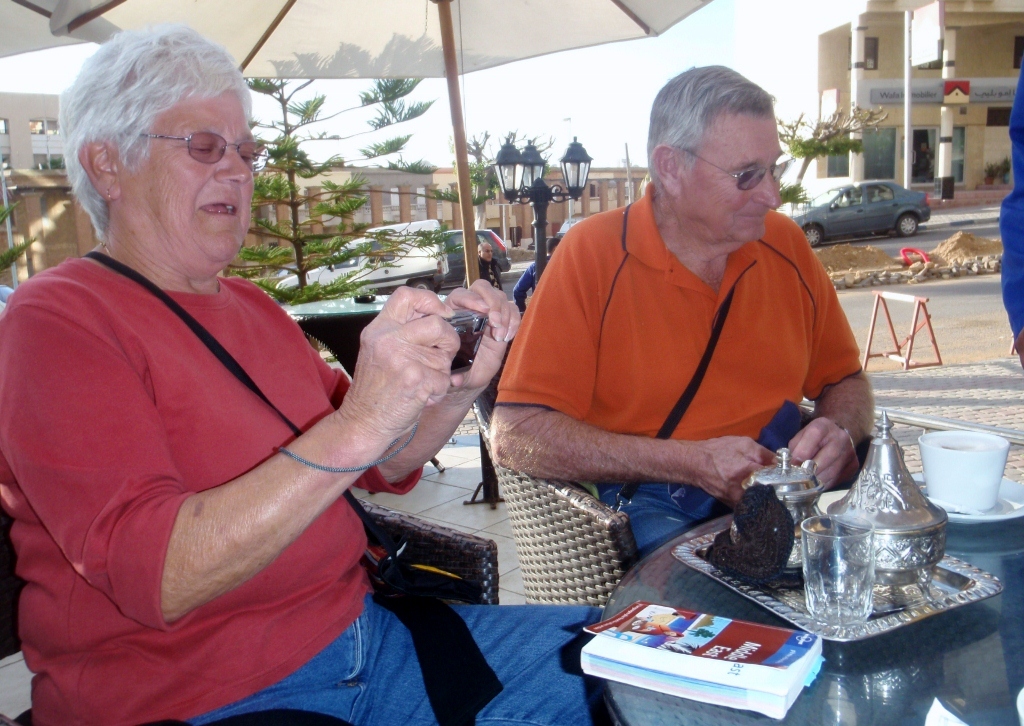 The bus trip to Marrakesh was somewhat crowded and slow but we made it in time to find a very nice small hotel, a Riad, the Hasna Espi, of about seven rooms, really a very nice establishment great staff, not far from the tourist centre of the souks and bazaars of Jemaa-el-Fna square.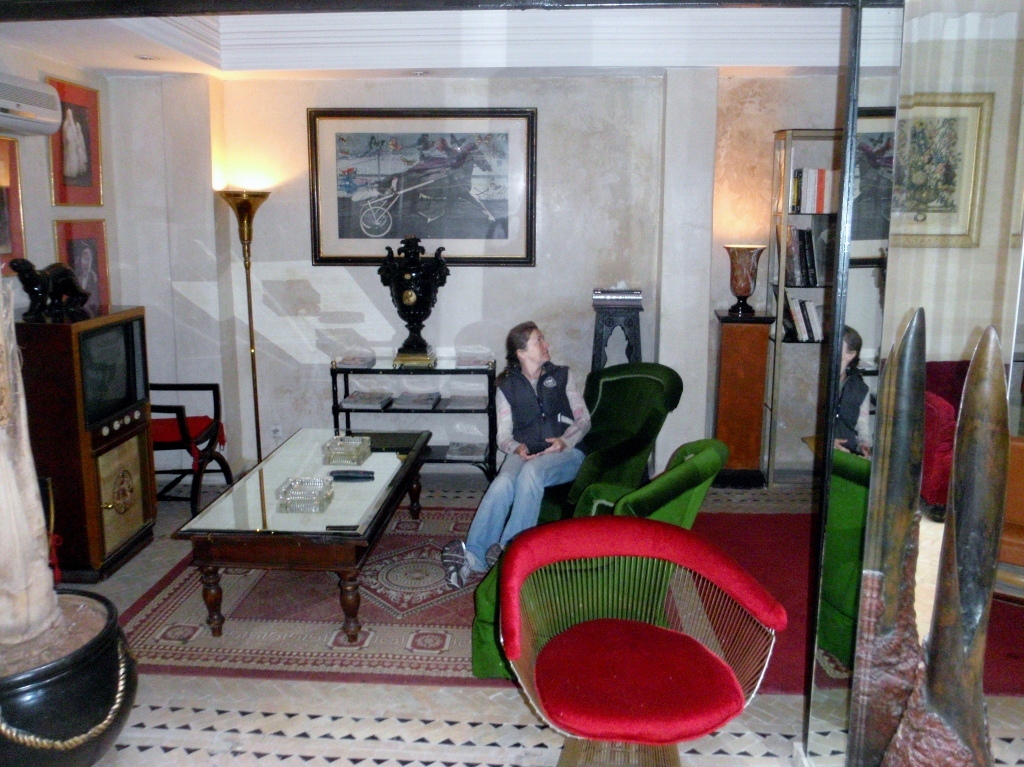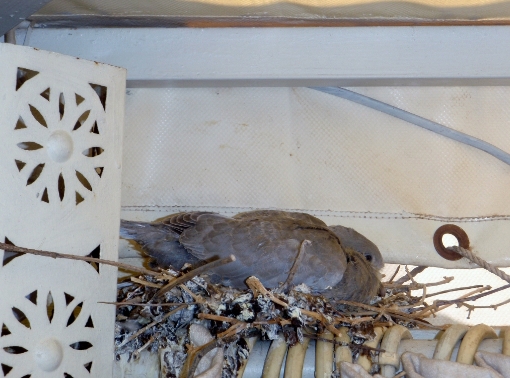 Breakfast was served on the roof top terrace complete with dove nest and chicks. For a couple of days we did the tourist thing, ancient sites, museums, snake charmers, spice markets, loads of mint teas etc alas it felt like more of the same.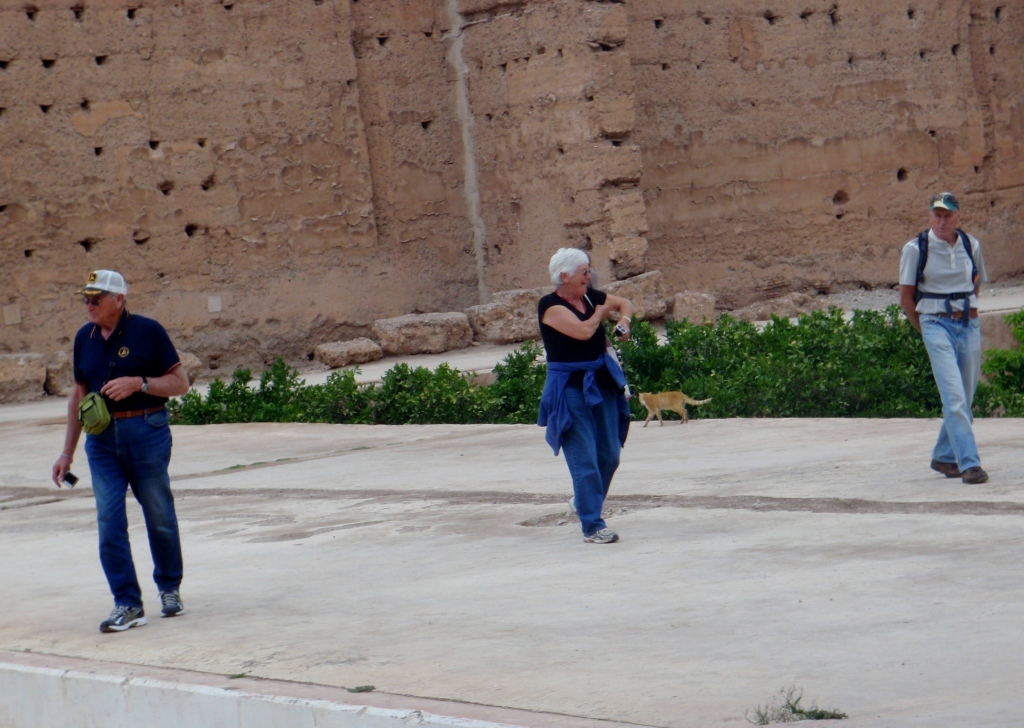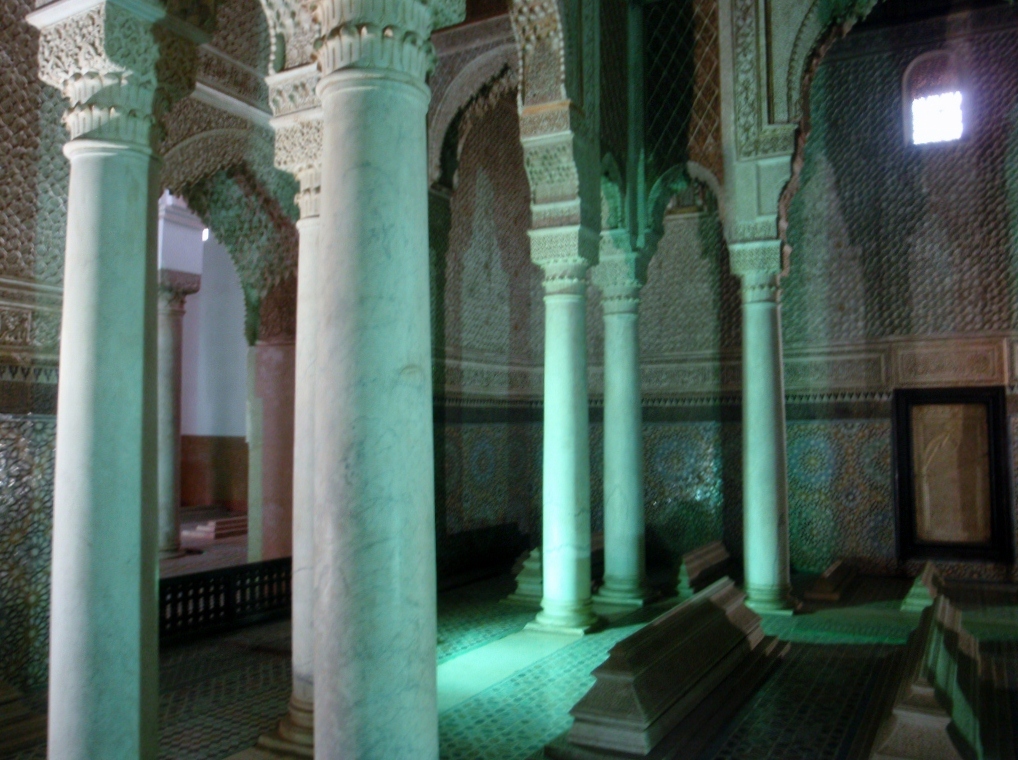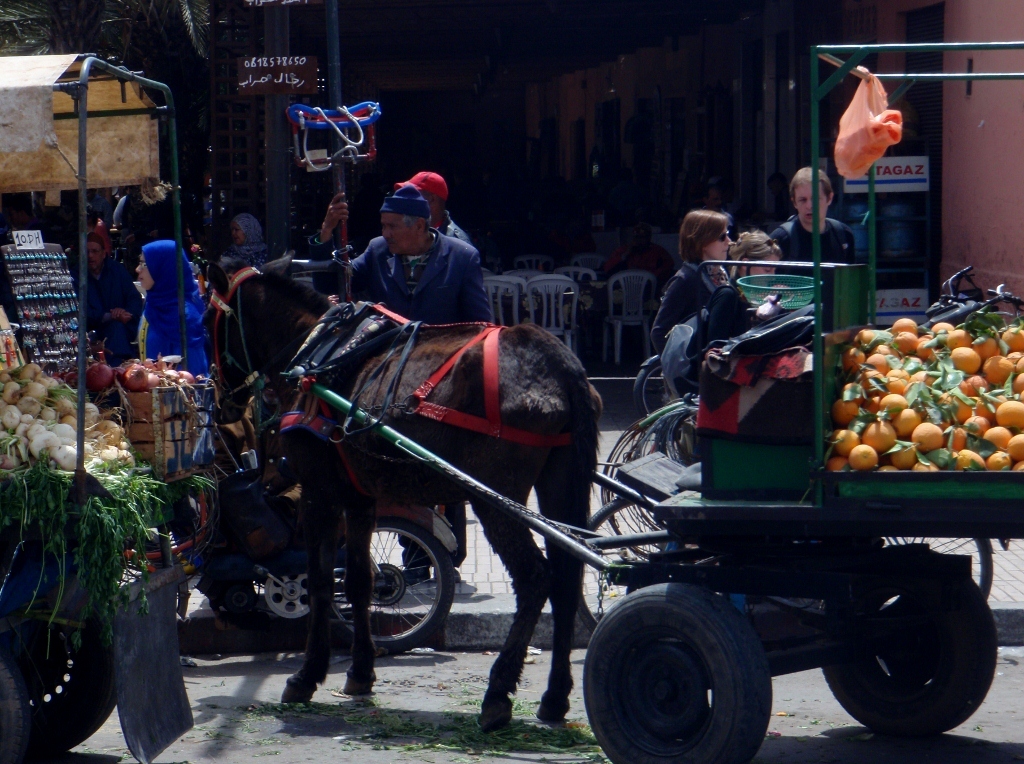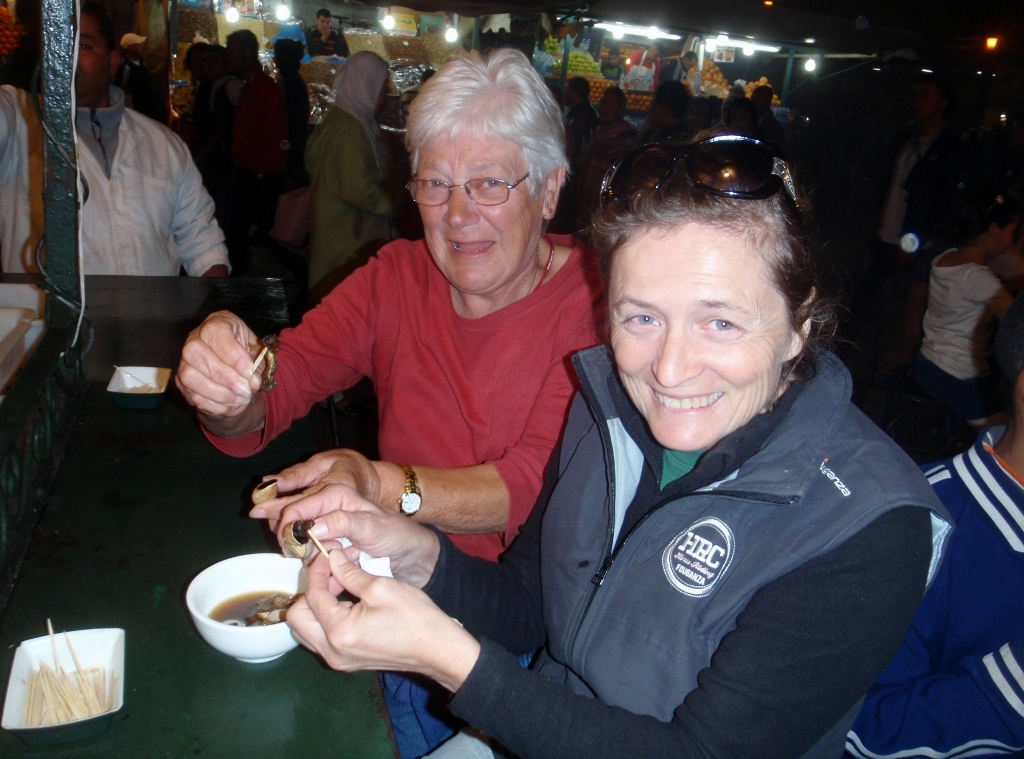 Upon our return from Marrakesh at approximately 23:00 on 17 April we found that our vessel had been entered although we had left it fully locked. Cupboards and drawers had been rifled through as had travel bags of our guests. Apart from marine electronic equipment we have few valuables on board, except gold jewellery my sister in law had stored in a small zippered pocket on the top of a back pack left at the foot of her bed. Value about $2,000, it was gone. Obviously it was the work of professional (s) as there was no sign of forced entry, most items, cupboards etc were left in a reasonable state and the companion way hatch had even been made to look as though it was still locked although once the key was put init was obviously not. We called the police who came, talked, inspected, tried to take finger prints and took a statement from my sister in law, writing in Arabic. She was asked to sign six copies but was not permitted to have a copy. The police gave a short document, recording that a report had been made, in French. Not a good experience! Another couple of days were spent in Safi waiting for a better weather opportunity to sail to the Canaries. As it turned out a good chance for a few Moroccan specials, in particular the ceramic clay articles for which the area is renowned, apparently!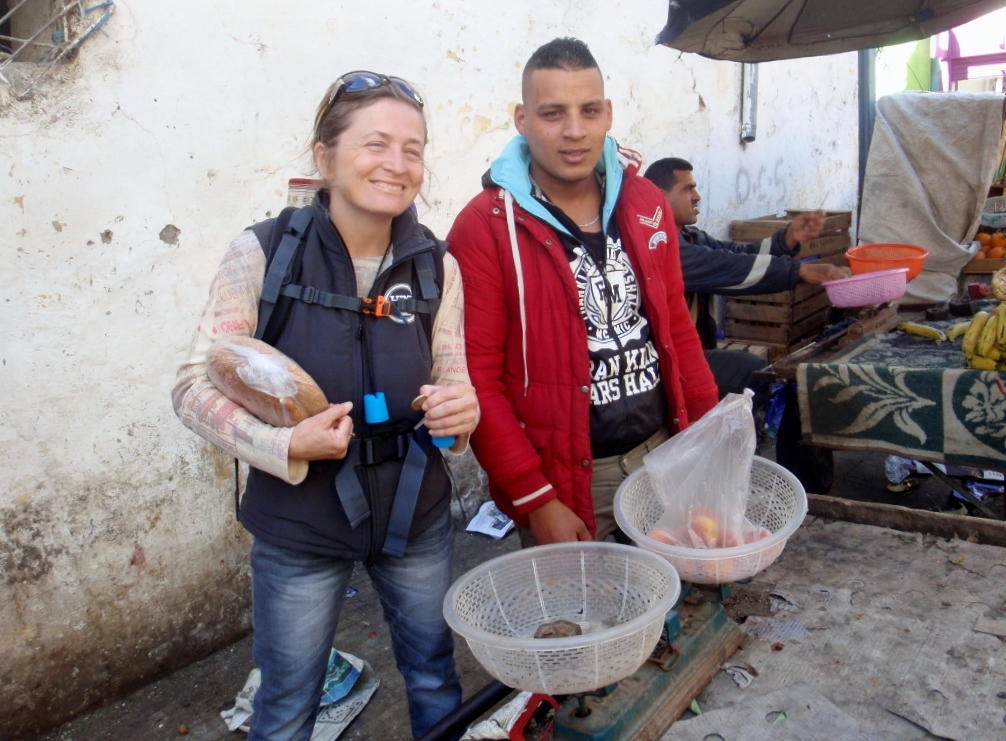 And the right weather finally arrived.