Azores, Portugal
Category: North Atlantic Ocean
Created: Saturday, 27 June 2009 16:56
Written by Roger Boxall
Hits: 1625
Azores
Azores
Faial, Azores
It's a great feeling to have the big ocean leg of our Atlantic crossing behind us, now some time to relax and enjoy the Portuguese Islands. Faial's port of Horta is the main stopover point for vessels transiting the Atlantic so there are a huge number of yachts, several hundred, in port at any one time, at least half of which are transiting. Understandably space is a premium and we were directed to tie up, raft up, alongside another yacht tied to the concrete wharf. The skipper said they were leaving so we waited for them to move off and we tied up directly to the wharf, what a mistake. Before long we had three other yachts rafted up, one beside the other, tied alongside. This scenario was repeated for the length, about 200m, of the wharf. For the duration of our stay we had people clambering over our boat, to get to theirs, all hours of the day and night.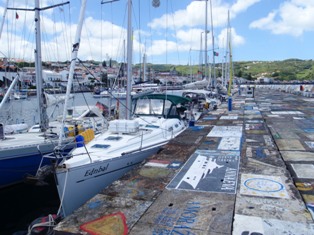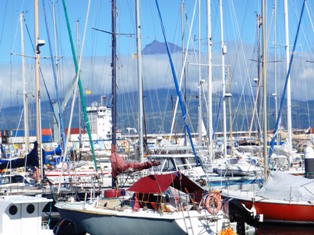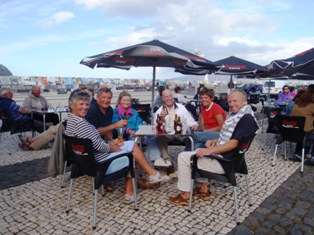 The town/city of Horta, set against volcanic background, is very pretty, just as I could imagine a European seaside village, pastels painted buildings with a lot of white and terracotta tiled roofs outlined by white painted mortar. Roads in the town are all cobble stone almost as regular as brickwork while the footpaths are also stone only much smaller pieces. Really something!
 The local "internationally famous" bar is Peter's Place with inside walls and ceilings lined, several layer deep, with yachting flags and burgees. I hung our home yacht club, Swan Yacht Club, burgee on the wall suspecting it to be the one and only at Peter's Place. To celebrate the occasion we downed a few of the house traditional beverages, Gin and Tonics no less.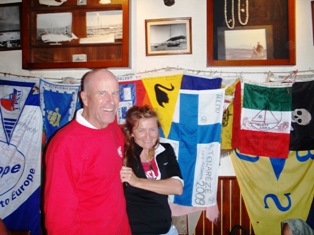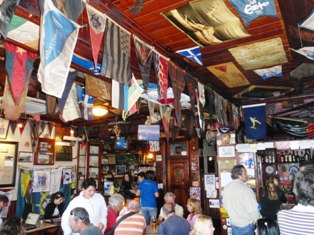 Next job was to leave our mark. Almost all visiting yachties leave a painting on the wharf or surrounding concrete structures. As old ones become faded and unrecognisable, 10 years or so, someone paints over a new one. We selected one that we could barely make out the date, 1997 I think, and prepared our mark, featuring Ednbal the frog of course. Local hardware shops do a roaring trade selling small tins of paint etc to the visiting yachties while the paintings are a local tourist feature. Sasha designed and painted our contribution although I did the most important bit, the white background.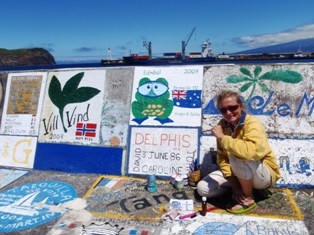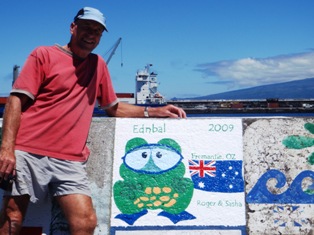 We didn't do a lot from a touring perspective but did a little exercise. Along with Klaus and Elgard from September, we caught the ferry to the nearby Island of Pico, for a bit of hiking to climb the highest peak in Portugal, the 2,300m active Pico volcano, a national park area. Part is a bit of a cheat really, most people take a taxi to the park ranger's office, at 1,300m, and from where there is only a walk trail for the remaining 4.5km long 1,000m assent to the summit. It was almost an ideal day, perhaps a little warm in the sun as we had warm clothing prepared for the summit and had to strip down to tee shirt to stay cool enough while expending considerable energy hiking up.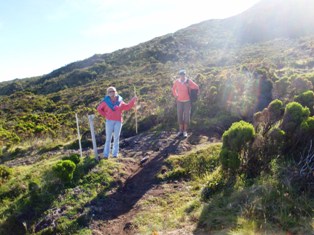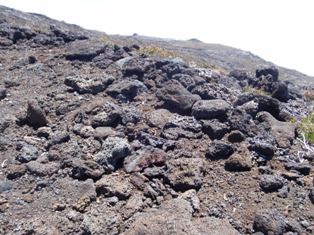 Being a relatively young volcano, still classified as active, the ground is a mixture of lava rock in some places but a lot of cinter, about the consistency of gravel, in others. Climbing in the areas covered by the cinter, or ash, is a bit tricky as it is very easy to slide. The trail, in many places, is not obvious, hence the recommendation to use a guide in the tourist brochures, but if you keep a watch for small piles of stones or occasional 1m high concrete posts you can find the way. Never the less we had our combined GPS, hand held VHF radio just in case.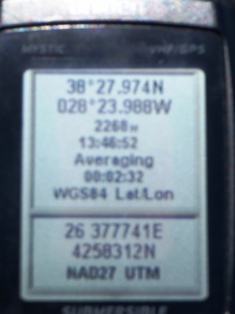 The lower slopes had spare green scrub up to 1m high but further up, above the cloud line, the ground was virtually bare. Klaus and Elgard, a little younger and much fitter, soon went ahead but would stop now and then for us to catch up. The scenery, looking down over the reat of the island and sea, between breaks in the clouds below, was just spectacular but having not walked any real distance for months we tired easily and wondered how we would feel the next day. By the time we staggered to the rim of the volcano we were buggered, beer o'clock well overdue so we sat down to beers and lunch while Klaus and Elgard, who had already eaten while waiting for us, went the extra few hundred meters around part of the rim and up the highest point.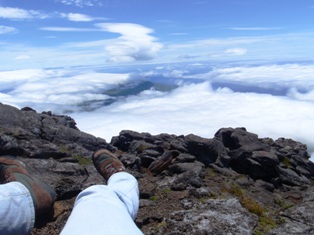 Now we were thankful for the warm clothing we had, temperature down to 15C and a chilly wind! Pico is very popular, we saw several other parties on the way up and down. Some do it in one day as we did, others go up in the darkness of early morning to be at the top for sun rise while others go up one day, camp in the crater for the night and descend the next.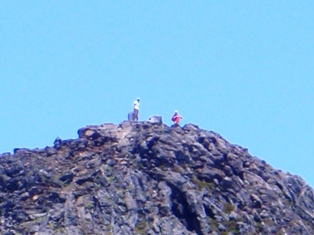 Going down wasn't that much easier than going up; we had to be especially watchful on the slidey stuff made worse by our tiredness. I bought up the rear, a combination of lack of fitness, age and care! By about 6pm we were back at the ranger station for the taxi ride down to the ferry. Slept well that night!
Terceira, Azores
A couple of days later we said goodbye to Klaus and Elgard as we left Horta, in company with Amour de la Mer, for the island of Terceira, 68 miles east. A lovely day sail with the gennaker up part of the way as we went between Pico and Sao Jorge islands, arriving in Angra do Heroismo on the Island of Terceira. Little beknow to us, right in the middle of the sun festival week, Sanjoaninas, A Festa do Sol.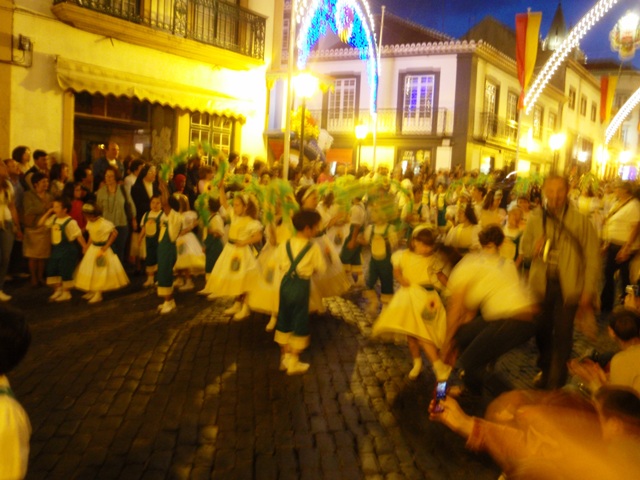 There were thoughts of a good nights rest as we had left Faial at 4:30am but they were dispelled when we saw all the food and drink stalls lining the front street right next to the marina check in facility. With Lee and Barbara we walked around to have a look and settled on some bench seats along tressle tables outside a stand selling small sea snails cooked in a garlic broth in huge pots. The food was called Caracais .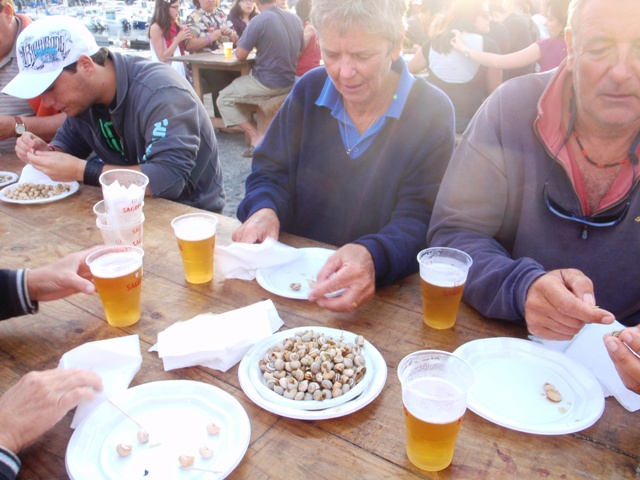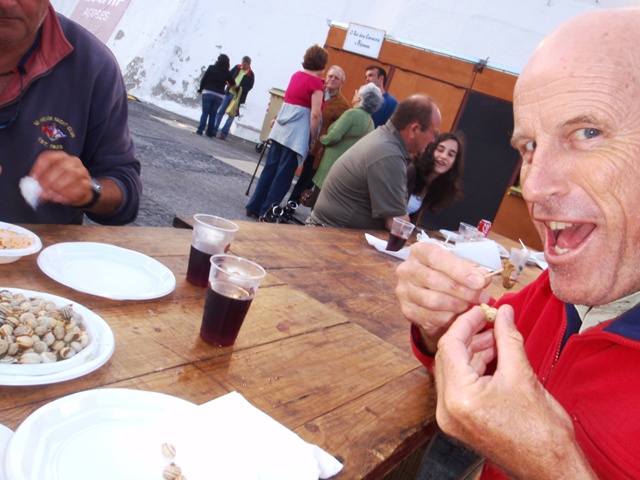 A couple of plate fulls using a tooth pick to extract the delicacy from the shell along with a few beers was a real treat. At the next stall were people cooking sea food, mostly prawns with a smattering of other shell fish, in large iron pans over gas flames. Their base ingredient was large slabs of garlic butter that heated "flamed" and threw the seafood into. All done as part cooking, part show.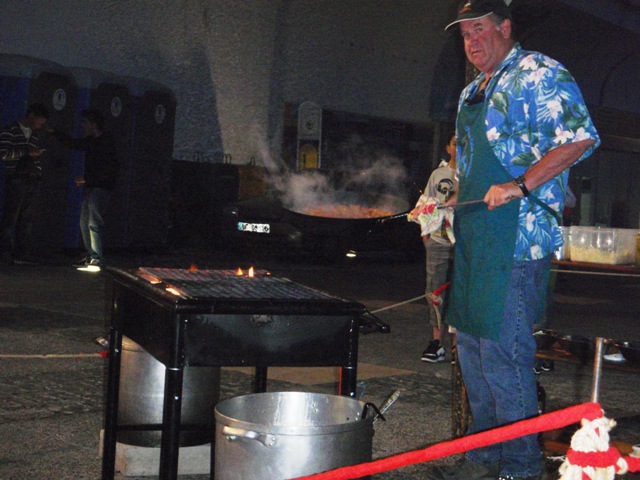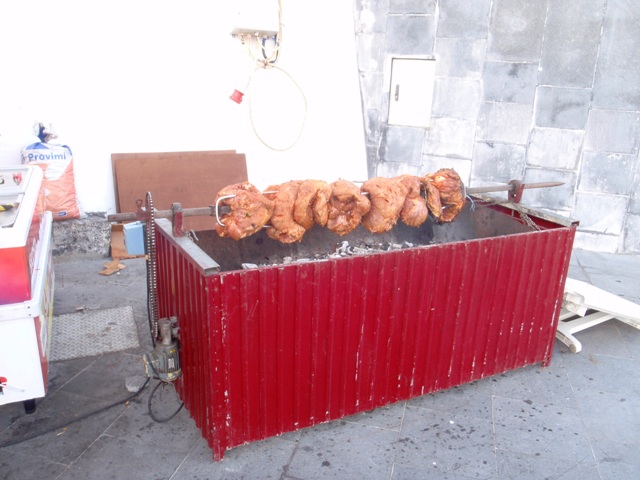 Every stall had its speciality right through to port spit roasts there the meat was carved off and sold in beautiful, baked on the spot, bread buns. All sold a variety of beers and Sangria on tap.
With forecast bad weather we moved from the anchorage in to join Amour in the marina where we were allocated a birth right outside the restaurant and card key locked marina dock entry gates. Every day of the week long festival there was activity, street parades, open concerts (several in different locations each night), bull fights at the nearby arena and, one of the highlights, the running of the bulls in the mains street. For this "event", part of the main street and a couple of side streets were blocked off by trucks and simple wooden barricades were set up. Street stall selling local fast food, beer and Sangria, to assist in "anesthetising" the men keen to run with the bulls, did a roaring trade but some did suffer damage from the moroarding bulls. We took up a vantage position sitting on the tin roof of one of the stalls where a great dark guy cooked bbq chicken out back to be sold with appropriate beverages out front.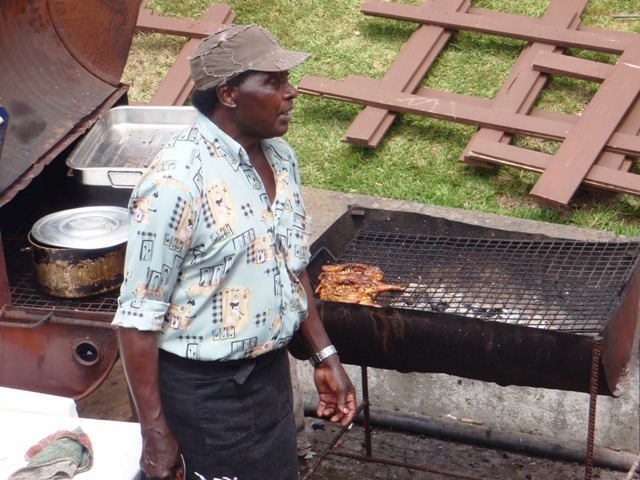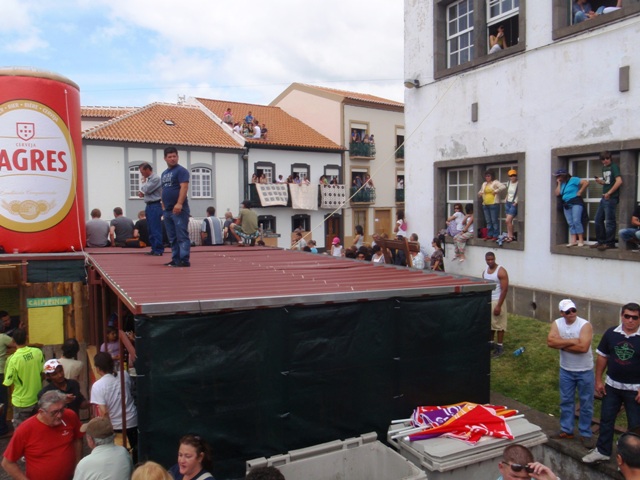 With the sound of a couple of large explosions, probably fireworks, the bull were set loose.  For the most part men ran out in front of bulls but quickly jumped over barricades or clambered up trees as the bulls got close.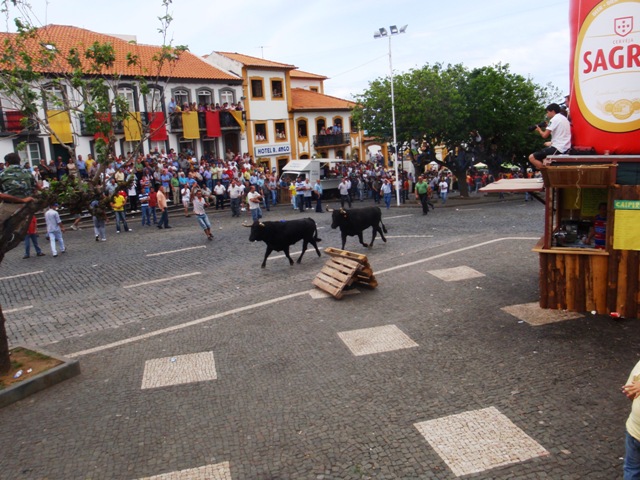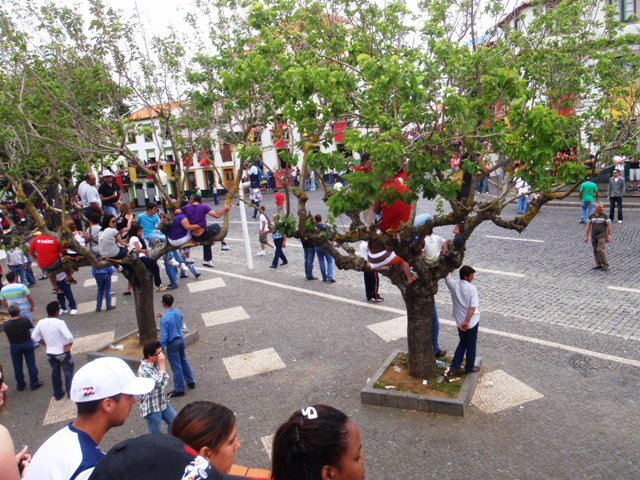 We heard that at least one guy was carted off to hospital when he was run down by a bull, tossed by horns and trampled. We thought about attending one of the bull fights but in the end decided to leave it for some other time.
Another attraction on Terceira, especially for cheese lovers like Sasha, is the local home made cheese factory about 8kms out of town along the coastal road. Lovely day for a walk, why not. We started out late morning banking on cheese and beer for lunch. The very European houses with walls out the front, mostly painted white with coloured trim, really did look the part as we walked out of town and into the more rural areas where small paddocks were divided by stone wall fences. For most of the way we had footpaths but as we went further it was only road, hard up against the walls of houses through the small villages. Then it started, cold misty rain, about 2km from our destination. By the time we got to the cheese factory we wet but not dripping, of course with no rain protection at all. The cheeses and beer did not disappoint so we bought a selection to take back with us.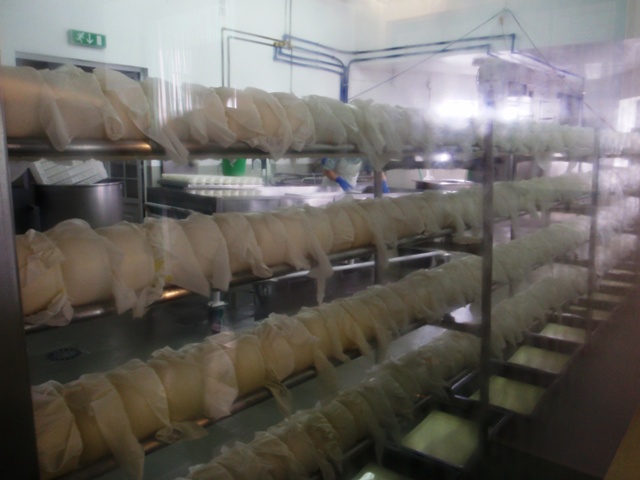 A few kgs heavier we set off in the rain again and decided to try to hitch a ride, after a couple of kms, success, a nice young guy picked up two half drowned rats.