Category: North Atlantic Ocean
Created: Saturday, 17 November 2012 15:49
Written by Roger Boxall
Hits: 2638
French Guyane
Monitoring the weather from our favourite little bay we could see an opportunity coming up so planned our short hop back to Mindelo Marina, still able to get our super special discount rate, for final preparations to leave. Top up fuel and food, check out, ready to rock and roll, weather system still looking good for a Sunday 4th November departure. I had not been feeling 100% for almost a week, we decided that if I wasn't feeling much better come Sunday then I should see a doctor Monday. Problem was I didn't feel that bad, just "off", bit like a hangover without a headache. Sunday no better, off to the doctor with a written explanation of how I felt and since when. The first thing he asked, had I eaten any of the locally made fresh white cheese? Yes, Sasha and I looked at each other, last eaten the day before I started feeling off. Next an immediate blood test, come back on the afternoon for result and see the doctor again. I tested positive to Salmonella typhus H, don't know what it means but sounds impressive! Onto the fix out pills, for five days, no need to see the doctor again and yes quite OK to set sail. We were both unsure but decided that we'd had enough of Mindelo and were keen to get going so with the afternoon outgoing current we set sail Tuesday as I was already feeling better.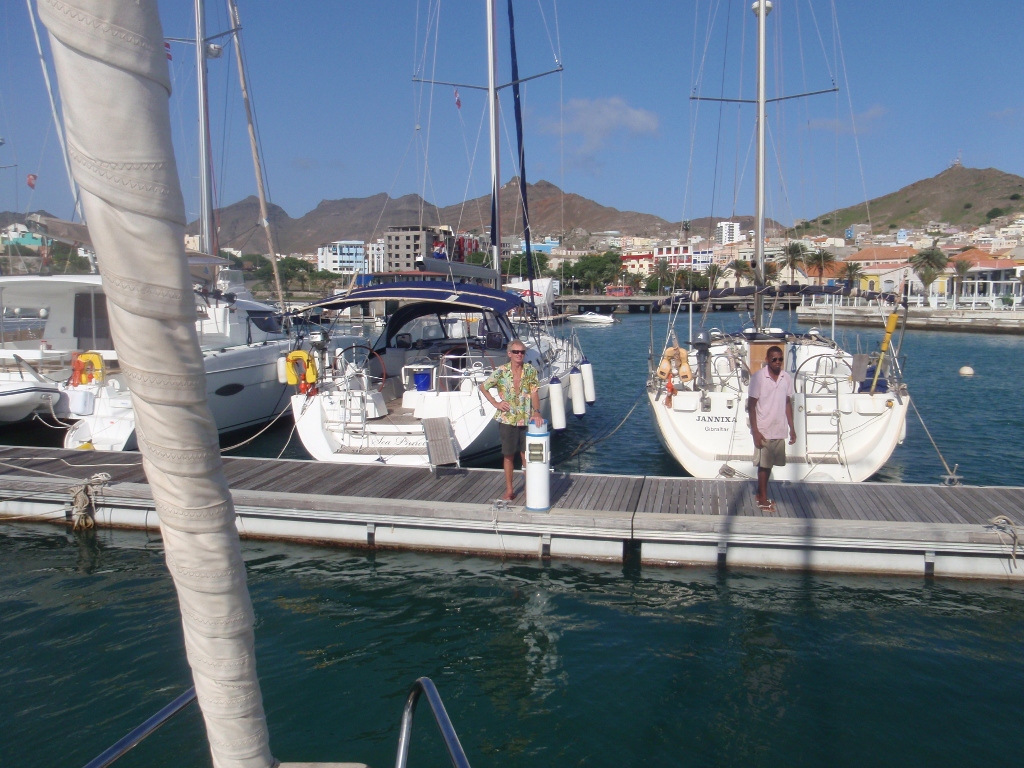 About ten miles out, in the channel between Sao Vicente and Santa Antao I started to get slight stomach pain, now what. Sasha was keen to return, I was not. We decided to head for an anchorage on the South West side of Santa Antao, another Tarrafal, and see how I felt in the morning. By now it was late afternoon, by the time we entered the big bay it was dark. All we had to go on were a way point, a sketch chart and description from our cruising guide. Going into an unknown anchorage at night, no moon, black as the inside of king Tut's tomb, was definitely not on the plan. To make matters worse the bottom shoals steeply from 30 metres to the shore, the book said anchor in 8 to 20 metres. Fortunately there was one other yacht anchored so we went close to him, circled around nervously a couple of times and finally dropped the anchor in eight metres of water, listening to waves breaking on the shore just a few metres behind us. Oh for a drink, but I was on antibiotics, bugger!! This is known as an almost windless bay, and was. In the morning we were facing off shore, bit of a lumpy sea, just a very light breeze and our stern about 30 metres from shore.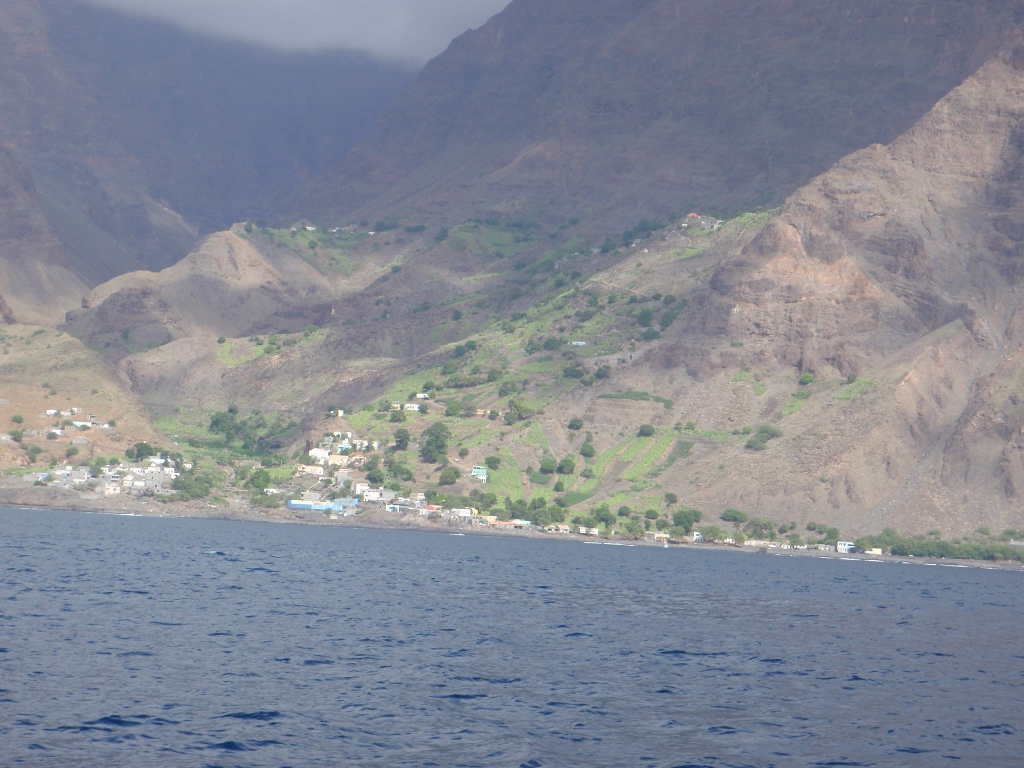 Our neighbours had disappeared in the night and there was even a couple of tourists on the pebble beach. I felt OK so time to go but Ednbal didn't want to, turned the key to start, nothing happened, no started motor, no solenoid clicks, nothing. Hmm, dash, blast our words to that effect. After a little investigation we found that the engine start solenoid had given up the ghost. While I didn't have a Yanmar spare I did have one for the generator. A little wiring modification and bingo away we went at 2:30pm setting a Westerly course.
To provide "another pair of eyes" on the weather front, in addition to weather details we get via sailmail, we had been in contact with Herb in Canada via the ssb radio. Wednesday night, in the regular sched he recommended we sail more South due to a developing low pressure system to the North. Even so we had a big swell, to three metres and winds 25 to 30kts in squalls. One lightning bolt was accompanied by instantaneous, almost deafening thunder that bought back shock memories of when we were hit in Panama. Would be lovely to be out on mid Atlantic with no electronics or autopilot! For the next two days even though the low pressure system to the North of us was long gone, Herb continued recommending us to head generally South and even spoke about us crossing the equator and mentioned Brazil. Given that Korou, French Guyana is at 5 degrees North, something had to be wrong somewhere especially as our other weather information showed winds were better to the West. Finally we found that Herb was confusing French Guyana with Fernando de Naronha, islands off the Brasilian coast just South of the equator. Now we were too far South, about 90 miles South of our rhumb line (direct course Cape Verde to French Guyana), lost the wind and had to motor 60 miles North to pick up some wind, about 10kts from the East. With that sorted out we headed West another couple of days making 4 to 5 kts in light winds, using the genaker when we could.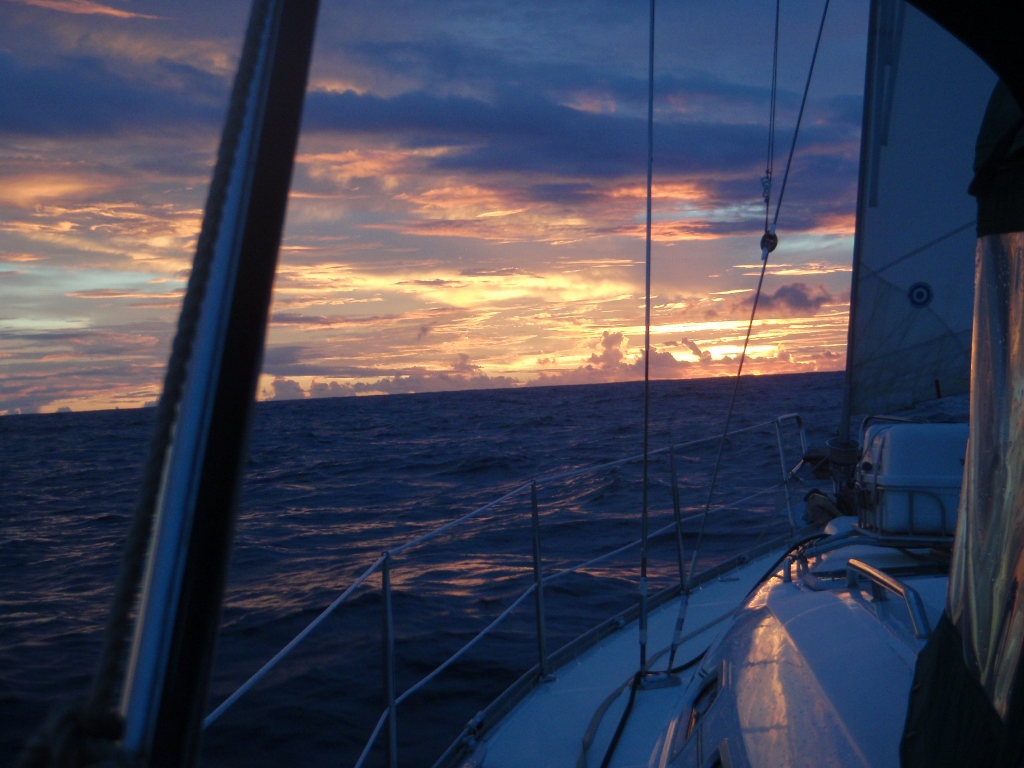 Got a bit tricky at times due to the sudden onset of a squall here and there, causing mild panic with sudden increase in wind and necessitating rapid dropping of the genaker. It seemed every next day weather forecast was different to that predicted the day before so our course planning kept changing and no matter what the wind never seemed to be that close to forecast, not our expectation for trade wind sailing!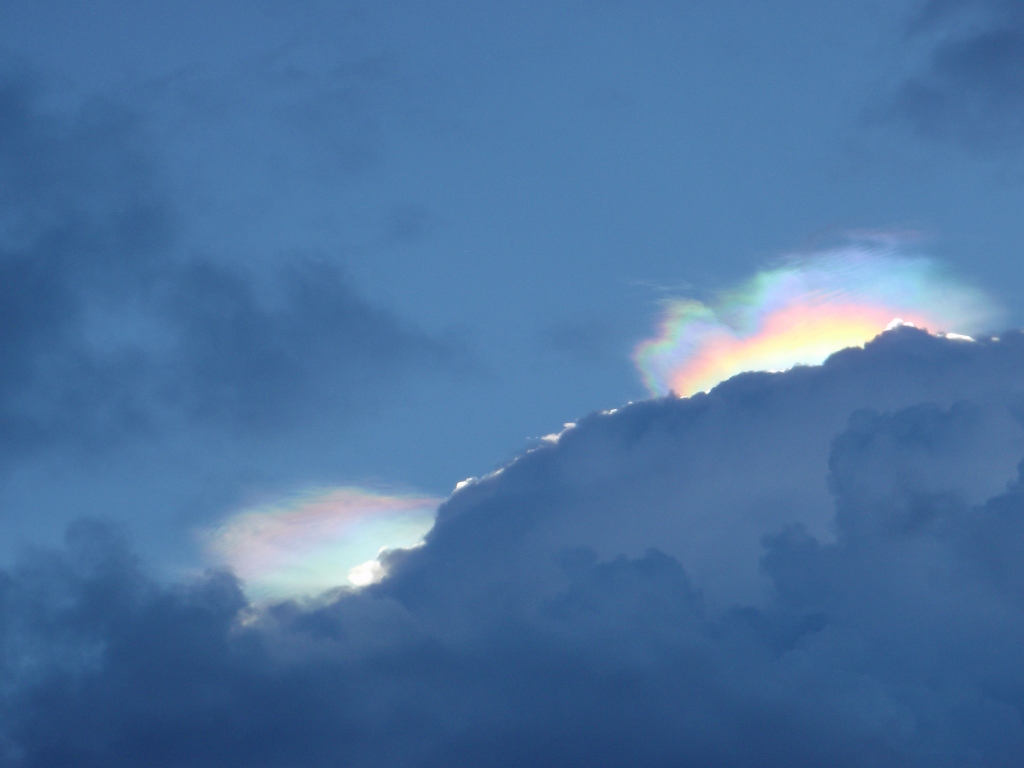 At about 600 miles out from Cape Verde and now 85 miles North of our rhumb we started heading more South West towards our target hoping to have dodged the area of no wind lying, at that time, to our South. Herb was able to set our night and next day expectations in relation to convergences, squall activity, something we could not get via our email forecasts. That was how we continued, in light winds averaging about 100 miles a day for the next 400 miles. In the mean time, as we consumed Sasha's pre made meals from the freezer, some room became available for fish so fishing started in earnest using a Boxall special lure. She of little faith, after a couple of hours thought. "no chance" but just as we were eating a lovely smoked salmon paste dish for lunch the reel screamed attention, a nice little 5kg Mahi mahi. It was fish frames for dinner, wth "5 seeds" freshly baked bread.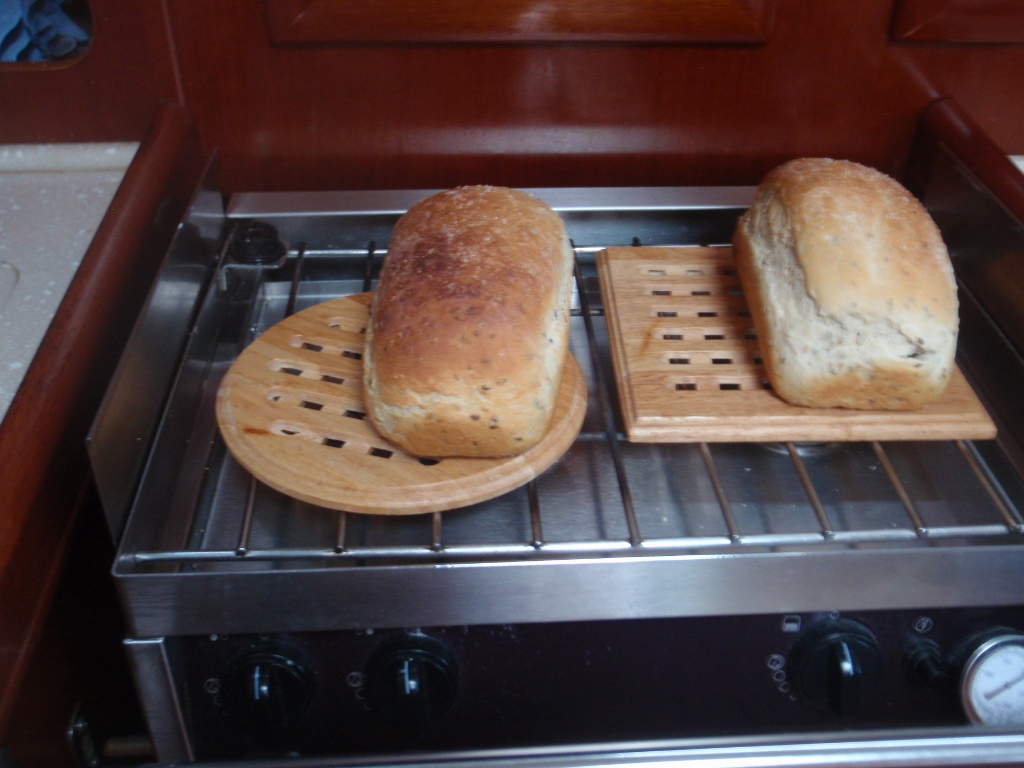 Sailing was somewhat up and down to say the least. Frequent squalls causing almost 90 degree wind shifts and wind strength to increase moderately, generally from less than 10 knots to around 20. The implications, gennaker up, gennaker down, furl sails in, furl sails out, trim sails, shorten sails. This was certainly not trade wind sailing. Initially we had current against us, at times over two knots, most discouraging, but as we got further South and West the current, due to a large warm eddy (warm eddies rotate clockwise, this one was about 150 miles on diameter according to weather guru Herb) changed and before long we had two knots with us, beauty!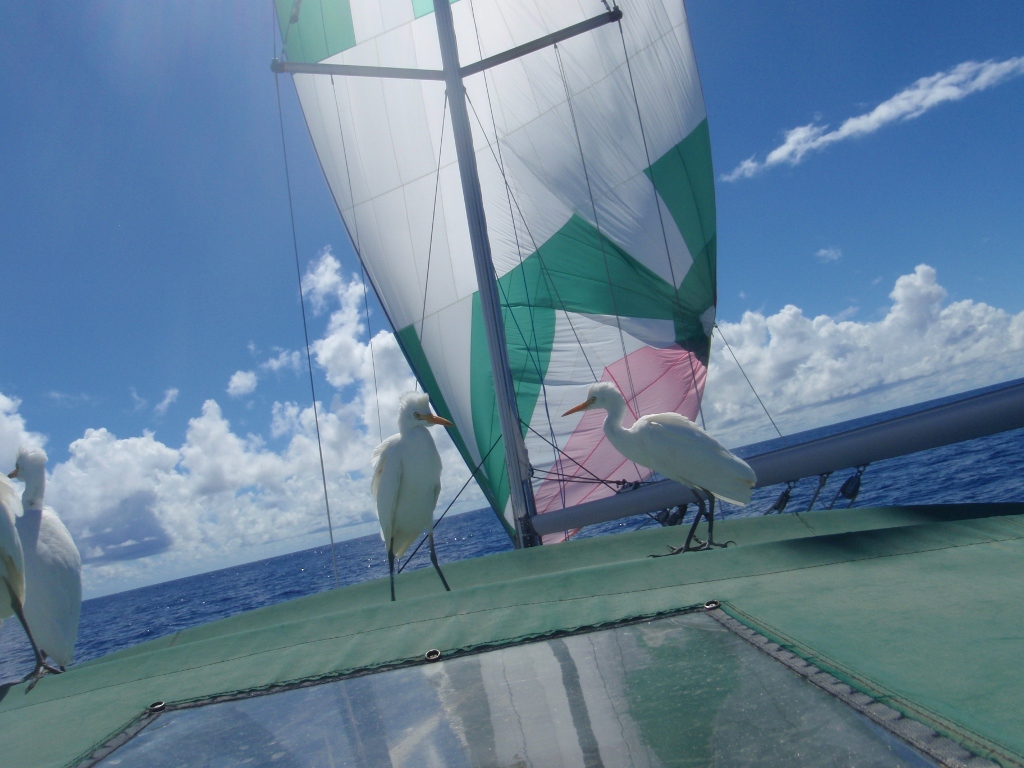 Almost every day more rainfalls but for the last 36 hours it stayed fine so we ran the gennaker through the night under a beautiful bright moon, making six to seven knots with a gentle ten knot breeze almost right behind us. On the last night we were just starting dinner when the fishing reel went off. I usually bring the line in at dark but had forgotten, thankfully, as we only had a couple of fillets of the last Mahi Mahi left. This one was bigger than the last, just what we needed to put in the freezer.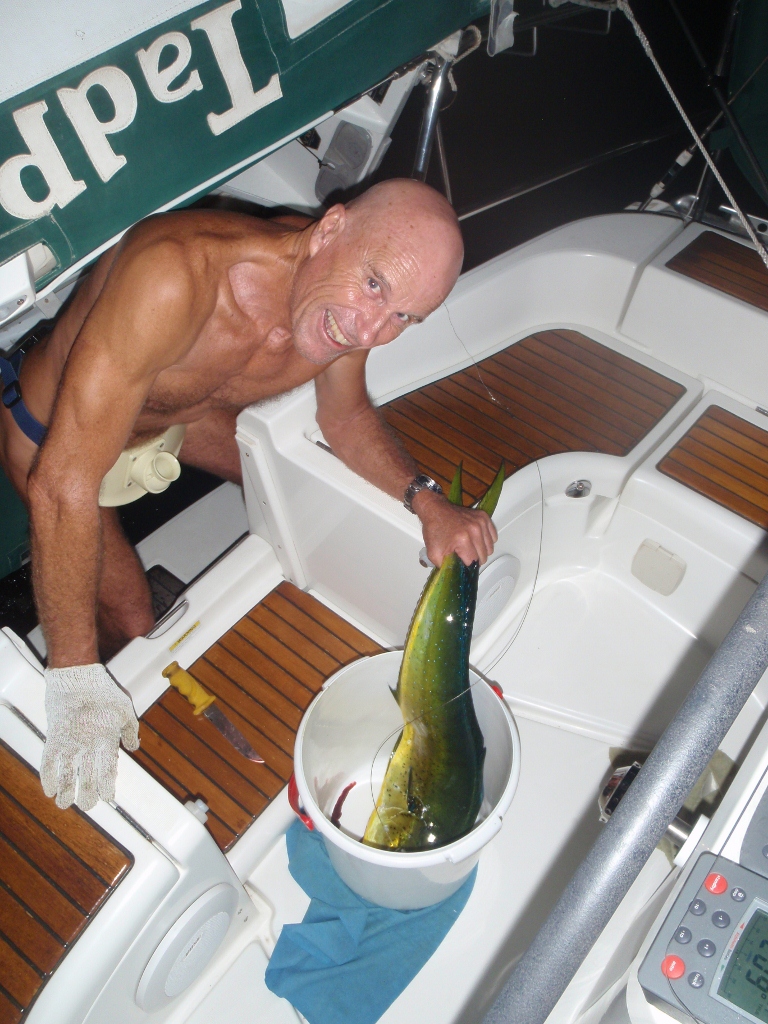 Next day, Sunday 25 November, after eighteen days at sea we dropped anchor in Cocotorail bay, Ile du Royal, one of the three Iles du Salut. Time for a well earned beer followed by a fish frames and champagne dinner.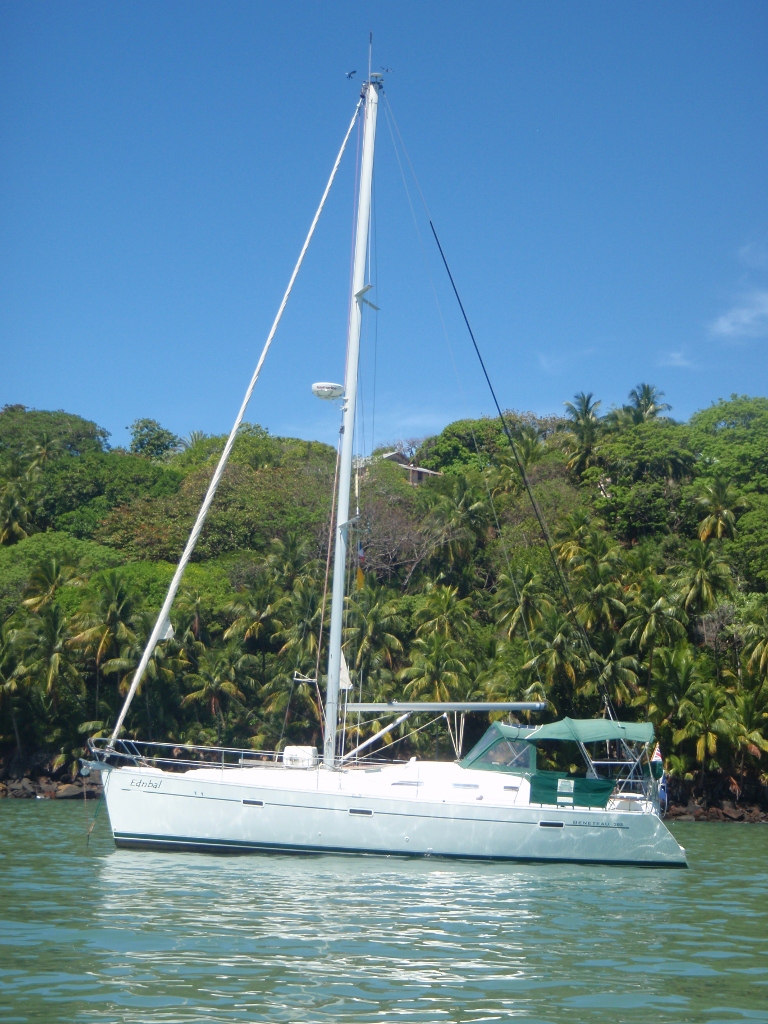 There was one other yacht anchored in front of us, Odin's Toy , a 1991 Beneteau 44 with three Argentinian's guys on board, Daniel, Jose and Fernando. They had sailed from Natal, Brazil, 11 days, most of the way with no engine (wouldn't start) and had run out of petrol for their generator so no way of charging batteries, they turned everything off and hand steered. After having tried to start the engine while underway the starter motor also failed. We went to take a look. The engine room with 56hp Perkins was a bit of a mess, oil and diesel everywhere. Even shorting out the start solenoid had no effect on the starter motor, it would have to come out. They removed it and took apart for us to look at the next day. Someone at some stage had changed the brushes in the starter motor and not done a very good soldering job, two joints had come apart, probably overheated due to excessive cranking when they were trying to start the engine. We managed to resolder the brush pigtails and resemble it for them. They reinstalled and to our surprise it worked. Now to try and start the engine, after changing fuel filters, priming and much cranking with one of the mechanics off one of the big charter/ferry catamarans still no start. One of our engine maintenance books suggested squirting WD40 into the air intake to try and start. It worked and after the smoke cleared the engine purred away quite happily. That afternoon they departed the scene, cheerfully. We walked the two very small islands, Royal and St Joseph, each taking about an hour to walk the well signed trail, close to the water on the edge of the jungle liberally peppered with coconut trees home to small monkeys and large red and orange parrots.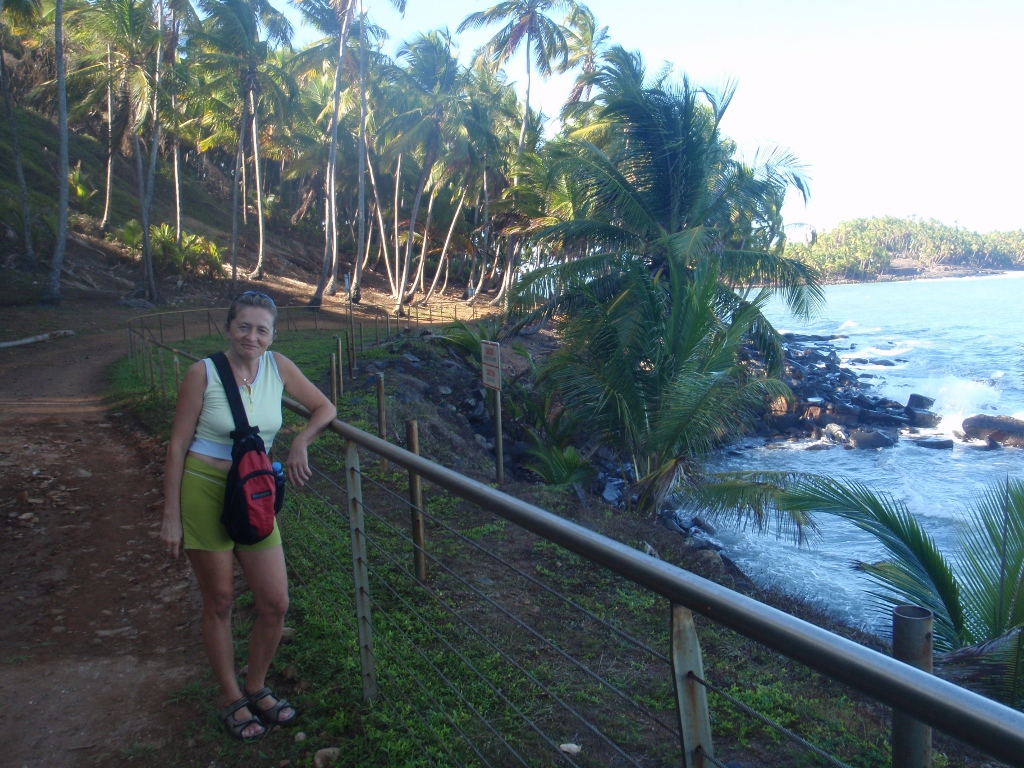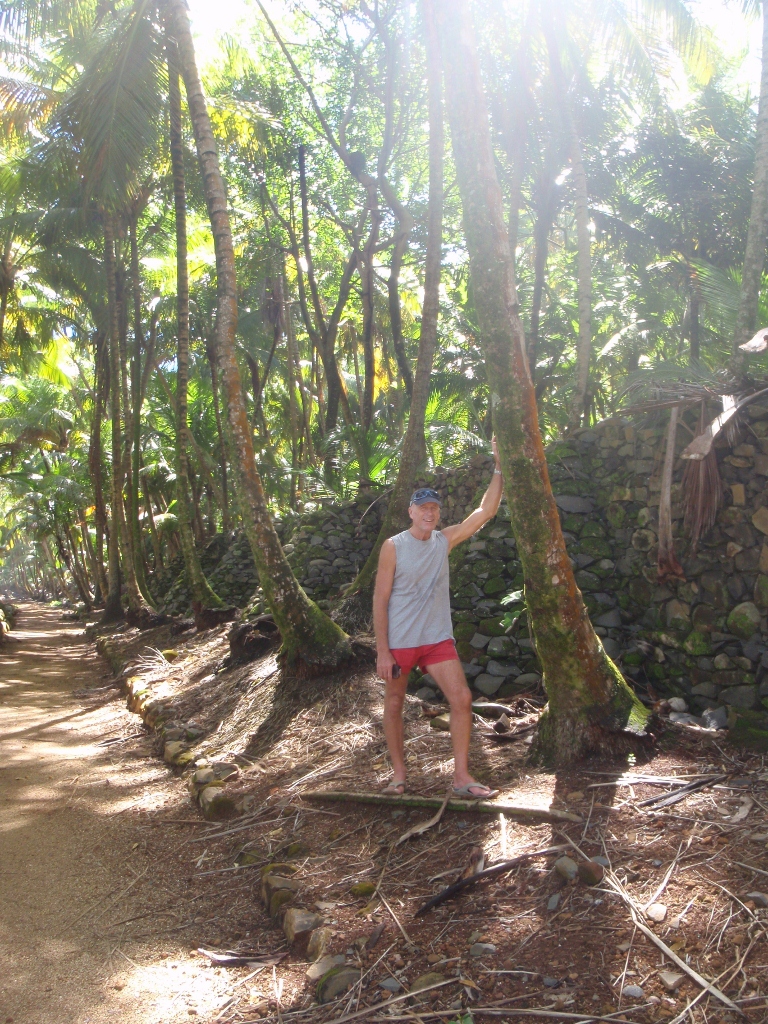 Royal has a small hotel and large seating capacity restaurant to accommodate day trippers ferried over from Kourou in several large sailing catamarans. St Joseph about 200 metres to the South has only a military outpost and a small jetty allowed to be used by vessels of less than seven metres.
Unfortunately, I had developed a problem with my left foot and knee. It looked like some sort of skin infection, the knee in particular becoming swollen and hot. We started oral antibiotics and dressed with antibiotic cream. After three days of RnR and running out of many supplies, we decided it was about time to head the mainland city of Kourou for a much needed stock up as our last major one was in the Canaries almost six months ago! My knee continued to deteriorate so first thing was a visit to the local hospital, seems we see doctors in almost every country we visit. Diagnosis, some sort of parasite, possibly a fly had laid eggs under the skin and now the "worms" were the problem. After a knee xray and blood sampling, a dressing of vaseline to deprive them of air would bring them to the surface, come back at four to see the result. Blood tests and xray OK, removed the dressing, nothing. Second diagnosis, abscess, out came the knife. Nothing of significance, so wounds carefully dressed and prescription for antibiotics given. Now thinks I, what's the cost going to be after all this is part of France. The doctor says the bill has been sent to your boat, ha ha, go and enjoy yourselves. Couldn't believe it!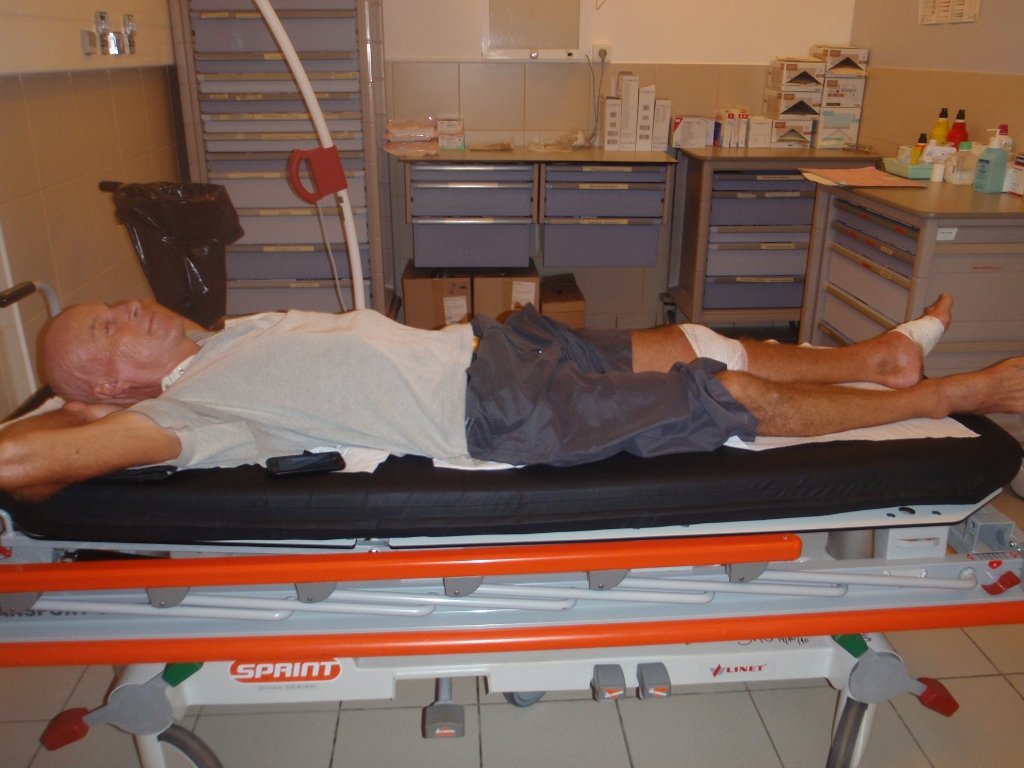 On the way back to the dingy now in the dark, we had to stop off at a supermarket to get something for dinner as we hadn't seen any shops since leaving Mindelo over three weeks ago and the larder on Ednbal was bare. I was limping around feeling sorry for myself when I heard a couple of English voices so said G'day. Turns out three guys who work at the European space centre. Outside the supermarket they see us walking to the road and offer a lift. One guy drove us to the jetty while the other two waited, very, very nice.
Next day we took the dinghy a mile up river to another wharf that was closer to a big Leader Price supermarket, walked to the supermarket and loaded two big shopping trolleys chocka, first real stock up since the Canaries six months ago. Had to get a taxi back to the dinghy and then nearly sank the poor thing! Now my knee swelled even more, doctor Sasha ordered rest and leg elevation for the next several days, nearly drove me crackers, I even read a book. A couple of other cruising yachts came and left the anchorage but all was quiet for us. A week later we decided to hire a car to go into the Amazonian basin rain forest to visit the waterfalls Chutes Voltaire, about 280km away. We packed our camping gear and headed off, first 200km on a good sealed road to Saint-Laurent-Du-Maroni on the Maroni river that borders French Guyana from Suriname.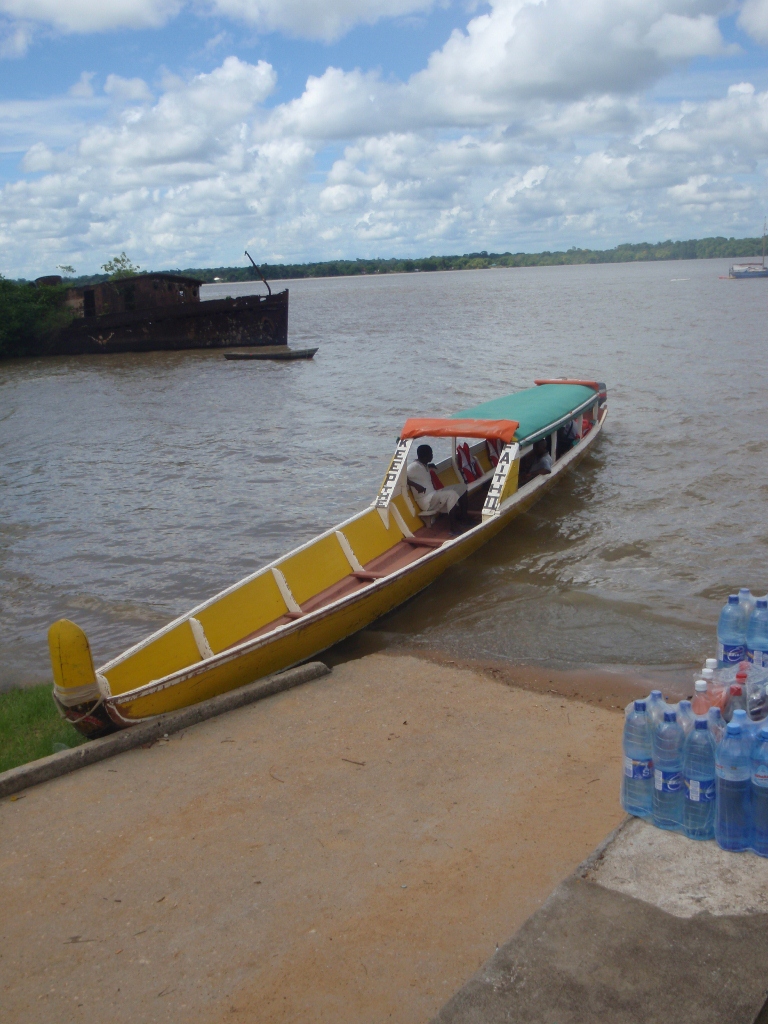 From there it was unpaved for about 65km, initially a good gravel road. About half way we stopped at a French military check point, guess their job was to ensure no illegals from Suriname or elsewhere, young guys, one spoke good English so I asked if the road to Chutes Voltaire was OK, "yes and there is a hotel at the end.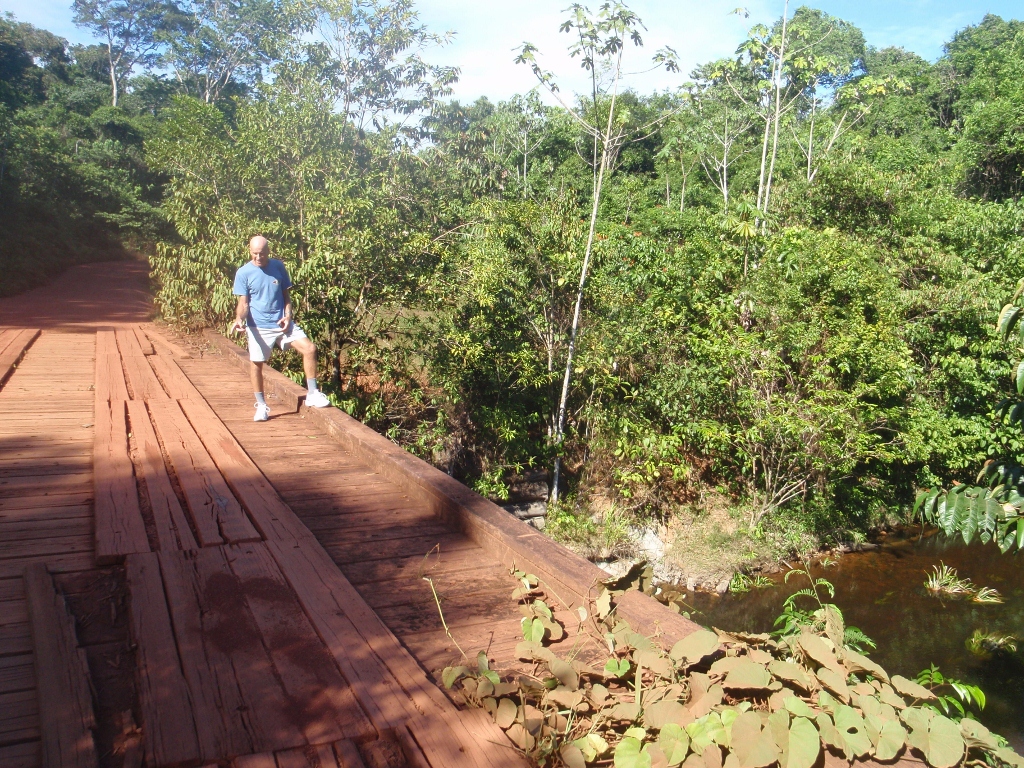 Off we went, a couple of intersections with signs pointing directions until we got to the last one, 6km to go and the road was down to a a two wheel track, up and down hills with numerous washaways. I wanted to go back but nowhere to turn around, Sasha urged me on! I don't know how but we made it, crawling mostly in first gear. The gate to the hotel, more like a small guest house, was closed but we managed to catch the attention of the lady owner just as it was starting to rain. "Could we stay the night?" "You have a booking?" Oh, oh didn't even think about a booking. After some discussion we had two choices, hammocks slung under a shelter over a concrete pad or we could pitch out tent on the same concrete pad. We opted for the later, unrolling our sleeping mats on a very hard floor!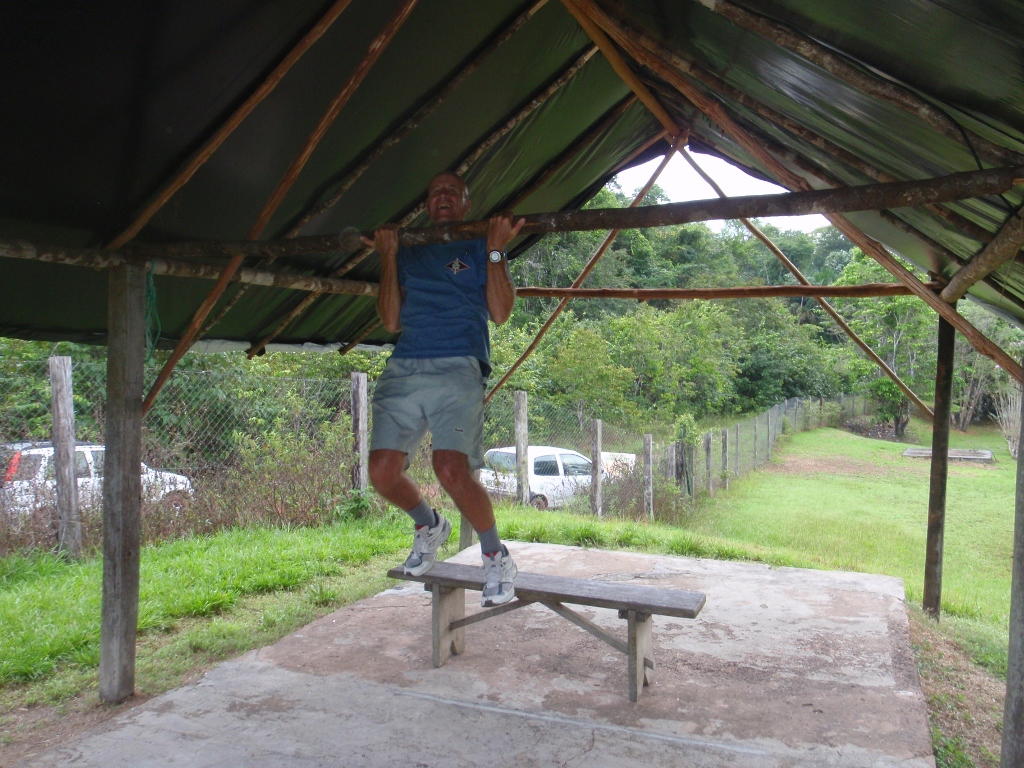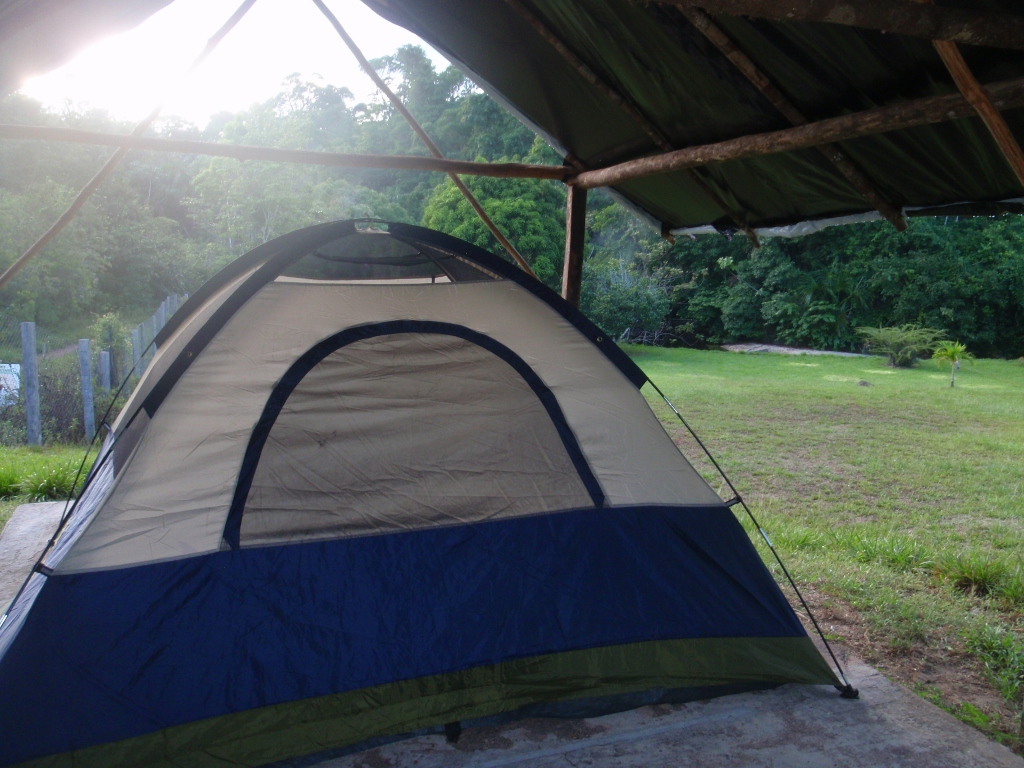 Being in the tropics we hadn't bought our sleeping bags, would have made it far more comfortable. Next a short walk around the property and find out about the walk to the falls. About one and a half hour walk through the primary rain forest, too late to go this evening. Fixed menu, three course dinner would be served at 7:30. After a semi open air shower we had our sundowners that we had bought with us while watching the birds preparing to roost, just beautiful. There were about twelve other guests for dinner cooked and served by the lady owner. Not knowing the English names for the main ingredients she showed pictures in a book. First salad with pate of Armadillo, main, wild Boar ragout and flan for desert, what a treat.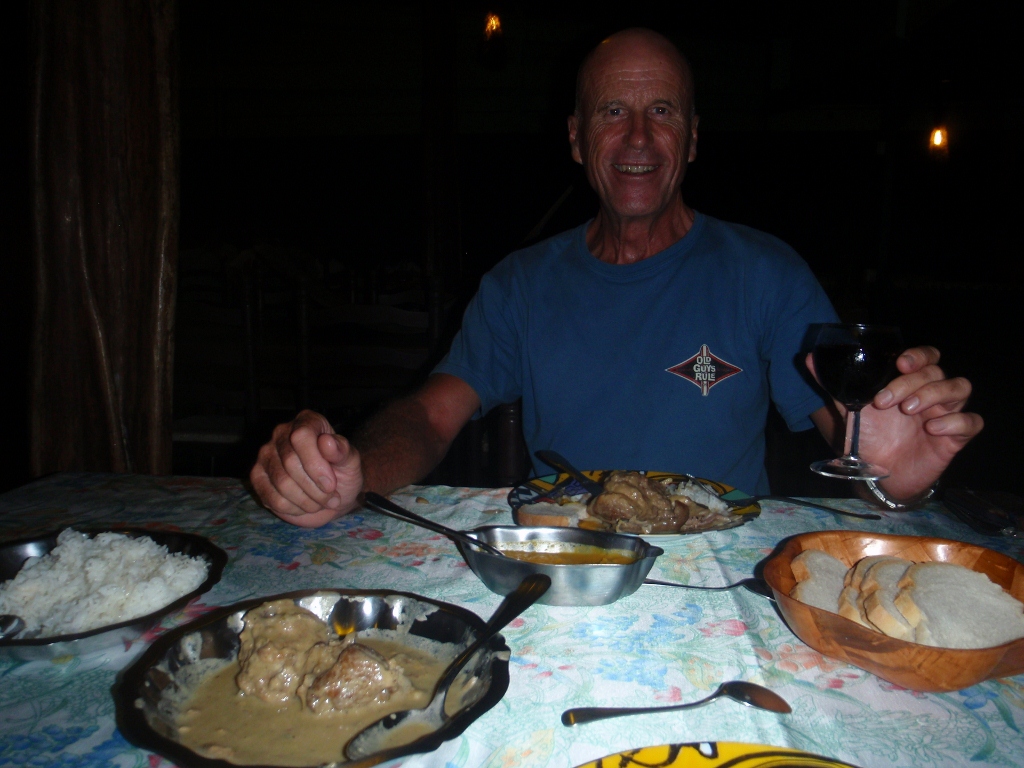 The night in the tent was cooler than we expected, we really could have done with those sleeping bags! In the morning we left at sun up and walked to the falls before breakfast. The falls were not that special but the walk through the rainforest more than made up for it.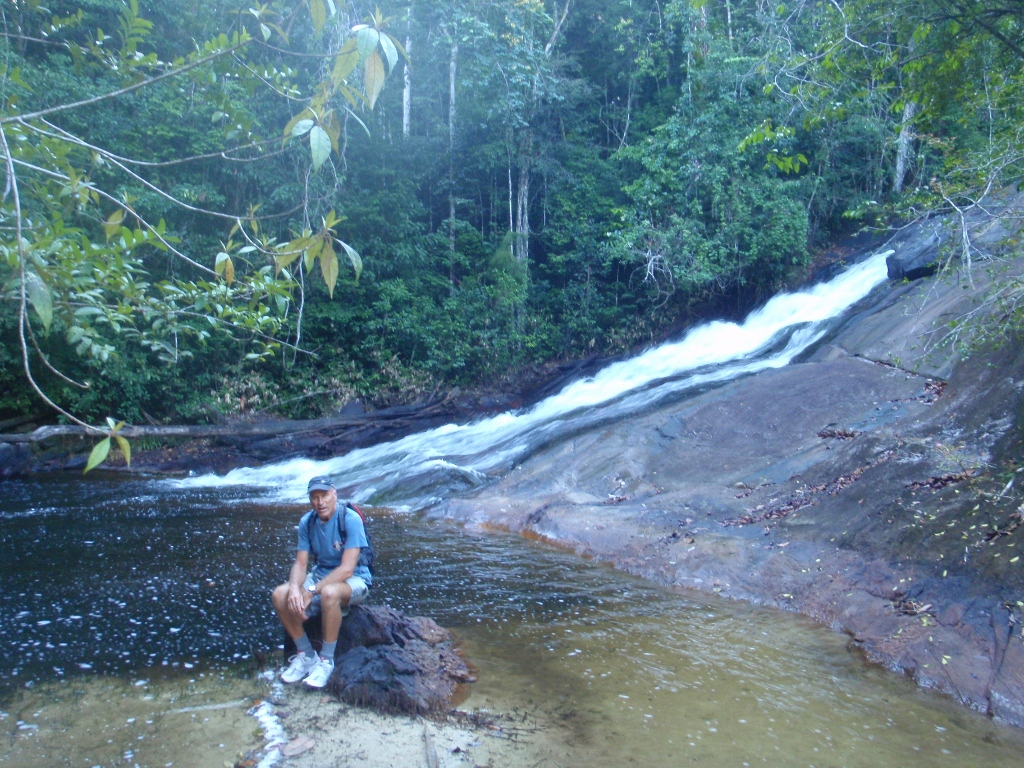 Towering trees, enormous tree ferns, vines, moss and birds everywhere as we walked on a bed of old leaves crossing small streams on rickety wooden bridges.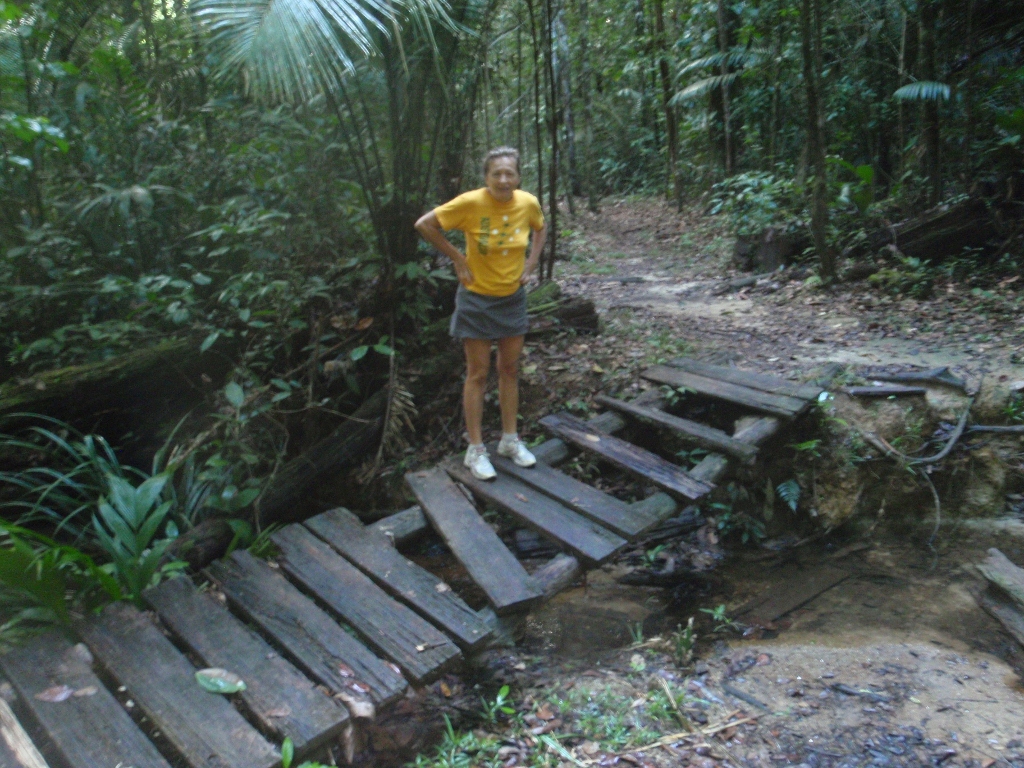 We had the mandatory skinny dip in one of the pools at the falls and returned in time for our 9:30 breakfast, another treat. By ten o'clock it started training, glad we had gone early but would we be able to get through the six kilometre track? With water gushing down the washaways and muddy pools in every road dip it was certainly a challenge. We bottomed out a couple of times but thankfully the old saying, "hire cars go anywhere" held true. It rained non stop for the next two hours. Other than that the trip back to Kourou was uneventful.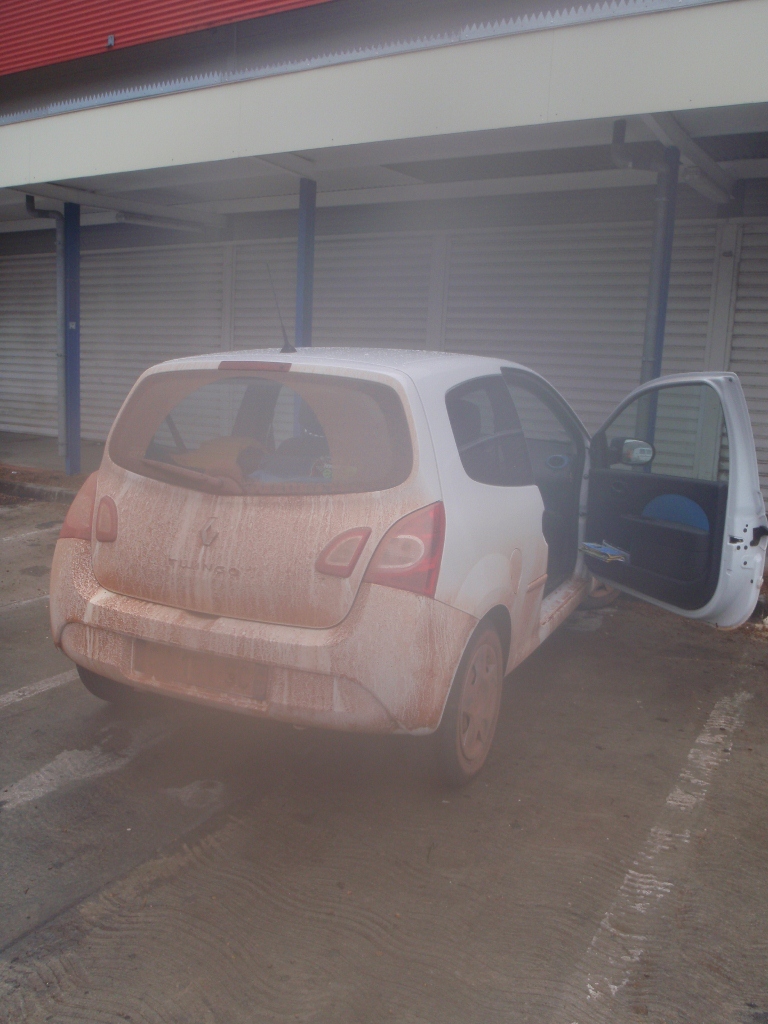 Next day we had a guided bus tour of the European Space Centre, visiting the launch pads of the three launch sites, Ariane (French), Soyuz (Russian) and Vega (largely Italian) followed by a visit to the main control room where our guide very proudly pointed out that only French was spoken.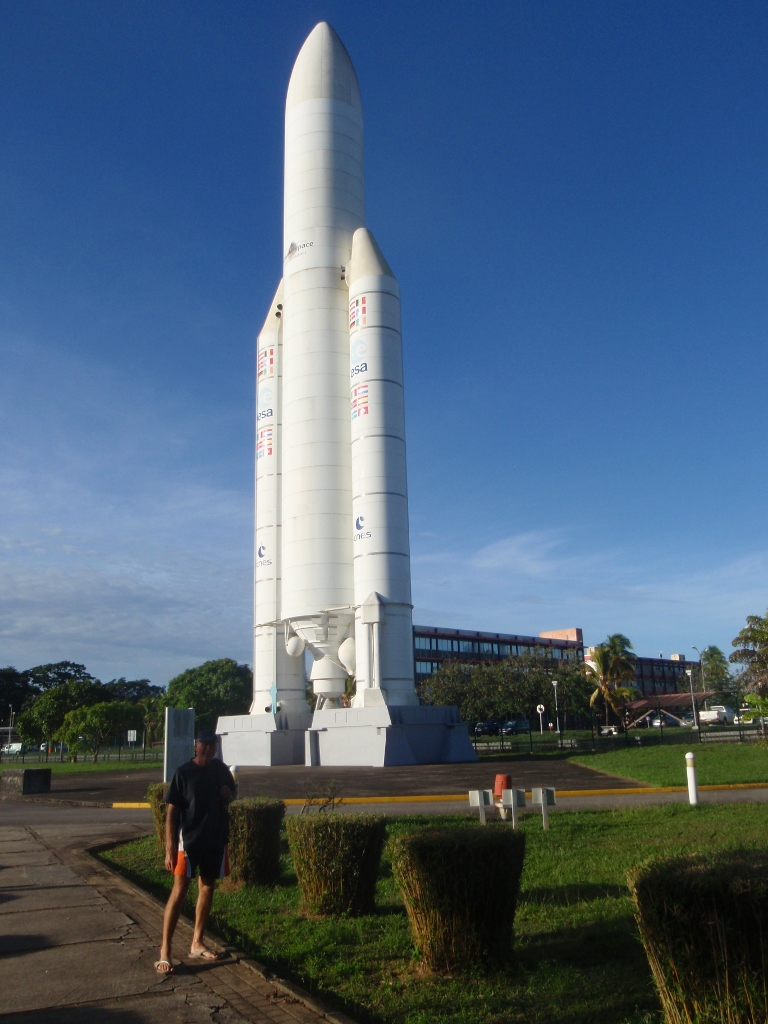 Of course the tour was also in French, most of which Sasha picked up but didn't help me much.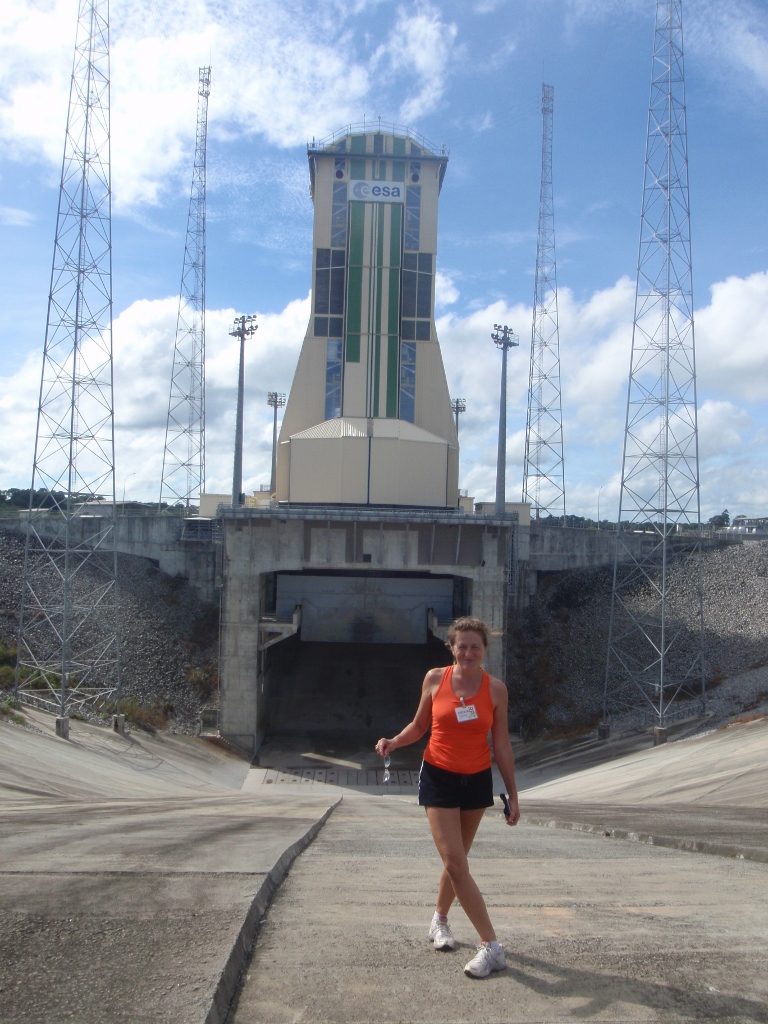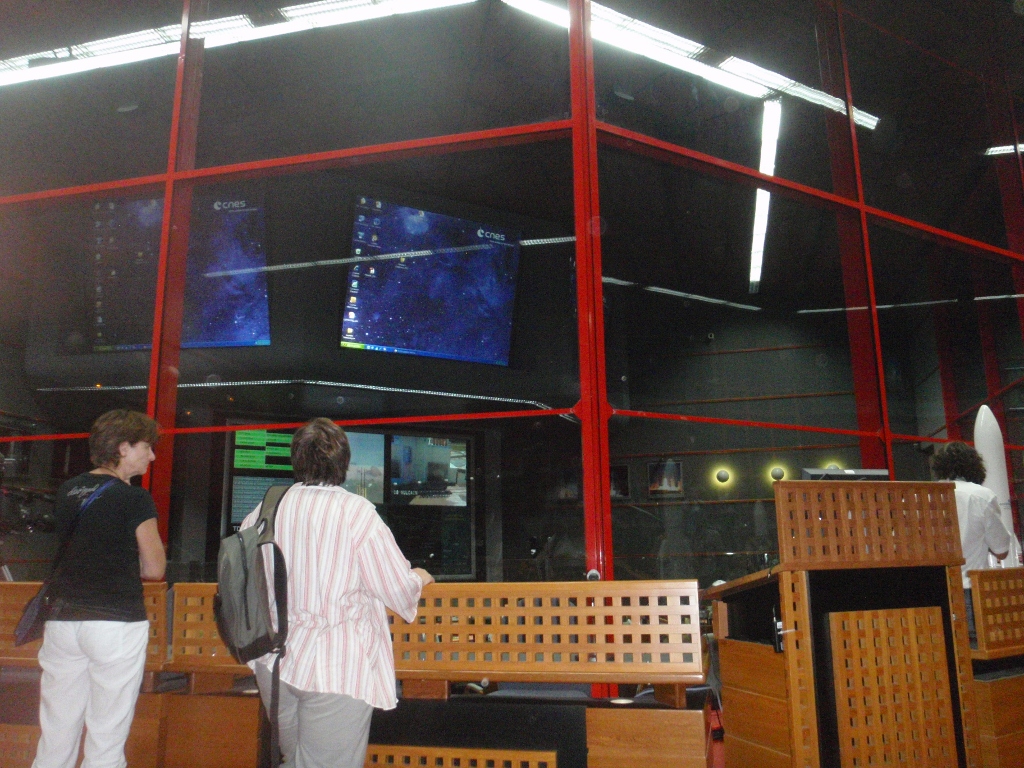 From there we returned our hire car, took out our folding bikes and rode back to our dingy and sailed back out to Iles du Salut before heading North West for Tobago.