Category: South Pacific
Created: Monday, 21 March 2016 11:03
Written by Roger Boxall
Hits: 1651
Ua Pou
After a most enjoyable few days in Viapee bay, Ua Huka, we found a good weather opportunity to sail back to Nuku Hiva. With the wind almost right behind us, the sails in "goosewing" formation, headsail polled out we sailed right to Taiohae bay, as roly as ever on the 7th of March. In Taiohae it was a bit like business as usual, boat jobs interspersed with island walks and general socialising with other cruisers while we waited out the rest of cyclone season. We were just itching to get back down to the Tuamotus but with all the talk of it being such a strong El Nino year we just didn't want to risk getting tangled up with a late season cyclone. Finally on the 25th of March we made our first move "in the right direction", the 26 mile sail to the neighboring island of Ua Pou. While in Taiohae we had had a couple of squally storms, one accompanied by lightning so close that it hit a neighboring yacht. Now our wind instrument was no longer working, likely it was a casualty of a so called "side swipe", not a hit but a strong enough electric field to damage sensitive electronics in the wind instrument head atop the mast. One might say no real big deal not having an instrument to give a readout of wind strength and direction after spending many years in a boat but there is more to it. The wind instrument enables the autopilot to work in "wind vane mode " that allows us to set sails and have the boat course determined relative to the wind direction, at times very handy.
In the main village bay, Hakahau, we anchored near friends Maurice and Maria on our sister ship, Cattiva to be later joined by Mark and Cheryl on the go fast Beneteau 47.7 First, French Curve. We'd heard of forest walking trail that traverses the island to the bay of Hakahetau on the North West side, about a 6km walk over mountainous terrain. Along with a French couple, William and Helen on Parenthese, we all decided to walk the trail, starting early morning to have lunch at a small local restaurant on the other side.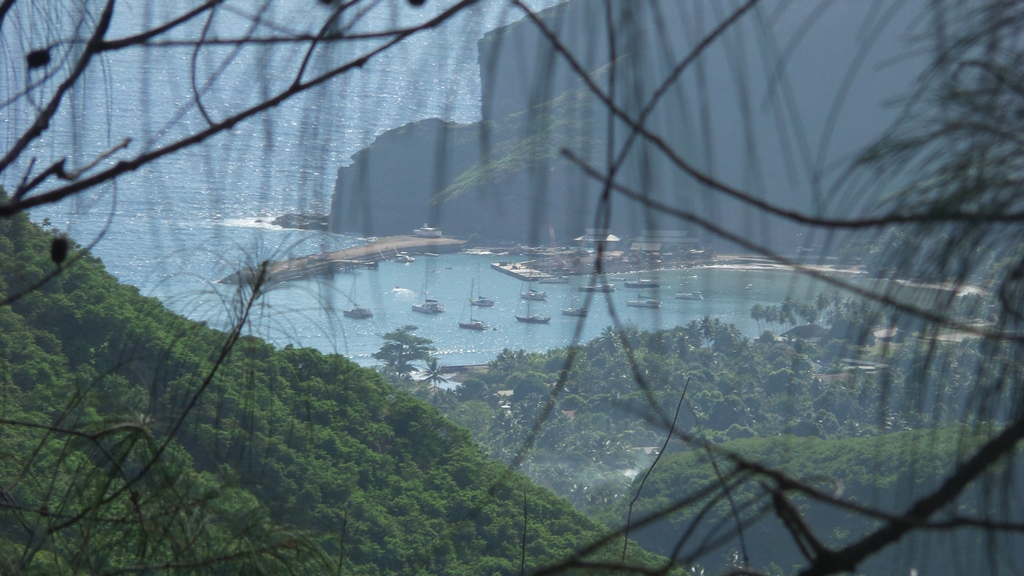 William and Helen has a mud map showing how to get to the start of the trail, the idea being too then just follow the walking path to the other end. We set off early, with plenty of water and with some directional help from locals we meet on the road out of Hakahau, found the start of the trail and off we went.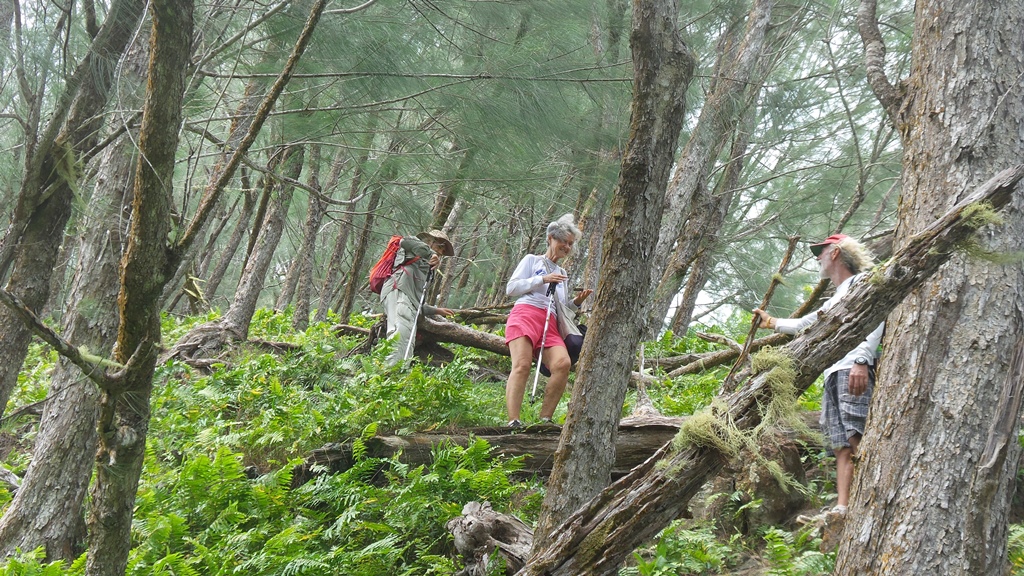 All well for a couple of hours until what had been a quote discernable path through the fairly thick forestation seemed to disappear. We hunted around, thought we found it again and headed off. A couple of hours later we came to an old communications tower so figured we must then be able to get some sort of path or road down to the village. NOT SO!! I climbed the tower but could not see any road or path, admittedly everything was well grown over around the tower but was surprised I couldn't see any path. We all had a good look around and then decided to try and head down a very steep valley in the general direction of the village. Another hour or two later we found ourselves back on the path we had been on earlier. By this time it was mid afternoon, forget lunch, best to head back to the boats! At least we got back in time for dinner, very tired, foot sore and disappointed that we had not succeeded. On the up side the walk through the mountain forest virtually all the way under the tree canopy was one of the best walks we'd been on for a very long time.
Our chance to head South to the Tuamotus came with a forecast of 10 to 15kt Easterly wind on the 31st of March, we took it, planning initially to head for the atoll of Ahe in the North West Tuamotus. Our plan, visit a couple of Atolls in the Tuamotus before going to Raiatea in the Societies to haul Ednbal for the once over and antifoul. To start it was slow sailing as we headed a little way north around the top of Ua Pou and down the Western side that put us in the wind shadow of the mountainous island in the company of dolphins for a couple of hours. We had what can only be described as a lovely sail, smooth seas, light beam on winds with almost no rain, just one shower a day out from Oa Pou. However over the 500 or so mile passage we did have a couple of changes of mind as to the atoll we would make land fall. That's the problem with so many fabulous places to choose from! First we changed to Apataki but after more research of cruising guides etc by Sasha we changed to Kauehi from where we would have a short 50 mile sail to the famed Fakarava, an atoll high on our list to check out on our way to the Society Islands as a spot we might want to spend more time in on our return after hauling Ednbal for her once over in Raiatea.
In the early hours of the morning of April 4th, pitch black we sailed through the couple of mile gap between Takaroa and Takapoto. Sasha was on watch and a little concerned because she thought that our chart plotter Navionics charts had some sort of offset, she could smell land (not at all unusual when you have been at sea for some days) and could hear breakers.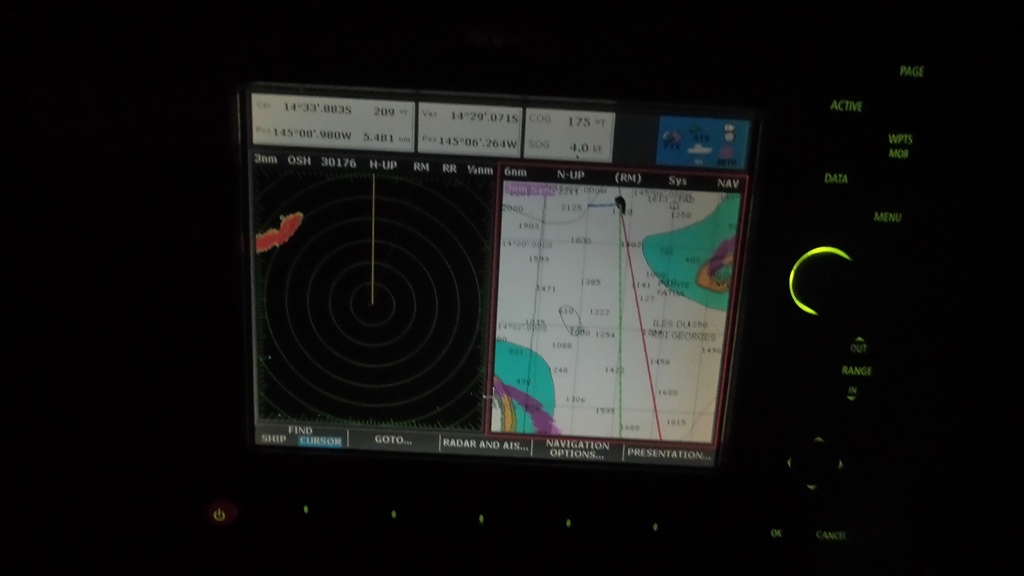 Never the less she stuck to the course and I'm writing this journal so no problem!
In early August cruisers listening into the HF radio's Magellan Net must have heard some eager discussions about an agonizing search and rescue for another vessel, Entertainer with a single hander on board, who had health issues and was seeking aid. When boat was found on the reef of Takapoto atoll, we all thought of worst, and confirmation came that Tahiti search and rescue observed a body on the deck. However, the full clarification about the Entertainer was received in the email to all participants of Puddle Jumper group a month later:
"THE MYSTERIOUS ENTERTAINER INCIDENT:
As you may know, last month singlehander Louis Schooler's San Diego-based Hylas 42 Entertainer was found aground on the reef-stewn shore of Takapoto Atoll in the eastern Tuamotus. According to sources in Tahiti, a dead body was observed in the cockpit by a helicopter crew, but when the helicopter returned the next day so that an autopsy could be performed, the body was gone and it has not been found. At least one US Government agency is believed to be investigating the incident as being suspicious because Schooler was recently convicted in a US Federal Court of crimes related to real estate schemes, and was ordered to repay more than $100 million to defrauded investors."
Kauehi
At 06:30 on April the 5th we were going through the relatively easy Kauehi pass, easy because it is reasonably wide and quite short, only a hundred metres or so from the ocean entry to the where the lagoon opens out inside. We immediately hooked a right and anchored close to the pass for breakfast and snorkeling in coral laden clear Tuamotuan water that we had spent five months in the Marquesas longing to get back to. Could easily have spent days right there but wanted to catch up with friends Birgit and Christian on Pitufa anchored in the south west corner of the lagoon 5 miles away as they would be leaving for Tahiti. I'm not a great one for vegetation but Birgit always manages to impress, on this occasion it was roll your own Vietnamese rolls with a wonderful selection of filings and sauces. Birgit and Christian are very much self sustaining with an extensive herb garden under the dodger. They also make their own alcoholic beverages, beer, wine and some "heavier" liquids! Another memorable night spent with the younger generation, always a plus.
Snorkeling in the SE of Kauehi was somewhat disappointing, water clarity not so flash with much reduced coral and fish life compared with the pass. However with the wind coming up from the SE it would be somewhat bumpy anchored near the pass with in excess of 5 miles fetch so we headed up to the village for a look around. Certainly a well protected anchorage but little to see and the people nowhere near as friendly as we'd been used to, maybe they'd had enough of yachties.
Fakarava
So, next morning we headed out before dawn for the 48nm run to Fakarava South pass. Fakarava has two navigable passes, one at the south end, the other at the north west, usually referred to as the North pass. The South pass has a reputation as the best pass of all the Tuamotu Atolls for diving and snorkeling, specifically for the large numbers and species of sharks as well as other coral fish. Sasha did a lot of research enroute concerning the time to expect slack water, no current to make our entry easy and enjoyable. Like most cruising the French Polynesian waters we use information provided by those who have gone before and added their experience to an on line available document first assembled by the vessel Soggy Paws and since compounded in their "compendium". The Soggy Paws compendium had slack water as being one and a half hours BEFORE high tide at Rangiroa Atoll. There are only two primary tide locations, locations that have tide times listed in the international tide tables, Rangiroa and Hao so often they are used as reference. Usually the slack water is some time after high or low tide but the Soggy Paws compendium had before in capital letters so we figured they must mean it. It was spot on! We went through at 14:15 in complete calm to motor to moorings on the inside and to the east of the pass in amongst a myriad of coral bombies abound with sharks and fish and even some big, one to two metre Napoleon fish, now this was more like it. Although there were a number of other yachts on moorings, free of charge what's more, and anchored it was not crowded, no feeling of others being too close. Next day we snorkeled the few hundred meter long pass, drifting from the ocean side into the lagoon over depths varying from a few metres to maybe twenty. Really, as with subsequent swims, a bit disappointing, sure several large Napoleons but not so many sharks or other fish and not so colourful coral, at least compared to the fabulous North West pass of Makemo that we spent some time at last season. With forecast N to NW wind we moved over to Hirifa in the very SE corner of the lagoon for a night where it was far calmer before back to the mooring field to meet up with friends Carola and Jim on board Koza. Last time we saw them was in the San Blas, they were now up at the North end of Fakarava on a mooring off the village but wanted to check out the South pass so came to join us. It was great to catch up with them again, we'd spent time with them off and on in several parts of the world.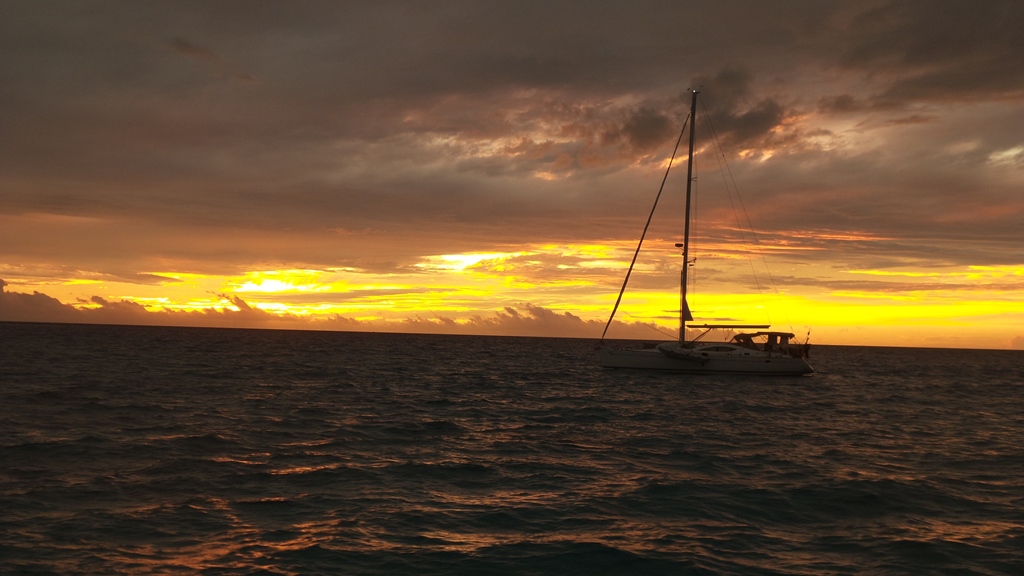 While with us it was Jim's birthday, Sasha made a cake and presented Jim with an autographed copy of her first book, Eco World. On a fairly breezy evening we dinghied over to have a celebratory dinner at a Pension, small hotel, maybe large B&B on shore. The owner/ builder, Manihi, has a wood fired pizza oven so we joined, with other guests, for pizza beer and wine. The setup was well done, central kitchen, dining, office with two, four and six person bungalows, probably ten or twelve in all, connected by concrete paths under trees and palms all barely visible from the lagoon. A couple of days later both yachts relocated to an anchorage on the west side of the lagoon close to some uninhabited motus (small Islands) for a little island exploration, beach BBQ, wakeboarding and general skylarking before heading up to the village sailing along the Eastern inside shoreline of the lagoon.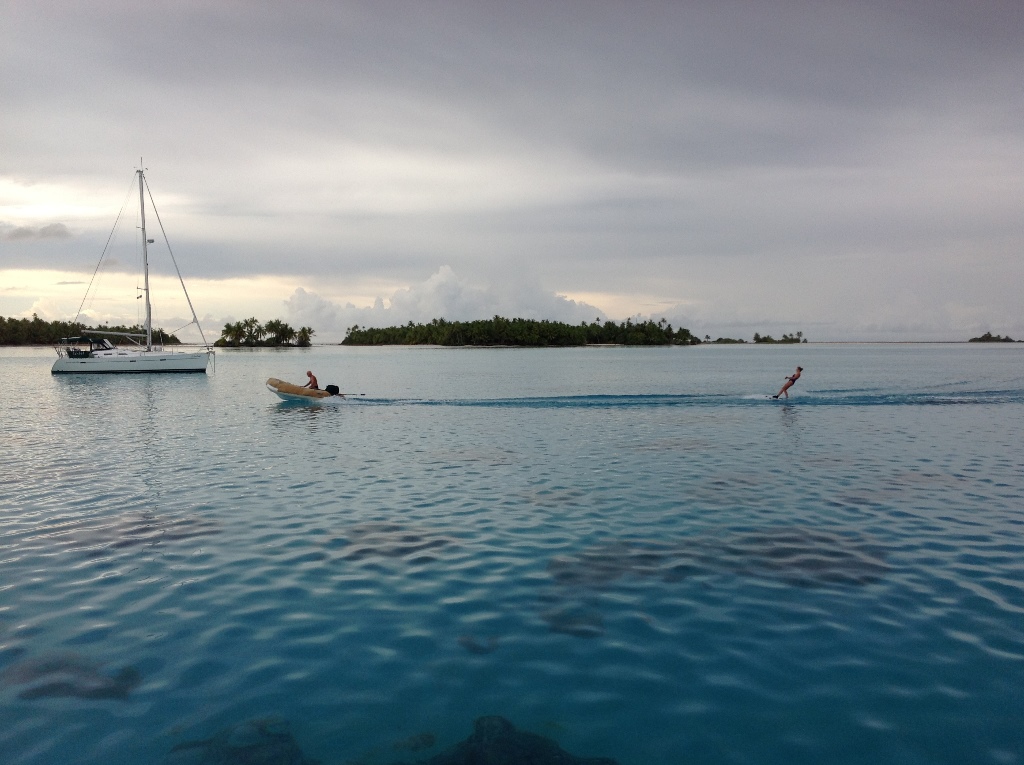 The forecast was for E, NE wind backing further so a good spot to be. However we copped a several hours of south wind at 20 knots one afternoon, our mooring line broke so it was a quick anchoring exercise. Thankfully we were on board so no harm done. We found the Fakarava Yacht Services organisation to be most helpful with filling our jerry cans with diesel, pick up and delivery back to the dock all for just the very reasonable cost of the fuel. The village has a couple of small supermarkets that enabled us to resupply enough to get us to our next scheduled, Raiatea, in the Societies group of Islands where there are well stocked supermarkets and our anticipated haul out of Ednbal for antifouling, head tru hull valve replacement and investigation of excessive rudder movement. Jim and Corola left before us to spend a couple of days at Toau Atoll, we relocated to a mooring close to the shore near the North pass so that we could snorkel the North pass, drifting with the dinghy, and have a beach BBQ by ourselves. What a gorgeous evening, near full moon in a relatively cloudless sky (unusual as we had been having a bit of rain since arriving in the Tuamotus in what is supposed to be dry season), coconut fire, coconuts and wood only just dry enough to burn, veggies in the coals and steak on the grill all accompanied by suitable beverages.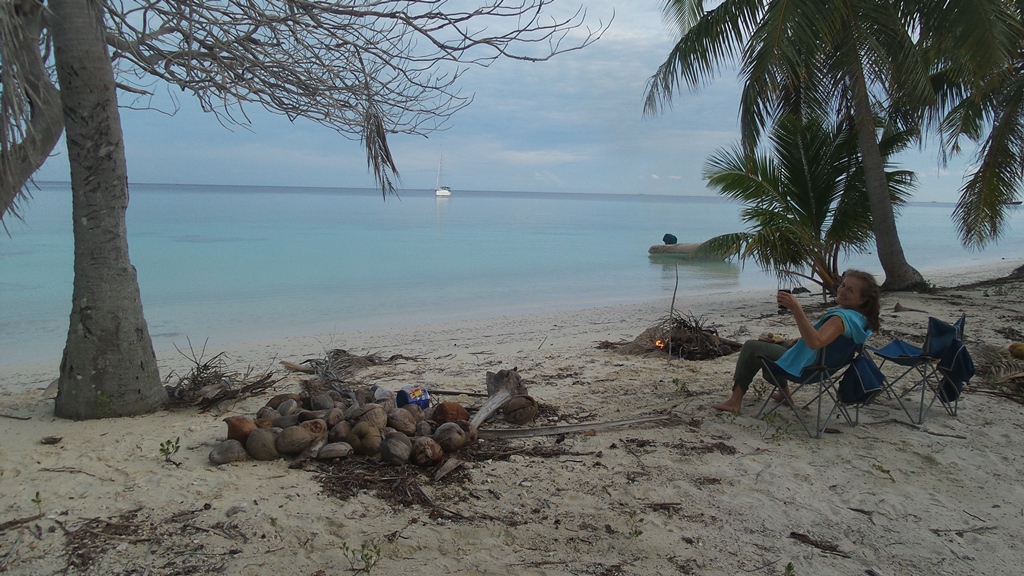 Drift snorkeling the North pass did not reveal too much, few fish and sharks, as you may have gathered diving with sharks is all the go around here, but some nice colourful coral, blues, pinks, magenta, still all hard, didn't see wavy soft coral. What it did reveal was calm water, still with eight metres depth on the southern side of the pass when there was high, several knots, current in the middle, we'll keep to the South on our way out!
The forecast was for north east wind in the 15 knot range backing to north, or chance for the run of 330nm west to Raiatea. With wind off the aft quarter we sailed with headsail polled out doing quite nicely albeit a little slower, with wind less than 10 knots for the first 24 hours but then the wind picked up and more from north to give good 6 knot beam on sailing. Quite nice until the sky started to blacken and the squalls came in with wind backing more to the NW and almost west. After one squall of over 40 knots from the west, that tore the stitching on part of our dodger and bimini, it became obvious that we would not make Raiatea in one tack so we decided to alter course, more southerly, and make for Tahiti. Even then we had to motor sail a number of hours to ensure we arrived before dark, after the bout of strong squalls we were not in the mood to prolong the journey into another day!