Category: South Pacific
Created: Wednesday, 21 June 2017 11:03
Written by Roger Boxall
Hits: 1695
Makemo, Tuamotus
Our arrival in Makemo felt a little like going home, this our third visit, an easy entry through the East pass and "med moored", bow in to the concrete town dock. We unpacked our bicycles and were keen to meet up with our friends Yan, Maude and family as well as Becko, Jacqueline and family to give them some fresh fruit, they certainly seemed to appreciate it. Other fruit we made bags of selections and gave to people we saw whom we knew were not so well off, many wanted to give us things in return, fish in particular. The people of Makemo were as friendly as ever, always greeting us and waving as we passed on the streets. One of the supply ships came in while we were tied to the dock, always interesting to watch unloading and loading, the crew so well organised. As they come in a crane on board lowers a boat with two 80hp outboards to help manoeuvre the ship of maybe 80 metres alongside the end of the dock. Then fork lift trucks are lowered onto the dock followed by cargo, mostly on pallets, to be manoeuvred by the forklifts, some stacked on the dock, others onto vehicles and some driven into the village.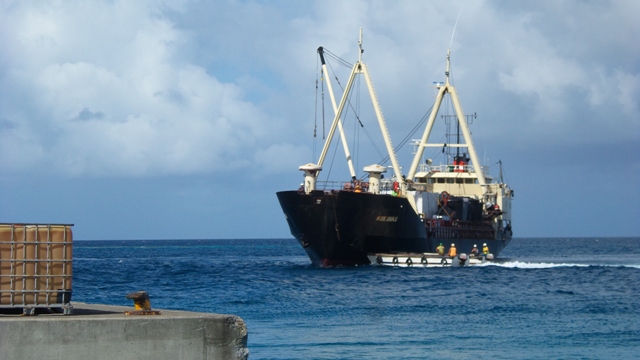 The range of food in the three little supermarkets, one also being a bakery, is greater and less expensive than in Rikitea so we were able to do a little more of stocking up, diesel and petrol 30% cheaper.
With forecast light northerly quadrant winds we decided to revisit the North West pass that we enjoyed so much in 2015, anchoring this time on the North side of the pass where we swam over the coral bombies with colourful tropical fish and walked the shores of the nearby motus of an evening. After a couple of days we decided to move to an anchorage just South of the pass, recommended in the guide known as the Soggy Paws Compendium, an online downloadable document started by the crew of sailing vessel Soggy Paws and added to by many other cruisers in the mean time. So we moved and dropped the anchor again in amongst a lot of coral but were not happy with our position so decided to try somewhere else. We could not free the anchor, it was well and truly stuck at about 16 metres depth. I dived with a SCUBA tank to find out 25kg Delta anchor wedged in coral that took a lot of effort to pull out the way it had come in. When I got back on the boat I had a burning sensation on my stomach where I thought I'd scrapped myself in the coral but there was no mark on my skin. We returned to our previous anchoring spot on the North side and did a couple of excursions to the pass, about a mile away, in the dinghy, much better option! The Makemo NW pass provided wonderful snorkelling for its coral and fish, drifting attached to the dinghy in the incoming current.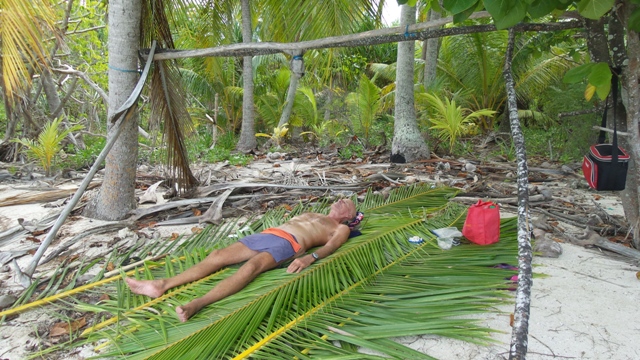 A few most enjoyable days were spent until the light northerly died out and a return to stronger South Easterly winds was forecast, time to hightail it back to the village.
With forecast 20 knot plus winds we decided to anchor in the lee of the long dock in 3m depth, sand bottom. Three other yachts were med moored to the dock, Pelagic a 44ft ketch with an American family of five on board, Planet Ocean, a 44ft catamaran with a French family of four on board and a 28ft sloop with a young, well thirty or so, single handed on board by the name of Josh. Josh was doing it very much on a budget, didn't even have a fridge and ate mostly fish that he caught, speared, and, it seemed, a lot of coconut. His aim was to sail to New Zealand to sell his yacht and buy one he could stand up in! We all got together on the dock on a couple of evenings for sundowners, always most enjoyable interacting with some younger people.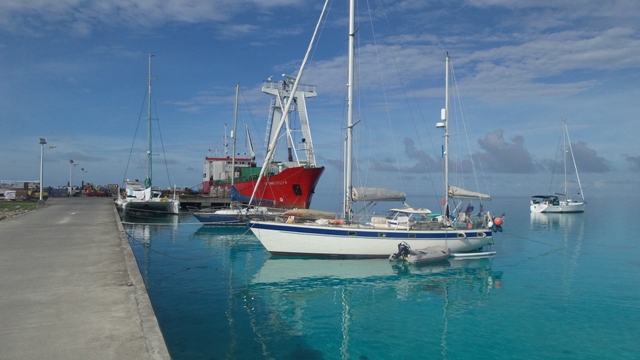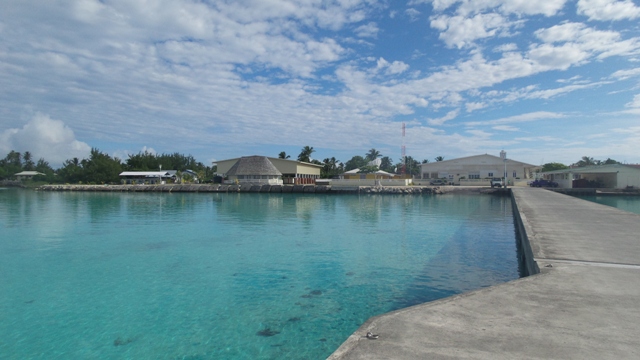 It was another couple of days before the wind strengthened, in the mean time we spent some more time with our friends in shore and I did some "work" with Becko. Becko used to be a tattoo artist doing traditional Polynesian tattoos until some of his female clients wanted tattoos on some of their more private body parts and his wife was none too keen on that.So he switched to a combination of carving and engraving of animal bone, animal teeth (pig and dolphins that wash up on the shore), mother of pearl shell, pearls and bone of large fish such as Marlin. Most, especially on the pearls, is very fine and intricate but truly exquisite.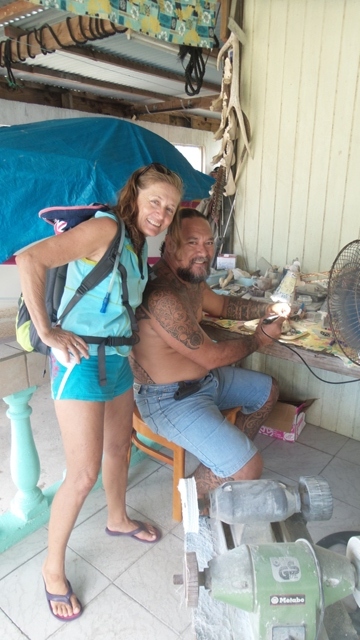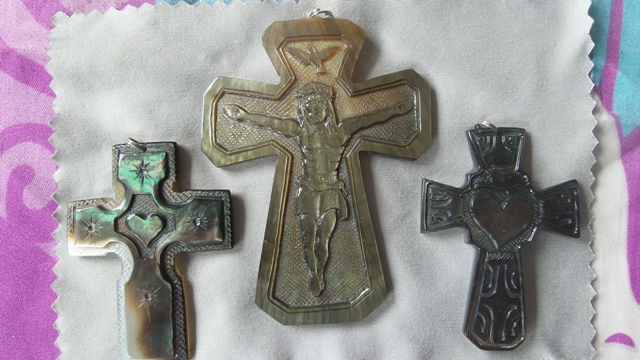 I stayed with him for a number of hours watching and had a go at cutting mother of pearl using his equipment, definitely not easy! We bought a number of items from him being particularly taken with the lovely engraving he did on the locally produced pearls. The pearls he engraves are second quality, that is they have imperfections on their surface but he is able to engrave those so that they no longer are there to be seen. Sasha had been collecting various sea shells, especially since being in French Polynesia. Together we've walked many pebbly beaches looking for interesting shells washed up, especially Cowries and in particular the small, so called, Money Cowries. Her idea, to mount cheaper, meaning small with some imperfections, Tahitian pearls into the small bump of the money contrasting the dark coloured pearl with the light shades of pink, green and magenta of the hump of the otherwise white Money Cowries. I spent some time with Becko learning some ways to do it and back on Ednbal, using our Dremel kit made up some, seemed to work quite well, hoping they'll make nice pendants as gifts to friends and relatives. Never know might get into the jewellery business!
It did blow for a couple days but we were well sheltered. Once it calmed down we sailed down to the South East corner of the lagoon, another favourite spot. We had hoped to have enough wind for some kite boarding but it wasn't to be so we enjoyed walking the Motus, snorkelling the coral bombies, looking for shells on the shores and beach bbqs with hammock strung between two coconut trees, just wonderful. After a month in Makemo it was time to move on to another favourite Atoll, the generally uninhabited Tahanea so we sailed back to the village at the East pass to do a final stock up that would last us through the 5 weeks we planned to be in Tahanea.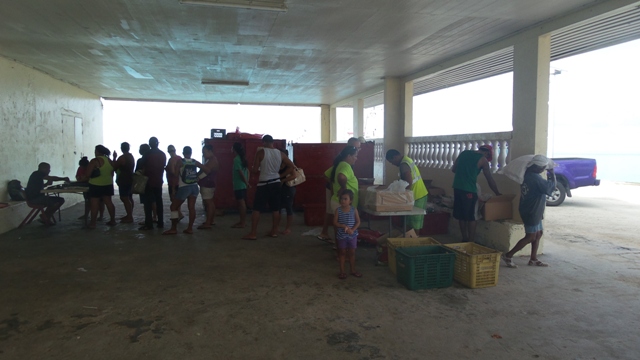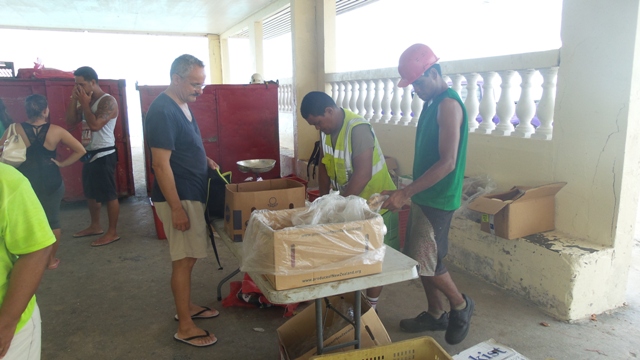 After some sad goodbyes we headed out through the pass on 21 April 2017.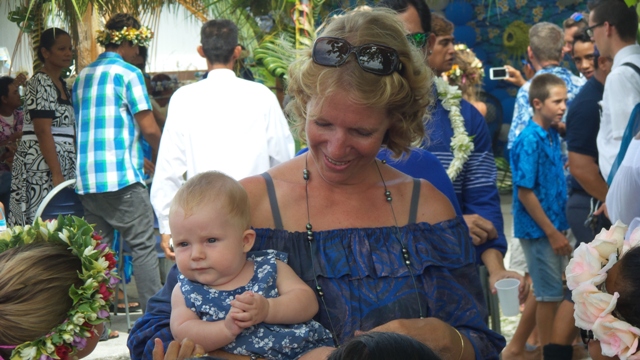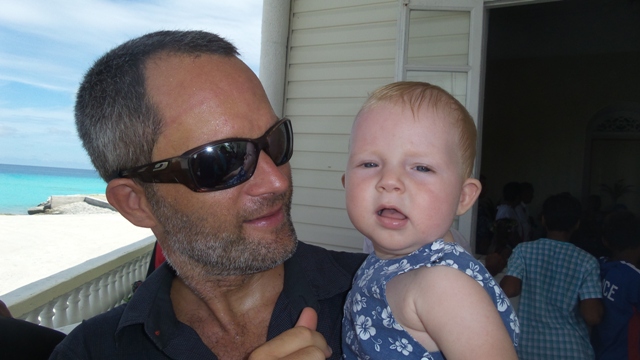 The sail to Tahanea was easy and uneventful with arrival timed pretty much at slack water through the navigable pass where we again meet up with the families on Planet Ocean and Pelagic to enjoy a beach BBQ bonfire on a tiny sand and coral rock Motu with just three coconut trees and some low green bushes.