Category: South Pacific
Created: Wednesday, 21 June 2017 11:03
Written by Roger Boxall
Hits: 1292
Toao, Tuamotus
Our arrival to Anse Amyot on the morning of the third of October could hardly have been better. Puffin was on a mooring just in front of us, having arrived a few hours before, when a dinghy from one of the other moored yachts went by yelling about whales just outside the pass. We hurriedly dropped our dinghy, mounted the outboard and zoomed out to the calm ocean. There were three Humpback whales gliding north along the shoreline only about 100 metres out. We were able to get quite close with the dinghy but they were travelling too fast for any chance to get in the water with them. After returning to Ednbal we organised a beach BBQ with Susi and Sebastian, inviting the other two yachts in the anchorage to join us.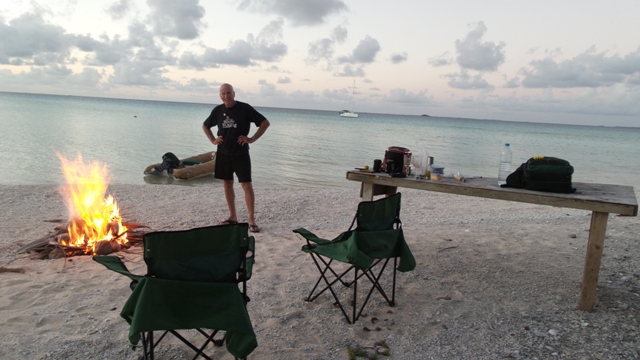 Susi and Seb, about the same age as our youngsters, proved to be great company. As I've said many times being in the company of younger certainly makes one feel and act with more energy, we both loather. I had thought Puffin looked familiar, I'd only seen one other yacht with the Sigma brand name, a 37 footer called Flotte Lotte, it belonged to another younger German couple sailing with their four children; younger was two at the time we meet in the San Blas. Turns out that Puffin was formally Flotte Lotte, Susi and Seb having bought her from Andreas in Tahiti to sail for six months and sell her again before returning to Germany and back to work. Our friendship continued, Susi and Seb referring to us as their parents, us to them as our kids. Seb had just finished his twelve year stint with the German Navy as a bridge officer, note with two years further pay, Susi an environmental journalist taking six months off. Although having sailed for some years it was their first time at ocean cruising, a test period to see what they thought of it. Now Puffin is a little on the old side, likely over thirty with relatively minimal facilities, small fridge, no freezer, stove, no oven and a small water maker rated at five litres per hour but producing three and a half.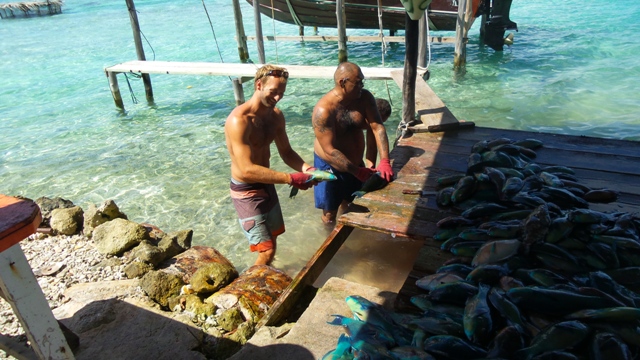 The couple of small solar panels barely kept the batteries charged, not sufficient to run the autopilot through the night necessitating hand steering and the wind generator was inoperative. I offered to take a look at the wind generator thinking it would likely be something simple at fault. Not to be, as it turned out that Andreas had made his own repair/modification to it back in Gibraltar. It had been polling, the rotor hitting the fixed outer magnets. The reason was the modification to its construction. Try as we may Seb and I could not manage to assemble it in a way to stop it polling, alas a lost cause. One of our many discussions got around to the topic of fishing. They had, what looked like a brand new overhead 15kg reel on a new trawling rod, it was a gift from Seb's father, however neither Seb nor Susi knew too much about fishing so out came the box of assorted fishing related bits and pieces left on board by Andreas who had vacated about a year earlier. We did a little knot tying practise and rejuvenated a couple of trawling lures, certainly enough to get started. Over the next couple of months that we spent sometimes together in the same anchorages and communicating via email there was ongoing reporting on fishing success or perhaps more accurately the lack there of. When sailing into Tahanea Atoll they hooked a big fish, by their description a Marlin. They were so excited that they didn't increase the drag on reel, allowing the fish to take all their lovely braided line, completely striping the spool leaving the fish to swim off with lure and a couple of hundred metres of braided line! Alas, although they trawled for many hundreds of miles they did not land a fish, most disappointing for parents and kids!
Anyway, back to Anse Amyot, we meet up with the only two permanent local inhabitants, Gaston and Valentine. They maintain the six moorings, with the help of cruisers that call in, and have a relatively simple life style earning income from Copra, the fish that they catch in several big fish traps and the little mooring rental ($5 per night). They seem to enjoy the company of cruisers. One night we were all (4 yachts at the time) invited ashore to join them in an evenings' entertainment, bring your own everything especially some extra booze for the hosts. It was a great night with, after moderate lubrication, Valentine on Ukulele, her nephew on guitar and Gaston doing a fantastic job on the spoons singing mostly Tahitian songs.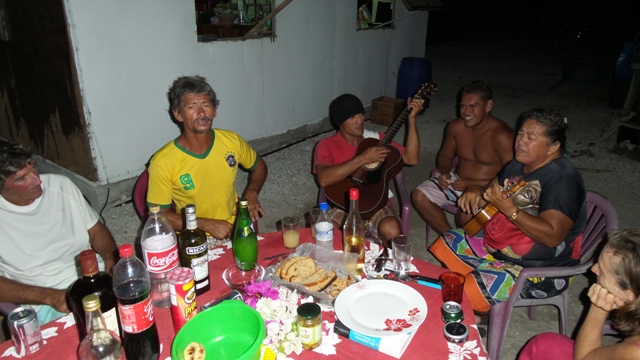 We moved from Anse Amyot around to the Toau lagoon pass of Otugi on the eastern side and sailed down to the south east corner to anchor near the Motu of Otekareva. Puffin came in after but anchored close to the pass with another yacht, Chocolisa with single hander professional diver Jacque-Luke (French) and Wilhelm with Ann-Helen and Hayward (Norwegian) on board, who was also in Anse Amyot with us to dive at the pass. Our rather old print, 1999, guide to French Polynesia, made mention of many birds nesting on Otekareva Motu but we found none. We were later told by one of the locals when we were back up near the pass that pigs had been let go on the Motu destroying almost everything, no birds anymore! Back up at the pass we meet up with Jacque-Luke, Ann-Helen and Hayward for drinks on board Ednbal, Puffin had already sailed the twenty miles south to Fakarava. Earlier in the day one of the locals paddled out in his outrigger canoe to say hello. Although he didn't speak much English I got the drift that he wanted to trade lobster and a truly beautiful, the best I'd ever seen, big Cowrie shell for beer and a hat, being especially keen on a new Volo cap that brother Les had given me for trading purposes. I invited him back for sundowners' beer and food and he accepted, I think. So, we had fluent native French speaking Jacque-Luke on board but our friend in the outrigger was a no show, very much the pity as we wanted to return the hospitality. We snorkelled the pass, drifting with the incoming current while attached to the dinghy but it was relatively uneventful, few fish and rather dull and sparse coral. There was better to come.
Fakarava
Next day, twelfth of October, we sailed to Fakarava, entering through the already familiar North pass and hooked onto a public mooring close to Puffin. Seb and Susi had already checked things out, the most important news was that the supply ship was due in the next day and since it was over two weeks since we'd left Huahine, the last place with a supermarket, our suppliers of fresh fruit and veg were running low. We stocked up and sailed for the southern end of the lagoon, while Seb and Susi waited for a friend to arrive at the airport to join them for a couple of weeks. We planned an overnight stop at an anchorage outside a small, still under construction, bed and breakfast style place about half way down the east coast in the lagoon. It took us a fair part of the day to tack into the 10 knot SE breeze, at one point getting into trouble with one of the local French pearl farmers for sailing too close to his oysters hung from ropes spaced by red buoys. The B&B had a good reputation for welcoming cruisers and we'd heard you could buy fresh fruit, bananas at least, as well as have a sundowner beer in a nice spot with good free internet. Well not quite, yes a couple of bungalows were finished, others under construction, cold beer at a reasonable price but no fruit and limited, the usual very slow internet just enough to send and receive email, no chance for Sasha to continue the upgrade of Windows 10. In the morning we set of again for the South pass taking a few tacks into the breeze to reach out anchorage in the sand on the west side of the pass where we joined friends, Biergit and Christian on Pitufa who had just arrived, an hour before, from Tahiti. It was a most enjoyable reunion especially as we thought it would be a very long time before we saw them again after last goodbyes in Kauehi, back in April, when they were heading West. They'd actually sailed as far as Tonga but had decided to return to French Polynesia essentially against the prevailing Easterly trade winds, but they made it, apparently without too much trouble. South Fakarava pass has the reputation as probably the best diving with large fish, Napoleon Wrass, Dog Tooth Tuna and a variety of sharks in huge numbers, often a hundred or so "resting" in the deep, 20 to 30 metres, parts of the pass. We had thoughts of dragging out the dive gear but with no one we knew to fill our out of test dive tanks we decided to keep them filled in case of any emergency, particularly freeing stuck anchors that is always on the cards when anchoring around big coral bombies. Instead we snorkelled the pass mostly viewing from above, occasionally free diving down to get a bit of interesting footage with the GoPro. Yes a lot of big fish, some of the big green bump head Napoleon Wrass were well over a metre long, almost the size of Sasha. Black Tip, White Tip and Grey sharks abounded. It is all hard coral, not a lot of colour or variation but home to a huge variety of fish. After only a couple of days we saw out chance for an easy sail to the neighbouring atoll of Tahanea, around sixty miles South East. A nice gentle overnight sail made in one tack.
Tahanaea, first visit
After going through the marked East pass at daybreak of the eighteenth of October we decided to cross the lagoon to the western side, reported to have excellent coral snorkelling and a variety of nesting birds including an endemic terrestrial Sand Piper. Sasha was on the bow ever vigilant for coral bombies not shown on our chart. Mostly they are large, many metres in diameter and almost at water level so quite easy to spot but now and again there are smaller less shallow ones that you don't see until you are almost on them. About half way across the lagoon Sasha screamed, a bombie right in front of us, we were doing about five knots when I put Ednbal into emergency reverse. We stopped with the bombie at the bow. Possibly it was deep enough for us to clear with our one and a half metre draft but sure didn't want to test it. Once the palpitations subsided we continued, Sasha even more vigilant and going a little slower. On the western side of the lagoon we anchored by a small unnamed Motu, sandy bottom, lovely day in an uninhabited atoll, life is good. The next day we were joined by two other yachts, Pitufa and Raynad with John and Kristy from Alaska on board. John is actually a native Scott, still with a wonderful thick accent. Together, we had a most enjoyable beach BBQ, with two trees home to several pairs of Red Footed Boobies, on the smallest, maybe eighty metres in diameter, of three little motus that formed our protected anchorage. I even managed to catch a couple of lovely coconut crabs for dinner.
Next morning Sasha went to get something from the cupboard under the sink and found water! She called me to help with my outdoor sponge and there was some water in there, maybe half an inch, so I sponged it out, or at least tried to but to no avail. The good old Beneteau has a compartmentalised sort of bilge arrangement so the water I was trying to sponge out wasn't changing. Now you know I'm pretty quick! After sponging for half an hour I thought something must be wrong so had a look at the bilge well, it was full but not quite up to making the bilge pump float switch operate. At this point the admiral went into mild panic, beach the boat to stop it sinking. Instead we pumped out the water and investigated the source of the leak. Turned out to be a dripping, more like a slowly running stern gland, one of those rubber Volvo "dripless" things with a lip seal inside. I stuffed grease in and around it, shaft to gland seal but no change so put a cable tie around it to increase the pressure on the lip seal inside and presto no more leak so no more problem but the admiral didn't quite see it that way, at least there was now no pressure to beach the boat! So what now. We emailed our mates at Beneteau, must change the seal, hmmm. We ordered a new one to be sent to Apataki Carenage (yacht haul out and rudimentary repair facility on the Atoll of Apataki) about a hundred and thirty miles away. After very serious consideration it was decided to head to Apataki to replace the seal. Then, on the HF radio, the magic MagNet Steve on the yacht Ocean Star, anchored in South Fakarava (Atoll about 50 miles away on the way to Apataki), said he had a spare the same size if we wanted it so we detoured to meet up.
Fakarava detour
Changing the seal in the water no big deal, but you have to remove the gearbox coupling, on the keyed tapered shaft to slide the old seal off and put the new on. Coupling on shaft for 14 years, externally like new because I keep our smeared in grease. Undid the four coupling bolts, the shaft coupling came away from the gearbox half no problem and the nut on the shaft inside the coupling undid no problem. Could only slide the shaft back about 250mm, not enough room for a gear puller that Steve also had. So, found that a 14mm quarter drive socket would fit between the end of the shaft and the nut on the gearbox part of the coupling such that when pulled together there was about a 10mm gap between the two coupling faces so just needed to put in four bolts and nuts in the existing coupling to press them together to perform the same function as a gear puller. With doing up the bolts and hitting (more like tapping due to very limited swing room) the shaft half of the coupling nothing happened. Hmm, seemed to be stuck! So more leverage. I got out the 15 inch crescent for Steve to hold the nuts while I swung on the half inch socket drive on the bolt head. After much grunting and farting, BANG the coupling let go. That was the hard part, swapping over the seals, after cleaning a little gunk of the shaft, and reassembly, straight forward, much to the admiral's delight no more water leak even without the cable tie. After cleaning an old seal and inspecting it seemed to be quite OK, maybe it was just some gunk in the shaft that caused the problem? Anyway decided to put the old seal in the box that the new one came from and add it to the spares. Somehow I had a funny feeling I'd seen a box like that before, you guessed it, when I went to put the old one in one of the spares boxes what did I find but a new spare shaft seal! Date on the box, 2001, it was a spare on the boat when we bought her and for some reason hadn't made it to Sasha's excel spares spreadsheet. Well even that was not quite right as her main spreadsheet had a sub sheet and indeed it was in that one! So both of us to blame.
So, having replaced our dripless stern gland and with a threatening north westerly blow forecast we had to move from South Fakarava as there is a thirty plus mile fetch from the northern end of the lagoon that would be most uncomfortable, to say the least, in thirty to forty knots of north westerly. Three viable options, back to Tahanea with questionable protection from that wind direction, the closer, rarely visited, atoll of Faaite again with questionable protection although the pass is on the northern side so easy access from South Fakarava, or head in the opposite direction to the known North Fakarava with good protection and a chance to restock with fresh fruit and veg. The decision was essentially made for us by a small repair job for Manihi, the owner of the lovely B&B ("Pension" in French) on the Motu adjacent to where we were moored. The VHF radio in his twenty foot half cabin wooden runabout was not working properly so we'd offered to take a look. First job, fix the electrical power connections then look at the antenna. However part way through Manihi had to drive the boat thirty miles to the North Fakarava to deliver some guests to the airport. There is no road, so boat is the only means of transport between North and South. He returned at about three in the afternoon when I then replaced the coax connector on the radio end of the antenna cable and a short test to another cruiser, Ocean Star, already on their way to North Fakarava, showed that all was working, a very happy Manihi who offered us free wood oven fired pizza when next we visited. By this time it was four o'clock, to late for slack water through the South pass so we decided to stay the night on the mooring and sail to North Fakarava at first light, which we did in an east wind in one tack quite comfortably. After searching around for a while we found what seemed to be a suitable spot to anchor in fourteen metres of water close to the shore of the coconut tree covered Northern Motu a short dinghy ride to the village. Next day the supply ship came in so good stock up and since we were planning to return to Tahanea we bought also for Pitufa and Raynad. That night we had the north westerly gusts over thirty knots but we were well protected and slept while it rained, heavily at times. With the front passing, we sailed the six miles west to the NW pass hoping to exit Fakarava and sail down the outside, south east, back to Tahanea. As we approached the pass, still in protection offered by the Northern Motu, we began to see what the ocean looked like outside and decided the discretion was the better part of valour, turned around and picked up one of the two moorings just close to the Northern side of the pass. The night was rainy and the wind clocked around west to south west to south, thankfully not strong. By morning, it was calm so we motored out through the pass and set sail for Tahanea over eighty miles. Well it turned out to be a bit too calm, we slowed and slowed, down to less then two knots of boat speed, before the wind petered out completely and on came the iron spinnaker, a good test for the new stern gland.
Tahanaea, second visit
Arrival at the pass into Tahanea was again early morning and again we sailed, well mostly motored, over to the western side of the lagoon, as the fruit and veg delivery boat, to meet up with Pitufa and Raynad. The western, side of the Atoll is where a lot of birds are nesting, particularly the red footed Boobies, some in trees, some on the ground. When walking around you have to be careful not to stand on eggs. Boobies are very interesting in that they don't have a nesting season as such, from mating to the chick leaving the nest it's about 13 weeks, they lay two eggs but usually only one chick survives, often the stronger chick kicks the weaker one out of the nest, sibliside. Then apparently the process starts again. There were nests with eggs, some with small chicks and some chicks almost fully grown. There are also a lot of Noddies (black birds with a small while patch on the head), Sandpipers and a small terrestrial bird, Titi, endemic only to this Atoll. We've heard there are also Curlews but have not seen or heard as yet. On beach BBQs we were close to birds nesting, but they did not seem too concerned by us.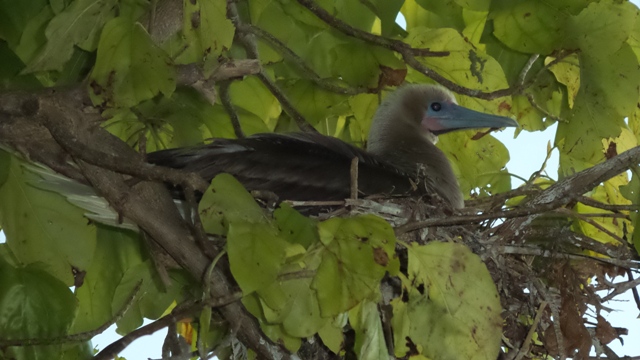 Also caught a number of nice sized coconut crabs, although none as big as the 4kg one the guy off Imhotep caught, so we've had a few crab meals. The couple on Imhotep eat fish they spear in the lagoon without any problem but we are still a little afraid of ciguatera, the poison that fish eat from the coral (the poison algae is in dead coral) get into their flesh (it doesn't affect the fish, but certainly does humans who eat affected fish) and accumulates up the food chain. It is said that there is no ciguatera in fish in this Atoll but we are a bit wary, guess we shouldn't be as they have been here a month and eat fish virtually every day.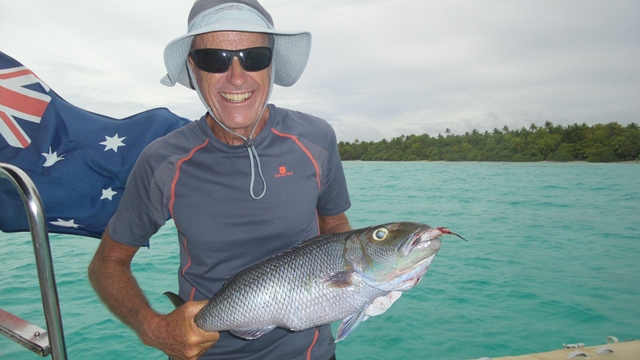 We decided on a dinghy exploration picnic day. Most of the nearby motus were very small, we could walk around them in half an hour or so, watching the nesting birds, fish, especially spotted Moray Eels, in the shallows and keeping an eye out for coconut crab holes.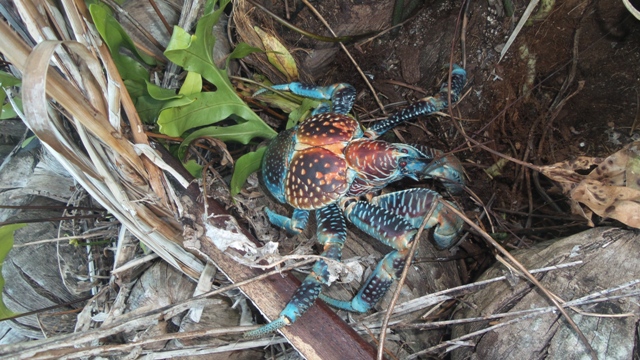 I did spot a hole amongst the old coconuts at the base of a tree and managed to dig out a reasonable sized crab for dinner. Our picnic lunch with hammock slung between a couple of trees was accompanied by beautiful coconut water from abundant green coconuts. All in all a truly beautiful day.
With forecast stronger south easterly winds we decided to head the eight miles over to the eastern side of the lagoon where we meet up with Pitufa and Puffin. Seb and Susi had been to Makemo where they'd had quite some considerable, unwanted excitement, one of their electrical cables had caught fire, luckily they were on board at the time and so were able to deploy their fire extinguisher. Turned out that their unfused solar panel regulator cable had somehow shorted, not desirable. They had a new regulator flown in from Tahiti, installed it with the help of some other cruisers and were up and going again. Over the next couple of days we enjoyed the company of the younger cruisers, Seb and Susi often referring to us as their cruising parents, while also snorkelling the most western of the three atoll passes. With Pitufa, we all went snorkelling in one of the ocean to lagoon entries or passes. Was probably the best snorkelling, as far as fish action is concerned, that we've ever done. We drifted over a huge school of fish, each about a 30cm long, swimming in one layer about a metre from the bottom (we were in about 10 metre deep water) over an area about 50 metres by 50 metres. Then there were sharks about 20, grey, black tips and white tips some well over 2 metres long, a similar number of Dog Tooth Tuna about 1.5 metres long as well as numerous grouper, Trevally, Napoleon and a swag of other fish varieties. The Tuna looked like they were trying to separate out some of the school to hunt them down and the sharks to get the leftovers. We saw only one such scurry, it was all over in lightning speed, quite incredible. We floated around free diving down with the GoPro for almost an hour just watching. Then a huge, about four metres across Mantra Ray just cruised by, I got some great footage of it swimming straight towards me. The next day we went back again and, incredibly, saw the same thing in the same place.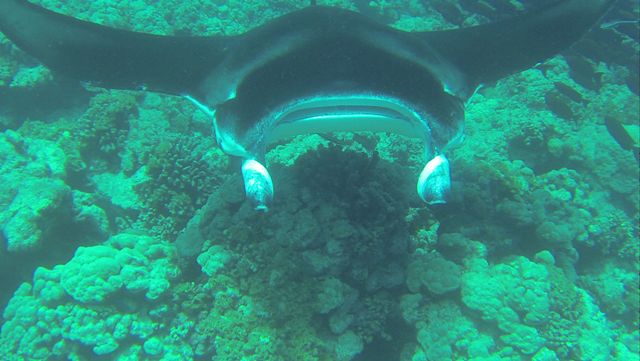 After a couple of days with forecast back to light winds we sailed back to the western side in company with Puffin. Biergit and Christian had told us of a tiny Motu a mile or so east of the western side with wonderful coral, fish and, on the island, abundant bird life. They had previously anchored on the north western side to be sheltered from one of the south easterly blows. We checked it out on the way past but were not too keen to anchor on the steeply sloping coral covered bottom so decided to continue and anchor where we'd been before with a view to returning by dinghy. This we did the next day, four of us in the dinghy, Seb, Susi, Sasha and I. Yes the coral outcrops on the western end of the Motu were something else, huge hard coral mountains with fish that you could almost reach out and touch, obviously not hunted by humans so quite unafraid of us. Our walk on the Motu to check out the nesting birds was cut short by the bugs, Sasha especially inundated with mosquitoes. Then, in the distance, a rain squall heading our way, best postpone the picnic and head back to the boats.
A few more days of snorkelling some of the best coral reefs we'd seen in the Tuamotus and lovely beach bbqs in the most enjoyable company of Seb and Susi and the forecast again showed strengthening south easterly winds coming so we headed down to the Motus of the south east corner of the Atoll for possible kite boarding. We were not disappointed.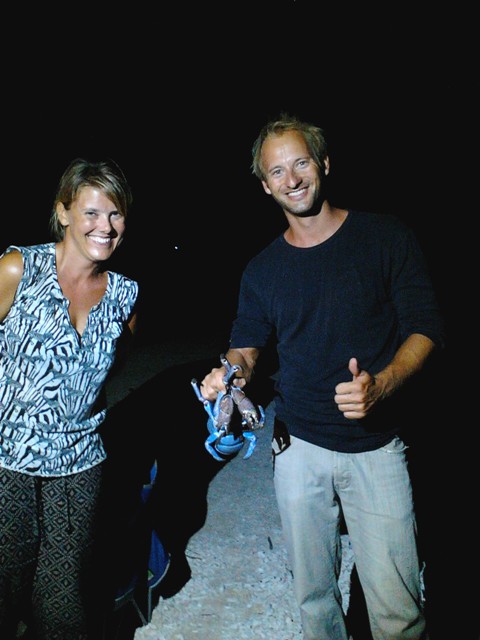 With wind 18 to 20 knots, we took the bigger, 12 metre kite, but it was bit too much for Sasha although she had a couple of good runs and, for the first time for either of us, did a turn without having to drop into the water to take off in the other direction, quite a milestone. I was out for almost an hour zooming up and down just a few metres off the shore (off shore wind) in a metre or two of flat water, was just fantastic. This we repeated for three days by which time the muscles were almost back to normal, we both felt it a bit after the first day! Even I managed to tack the kite without dropping in the water. Before we knew it we'd been in Tahanea for a month, nearing the end of November it was time to start looking at weather opportunities to move south east towards the Gambier archipelago for cyclone season, about 700 miles.
Makemo
On the twenty third of November we set sail for Makemo, seventy miles to the East pass, from there our intention to sail directly to Gambier or stop off in the Atoll of Hao. All to be essentially against the prevailing south east trade wind, so most important to wait for a change in weather systems to get, most likely, a north east wind. Our sail to Makemo required only two tacks but our decision to sail down the ocean side of the east coast instead of going in through the North pass and down inside the lagoon was the wrong one. The wind was forecast to back, east to north east but alas, if anything, it went the other way forcing us to tack into it but we had a time constraint, to be at the East pass at or close to slack water which forced us to motor into, to make it in time which we did, just, entering with almost four knots of current against us. Arriving into the village anchorage was like going home as we had spent three months in the Atoll last season, but first some sleep, single overnight crossings are usually very tiring, this one was no exception. Next day we relocated to tie up to the concrete dock and pull out our bikes, exactly as it had been for our last visit. Our initial ride around the little village revealed a few very nice changes, notably a lick of paint and construction of low concrete walls separating roadway from people's front yards. All the walls, the primary school and public buildings were now painted white with purple trim. Over the next couple of days we met up with acquaintances but the biggest surprise was Maud and Yann, a French couple from Moorea we'd met and clicked with last season on the yacht Lares. We knew they wanted very much go back to work but not in Moorea, rather Makemo. Last time we met them Maud had given us the exciting news that she was three months pregnant and the last we'd heard was that Maud could get a job in Makemo but since Yann could not they would both stay working in Moorea. You can imagine our glee when they turned up on the dock to say hi, complete with seventeen day old Teaki (a Marquisian name meaning Sky, since that's where he was conceived) slung in a pouch from Maud's neck.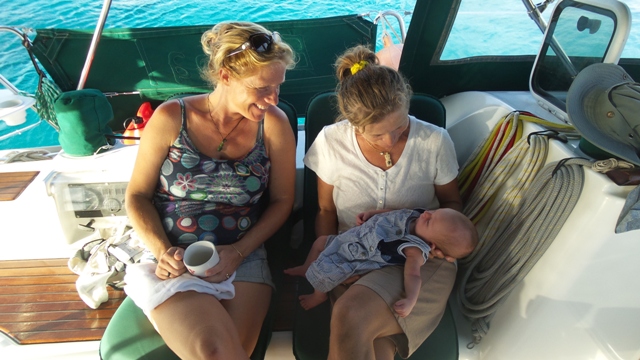 With weather looking promising to continue south east two days hence we were invited for lunch at their house the next day. It was fantastic to catch up and renew our friendship. Sasha packed up small gifts for the new born as well as the two older boys for which everyone showed great appreciation. We had intended to sail down to our favourite anchorage in Makemo, the SE corner but it seemed that our weather window, a north easterly, to sail the 170nm to the next Atoll on the way, Hao, truly was upon us. We set sail at slack water in the pass at 5AM on the first of December, friends Kristy and John on Raynad just in front of us.
Hao
The first day of the trip was marked by train squall after rain squall, accompanied by ninety degree wind shifts, averaging two per hour until mid afternoon. Finally it started to settle and we were able to maintain our course for Hao. Unfortunately all too soon the wind started to veer more towards east and we started to drop below our desired course, tacking required! Having to tack of course made us late arriving in the lee of Hao in the dark and way too late for slack water at the pass so we just sailed slowly up and down the coast within a few miles of the pass until daybreak when we followed the supply ship in through the pass with a little help from the three knot ingoing current.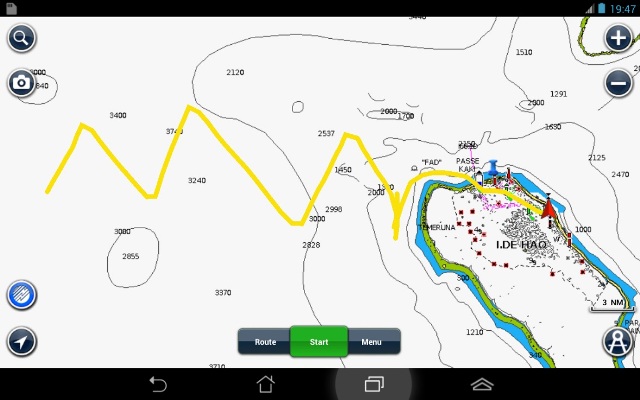 By mid morning we were tied up at the disused old concrete dock in front of Raynad, no problem.
Our stay in Hao could really be described as uneventful, time mostly spent waiting for a weather window, an opportunity to sail the 450nm SE to the Gambiers. A couple of days later we were joined by Pitufa and another 37 ft Yacht called Bob with Alec and Sarah on board, planning to sail back up to the Marquises. The most notable activity was our evening ritual of sundowners on the outer side of the dock, I must say very pleasant after the days' activities primarily consisting of boat jobs or cycling. It was very convenient being able to just walk off the boat and jump on the bike to ride the one and only road that stretched pretty much the length of the Motu enabling us to ride to the pass in one direction or down to the southern end of the Motu in the other. Most was on sealed road although the southern extremity became a two wheel hard dirt track. Our "highlight" was the runway ride. Hao has an enormous runway, apparently the longest in the Pacific. It was a standby landing point for the American space shuttle program and even once had the French president visit in a Concord. Anyway planes now come a couple of times a week and the runway is adjacent to the road so on one of our excursions we rode right up the middle of the runway well over two kilometres long.
Possible opportunities for a departure appeared and vanished with the vagaries of the weather forecast but after a couple of weeks our opportunity came, or so we thought. We set of with a forecast of north winds for at least twenty four hours then veering to north east, ideal for our south east course. But alas after only a few hours the north, wind swung to NE and a day later to almost east. Here we go tacking into it again. The second night was not exactly enjoyable, beating into twenty five knots with a westerly set current taking us further off course, when our course over ground became west of south, around midnight, we tacked but with almost two knots of current we barely gained ground. In the morning, after six hours, we resumed our port tack and re-thought our strategy. No good getting frustrated and upset, if it was going to take a couple of days longer then so be it, we'd just have to get used to "life on the angle" with Ednbal heeling all the time, starboard gunwale close to the water. From then on things were generally on the improve, we spent a lot of time lying down in the aft cabin, the most comfortable place to be and Sasha served her pre prepared meals that she had cooked before leaving Hao. The last day, after another, far more successful six hour tack that got us further north and enabled us to lay our course for the pass into the Gambier lagoon, was in fact a most enjoyable sail with us arriving at the channel entry markers at 10pm.