Category: North Atlantic Ocean
Created: Wednesday, 17 May 2006 15:58
Written by Roger Boxall
Hits: 1261
Melbourne To Jackonsville
Heading North from Melbourne to Jacksonville
After living on board Ednbal at the Melbourne Harbour Marina for 3 months the temptation to "go cruising" became just too great.  I put my notice in to GE  and effectively retired.  Sasha and I had a lot to do to Ednbal to fully prepare her for full time cruising but with limited cash flow decided to stage the activities.  Essential items required to cruise north towards Maine (upgraded batteries and anchors, radar), mediaum term items for Caribbean cruising (diesel generator, washing machine, fuel storage) and then for longer term ocean crossings (water maker, spinnaker). We split the anchor locker and put in a new larger primary anchor (55lb or 25kg delta), chain (140ft or 45m  5/16 high test) and line (5/8inch or 16mm nylon), keeping the original 35lb Bruce, chain and line as the secondary. I helped my brother Les make new battery enclosures from ½ inch polyethylene sheet to house the new 12 volt 400AHr AGM fully sealed no maintenance batteries under the aft bed.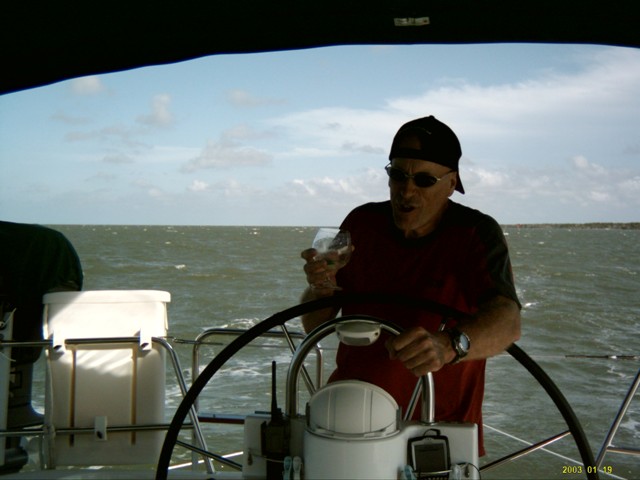 Finally we were under way at 7 am Friday June 2nd 2006. It was a good decision to stay in the marina Thursday night even if we did get hassled by grumpy Tom (the dock master) to pay 5 dollars for one additional night! It was another beautiful Florida morning nice ten knot breeze out of South East that would be off our starboard quarter as we head North towards Jacksonville. Sasha is concerned about sailing as we have the big sheet of glass for the skylight replacement (our skylight windows had started to leak after the delivery trip but Beneteau were replacing at no cost and had already sent us the materials although they would do the job in Jacksonville – the sort of service I did not expect!) and bikes in their bags all on the aft cabin mattress. As soon as we clear the Marina channel I haul out the sails!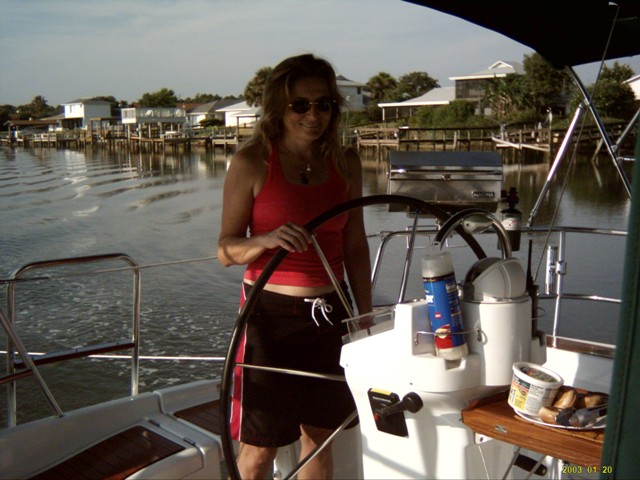 It is a lovely sail, sometimes slowing to three knots but mostly closer to five. What a start to full time cruising. We moved up the western side of Merritt Island and could see Cape Kennedy space centre buildings. It appeared the space shuttle was on its launch pad, visible through the binoculars. Towards the end of the Indian river we bear east almost directly into the wind and motor across Haulover Canal into Mosquito Lagoon where we head North East. It is now 4 pm, with 15 knots of wind, set the headsail and move along at 5 knots, it is perfect sailing. Sasha and I sit up on the bow and watch the world go by as Rick (our Auto Pilot) keeps us in course.
At around 6 we come to a camping ground settlement as the lagoon narrows to a swampy river at Oak Hill. We look around for a deep enough spot to anchor, hit the bottom once, but finally dropped the pick in 8 feet and go for a swim.
A couple of drinks, salmon fillets on the BBQ for dinner, then run about boats start coming out and anchoring nearby at dusk. Each has large dab nets and underwater lights, soon they are hauling in prawns, heaps of them, on the outgoing tide. We are tempted to get out our fish net and spotlight but it has been a long day and sleep beckons.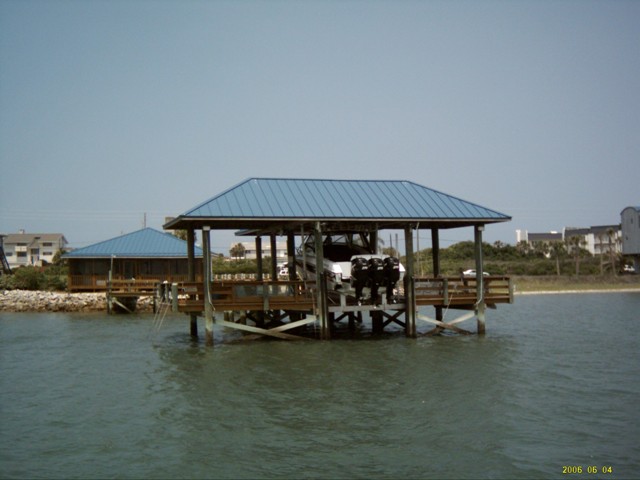 Sleep is broken by noisy prawners and some late rain, we are up and had a coffee on soon after six. During the night the tide has changed and we are now facing the opposite direction with glassed over water. It was the first time we used the snubber line (a stinless steel plate that goes between chain links and has two 3/8 nylon lines attached to take anchor chain pressure of the windlass) on the anchor chain but it has fallen off. Have to find an easy way to secure it to the chain! We had coffee and are on our way by 7. Fired up the BBQ and cooked breakfast on the way up the ICW. There were canals leading of to houses with docks (jetty) out the front, most with boats lifted out the water. Saw one place for sale, nothing special, but still $1.1.Mil.
Sasha downloaded waypoints and routes, from the easy to use Maptech software on the laptop to the GPS so that we could follow the deepest parts of the ICW channel. By lunch time we were in Daytona. The municipal marina seemed to be place to go but we were soon told it was private and that we might like to anchor on the Northern side of the last bridge. It turned out to be a nice spot, being on anchor is always better than a noisy marina. Time for a swim then lunch. After the mounting the outboard on dingy we headed over to a building that looked like it may be some sort of supermarket, only to find it was a dry boat storage – wrong again! While trying to find directions to the nearest supermarket we met Frank who said that nearest was Publix about two miles away, but his wife was going shortly and could give us a lift. Kaye took us there and back, so we picked up some heavier items – cartoons of beer.
After dinner it was time to hit Downtown Daytona Beach for Saturday night. Anchored the dingy at the boat ramp, and headed for the beach on the wonderful balmy evening. Ended up at Daytona Beach main street pier. Live music, a beer and incredible fireworks display right over our heads. A great night out.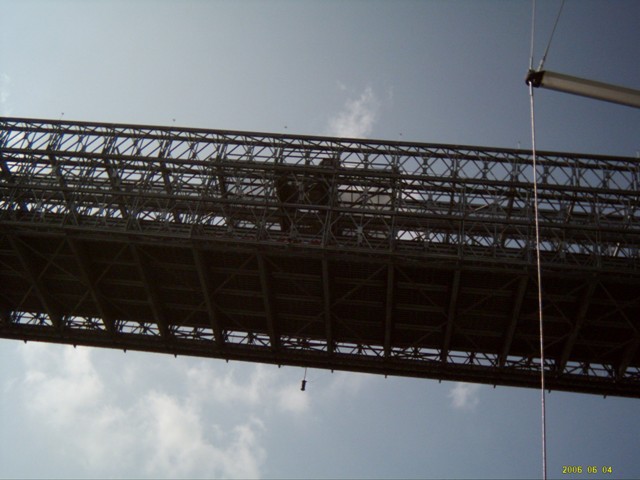 We were a little slow to get started Sunday morning, and did not get under way until 8:30. Learnt a bit more about ICW etiquette. A large sixty – seventy foot power boat came up behind us and called on channel 16 to say if we slowed down they would give us a slow pass (overtake us slowly with very little wake to rock us around). – very considerate. Our aim was to make St Augustine, some 50nm North. With almost  no wind we mostly motored until around 4 pm when the sea breeze came in, then with the wind to the aft quarter we shut down the engine and sailed until we anchored in front of the first Spanish settlement in the America's.
A day in St Augustine – walked a couple of miles to check out the old St Augustine light house, towed a guy in a dingy who had run out of fuel, walked around the old city.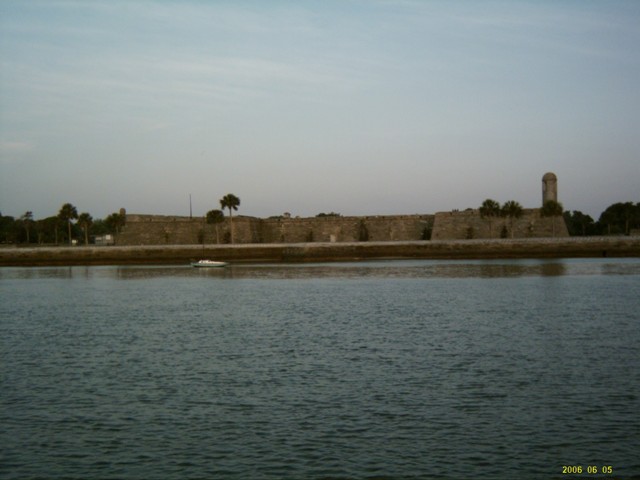 After a morning swim, got under way for the leg to Jacksonville. Learnt that some people take no notice of ICW etiquette even when we slow down a big launch went roaring past us, rocking Ednbal all over the place. Spent most of the day against both the wind and the tide. The ICW went from uninhabited swamp lands to narrow dredged canals featuring some magnificent houses with their private docks. One small private dock (jetty) had a twenty five / thirty seated console boat with four, yes four, 200 HP Honda's on the back, what a hoist out of the water as well as a couple of big jet skis under the boat shed roof. Some people really have the toys!
In the afternoon the breeze came up to 10 knots or so, and we were able to sail a little into the North Easter on our course of about 240 degrees. It did not last long but at least gave some respite from the engine noise. Through another couple of opening bridges to the main Jacksonville harbour and St John's River in front of downtown Jacksonville. Almost two knots of current against us, we approached Main Street Bridge at around 16:20 and asked for the next scheduled opening time – 18:00 was the answer, an hour and a half to kill. After checking out the wharfs and docks, on either side of the river without finding somewhere easy to tie up, we decided to just drift around as there was very little traffic. Turning away from the Main Street bridge with the engine in forward idle we were doing about 0.3 knots backwards!
By now, five days after leaving Melbourne with ¾ of tank of fuel we were getting very low. Ednbal uses ¾ of a US gallon per hour cruising at 6 knots which equates to about 9 miles per US gallon. We had seen feedback on the Beneteau User web site about fuel gauge inaccuracy, so with fuel gauge showing 1/8 of a tank I was getting a little concerned. Still, we only had a few miles to go.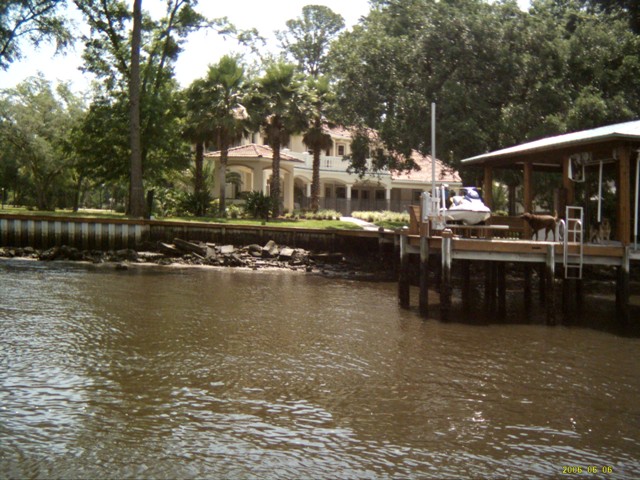 Finally Main street bridge opened and we could see Costa bridge, 71 foot clearance (20 feet to spare for Ednbal) a couple of hundred yards further on. Only problem was the railway bridge immediately on the other side was closed with a flashing sign saying "Bridge down for train". It appeared this bridge was automated, so we wait. A few minutes later the train, with three diesel locos at the front appeared. A very long, very slow train. We idled against the current and waited. There was very little room to move and the two knot current, if we happened to run out of fuel now it would make life very difficult to say the least – quite nerve racking! Finally the train passed and the bridge, with its huge counter weight opened. Onto the next bridge, interstate 95 about half a mile further on. Our chart showed an opening bridge, 45 foot clearance unopened, but the bridge looked higher and we could not see any opening mechanism. As we approached it seemed a new bridge have been build but all the signage of the old one was still in place, there was nothing giving a clearance of the new bridge. We approached cautiously. The tide was now running even faster going but now with us at three knots towards the bridge. There were large eddies pushing Ednbal all over the place. Sasha was up on the bow trying to gauge clearance. After a few anxious moments we were under and through.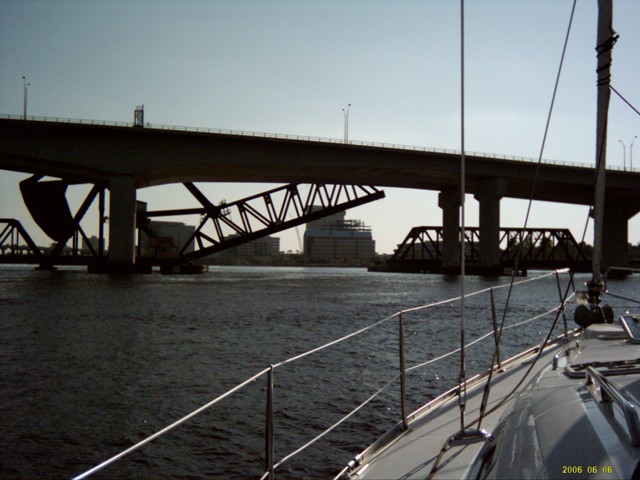 After the bridge, St John's River opens to a large expanse of water – a few miles by few miles, most only a few feet deep. We motor sailed out towards the middle then turned to head for Ortega river bridge. The markers showing the passage to the bridge were difficult to pick up – looking into the setting sun. Suddenly, the echo sounder alarms went off and the next thing – we were in six feet of water and backing up rapidly. At least there was no sudden stop! The Ortega river bridge is a Bascule bridge – very small and narrow. We passed through and anchored in about ten feet of water between the bridge and Salter's point marina, where we were to have our skylight replaced.