Category: North Atlantic Ocean
Created: Monday, 05 June 2006 15:59
Written by Roger Boxall
Hits: 1254
Jacksonville and Charleston
Jacksonville and Charleston
Next morning we headed for the marina to be guided to a slip on the far end of  almost directly under a six lane interstate hwy bridge and adjacent railway crossing. Ednbal's keel was in the mud but Chuckof St Barts yachts assured us there was no problem. We cleaned up, unloaded and assembled our bicycles (before leaving Melbourne we bought two new bikes and had large bags made to house them in while under way) ready to look around Jacksonville. Repair crew, Eddie from St. Barts, Charleston and Mike, Customer Service Manager of Beneteau from Marion, arrived at about eleven, and seemed to prefer us not be around, so they can get on with the job. We biked it into centre of Jacksonville, along a very nice St John's river cycle way, and had a look at Jacksonville Landings and the city centre. By the time we got back in late afternoon, guys were ready to install a new skylight, which they did before packing up for the day.
We stayed a further two days in Jacksonville, picking up various supplies, while the guys allowed the skylight bedding compound to cure, put in the final sealant, and cleaned up. On Saturday morning – close to high tide – after giving Ednbal a good wash down we headed over to adjacent fueling dock. Almost immediately, we noted significant vibrations as we increased engine revs. We moored alongside the fueling dock and put 32.9 gallons into our 35 gallon tank. Don't want to go that close again, although it gave us a confidence in the accuracy of our fuel gauge, at the all important – low end. From the fueling dock, we went to the mooring close by to jump over the side and checkout the prop to see what maybe causing such vibrations. Surprise, surprise, there was a length of rope snagged around the prop, no idea where it came from, but its removal certainly eliminated the vibration!
We reversed the procedure of going through the bridges to head out to the mouth of the St Johns river ready for the ocean run planned for the next day.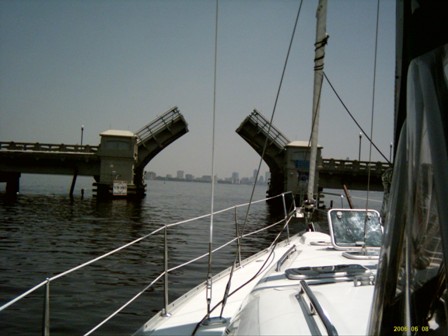 On Sunday morning we checked weather forecast and find that a tropical storm, Alberta, was headed for South of Florida and had a potential to create gale force winds in Northern Florida and Southern Georgia over the next few days. We decided that change of plan was in order and instead headed up the ICW. By about mid morning, Sasha made a cup of tea as we entered Cumberland Sound which opened up into a large expense of water. Just as we started our cup of tea, the echo sounder alarm went off, and under full sail, luckily with a light wind, we came to a sudden stop! Mild panic ensued. Sasha hauled the dingy in and we furled the headsail, after starting the engine full speed astern. We looked around and saw that we had shortcut a red marker that had been behind a dredge. Luckily with the main sheet pulled in and the headsail down, we had enough power with the engine to back us off and head for the red marker. We both concluded that voyage planning even on the ICW was essential and although one should be able to pilot the vessel, based on the markers alone and are a lot safer to also have the course in the GPS. After the nerves have calmed a little, Sasha went below and plotted the course for the remainder of the day using the PCs Maptech software and downloaded it to our hand held GPS.
As we came into afternoon, we investigated possible anchorages, articulated in the Waterway Guide purchased in Jacksonville. It appeared to be a suitable Creek – called Shallbine was a recommended overnight anchorage. At about 17:30 we swung into the creek and dropped the anchor in 17 feet of water at the narrow creek entry. After a couple of obligatory G&Ts Sasha started cooking dinner, and the breeze begin to strengthen. I noticed that the lee shore seemed somewhat closer that in had been, and had a quick check of echo sounder confirmed my fears of anchor dragging. We immediately wade anchor to head further up the ICW where there was a bend and some forest to give wind protection. On the way the anemometer picked at just over 40 knots, and when we arrived at our re-planned destination it was blowing a steady 30 knots. We anchored in 23 feet of water and as we had plenty of room, let out almost all the anchor chain. Dinner preparations, which included spilled G&T in the stir fry recommenced. Never a dull moment!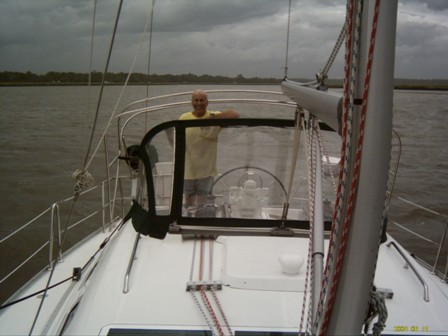 During the night the wind calmed and by the time we got going in the morning it was down to 5 knots. Sausages and eggs on the bbq for breakfast, and with the breeze up to about 12 knots we set a sails in the goose wing formation while wind was right behind us. That did not last long as we were soon into meandering ICW with the combination of motoring and sailing. We continued to listen to weather forecast and monitor the progress of Alberta. The tropical storm was tracking up the west coast of Florida and predicted to cross at the pan handle (north western corner of the Florida peninsula) then head in the general north-east direction to southern Georgia and, you guessed it we were in Southern Georgia! After consulting the waterway guide, we selected a creek anchorage that was also the 'home port' of a small shrimp fishing fleet. We anchored in Shellbuff Creek mid afternoon and continued to monitor progress of Alberta. We woke early Tuesday morning and since Alberta was forecast to past to our south decided to continue North. By this time it had been raining for a couple of hours, although there was little wind. We traveled north for about 20 minutes but it soon became apparent as the wind picked up and the rain continued that we would probably be better off returning to the anchorage we have just left. So, back to square one, in the creek (more like up the creek) with all the anchor chain out, rain poring, although still not much breeze. During the day we lazed around and monitored Alberta's progress. By mid-afternoon the wind was up to 25 knots, and the centre of Alberta was forecast to cross about ten to twenty miles north of us – which put us on the most destructive eastern quarter. Next NOAA weather began issuing tornado warnings for McIntosh county, yes we were in McIntosh county. Sasha began consulting the Australian boating manual and anchoring recommendations under storm conditions where she saw the Bohemian Moore. We have both covered this anchoring technique where two anchors are set at 180 degrees to each other in our Yacht Master courses. With large front changes and strengthening wind at almost 90 degrees to the current flow, the Bohemian Moore was the logical anchoring technique to employ.  About half an hour later we were both soaking wet from the driving rain but had successfully deployed Ednbal into a Bohemian Moore. We both felt significantly more secure. I bucketed water out of the dingy again as I had at least twice during the day and it was still raining. NOAA weather were forecasting the worst of Alberta to pass over us by about midnight, with winds to 40 knots, gusts to 50 knots and we were in the only county with the tornado watch. No problem from the wind prospective even though we were in the open marshland but the treat of tornado was another question entirely, not much we could do about it now. Through the night we continually monitored water depth and wind speed but only once saw the anemometer go above 40 knots. By morning the wind was around to the North West and had dropped to 12 knots, time to get going again.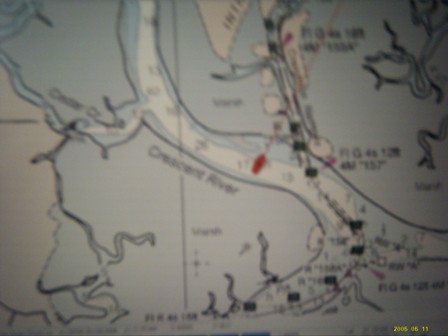 Pulling the bohemian anchor arrangement proved to be a little more challenging than was expected. Thank goodness we do not have to manually pull anchors too often! Even the secondary 35lb Bruce anchor with its 60 feet of chain took some shifting by hand. It was a little after 10 am by the time we had put the bimini covers back up (removed in preparation for the storm) and got under way. We had quite a bit of sailing during the day as we went to Sapolo and Catherine sounds. Later in the day around five thirty we approached a narrow section of ICW that connect two rivers, known as Hell Gate. The chart information showed that it was as low as 5 ft and we were very close to low water. I tried to maneuver for deepest water in the channel with the echo sounder alarm complaining bitterly. When it was at 6 ft for a while I decided to back out and wait for water level to raise. We anchored not far from the Hell Gate at about 5:30, bathed cleaned up and had obligatory G&T. From the binoculars we could see the water rising and decided if we were to get to our proposed anchorage in daylight we should give it another try. Sasha had been reading up the information on the Hell Gate in the Waterway Guide, and it seemed if we kept more to the port side of the channel, then we would be in deepest water. We went through the channel without even echo sounder alarm going off and arrived at our anchorage at 7:30 pm. The anchorage was adjacent to a fishing village called Vernon View. Decided to take the dingy ashore to find some fresh fruit and veggies and local fresh shrimp. There was a reasonable current flowing but big bronze 0z (Rog) thought he could row ashore without too much of a problem. Wrong again. We both jumped in the dingy and headed for shore with the current pushing us at about 45 degrees, then into a small creek with the current behind us – real easy! We tied the dingy up to a small floating dock, that was a private property, and walked across the lawn to the road, where we spoke to a couple walking their dog. Apparently, the nearest store was a Seven Eleven a few miles away. So, it was back to the dingy and the boat. Easier said than done. Rowing out the creek against the tide required "super human effort", which succeeded in squashing Sasha's finger and pulling the screws out of the rowlock holders, not to mention making a very slow progress. Never the less we did finally make back to the boat, where I almost collapsed from exhaustion but revived with a G&T.
By this time we had had our fill of ICW and were keen to do a bit of proper ocean sailing so Sasha did the voyage plan taking us out of Ossabaw Sound and North – North Easterly run to Charleston. As it turned out we had to sail close hauled and in order to make it to Charleston in any reasonable time, motor sail seven of the eighteen hours journey, arriving into the Charleston harbour anchorage at 1:30 the following morning. Part of the reason for going out in the ocean was to subject Ednbal to a bit of bouncing around and to see if the skylight held with the hull moving. From that perspective, going almost straight into a sea was ideal and we were very happy not to see any leaks.
The following day we docked at a St Barts slip which is part of the Charleston City Marina and its famous floating Mega Dock. The Mega Dock did not just have pleasure boats tied up, many were more like pleasure ships. One hundred to two hundred feet.
We decided on a few tourist activities visiting a historic Middleton plantation that was a major producer of rice during the slavery days. It was very very interesting with truly magnificent guided tour of the gardens originally done by Versailles architect. There were live demonstrations of the various crafts, weaving, carpentry, pottery, and blacksmith depicting the sort of work carried out by slaves to sustain an enterprise of such proportion in the late 1700s.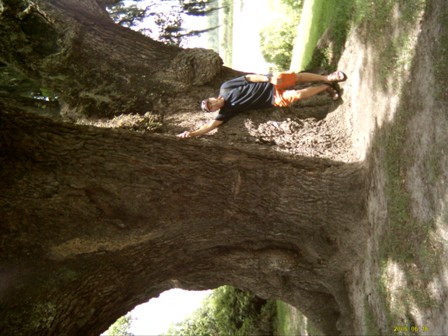 We also took in visits to the museum as we particularly wanted to see the Hunley, the first submarine to be engaged in the military battle. The museum had a replica of Hunley as the original was only located a few years ago and it was in a process of being restored at another site.
We also took a look at Patriots point naval and maritime museum which included a walk around the WWII ESSEX class aircraft carrier launched in 1943 – USS Yorktown as well as the WWII destroyer Lafeey and submarine Clamacore.
One major activity and significant accomplishment while in Charleston was to get the remaining part of our ships papers in place. Being an Australian registered vessel, Ednbal needed a permit to cruise in US waters. The US Customs provides a Cruising permit, valid for one year but only to foreign vessels entering US waters.  Ednbal was registered as an Australian vessel while in US waters, and so technically, had not actually entered US waters as a foreign  vessel. We had already tried unsuccessfully to convince US customs at Port Carnarval to issue us a cruising permit. Their solution was to have us sail to the Bahamas and then back to the US, thereby entering US waters from a foreign country. Technically the trip from Melbourne to Charleston was not legal as we were moving without any sort of US permit. The customs office at Charleston was located at the South Carolina state Port Authority in Wando Terminal. We were advised to catch a taxi even though we thought we could go by dingy. We had expected to find a customs building as part of the office complex but instead discovered that customs office was buried deep inside Wando container terminal. Apparently Charleston is the third biggest container port in the US., and not only did you need a taxi to get to it, you needed a bus to get around inside it. We eventually found the small single story office  of US customs, and with barely a question asked were provided with a cruising permit. A major success in need of celebration, well at least a G&T anyway. After waiting over two hours in the sun at the terminal gate, we finally caught a taxi back to the Marina and commenced the said celebration.
The other major planned activity was to visit the Beneteau factory located in Marion, some 150 miles from Charleston. We hired a car (red Pontiac G6) and headed for Marion at 6 am with packed breakfast and lunch. About half way to Marion we stopped on the side road near a small pond and had muesli breakfast. We arrived at the Marion factory at about ten where we found I did not have on the appropriate attire for a factory tour – sandals were not permitted. The receptionist managed to find a pair of beautiful yellow galoshes to ware over my sandals, which made me look more like Daffy Duck for the tour. We were shown through the factory by the customer service manager Mike Watson and it was well and truly worth while to see the full Beneteau production system.  We were both very impressed with the quality and testing systems in place and were able to see the production line of the 393 model (ie Ednbal). On the line full 393 vessels are moved from one station to another with various trades people performing the same tasks on each vessel as it comes to their station. At the end of the line each vessel is hoisted into a test tank, where all of the water systems are tested and the engine is run. The visit gave us an extra degree of confidence in Ednbal having seen how she is actually constructed. Customer service crew were very helpful in locating spare parts and advising us on various aspects of 393.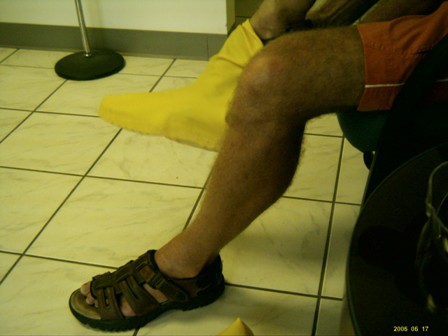 After four days we re-fueled the diesel tank and headed north on ICW.